#546: With A Girl Like You by The Troggs
Peak Month: August 1966
8 weeks on CFUN's Vancouver Charts
Peak Position ~ #3
Peak Position on Billboard Hot 100 ~ #29
YouTube.com: "With A Girl Like You"
Lyrics: "With A Girl Like You"
The Troggs formed in 1964 and decades later were dubbed by music critics as the "first British punk band." Never strangers to controversy, many of their records were considered by radio programmers and social conservatives as too suggestive for the masses, and they consequently banned them. The band's first big hit was "Wild Thing" which is rated by Rolling Stone Magazine as one of the Top 500 songs in the rock 'n roll era. While they racked up their biggest string of Top Ten singles between 1966 and 1968, the band consisted of co-founders Reg Presley and Ronnie Bond, as well as Pete Staples and Chris Britton.
Reginald Maurice Ball was born in Andover, Hampshire in 1941. In 1955 Ball first sang in public as half of a duo with a fellow schoolmate from Andover Secondary Modern school at the Andover summer carnival week. The song they performed was "Unchained Melody". The applause they received gave him the taste for performing in public. Though the first instrument he bought was a saxophone, he quickly opted to learn the guitar instead. He then strummed a guitar for a skiffle band called The Incognitos who performed only once in a talent competition at a local cinema. Ball recalled The Incognitos all wore masks as they were scared stiff. By 1964 as well as having a day job working as a bricklayer, Reg was the bass player in the first line up of The Troggs. When that lineup disbanded, Reg and the drummer Ronnie Bond joined forces with Chris Britton and Pete Staples. Britton and Staples were the remaining members of a rival Andover band named Ten Feet Five. Reg was persuaded to take on the lead singer and front man duties and billed as Reg Presley.
Ronnie Bond was born Ronald James Bullis, in Andover, Hampshire, in 1940. Bond was a drummer and friend of Reg Presley. Pete Staples was born in England in 1944. In the late fifties Pete Staples was in the 2nd Andover Boys Brigade Company as drum major. He also played acoustic guitar and grew as a vocalist in a band called The Emeralds. He was asked to join a band called The Senators. Band practices took place was at his home or at bandmate's girlfriend's cattle shed and played in ballrooms and clubs. He next became a bass guitarist for Ten Feet Five. When that band split up he was invited to be a bass player for The Troggs.
Chris Britton was born in 1944 in Watford, Hertfordshire. He recalls, "I was nine years old when I bought myself a Spanish guitar for nine guineas. Just before my final day at junior school, my music teacher asked us to bring in any instruments we had at home, so I showed her my guitar and played her a classical piece. She burst into tears: she couldn't believe I could play that well without her knowing about it. She had thought I was such a terrible musician, she wouldn't even let me play the triangle. I was 15 when I got interested in rock'n'roll music. After trying to form another band, and even considering joining The Merchant Navy, but he accepted an invitation to join a local band named Ten Feet Five. When that band split up he was invited to join The Troggs.
Larry Page was a local producer for a band called the Ravens that he renamed the Kinks. He played them "Louie Louie", which inspired Ray Davies to compose "You Really Got Me". Afterward Page received a phone call from someone who said they taped a performance by a local band who sang "You Really Got Me" better than the Kinks. Page heard the tape and told The Troggs get back to him in a year. The Troggs were at Larry Page's door exactly 365 days later. Impressed by their determination, Page gave The Troggs a chance to record. Their first single was "Lost Girl". The single got some airplay on Radio Luxembourg.
Meanwhile, in 1965, across the Atlantic Ocean, The Wild Ones were a house band for a hip discotheque on East 54th Street in Manhattan. It was started by Richard Burton's ex-wife Sybil Williams. The Wild Ones recorded a song called "Wild Thing". It was composed by Chip Taylor, brother of actor John Voight, and composer of The Hollies 1965 hit, "I Can't Let Go", and the 1968 hit single for Merrilee Rush & The Turnabouts called "Angel Of The Morning". During a trip to New York, Larry Page heard a demo of "Wild Thing". According to Reg Presley, Page wanted The Troggs to record it as a B side, with the A side designated as a cover of The Lovin' Spoonful's "Did You Ever Have To Make Up Your Mind". The Troggs disagreed and "Wild Thing" became the A-side. The Larry Page Orchestra had a session booked, and The Troggs were told to wait outside in the van in case there was any studio time left. They waited in their van until they got the signal. They had only 45 minutes to assemble their equipment, get a sound check, get some songs recorded and vacate the studio before the next musicians were scheduled to record. "Wild Thing" and "With A Girl Like You" were both recorded in two takes in just ten minutes.
"Wild Thing" topped the pop charts in the USA on July 30, 1966, and here in Vancouver for three weeks beginning on June 25, 1966. Back in the UK "Wild Thing" climbed to #2. On the strength of their #1 hit, "With A Girl Like You" was released in July, 1966. Though "With A Girl Like You" stalled at #29 in the USA, it climbed to #3 in Vancouver and #1 in the UK. It was featured in the 1991 film, Flirting, 1996 film Shine, 2007 film The Good Night and 2009 film The Boat That Rocked.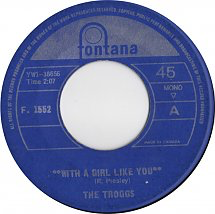 On the single release of "With A Girl Like You" the songwriting credit was given to The Trogg's Reg Presley. The singer tells us about his conviction that the woman, "girl", he sees across the floor at a dance is the one he wants to spend the rest of his life with. However, the girl doesn't notice him. Therefore, it seems they are total strangers. From what he can see, he is impressed by how "refined" she is and he likes the way she talks, from overhearing her. He waits all night long at the dance to build up his courage to ask her for the last dance. We don't know if, in fact, he succeeds. We are left with this last line, "I just hope and pray, that I'll find the words to say, can I dance with you." It might be that he won't find the words to say "can I dance with you." In which case, he'll have to hope he finds someone else like her, given she doesn't notice him. For the time being, he's sending his love to her across the dance floor, building up his courage to stop hesitating.
"With A Girl Like You" had little airplay in over twenty states in the USA. However, it peaked at #1 in Little Rock (AK), #2 in Salinas (CA), #4 in Daytona Beach (FL), #5 in Edmonton (AB), Seattle (WA) and West Palm Beach (FL), #7 in Denver (CO), Regina (SK) and St. John's (NFLD), #8 in Buffalo, and #9 in Hartford (CT) and Providence (RI).
A third single in 1966, "I Can't Control Myself" was released in the summer and penned by Troggs' lead singer, Reg Presley. It climbed to #1 in Vancouver in October 1966.
A tune called "Anyway That You Want Me" was a Top Ten hit in the winter of 1966 in the UK. It went Top 20 in Edmonton and #7 in Lloydminster, Alberta. The Troggs next release was "Give It To Me".
The song was featured in the 1966 film Blow-Up. Blow-Up, was released on December 18, 1966. It won the Palme d'Or at the 1967 Cannes Film Festival and is one of the finest evocations of the headiness of London in the Swinging Sixties. It is now a cult classic film of sixties psychedelia exploring the paradoxes of reality and illusion. Italian film director, Michelangelo Antonioni, was the director for Blow-Up which was filmed in English. The Yardbirds appeared in the film and performed "Stroll On".
The Troggs enjoyed another Top Ten hit in the winter of 1967-68 with "Love Is All Around". After that their international hits had less coattails. In 1968 "Little Red Donkey" was a Top Ten hit in Rhodesia and South Africa. Later that year "You Can Cry If You Want To" was a Top Ten hit in Guelph and Hamilton, #1 in South Africa and #4 in Rhodesia. In 1970 The Troggs "The Raver" went Top 20 in Rhodesia and South Africa, and "Feels Like A Woman" was a Top 20 hit for the band in these two countries in 1972.
In the years after The Troggs were hit makers on then pop charts, Reg Presley was cast in the 1987 Bob Dylan film Hearts Of Fire and played a supermarket manager in a Ruth Rendell Mystery on ITV. But it was the writing of "Love Is All Around", which Reg Presley wrote in under twenty minutes one Sunday afternoon that was far reaching. Wet Wet Wet revived the track for the soundtrack of Four Weddings And A Funeral in 1994. Wet Wet Wet's version was #1 in the UK for 15 weeks. In May, 1995, Reg Presley was awarded 3 prestigious Ivor Novello Awards for Best Selling Song Of 1994, for International Hit Of The Year and the PRS Most Performed Work. In 2002 Reg Presley published a book, Wild Things They Don't Tell Us, about the paranormal. Following a series of strokes and a diagnoses of lung cancer at the end of 2011 he regretfully decided to retire from performing and gave the band his blessing to carry on with new vocalist, Chris Allen. In February, 2013, Reg Presley died peacefully.
Ronnie Bond had a minor solo hit single in the UK in 1980 called "It's Written On Your Body". He died in 1992 at the age of 52. Pete Staples joined the line-up of the re-established Ten Feet Five in the late 1990's and began touring on the road again. Staples son, Leo, was learning the guitar so Staples started a band called The Wild Things who performed with his son and other musicians for several years from 1999 into the early 2000's.
Chris Britton took a six-year break from The Troggs in the 70's to run a nightclub in Portugal. Britton continues to tour with Pete Lucas and Dave Maggs on bass & drums, and new lead singer Chris Allen rounding out the current Troggs lineup. The Troggs popularity has never waned and they are still in great demand both in the UK and the rest of Europe, where they regularly headline festivals attracting thousands of fans. In November and December of 2016 The Troggs toured 19 cities in Australia and New Zealand. According to their official website in September 2017, The Troggs have several upcoming concerts in the UK and one in Germany.
October 14, 2019
Ray McGinnis
References:
The Troggs History, The Troggs.co.uk
Steve Rose, From Blow-Up to Bonnie and Clyde – why the 1960s is my Favourite Film Decade, The Guardian, London, March 30, 2018.
Michelangelo Antonioni, Blow Up ~ trailer, Metro-Goldwyn-Mayer, 1966.
Reg Presley of The Troggs Dies Aged 71, BBC, February 5, 2013.
"C-FUNTASTIC FIFTY," CFUN 1410 AM, Vancouver, BC, August 27, 1966.
For more song reviews visit the Countdown.