#376: Woman In Chains by Tears for Fears
Peak Month: March 1990
11 weeks on Vancouver's CKLG chart
Peak Position #5
Peak Position on Billboard Hot 100 ~ #36
YouTube: "Woman In Chains"
Lyrics: "Woman In Chains"
Raoul Jaime Orzabal de la Quintana was born in Portsmouth, England, in 1961. His parents legally changed his first name to Roland Orzabal within a few weeks of his birth. His father had a nervous breakdown early in Roland's childhood. Later, his father ran an entertainment business, with his mother a dancer in the troupe. Orzabal met Curt Smith when they were in their teens, and both living in Smith's birthplace of Bath, England. Smith learned to play guitar in his teens. In 1979 Orzabal and Smith became part of a new wave band called Neon. They released a couple of records and were session musicians for recordings by new wave band Naked Eyes. Smith and Orzabal were also part of a new wave band called Graduate who had a Top Ten hit in Spain in 1980 titled "Elvis Should Play Ska". A grueling tour of Germany temporarily caused the duo to question the viability of a life as pop stars.
In 1981 Orzabal and Smith formed History of Headaches, which they soon renamed Tears for Fears. They invited Manny Elias to be the band's drummer. Elias was born in Calcutta in 1953, and had been introduced to Orzabal and Smith while part of Neon. A fourth member of the band was Ian Stanley. He was born in High Wycombe, about 30 miles northwest of London. Stanley contributed synthesizers, drum machines, organ, pianos and backing vocals on the bands' recordings.
The name, Tears for Fears, was inspired by Primal therapy, a treatment for mental illness created by psychologist Arthur Janov. Tears for Fears released an album titled The Hurting. The debut single, "Suffer The Children" was non-charting. However, the second single release, "Pale Shelter", was a hit in Canada. In June 1983 it peaked at #3 on Montreals' Top 40 station CKOI, cracked the Top 20 on CHUM-AM in Toronto, made the Top 30 in Vancouver (BC).
Two other single releases in 1983 got regional chart action in Canada. "Mad World" charted into the Top Five in Toronto in October 1982. "Change" was at #2 on the Alternative chart in Montreal in March 1983, and it climbed into the Top Ten on AM Top 40 radio in June '83 in both Montreal, Toronto, and later in August '83 in Halifax (NS).
In late 1984 Tears for Fears released a single titled "Shout". While some music critics thought this was about Primal therapy, Roland Orzabal remarked "It is actually more concerned with political protest. It came out in 1984 when a lot of people were still worried about the aftermath of The Cold War and it was basically an encouragement to protest." Curt Smith said of the song, "It concerns protest inasmuch as it encourages people not to do things without actually questioning them. People act without thinking because that's just the way things go in society. So it's a general song, about the way the public accepts any old grief which is thrown at them." "Shout" climbed to #1 in over ten countries internationally, stalling for three weeks at #2 in Vancouver (BC) – kept out of the number-one spot variously by Madonna's "Material Girl" and Northern Lights "Tears Are Not Enough".
The bands' next single, "Everybody Wants To Rule The World", climbed to #1 for three weeks in Vancouver in May-June '85. Internationally, the single made the Top Ten in over ten nations. The Economist referred to the song as a Cold War anthem and noted its timeless message, stating that "the song's lyrics speak to the anxieties of every age."
A third single release was "Head Over Heels", with the music video filmed at the Emmanuel College Library in Toronto. The single peaked in Vancouver at #4, outpacing the national Canadian peak at #8 on the RPM Singles Top 100. While "Head Over Heels" was in the Top Ten in Vancouver, Tears for Fears gave a concert at the Pacific Coliseum on August 31, 1985.
All three of these Top Ten hits in 1985 for Tears for Fears were from it's multi-million selling album Songs from the Big Chair. In 1986 Manny Elias left Tears for Fears and in 1987 Ian Stanley also departed.
In 1989 Tears for Fears released their third studio album, The Seeds of Love. The title track, "Sowing The Seeds Of Love" was a #3 hit in Vancouver in October '89, and number-one across Canada. The second single release from the album was "Woman In Chains".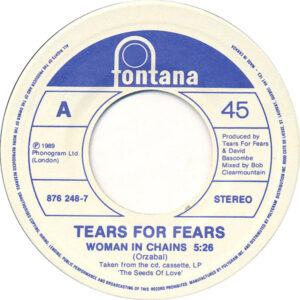 Roland Orzabal wrote "Woman In Chains". The song features Phil Collins on drums with Oleta Adams on vocals. Adams was born in Seattle in 1953. She was performing at a hotel bar in Kansas City, Missouri, when Orzabal and Smith heard her after they'd given a concert in town. They invited Adams to work with them on their next album.
He told Melody Maker in an interview "I was reading some feminist literature at the time and I discovered that there are societies in the world still in existence today that are non-patriarchal. They don't have the man at the top and the women at the bottom. They're matricentric—they have the woman at the centre and these societies are a lot less violent, a lot less greedy and there's generally less animosity… but the song is also about how men traditionally play down the feminine side of their characters and how both men and women suffer for it…. I think men in a patriarchal society are sold down the river a bit—okay, maybe we're told that we're in control but there are also a hell of a lot of things that we miss out on, which women are allowed to be".
"Woman In Chains" peaked at #1 in Montreal, #5 in Vancouver (BC) and #7 in Wenatchee (WA). The single also climbed to #1 in Port St. Johns, Transkei, South Africa.
After her involvement with Tears for Fears, Oleta Adams released an album titled Circle Of One. It topped the UK album charts in 1991. A single from the album, "Get Here" became a Top Five charting song in Canada, Ireland, the UK and USA. The song got her a nomination for a Grammy Award for Best Pop Vocal Performance – Female.
In 1991 tensions between Orzabal and Smith resulted in Curt Smith leaving the band. Roland Orzabal gathered some new musicians around him and returned to the recording studio. In July 1993, Tears For Fears had one last Top Ten hit in Vancouver titled "Break It Down Again", which peaked at #4. It was a track from their fourth studio album Elemental. The single climbed to #7 in Italy, but was less successful elsewhere. Tears For Fears returned to perform in concert in Vancouver at the Queen Elizabeth Theatre on November 2, 1993.
In 1995 the band released the album Raoul and the Kings of Spain. The album featured a duet with Roland Orzabal and Oleta Adams. In 2000 Orzabal and Smith buried the hatchet and returned to the recording studio. After three years they released in 2004 the album Everybody Loves a Happy Ending. And in 2004, Oleta Adams reunited with Tears for Fears when she made a surprise guest appearance onstage at their Kansas City concert, performing "Woman in Chains".
Tears For Fears have continued to tour for most of the past two decades. They plan to release another studio album in 2021.
December 14, 2020
Ray McGinnis
References:
Aidan Vaziri, "Pop Quiz: Roland Orzabal of Tears For Fears," SFGate, September 19, 2004.
Joseph Pryweller, "Music: New Model Tears Hits The Road," Daily Press, Newport News, VA, February 13, 1990.
Len Comaratta, "Tears for Fears' Curt Smith: Back in the Big Chair," Consequence of Sound, November 5, 2014.
Marc C. Horn, "Tears for Fears' Curt Smith on Finding Creative Balance," Phoenix New Times, Phoenix, AZ, July 17, 2017.
Lynn Norment, "Moving on and Up with Oleta Adams: With New Husband and Renewed Religious Faith, Soulful Singer Scores with New Album," Ebony, August 1996.
"CKLG Top 40," CKLG 730 AM, Vancouver, BC, March 12, 1990.
For more song reviews visit the Countdown.