#894: I Wonder What You're Doin' by The Foreman Young Band
Peak Month: December 1977
11 weeks on Vancouver's CKLG chart
Peak Position #13
Peak Position on Billboard Hot 100 ~ did not chart
The Foreman Young Band was a band from Vancouver. They played venues like Rohan's Rockpile and, according to local music critic, Richard Skelly, Gary Taylor's Show Lounge near the Georgia Hotel in downtown Vancouver. The band was fronted by Al Foreman on keyboards, harmonica and backing vocals, who was backed by bass player Laurence Knight, Mike Young on guitar and vocals, lead guitar player Steve Cross and drummers Bill MacBeth and Freddie Gallant.
Al Foreman was part a member of Vancouver band, The Trials of Jayson Hoover, from 1969-1971. He later joined a band in Toronto called Scrubbaloe Caine. That band was made up of a number of musicians who'd left other bands in Vancouver and Calgary. They released a single titled "Aspen Gold." Their followup single was "I Wonder What You're Doin'".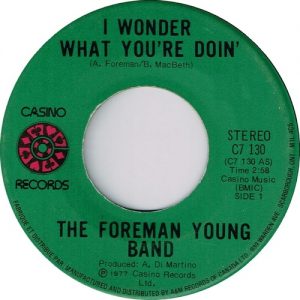 "I Wonder What You're Doin'" was written by Al Foreman and Bill MacBeth. The song is about two people who were formerly more involved in each others lives. They've both moved on with their respective lives, keeping busy with vocational, social and domestic responsibilities. However, in the case of one member of the former couple, they've been thinking about their former partner. In the interim life has been hard as they've cobbled together a mix of small victories and setbacks. They disclose "I've been winning and losing again." The song leaves us with a question: "I wonder what your doing tonight?" As listeners we're left with the possibility that the other former partner may be interested in revisiting a friendship or even a relationship. While the other possibility is that whatever led to their previous breakup will cause the other person to hesitate and decline any interest in reconnecting.
Local music critic, Richard Skelly, notes that subsequently, Gary Koliger joined The Foreman-Young Band as a guitarist. And vocalists, Betty Chaba and Blue Williams, were added to the band. Work proceeded on what was to be an album titled Sweet Lady Music. The band's record label, Casino, ended up in litigation and financial troubles. It seems the album was not released.
Laurence Knight: A forty-year veteran of Western Canada's vibrant music scene who's first love is Rhythm and Blues. Early in his career, Laurence earned a solid reputation in Vancouver's Blues music community, touring and recording with the Foreman Young Band, Jim Byrnes and the legendary Long John Baldry, just to mention a few.In a shift from R&B to Folk music Laurence once again found his stride while performing and recording with many of the West's most iconic artists, including Roy Forbes, Shari Ulrich and Ferron. Laurence is an expressive bassist, and energetic performer who adds his soulful, rhythmic signature to the Tiller's Folly blend.
Al Foreman has played with many musicians in the Vancouver area since 1969. In addition to the Foreman-Young Band, he's played in the Foreman-Byrnes Band with Jim Byrnes as well as his own Al Forman Band. He continues to play on the west coast circuit including the Kingfisher Waterfront Bar & Grill in Maple Ridge, the Gallery Bistro in Port Moody and Pat's Pub and Brew House in Vancouver. After the death of Chilliwack band member, Doug Edwards, on November 11 2016, Al Foreman was one of a number of recording artists who performed on a Granville Island stage on November 27, along with Ann Mortifee, Shari Ulrich and others, in a tribute to Edwards.
Other bandmates have left no trace on a web search in February 2018. Forty years have passed since this single by The Foreman-Young Band was on the CKLG charts in Vancouver. On a humorous note, any web search for "Bill MacBeth – musician" results in lots of links to the William Shakespeare play, MacBeth, as part of a double-bill.
February 6, 2018
Ray McGinnis
References:
Laurence Knight bio, Tiller's Folly.com
Rohan's Rockpile, Pacific Northwest Bands.com
Elegant Parlour, Pacific Northwest Bands.com
Sarah, "Doug Edwards The Humblest of the Greats," BC Musician Magazine, Vancouver, BC, February 9, 2017.
Richard Skelly, email to Ray McGinnis
Foreman-Young artist info, 45 cat.com, February 24, 2015.
"Vancouver's Official Music Survey," CKLG 730 AM, Vancouver, BC, December 7, 1977.
For more song reviews visit the Countdown.