#1252: It Won't Be Wrong/Set You Free This Time by The Byrds
Peak Month: March 1966
7 weeks on CFUN's Vancouver Charts
Peak Position ~ #10
CFUN Pick of the Week ~ January 29, 1966
"It Won't Be Wrong"
Peak Position on Billboard Hot 100 ~ #63
YouTube.com: "It Won't Be Wrong"
Lyrics: "It Won't Be Wrong"
"Set You Free This Time"
Peak Position on Billboard Hot 100 ~ #79
YouTube.com: "Set You Free This Time"
Lyrics: "Set You Free This Time"
Around 1963 a folk trio that named itself the Jet Set, consisted of Roger McGuinn on vocals and lead guitar, Gene Clark on vocals tambour and rhythm guitar and David Crosby on vocals and rhythm guitar. In 1964 the trio released a single that was a commercial failure and credited to The Beefeaters. They added bass (and mandolin) player Chris Hillman and drummer Michael Clarke and became The Byrds. They offered up a fusion of folk-rock and became an instant hit with two #1 hits in Vancouver and the Billboard Hot 100 in 1965: "Mr. Tambourine Man" and "Turn, Turn, Turn". The former was written by Bob Dylan and the latter by Pete Seeger. A single between their #1 hits was another Dylan tune titled "All I Really Want To Do". The Byrds were perennial favorites in Vancouver who consistently had better chart runs in Vancouver than back in their home country of America. Aside from their two #1 hits, they failed to chart other songs into the Billboard Hot 100. But in Vancouver they charted ten songs into the Top Ten.

Roger McGuinn was born in Chicago in 1942. When he was 13 years old he heard Elvis Presley sing "Heartbreak Hotel". Upon hearing the song he asked his parents to buy him a guitar. When he was 14 years old, he took a five-string banjo course from the Old Town School of Folk Music in Chicago. Soon after he began to play at coffee houses and got noticed by others in the folk scene. In 1958, McGuinn was hired to tour as a temporary member of the backing band for the Limeliters, the Chad Mitchell Trio and Judy Collins, which continued until 1962. He also provided backing vocals on a number of singles released by Bobby Darin from the late 50's until early 1963. Bobby Darin got ill and quit performing for a few years and founded TM Music out of the Brill Building in Manhattan. Darin hired McGuinn to write songs for $35/week. McGuinn also was a studio musician for both Judy Collins and Simon & Garfunkel.
Gene Clark was born in a small town of about 1,200 people called Tipton, Missouri, in 1944. He was the third of thirteen children and from his childhood began to play harmonica and guitar, after being taught to play by his dad. He started to compose songs by age eleven and at age 15 he was in a band called Joe Meyers and the Sharks. Clark was strongly influenced by The Kingston Trio and later founded a folk group in 1962 called the Rum Runners. Later that year, while playing with the folk group, the Surf Riders, in Kansas City, Gene Clark was discovered by the New Christy Minstrels. He got a place in their folk group in time to add his vocals to "Green Green", a Top 20 hit for the group in the summer of 1963. After he left the New Christy Mintrels and moved to Los Angeles, Gene Clark met Roger McGuinn at the Troubador Club.
David Van Cortlandt Crosby was born in LA in 1941. While growing up Crosby focused on drama, but developed an interest in music after graduation. In 1961 he and African-American singer, Terry Callier, sought a record deal in New York City. But there wasn't any interest in signing a record contract with a bi-racial folk duo in America in 1961. So, in 1962, Crosby became a member of Lex Baxter's Balladeers, a backing vocal group for band leader Les Baxter. Crosby was able to sign a recording contract in 1963 and release some material as a solo artist. In 1964 he met Roger McGuinn in Chicago while McGuinn was a sideman for Miriam Makeba while she was on tour in the USA.
Christopher "Chris" Hillman was born in 1944 in Los Angeles. His family grew up in rural San Diego County and when he was 16 years old, Hillman joined a bluegrass band named The Scottsville Squirrel Barkers who sang traditional tunes like "Home Sweet Home". When the folk group disbanded in 1963 after recording one album, Hillman moved to LA and formed a folk troupe named the Golden State Boys. The band soon changed their name to The Hillmen. Popular as The Hillmen were in the height of the folk music revival in the early 60's, they couldn't secure a record deal. Hillman left the band to join the Byrds, after McGuinn and Clark recruited him.
Michael James Dick was born in 1946 in Spokane, Washington. He ran away from home at that age of 17 and hitchhiked to California. He took on the surname of Clarke. Michael Clarke met David Crosby on a beach in northern LA while playing bongo drums. Crosby offered him a chance to audition and join The Byrds.
Ingram "Gram" Cecil Connor III was born in Winter Haven, Florida, in 1945. At age ten "Gram" saw Elvis Presley perform in concert in Waycross, Georgia, in February 1956. At the age of 12 "Gram" Conner III experienced the tragedy of his father's suicide. His mother remarried Robert Parsons, and the family took on the new surname. At the age of 15 Gram was playing in rock in roll bands the Legends and the Pacers at clubs in Florida. When he turned 16 he shifted his focus to folk music. He joined a folk group from Greenville, South Carolina, called the Shilos who performed at Florida's exhibition in the 1964 New York World's Fair. In the mid-60's he went on to study at Harvard and formed another folk group called The International Submarine Band, based out of Boston. In 1967 Chris Hillman and Gram Parsons met each other while waiting in line at a bank. In February, 1968, Parsons had an audition to become a member of The Byrds. At first they wanted him to be a jazz pianist but ended up having him contribute rhythm guitar and vocals. He was a member of the Byrds for just one year. During this time they recorded Sweetheart of the Rodeo.
Kevin Daniel Kelley was born in LA in 1943. He played drums in the Beverly Hills High School Band. After graduation he served with the U.S. Marine Corps for three years. He was stationed in Japan. In 1965 he joined a folk-rock group called the Rising Sons which included bandmates Ry Cooder and Taj Mahal. After the group split in 1967 Kelley got work at a clothing store. In early 1968, after David Crosby and Michael Clarke had left The Byrds, Chris Hillman met Kelley at the clothing store. After an audition, Kevin Kelley joined The Byrds in January 1968 as their new drummer. Kelley simultaneously drummed for the Texas rock group Fever Tree.
The Byrds quickly became known for their strong harmonies and their upbeat guitar sound. Gene Clark wrote a number of singles the band released in 1965-66 which went on to become Top Ten hits in Vancouver. One of these was "Set You Free This Time". Clark co-wrote "Eight Miles High" with McGuinn and Crosby. McGuinn wrote "Mr. Spaceman" and "So You Want To Be A Rock 'N Roll Star". He also wrote and "I'll Feel A Whole Lot Better". In the midst of this string of releases after "Turn Turn Turn" came the release of two tracks from the album Turn, Turn Turn: "It Won't Be Wrong"/"Set You Free This Time".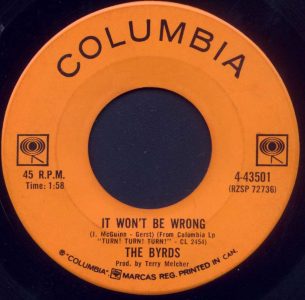 "It Won't Be Wrong" is a song with the singer trying to reassure their romantic interest that cuddling and loving each other won't lead to any harm. It won't be wrong, the singer contends. It seems that the person they are trying to woo is sitting on the fence. This is why the singer pleads, "let me love you." This needs to be stated since the other person is withholding their love and perhaps apprehensive or nervous about taking the next step.
In an article titled "6 Reasons Why the Right Person For You Should Always Make You Feel Nervous," Paul Hudson writes about nervousness and worry as signs we might be falling in love. He states, "At what moment do you realize you may be falling in love with someone? The moment you realize how nervous that person makes you feel. Nervousness is the way our minds tell us someone means a lot to us. Human beings develop a clear understanding of the dangers of life, the inevitable loss and the disappointment. When we find someone who always manages to make us nervous, it's a clear sign we find keeping him or her around extremely important…. The person you should spend your life with is the person who always manages to make you nervous. There are always reasons to worry and be nervous when it comes to life, but that nervousness usually stems from the need to protect ourselves."
In, "It Won't Be Wrong", it's possible that the romantic object who hasn't yet consented to love the person whose "heart goes wild" every time they are around is sorting out what their nervousness and apprehension mean. On the other hand, it's possible that the person being wooed is apprehensive. At some level they don't trust the assurance of the person whose heart is going wild. They fear they'll be harmed and that it won't feel right to get further involved.
In her Psychology Today article, "7 Reasons Most People Are Afraid of Love," Lisa Firestone writes that letting ourselves love someone else challenges our core defenses. "We are placing a great amount of trust in another person, allowing them to affect us, which makes us feel exposed and vulnerable." So, when someone says "let me love you," the risk might just feel too much. Firestone adds, "The ways we were hurt in previous relationships, starting from our childhood, have a strong influence on how we perceive the people we get close to as well as how we act in our romantic relationships. Old, negative dynamics may make us wary of opening ourselves up to someone new. We may steer away from intimacy, because it stirs up old feelings of hurt, loss, anger or rejection."
Lisa Firestone also discusses another reason people are afraid to get involved: What if the other person "likes them too much." In "It Won't Be Wrong", it is clear that one person wants to dive into the relationship. Their heart goes wild each time they hold their romantic partner. However, the person who hasn't decided to let themselves be loved may be uncertain about their own feelings. They may be thinking, "why doesn't my heart go wild when they hold me?" "Will my feelings of attraction change, become more amorous?" When one person feels less excited about dating or pursuing a relationship, they may be aware that they haven't met the right person. On the other hand, feelings can change from day to day. A sudden shared experience can bring forth feelings of sweetness and tenderness for the other person that weren't present previously. Staying in the relationship to can help us stretch into intimacy and be open to seeing what feelings for the other person can develop.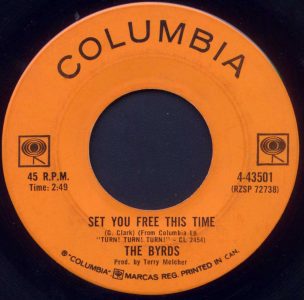 "Set You Free This Time" is a song about recognizing a relationship isn't working. One person takes stands that leave no room for compromise, they lie and make a fool of their partner. Their image of their partner ~ what their mind will allow them to imagine about their partner ~ leaves their partner diminished. They set limits for who the other person could be, in their mind, and their partner ended up feeling deflated. Consequently, the partner decides they may as well set each other free and risk finding someone else who provides a better foundation on which to build a life.
Minda Zetlin wrote an article with the long title, "Here's How to Tell If Someone Is a Toxic Person in the First 5 Minutes: If Your New Acquaintance Does Any of These Things, you Should Probably Stay Away." One of the indicators she cites is that the person is a complainer. She observes that listening to a complainer "gripe can be bad for your mood, your productivity, and maybe even your health. Plus, if you're like many people, you're in danger of getting sucked in, trying to fix whatever they're unhappy about." Zetlin also mentions people who put us on the defensive. "Someone who makes you feel like you have to constantly defend yourself, your company, or your beliefs is going to be exhausting to spend time with." If they are putting you on the defensive and taking stands where it only results in a win-lose proposition (they win and you lose), it's going to become a toxic relationship very quickly. Zetlin also suggests we check in with our guts. If you feel tense or unhappy when you get together with the person you've been dating, step back and examine why you are feeling negative. In some cases, the reasons for feeling unhappy or uneasy have to do with being intimidated by qualities that the other person possesses. However, feeling uneasy may also be a sign that the person is toxic for you and you need to set them free.
In 1966, the Byrds experienced controversy upon the release of "Eight Miles High", a song about flying into London, England, while on tour. Eight miles high/And when you touch down/You'll find that it's/Stranger than known….Rain gray town/Known for its sound/In places/Small faces unbound./Round the squares/Huddled in storms/Some laughing/Some just shapeless forms. When you fly eight miles high you are about 42,000 feet above ground. Lear Jets were flying that high in the 1960's and The Byrds often flew in Lear Jets. Gene Clark first thought of giving the song the title "Seven Miles High". But then he thought of The Beatles hit, "Eight Days A Week", and liked the sound of "Eight Miles High". However, some music critics and deejays thought the song must be about drugs and there was encouragement to ban the song. As a result "Eight Miles High" saw little or no airplay in Alaksa, Oregon, Nevada, Utah, Wyoming, Montana, New Mexico, Oklahoma, South Dakota, Arkansas, Louisiana, Alabama, Georgia, North Carolina, Kentucky, West Virginia, Maryland, Vermont and Maine.
In the midst of the controversy Gene Clark decided to quit the band. One of The Byrds final Top Ten hits in Vancouver was penned by Bob Dylan titled "My Back Pages". The song made the Top Ten in Vancouver in the spring of 1967.
"My Back Pages" was the final Top 40 hit for The Byrds in America. They had another Top Ten hit in Vancouver a year later, also penned by Bob Dylan called "You Ain't Going Nowhere". In 1968, Gram Parsons and Chris Hillman left the band to form the Flying Burrito Brothers. Drummer Michael Clarke was fired from the band at the end of 1967 and went to be a painter in Hawaii. He eventually would join the Flying Burrito Brothers. Then David Crosby left The Byrds at the end of 1967 and by the summer of 1968 formed one third of Crosby, Stills and Nash. After several more changes in membership The Byrds finally disbanded in 1973.
November 27, 2018
Ray McGinnis
References:
Joe Bosso, The Real Story Behind The Byrds "Eight Miles High," Music Aficionado, Beverly Hills, CA.
The Byrds Biography, The Byrds Fan Site.
David Crosby website, David Crosby.com
Zimmer, Dave, and Diltz, Henry. Crosby, Stills & Nash: The Authorized Biography. St. Martin's Press, New York, NY, 1984.
Einarson, John. Mr. Tambourine Man: The Life and Legacy of the Byrds' Gene Clark. Backbeat Books, San Francisco, CA, 2005.
Chris Hillman website, Chris Hillman.com
Hjort, Christopher. So You Want To Be A Rock 'n' Roll Star: The Byrds Day-By-Day (1965-1973). Jawbone Press, London, UK, 2008.
Larkin, Colin. The Byrds Biography, Encyclopedia of Popular Music. Omnibus Press, London, UK, 2007.
Johnny Rogan, The Byrds: Timeless Flight Revisited, (Rogan House, UK, 1998).
Ben Fong-Torres, Hickory Wind: The Life and Times of Gram Parsons, (St. Martin's Press, 1998).
Paul Hudson, "6 Reasons Why The Right Person For You Should Always Make You Nervous," Elite Daily, February 10, 2015.
Lisa Firestone, "7 Reasons Most People Are Afraid of Love: What Keeps Us From Finding and Keeping the Love We Say We Want," Psychology Today, January 16, 2014.
Minda Zetlin, "Here's How to Tell If Someone Is a Toxic Person in the First 5 Minutes: If Your New Acquaintance Does Any of These Things, You Should Probably Stay Away,"Inc.com.
"C-FUNTASTIC FIFTY," CFUN 1410 AM, Vancouver, BC, March 5, 1966.
For more song reviews visit the Countdown.