#221: Woodstock by Matthews' Southern Comfort
Peak Month: March 1971
10 weeks on Vancouver's CKVN chart
Peak Position #2
Peak Position on Billboard Hot 100 ~ #23
YouTube: "Woodstock"
Lyrics: "Woodstock"
Ian Matthews MacDonald was born in 1946 in Barton-upon-Humber, England. He quit school at age 16 and worked as an apprentice sign-writer for a local painting and decorating firm. Excited by the pop music explosion in Britain in the early 60s, he was part of several bands in Lincolnshire. MacDonald moved to London in 1965, and got work at Ravel's shoe shop on Carnaby Street. In 1966, he formed a surf-rock trio named The Pyramid. He changed his name to Ian Matthews (his mother's maiden name) to avoid confusion with Ian MacDonald of King Crimson. In late 1967, Matthews was invited to join the folk-rock band Fairport Convention before they recorded their debut self-titled album, Fairport Convention. A second album, What We Did on Our Holidays, was released in January 1969. But early during the recording of a third album, Unhalfbricking, a rupture was caused when Matthews had not been invited to attend a recording session. Subsequently, he left Fairport Convention, contributing vocals to only "Percy's Song". Pursuing his own career, Ian Matthews formed Matthews Southern Comfort.
Ian Matthews assembled an assortment of musicians to support his debut album in 1969 titled Matthews' Southern Comfort. These included several ex-Fairport Convention bandmates: bass guitarist Ashley Hutchings, and guitarists Simon Nicol and Richard Thompson. Matthews Southern Comfort (without the apostrophe) were not yet a band. At the same time, Ian Matthews was not yet ready to go solo. So the title was an attempt to encompass an album title and the collective of musicians that were in the recording studio. In 2018, Ian Matthews told author Ian Clayton, for Matthews' memoir (co-written with Clayton) Thro' My Eyes: A Memoir, "it got me out of the dilemma of not wanting to go solo and it sounded like a band name". The album took its name from a song "Southern Comfort" by the Canadian folk duo Ian & Sylvia.
The touring and recording band, Matthews Southern Comfort, who went on to release two more albums, Second Spring and Later That Same Year, would not be formed until later, with only pedal steel player Gordon Huntley and Matthews appearing on all three albums.
In early 1970, Ian Matthews was taken to a concert to hear a progressive-rock band called Harsh Reality. The guitarist, Mark Griffiths, was born in Northampton. As Harsh Reality had just been dropped from their record label, Griffiths was interested in joining Ian Matthews' new band. Another bandmate in Harsh Reality was Roger Swallow. Born in Northampton in 1946, from the age of 19, Swallow worked in children's television for the BBC and toured England playing for theatrical companies. Then, in 1968 he began working for the Beatles' Apple Publishing on Baker Street. With Harsh Reality, Swallow was a drummer/percussionist. Another bandmate with Harsh Reality, Carl Barnwell, played rhythm guitar, and also joined Matthew Southern Comfort. As well, session musician Gordon Huntley was added to the original lineup. Huntley was born in 1925, and in 1959 was a member of the Hawaiian Serenaders. In the 1960s, Huntley played folk-country at United States Air Force bases variously with George Brown's Alabama Hayriders, The Saddletramps, Dougie Dee and the Dee Men.
Soon after Matthew Southern Comfort began to jell, Roger Swallow left the band and was replaced by drummer Ray Duffy, formerly of Marmalade (who had an international hit in 1969 with "Reflections of My Life"). An early change in bass players found Andy Leigh, formerly of Spooky Tooth, taking on the role. In 1970 Matthew Southern Comfort released the studio album Second Spring.
As the band was booking appearances live in concert, there were also offers to have them appear on television. On June 28, 1970, Matthew Southern Comfort performed "Woodstock" on the Live in Concert program broadcast live by BBC Radio 1. Ian Matthews would recall that the group required an additional song for their set on the scheduled BBC radio session. The choice of "Woodstock" was Matthews' own suggestion. Ian Matthews had just become familiar with the Joni Mitchell's original version of "Woodstock", having only purchased her Ladies of the Canyon album earlier that week. Due to the positive response to Matthews Southern Comfort's live performance of "Woodstock", the BBC contacted Matthews's label, Uni Records. According to Matthews, the label "had no idea what the [BBC] were talking about and contacted my management, who asked me about it. Uni suggested that we record the song and add it to the newly recorded Matthews Southern Comfort album, Later That Same Year. Ian Matthews recalls, "I declined to mess with the completed album, but agreed to have them release the song as a single."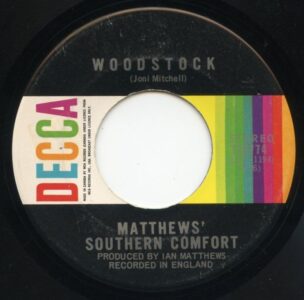 According to Ian Matthews, his band's BBC Radio performance of "Woodstock" echoed the Joni Mitchell original. However, for their studio recording of the song, the band radically customized the song's arrangement. Matthews would later admit to unease upon eventually meeting Joni Mitchell because he had changed the melody. Ian Matthews concedes, "I couldn't reach [her] high notes." But Joni Mitchell let Matthews know that she preferred his arrangement. Matthews Southern Comfort bassist Andy Leigh would recall: "We took [the song] apart and reassembled it and we knew we had something. We were an album band. We didn't do singles." In fact, Uni had issued one single off each of the first two of the three Matthews Southern Comfort albums. "But we knew this [track] … was something special."
MCA Records, Uni's parent company, agreed to release Matthews Southern Comfort's version of "Woodstock" only if the Crosby Stills Nash & Young version failed to chart in the United Kingdom. When that proved to be the case, Andy Leigh recalls that MCA "reluctantly released ours because of that agreement but they wouldn't spend a penny on promotion … But our managers, who were excellent, hired a PR, a songplugger. Tony Blackburn, who had the breakfast show on Radio 1, played 'Woodstock' and kept playing it and other DJs started doing the same." Ian Matthews would recall that once Tony Blackburn made "Woodstock" by Matthews Southern Comfort his record of the week, "it began to sell 30,000 copies a day, eventually going from #10 to #1 in a week."
Joni Mitchell wrote "Woodstock". Roberta Joan Anderson was born in 1943, in Fort Macleod, Alberta. After the end of World War II, her family moved to Saskatchewan. When she was 9 years old, Joni and her family moved to Saskatoon where she took piano lessons. In her teenage years, since she couldn't afford a guitar, Joni taught herself to play the baritone ukelele which she bought for $36. She played at parties and also hung out at a local coffeehouse in Saskatoon called the Louis Riel. She later learned the guitar. In 1964 she began her professional musical career by playing clubs and festivals around Canada. She began writing her own songs, starting with "Day After Day", which she wrote while on her way to the Mariposa Folk Festival in 1965.
In 1964 Anderson discovered she was pregnant by her college ex-boyfriend. In February 1965 she gave birth to a baby girl. On her own with a newborn, she was unable to find work. She kept this a secret for three decades 'til in 1994 she told "Vogue" magazine: "I had had a child, and I was broke, literally penniless. And I met Chuck Mitchell, and he said he would take us on. I was kind of railroaded…we were never suitable. I went down the aisle saying 'I can get out of this.'" A few weeks after the birth, Joni married folk-singer Chuck Mitchell. He promised to help take responsibility for the child but something changed, and a few weeks later Joni gave up her daughter for adoption.
In Rhode Island during the summer of 1966, Joni played a short set to much acclaim at the Newport Folk Festival. By the following year her marriage to Chuck Mitchell dissolved. She wrote about her experience in the song "I Had A King" on her debut album, Song to a Seagull. This was followed the next year with Clouds, which won her a Grammy for Best Folk Performance of 1969.
The lyrics to "Woodstock" refer to the Woodstock Music and Arts Festival of 1969. They recount the story of a concert-goer on a trek to attend the festival. Mitchell, unable to actually perform at the festival herself due to scheduling conflict. Her manager told her it would be better for her career if she appeared on The Dick Caveat Show. However, she was inspired to write the song based on an account of the festival relayed to her by then-boyfriend Graham Nash, who had performed there. "The deprivation of not being able to go provided me with an intense angle on Woodstock," she told an interviewer shortly after the event.
The lyrics tell a story about a spiritual journey to Max Yasgur's farm, the place of the festival, and make prominent use of sacred imagery, comparing the festival site with the Garden of Eden ("and we've got to get ourselves back to the garden"). The saga commences with the narrator's encounter of a fellow traveler ("Well, I came upon a child of God, he was walking along the road") and concludes at their ultimate destination ("by the time we got to Woodstock, we were half a million strong"). There are also references to the horrific "mutual assured destruction" of the Cold War ("bombers riding shotgun in the sky…") contrasted against the peaceful intent of the festival goers ("…turning into butterflies above our nation").
Performers at Woodstock included Jimi Hendrix, Tim Hardin, Joan Baez, Country Joe & The Fish, John Sebastian of the Lovin' Spoonful, Canned Heat, Creedence Clearwater Revival, The Who, Blood, Sweat & Tears, Jefferson Airplane, Janis Joplin, Santana, Ritchie Havens, Melanie and others. As well, numbers of recording acts declined an invitation to perform at Woodstock. These include Led Zeppelin, The Beatles, The Byrds, The Doors, The Guess Who, Tommy James and the Shondells, The Rascals, Rolling Stones, Procul Harem, Simon & Garfunkel and others.
In 1970, Crosby, Stills, Nash and Young were the first to release a recording of "Woodstock", in March 1970. That spring the single climbed to #11 on the Billboard Hot 100, #3 in Canada (#4 in Vancouver), #19 in Australia and #21 in France. In April 1970, Joni Mitchell released Ladies of the Canyon, and the track, "Woodstock", was the B-side to her single "Big Yellow Taxi". But it was Matthew Southern Comfort's version that was the biggest hit single internationally.
Matthew Southern Comfort's version of "Woodstock" peaked at #1 in Calgary (AB), #2 in Vancouver (BC) Memphis, and Honolulu, #3 in Chilliwack (BC) and Miami, #4 in Toronto, #5 in Detroit, Fresno (CA), and Windsor (ON), #6 in Houston, Rochester (NY), Cleveland, San Diego, San Bernardino (CA), and Seattle, #7 in Orlando, Sioux Falls (SD), Montreal, Pomona (CA), Philadelphia, Cedar Rapids (IA), Tulsa (OK), and Fort Lauderdale, #8 in Kansas City (MO), and Los Angeles, #9 in Dallas, Terre Haute (IN), Albuquerque (NM), Youngstown (OH), and Kalamazoo (MI), and #10 in Salinas (CA).
Internationally, "Woodstock" by Matthew Southern Comfort climbed to #1 in the UK, #2 in Norway, Poland and Sweden, #3 in South Africa, #4 in New Zealand, #5 in Canada, #9 in Denmark, #15 in Austria, and #17 in the Netherlands. However, in the USA the Matthew Southern Comfort version stalled at #23.
By the time of the North American success of Matthews Southern Comfort's "Woodstock", the band had dissolved. An October 1970 shake-up at MCA Records (UK) had resulted in Matthews Southern Comfort splitting with MCA – with the resultant cancellation of a US tour set to begin that November, the month of "Woodstock's" US single release. And in December 1970 Ian Matthews had abruptly quit. Matthews would attribute his departure to the demands incumbent on his band's success with "Woodstock:" He recalls, "It created all this peripheral stuff that took up my time. What would've been time learning to be a songwriter, it became time spent doing interviews, photographs, tours and appearances. It all came to a head after a dreadful soundcheck at Birmingham town hall. I left the building, walked down to the station, got on a train home and locked my door for a week."
In 1970 Gordon Huntley played guitar on Elton John's "Country Comfort" for the album Tumbleweed Connection. Huntley was a session musician for Rod Stewart, Leapy Lee, Cliff Richard and others. Gordon Huntley died at age 55 of cancer in 1985.
After Ian Matthews quit in December 1970, the remaining members of Matthews Southern Comfort continued under the shortened name of Southern Comfort, releasing three albums on the Harvest label.
In 1971, Ian Matthews formed Plainsong, along with Mark Griffiths. In 1978-79, Ian Matthews had a Top Ten hit in Canada and the USA with "Shake It". In 1989 he changed the spelling of his first name from Ian to Iian. Over his 50-year career, Matthews has been featured on over 100 albums. In 2018 he published his autobiography, Thro' My Eyes: A Memoir.
Mark Griffiths went on to work as a session musician. His notable contributions on guitar include with David Essex's "Rock On" in 1973, Cliff Richard and the Shadows, and the Everly Brothers.
Iian Matthews decided to revive Matthews Southern Comfort in 2005 until 2012. Over these seven years, Matthews was performed with Dutch pianist Mike Roelofs, New Zealand guitarist Richard Kennedy, Dutch guitarist and multi-instrumentalist BJ Baartmans, and American singer Terri Binion. Five years after MSC folded in 2012, Iian Matthews reformed Matthews Southern Comfort in the spring of 2017. The third iteration of MSC consists of Iian Matthews on vocals and guitar, Dutch musicians BJ Baartmans on electric guitar and mandolin, Eric Devries on vocals and guitar, and Bart de Win on keyboards.
Recent album releases by Matthews Southern Comfort are Kind Of New (2010), Like A Radio (2018), and The New Mine (2020).
December 24, 2021
Ray McGinnis
References:
"Gordon Huntley 3/1985," Rockandrollparadise.com.
Ian Matthews, with Ian Clayton, Thro' My Eyes: A Memoir, (Routs, 2018).
Sean O'Hagan, "Joni Mitchell: the Sophistication of her Music Sets her Apart from her Peers – Even Dylan," Guardian, October 26, 2014
Jack Hamilton, The Unknowable Joni Mitchell: Her Music Inspires a Deep Sense of Intimacy, yet her Fierce Privacy is the Key to her Genius, The Atlantic, November 2017.
"Your Average Rock & Roll Radio Survey," CKVN 1410 AM, Vancouver, BC, March 12, 1971.
For more song reviews visit the Countdown.