#460: Words by the Bee Gees
Peak Month: March 1968
7 weeks on Vancouver's CKLG
1 week Hit Bound
Peak Position #1
Peak Position on Billboard Hot 100 ~ #15
YouTube.com: "Words"
Lyrics: "Words"
Barry Alan Crompton Gibb was born in 1946 on the Isle of Man. Maurice Ernest Gibb and Robin Hugh Gibb were twins born on December 22, 1949, also on the Isle of Man. In 1955 Barry, who had learned to play guitar, convinced his younger twin brothers to form a skiffle band as vocalists, that he named The Rattlesnakes. Barry also got his young neighbors, Paul Frost (drums) and Kenny Horrocks (bass) to join. The Rattlesnakes played songs by Tommy Steele, Elvis Presley, Cliff Richard, Paul Anka, Buddy Holly and the Everly Brothers. In 1958, during a performance the Gibb brothers sang as a trio for the first time, performing the Chordettes Top Ten hit "Lollipop". But The Rattlesnakes had to disband in the summer of '58 when Gibbs parents announced that the family was moving to Australia.
Barry, Robin and Maurice began to perform locally and build up a reputation in their new hometown in Australia. The Gibbs brothers started to perform to raise spare change and spending money. They were introduced to Brisbane radio presenter jockey Bill Gates by dirt track racing promoter and driver Bill Goode, who had hired the brothers to entertain the crowd at the Redcliffe Speedway in 1960. The crowd at the speedway would throw money onto the track for the boys, who generally performed during the breaks. Gates changed their name from the Rattlesnakes to the BGs. In time they were billed as the Bee Gees after Australian Bill Gates, Bill Goode's and Barry Gibb's initials.
By March 1963 the Bee Gees got a record deal with Festival Records. They released their first single in Australia titled "The Battle of the Blue and the Grey". They appeared on an Australian variety show called Bandstand, patterned after Dick Clark's American Bandstand. The single cracked the Australian Top 100 singles chart. They released another eight singles into 1966, most penned by Barry Gibb. They also covered "Everyday I Have To Cry" and "Turn Around Look At Me". But in 1966 their single "Spicks And Specks" climbed to #5 in Australia. #1 in New Zealand, #2 in the Netherlands and the Top 30 in Germany. Suddenly, the Bee Gees were getting international attention. In 1967 they released "New York Mining Disaster 1941", which was actually inspired by the Aberfan Mining Disaster in Wales in October 1966. The single made the Top Ten in New Zealand, Netherlands, and Germany. It also made the Top 20 in Canada, USA, UK and Australia.
In 1967 the Bee Gees added Australian guitarist Vincent Melouney to the group. He was born in Sydney, Australia, in 1945. Melouney was the lead guitarist for Billy Thorpe and the Aztecs, a band that had one #1 and six more Top Ten hits on the Australian pop charts from 1964-65. The Gibbs brothers moved back to England in early 1967 and signed with Polydor in the UK and Atco in North America. When Vincent Melouney moved to England in 1967 he was asked to join the Bee Gees. In addition Colin Petersen joined the group on drums. Frederick Colin Petersen was born in 1946 in Queensland. He was a child actor. He moved to England in 1966, after having been a schoolmate of the Gibbs brothers at the Humpybong State School. After Barry, Robin and Maurice Gibb arrived in England they recruited Colin to join the Bee Gees. Both Melouney and Petersen were in the recording studio on the Bee Gees first four albums recorded in the UK (Bee Gees 1st, Horozontal, Ideas and Odessa), and on tour with them in 1967-69.
The Bee Gees surpassed earlier commercial successes with "To Love Somebody" in the fall of 1967. The single peaked at #4 in Vancouver (BC) and #17 on the Billboard Hot 100. In the winter of '67, the Bee Gees charted "Holiday" (#10 in Vancouver) and "Massachusetts" (#6 in Vancouver) into the Top 20 in the USA. Their next single release was a non-album single titled "Words".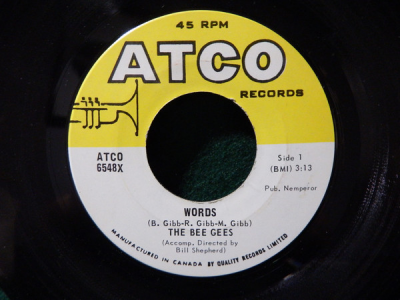 "Words" was written by the three Gibbs brothers. "Words" is a song about someone who observes of the time they're living in "this world has lost its glory." They meet someone who returns their smile. But to build on the smile, the suitor relies on his words to capture the heart of the one he is infatuated with. It seems the one they adore doesn't think they "mean a single word they say." But he protests that "words are all I have to take your heart away."
"Words" reflects a civilized and restrained sensibility. The suitor in this song isn't considering anything besides the words he could use to woo his romantic interest. Another, perhaps, less poetic guy might lead the person of their dreams straight to the bedroom and get physical. But the frankness of the Rolling Stones' "Let's Spend The Night Together" or the Doors "Light My Fire" were not the image of 21-year-old Barry or his 18-year-old twins. Moreover, the song is about using words to "dedicate" one's life to someone else. The nobility of the intention in "Words" is expressed in the instrumental score that accompanies the lyrics.
In her an article titled "52 Ways to Tell Someone You Love and Appreciate Them," Sue Ellson suggests that there are lots of ways to let someone know you love them. If you really mean it, try one of these phrases:
~ I feel amazing when I spend time with you.
~ I accept you as you are.
~ I could sit next to you and not say anything and be at peace.
~ I could go anywhere with you.
~ Whenever I see a photo of us together, I smile.
~ Can I give you a hug?
~ I appreciate that you think about my feelings before you do and say things.
~ I enjoy your sense of humor.
~ I feel refreshed and renewed around you.
~ I am thankful to have you in my life.
We have more than words to let a romantic partner in our life know we love them. But so much of our waking hours do rely on conversation, as a way of communicating our expressions of love.
"Words" peaked at #1 in Vancouver (BC), Boston and Oshawa (ON), #2 in Toronto, Louisville (KY), Edmonton (AB), Billings (MT), Ventura (CA), Los Angeles and San Diego, #3 in Hamilton (ON), Pueblo (CO), Worcester (MA), Tucson (AZ) Jacksonville (FL) and Seattle, #4 in Grand Rapids (MI), Columbus (OH), Buffalo and Rochester (NY), #5 in Miami, Davenport (IA), Albuquerque (NM) and Portland (ME), #6 in Pittsburgh, #7 in Sudbury (ON), Dayton, Toledo and Cleveland (OH), Lincoln (NE), Milwaukee (WI) and Calgary (AB), #8 in Cincinnati (OH) and Fort Wayne (IN), and #9 in Salt Lake City. It stalled on the Billboard Hot 100 at #15, and got little airplay in a dozen states. "Words" was later included on the 1969 compilation album Best of Bee Gees.
"Words" has been covered by Georgie Fame, Sandie Shaw, Glen Campbell, Cilla Black, Engelbert Humperdinck, Elvis Presley, Cliff Richard, Lynn Anderson, Rita Coolidge, Roy Orbison, Barbara Mandrell, Shawn Colvin and others.
To accompany the release of their singles "New York Mining Disaster 1941", "To Love Somebody", "Massachusetts", "Holiday", "World" (a single not released in North America), "Words" and "I've Gotta Get A Message To You", the Bee Gees toured from March 27, 1967, to November 19, 1968. They performed 81 concert dates across ten nations in Europe, and three concert dates in the USA – New York City, Daly City and Anaheim, CA.
The Bee Gees next biggest hit in Vancouver in 1968 was "I've Gotta Get A Message To You", which peaked at #3. And "I Started A Joke" spent two weeks at #3 in Vancouver (BC). It also became the Bee Gees biggest hit to date in the USA peaking at #6 on the Hot 100.
The Bee Gees continued to chart more songs onto the pop chart on CKLG in Vancouver (BC). Between May 20, 1967, and June 20, 1969, the Bee Gees had a song on the local pop charts for 74 weeks out of 109 weeks. Vincent Melouney left the Bee Gees in 1969. Colin Petersen stayed on into 1970 to record with the Brothers Gibb on the Cucumber Castle album. After Petersen left, the Bee Gees were once again a trio of brothers. In 1969 Robin Gibb released two singles, "Saved By The Bell" and "One Million Years". Both were Top Ten hits in the Netherlands, and "Saved By The Bell" also made the Top Ten in the UK, Australia, Austria and Germany.
The trio fell off the radar for the next 17 months in North America, though "Don't Forget To Remember" was a big international hit single in late 1969. But for Vancouver radio listeners the Bee Gees finally reappeared on the local pop charts in late November '70 with "Lonely Days". This became their first #1 hit locally in January '71, and #3 on the Billboard Hot 100. While the single was on the pop charts, the Bee Gees performed in concert in Vancouver at the PNE Garden Auditorium on February 20, 1971. The Bee Gees climbed to #1 again in Vancouver in late July '71 with "How Can You Mend A Broken Heart". The song became their first #1 nationally in the USA.
The Bee Gees next four albums, with accompanying single releases were not as commercially successful. Although, "Run To Me" managed to climb to #10 on CKVN in September 1972. On September 8, 1974, the Bee Gees appeared in concert at the Queen Elizabeth Theatre in Vancouver.
But the Bee Gees had to refashion their sound with "Jive Talkin'" in 1975. "Jive Talking'" was a stuttering song, like "My Generation" by the The Who and "Changes" by David Bowie. It drew on riffs from songs by KC & The Sunshine Band and Shirley & Company's "Shame Shame Shame". The song peaked at #1 for three weeks in August 1975 in Vancouver, and became the group's second #1 on the Billboard Hot 100. The Bee Gees followup single in the fall of '75, "Nights On Broadway" peaked at #3 in Vancouver. And in March '76, the Bee Gees peaked at #7 with "Fanny" on the CKLG Top 30. Later that year both "You Should Be Dancing" and "Love So Right" peaked in Vancouver (BC) at #6, each for several weeks. While "You Should Be Dancing" climbed to #1 on the Billboard Hot 100.
But it was in the late 70s that the Bee Gees enjoyed superstar status with the release of the soundtrack for Saturday Night Fever. The film, starring John Travolta was a huge box office smash. The Gibbs brothers received two Golden Globe nominations in 1977 for Best Original Score and Best Original Song ("How Deep Is Your Love"). This also began a string of number one hits on the Billboard Hot 100 for "How Deep Is Your Love", "Stayin' Alive", "Night Fever", "Too Much Heaven", "Tragedy" and "Love You Inside Out". The first three were from Saturday Night Live, and the last three were from their fifteenth studio album, Spirits Having Flown, released in January 1979. And though it didn't chart on the Billboard Hot 100, "More Than A Woman" also from the film made the Top Ten in Vancouver (BC).
Saturday Night Fever became the biggest selling soundtrack album from a movie of all time. It still holds that record as of 2020 with over 54 million record sales of the double-disc album. Other hits from the soundtrack include "A Fifth Of Beethoven" by Walter Murphy and the Big Apple Band, and "If I Can't Have You" by Yvonne Elliman. Both singles topped the Billboard Hot 100. And "Disco Inferno" by the Trammps climbed to #11 on the Hot 100, and #5 in Vancouver (BC) in June 1978. The Bee Gees earlier hits "Jive Talking'" and "You Should Be Dancing" were also featured in the film and on the soundtrack for Saturday Night Fever. On July 15, 1979, the Bee Gees performed at the Pacific Coliseum in Vancouver (BC).
In addition, between 1977 and 1980, younger brother Andy Gibb (born 1958) charted six Top Ten singles, including three #1 hits on local Vancouver (BC) pop charts the Billboard Hot 100. Those number one hits for Andy Gibb were "I Just Want To Be Your Everything", "(Love Is) Thicker Than Water" and "Shadow Dancing". And Barry Gibb had two Top Ten duets with Barbra Streisand ~ "Guilty" and "What Kind Of Fool". Consequently, by the early 80s most listeners were tired of being saturated from Bee Gees disco-craze-inspired songs on their radio dial.
After 1979 the Bee Gees managed just one more sizable hit in North America with "One" in 1987. However, that same year over in Europe "You Win Again" – from the E.S.P. album – climbed to #1 in Ireland, Austria, Germany, Switzerland and the UK; And the Top Ten in Belgium, Netherlands and in Australia. In 1987 "You Win Again" stalled at #75 on the Hot 100 in the USA.
In 1983 Barry Gibb wrote "Islands In The Stream" for Marvin Gaye. But Gaye turned it down, and Gibb offered it to Dolly Parton who did a duet with Kenny Rogers. The song became a number one hit that fall. In 1983 Robin Gibb had a #1 hit in Germany with "Juliet", which also climbed to #2 in Austria. Next, in 1984 Robin Gibb had an international Top Ten hit in South Africa and Italy with "Boys Fall In Love". The single also topped the Top 40 in Montreal. In 1988 tragedy struck the Gibb family when 30-year-old Andy died from an inflammation of the heart muscle.
In the 1990s, the Bee Gees were virtually absent from the Top 30 in the USA and Canada. But they had a number of Top Ten hits in Europe. These included a song they wrote titled "Secret Love" (#2 in Austria and Germany, and Top Ten in the UK, Belgium and Ireland in 1991); "Paying The Price Of Love" (#5 in Belgium in 1993); "For Whom The Bell Tolls" (#4 in Ireland and #6 in the UK in 1993); "Alone" (Top Ten in 1997 in the UK, Ireland, Switzerland, Germany, Belgium, Austria, Australia and New Zealand); and a duet with Celine Dion titled "Immortality" (#2 in Austria and Germany, #5 in the UK and #8 in Switzerland in 1998).
Maurice Gibb, who was married from 1969 to 1973 to UK pop star Lulu, died at age 53 in 2003 from a cardiac arrest, due to complications from a twisted intestine. Robin Gibb died in 2012 at the age of 62 after being diagnosed with cancer. Barry Gibb continued to release singles until 2011. His last tour was in 2016.
Over the years the Bee Gees won Grammy Awards for Best Pop Vocal Performance by a Group for "How Deep Is Your Love"; Best Pop or Vocal Performance by a Duo or Group for Saturday Night Fever; Best Arrangement of Voices for "Stayin' Alive"; Album of the Year for Saturday Night Fever; Producer of the Year for Saturday Night Fever; Legend Award in 2003; Hall of Fame Award in 2004 for Saturday Night Fever; and in 2015 a Grammy Lifetime Achievement Award. In 2018, Barry Gibb became Sir Barry when he was knighted Prince Charles.
April 13, 2020
Ray McGinnis
References:
"The Story About the Brothers Gibb Part 1: 1940-1950," brothersgibb.com.
Sue Ellson, "52 Ways to Tell Someone You Love and Appreciate Them," Tiny Buddha.com.
Frank Rose, "How Can You Mend a Broken Group? The Bee Gees Did It With Disco: The Saga of a Not-So-Average White Band," Rolling Stone, July 14, 1977.
David Browne, "Robin Gibb, Bee Gees Co-Founder, Dead at 62: Singer had been Battling Cancer," Rolling Stone, May 20, 2012.
"Bee Gees raise questions over death of Maurice," Daily Mail, London (UK), March 16, 2003.
"Arise Sir Barry: Bee Gee is Knighted," BBC, June 26, 2018.
Tim Ott, "The Bee Gees: How Three Small-Town Brothers Became Leaders of the 70s and 80s Music Scene," Biography.com, August 16, 2019.
"Bee Gees – concerts in Canada," setlist.fm.
"Boss 30," CKLG 730 AM, Vancouver, BC, March 3, 1968.
For more song reviews visit the Countdown.