#652: What The World Needs Now by Tom Clay
Peak Month: August 1971
5 weeks on CKVN's Vancouver Charts
Peak Position ~ #1
Peak Position on Billboard Hot 100 ~ #8
YouTube.com: "What The World Needs Now Is Love"
"What The World Needs Now Is Love"
Thomas Clague was born in New York City in 1929. He got involved in radio in the early fifties while he was in his early twenties and was a radio personality in Buffalo on WWOL-AM as "Guy King." On July 3, 1955, Guy King did a publicity stunt from the top of a billboard in Buffalo's Shelton Square. From his perch he broadcast "Rock Around the Clock" by Bill Haley & His Comets over and over again. The stunt resulted in Guy King being fired from WWOL and being arrested. Local Vancouver DJ, Red Robinson was also known for publicity stunts, though none landed him in jail. Thomas Clague moved to Cincinnati and then back to Detroit on WJBK. He got to DJ school dances and other events around town in addition to his regular paycheck from the pop station. But then, in 1959, Clague was caught up in the Payola Scandal while there were hearings in Washington D.C. about corruption of youth in America because of rock 'n roll. Alan Freed was fired, so was Tom Clay for accepting bribes of $6,000 to spin certain discs on air. In 1959 $6,000 was about as much as $52,000 with inflation factored in for earners in 2018. We worked briefly at WQTE in Detroit before moving to California.
Tom Clay got work spinning discs at KDAY in Santa Monica, California from July 1961 to April 1962. While he was there he became friends with actress Marilyn Monroe. She would call him up on his radio show in response to his DJ patter, including comments about his children. After he was fired when KDAY switched from a rock-pop format to soul, Clay moved to CKLW in Windsor, Ontario. During the early days of Beatlemania Tom Clay did an interview with The Beatles. Then he created the International Beatle Booster Booby Club (I.B.B.B) and invited radio listeners to send him money. A poster in Windsor stated "For Tom's Personal Recorded Message to you plus a copy of his Sign-Off theme Send One Dollar to Rebel – Box 500, Detroit, Michigan."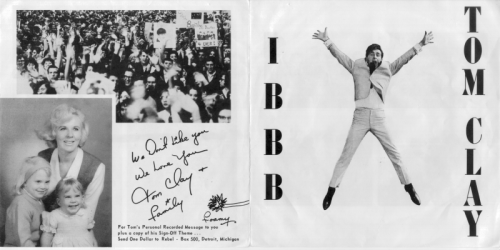 Soon 80,000 radio listeners had sent Tom Clay $1.00 bills to the post office box and Clay had $80,000 in the bank. The tally was equal to $632,000 in inflation adjusted 2018 dollars. By bulk mail, Clay sent some IBBB club members a 45 RPM recording of an interview he had with The Beatles titled "Remember, We Don't Like Them, We Love Them." IBBB club members received in their bulk mail from Tom Clay a membership card. It read:
"Be it known that _______________ is
an OFFICIAL MEMBER of the
I.B.B.B. CLUB
Tom Clay – Pres.
"We don't like them
WE LOVE THEM"
Clay was fired from CKLW for the publicity stunt and for creating a club that had a dubious benefit, except for Clay's own bank account. Although, Clay did hold Beatles Booster Balls In Detroit and had out paraphernalia he claimed he got from The Beatles.
On his June 18, 1964, broadcast, the day before his final show, Tom Clay promised to fly ten lucky IBBB club members to London, UK, to see the Beatles. He told listeners "I'm still continuing with the International Beatle Booster Booby Club. And there are still many ways that all of us can have fun and make such a big club a great thing. I still intend to take the ten teenagers to meet The Beatles backstage. Even though I may not be affiliated with the station and that I will not be an M.C., because of our personal friendship with The Beatles, we have already checked this out, we will be with them as their personal friend and they will allow us to bring the ten people behind stage to meet them. And that they (The Beatles) are still planning and looking forward to having dinner with me, which I told them in a letter that I couldn't have it in my house 'cause of certain difficulties. However, that I had rented space in a restaurant, one of the best restaurants in town for that particular purpose. And that they are looking to it. So that still goes on as planned. So don't think that I have given up, or cheated you, or been a traitor to you. I still plan on doing the whole thing with The Beatles and so forth. I don't know what I'm going to do. But I might ,in about two or three weeks I might leave for Europe and join The Beatles while they're on their tour. And then come back with them when they come back into town, you know, into Detroit and so forth, and stay with them for about a month. I'll send a telegram out to them asking if this would be possible. I think because of our personal relationship, and because they liked us as well as they did, I think they will agree and I will join them on the tour and be one of them. Although I won't get up and sing 'cause I don't know how to do that. I might find something to do. Then I might come back here and do another dance and bring back certain items that belong to them. So don't think I kid ya. Okay. Music…. We've had a delay in a shipment of over 17,000 records and it tied everything up. And we're very sorry that you haven't got it yet. But if you really believe in me, and really love me, you'll trust me. It's on its way to you. Believe me."
Tom Clay went on to work at other radio stations including WTAK, a talk radio format station in Detroit in 1966. By 1968-69 Clay moved to KGBS in Los Angeles. It was there that Clay got acquainted with studio production. In time he was able to make his own recording. Taking a page from Simon & Garfunkel's "Silent Night/7 O'Clock News", Clay recorded "What The World Needs Now Is Love".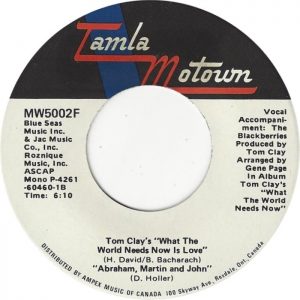 Interspersed between the sung refrain are news clips connected with the assassinations of President John F. Kennedy on November 22, 1963, the assassination of the Rev. Dr. Martin Luther King Jr. on April 4, 1968, and Senator Robert Kennedy who was assassinated on June 5, 1968, after winning the California and South Dakota primaries for the Democratic Party race for President of the United States.
"What The World Needs Now Is Love" is a song co-written by the songwriting team of Burt Bacharach and Hal David. The controversy and disagreements among Americans about the wisdom of going to war in Vietnam was the inspiration for the song's lyrics. The song was a Top Ten hit in 1965 for Jackie DeShannon.
Much has been written about the assassinations of three of the most iconic liberal political figures in the 1960's. Some of the best books written about JFK are JFK and the Unspeakable: Why He Died and Why It Matters by James W. Douglass, The Devil's Chessboard by David Talbot and JFK and Vietnam by John M. Newman. In a news story in the Boston Globe it was reported that Attorney General and brother of the slain president, Robert F. Kennedy Jr., believed that JFK's assassination was the result of a conspiracy. In 1979 the Congressional Report of the Select Committee on Assassinations of the U.S. House of Representatives wrote "The committee believes, on the basis of the evidence available to it, that President John F. Kennedy was probably assassinated as a result of a conspiracy." In the four decades after JFK died more than 80% of Americans polled answered "Yes" in response to the question if they believed there was a conspiracy to murder the president on November 22, 1963.
On December 12, 1999, the New York Times reported the verdict of a Grand Jury in Memphis, Tennessee, concerning the assassination of the Rev. Dr. Martin Luther King Jr. A jury in a civil suit brought by the family of the Rev. Dr. Martin Luther King Jr. decided today that a retired Memphis cafe owner was part of a conspiracy in the 1968 killing of Dr. King. The jury's decision means it did not believe that James Earl Ray, who was convicted of the crime, fired the shot that killed Dr. King. After four weeks of testimony and one hour of deliberation, the jury in the wrongful-death case found that Loyd Jowers as well as "others, including governmental agencies" had been part of a conspiracy. The jury awarded the King family the damages they had sought: $100, which the family says it will donate to charity. The family has long questioned Mr. Ray's conviction and hoped the suit would change the legal and historical record of the assassination. Mr. Jowers, in a 1993 television interview, said that he had hired a Memphis police officer to kill Dr. King from the bushes behind his restaurant. Mr. Jowers said he had been paid to do so by a Memphis grocery store owner with Mafia connections. The transcript of the Conspiracy Trial concerning the death of Rev. Dr. Martin Luther King Jr., held in Memphis in the fall of 1999, is available to read online at The Martin Luther King Jr. Center for Nonviolent Social Change.
On Tom Clay's song, the live report of the assassination of Robert F. Kennedy
was from Mutual Broadcasting System reporter Andrew West.
The Mutual Broadcasting System was an American radio network. So the first listeners to hear Andrew West on the MBS radio network were hearing him live as the assassination took place. Others woke to hear the audio clip played on the hourly news on MBS radio stations the following day. Andrew West was an eyewitness to RFK's assassination at the Ambassador Hotel.
The whole clip has West saying "
Senator Kennedy has been … Senator Kennedy has been shot!
Is that possible? It is possible, ladies and gentlemen! It is possible! He has … Not only Senator Kennedy!
Oh my God! … I am right here, and Rafer Johnson has hold of the man who apparently fired the shot!
He still has the gun! The gun is pointed at me right this moment! Get the gun! Get the gun! Get the gun!
Stay away from the guy! Get his thumb! Get his thumb! Break it if you have to! Get the gun, Rafer [Johnson]!
Hold him! We don't want another Oswald!
"
In the spring of 2018 the Washington Post ran a headline "Who killed Bobby Kennedy? His son RFK Jr. doesn't believe it was Sirhan Sirhan." The news story reported "Robert F. Kennedy Jr. pulled up to the massive Richard J. Donovan Correctional Center, a California state prison complex. Kennedy was there to visit Sirhan B. Sirhan, the man convicted of killing his father, Sen. Robert F. Kennedy, nearly 50 years ago. It was the culmination of months of research by Kennedy into the assassination. He would not discuss the specifics of their conversation. But when it was over, Kennedy had joined those who believe there was a second gunman, and that it was not Sirhan who killed his father. He now supports the call for a re-investigation of the assassination led by Paul Schrade, who also was shot in the head as he walked behind Kennedy in the pantry of the Ambassador Hotel … but survived. Though Sirhan admitted at his trial in 1969 that he shot Kennedy, he claimed from the start that he had no memory of doing so. And midway through Sirhan's trial, prosecutors provided his lawyers with an autopsy report that launched five decades of controversy: Kennedy was shot four times at point-blank range from behind, including the fatal shot behind his ear. But Sirhan, a 24-year-old Palestinian immigrant, was standing in front of him. Was there a second gunman? The debate rages to this day."
Ahead of Martin Luther King Jr. Day in 2019, relatives of Martin Luther King Jr., along with relatives of slain President John F. Kennedy and Senator Robert F. Kennedy called for the United States Congress to open a new probe into the deaths of these iconic figures, along with Malcolm X. Together with a list of 60 prominent American citizens, the relatives are among those who are signatories for a Truth and Reconciliation Commission into the assassinations. Among the signers are Kathleen Kennedy Townsend and her brother Robert F. Kennedy Jr., children of the slain senator. Other signatories include G. Robert Blakey, the chief counsel of the House Select Committee on Assassinations, which determined in 1979 that President Kennedy was the victim of a probable conspiracy. And Dr. Robert McClelland, one of the surgeons at Parkland Memorial Hospital in Dallas who tried to save President Kennedy's life and saw clear evidence he had been struck by bullets from the front and the rear.
Tom Clay's spoken word recording climbed to #1 in San Diego, Salt Lake City, Boston, Seattle, Pittsburgh, Austin, Vancouver (BC), Louisville (KY), Minneapolis/St. Paul, St. Louis, New Haven and Buffalo. The song climbed to #3 in Miami and Honolulu, #4 in New York City, Chicago and Omaha, and #7 in Phoenix and Portland (OR). However, in America the song got passed over in Alaska, Idaho, Montana, Wyoming, South Dakota, Arkansas, Louisiana, Mississippi, Wisconsin, Alabama, Tennessee, West Virginia, Delaware, Maryland, Vermont, New Hampshire, Ohio, Iowa, Rhode Island and Maine. The song also got scant airplay in New Mexico, Nevada, Oklahoma, Colorado, Kansas, South Carolina, North Carolina, Indiana, Virginia and Michigan. Consequently, although the song did well in over twenty radio markets in the USA, the scant to nonexistent airplay across thirty states kept the single stalled at #8 on the Billboard Hot 100.
After "What The World Needs Now Is Love" made the Top Ten on the Billboard Hot 100, Tom Clay released "Whatever Happened To Love". The tune was a spoken word ode to idyllic childhood with a sung verse by a chorale. The single was a commercial flop.
Over the next two decades Tom Clay variously worked at WCBS-FM in New York, WWWW-FM in Detroit and at KPRZ in Los Angeles. Clay also did voice over work and worked as a voice coach. He died in 1995 of cancer.
January 3, 2019
Ray McGinnis
References:
"Tom Clay CKLW broadcast excerpts, June 18 and 19, 1964," Motor City Radio Flashbacks.com.
"Tom Clay interview 1964 with The Beatles," 45-rpm.com
"Tom Clay I.B.B.B. CLUB," 45-rpm.com.
Angela Flynn, "Meeting the Beatles: It was Nearly 50 Years Ago Today that The Beatles Made their Detroit Debut. But One Lucky Teen Got to Meet the Fab Four Months Before," Hour Detroit.com, September 4, 2014.
Steve Cichon, Buffalo's KB: WKBW 1520 Radio, Staff Announcer.com.
"What The World Needs Now Is Love", Wikipedia.org.
Clay Cole and David Hinkley, Sh-Boom!: The Explosion of Rock 'n' Roll (1953-1968), (Morgan James Publishing, 2009).
Tom Clay, "Whatever Happened To Love", MoWest, 1972.
Lisa Pease, "Can Obama Face the 'Unspeakable'?," Consortium News, December 14, 2009.
"Book Report: JFK and the Unspeakable," Daily Kos, January 9, 2010.
David Talbot, The Devil's Chessboard: Allen Dulles, the CIA, and the Rise of America's Secret Government, (Harper, 2015).
John M. Newman, JFK and Vietnam: Deception, Intrigue, and the Struggle for Power, John M. Newman, 2017.
Brian Bender and Neil Swidey, "Robert F. Kennedy Saw Conspiracy in JFK's Assassination," Boston Globe, November 24, 2013.
Report of the Select Committee on Assassinations of the U.S. House of Representatives, United States National Archives, July 1, 1979.
William F. Pepper, An Act of State: The Execution of Martin Luther King Jr, (Verso, 2008).
Emily Yellin, "Memphis Jury Sees Conspiracy in Martin Luther King's Killing," New York Times, December 9, 1999.
Tom Jackman, "Who killed Bobby Kennedy? His son RFK Jr. Doesn't Believe it was Sirhan Sirhan," Washington Post, May 26, 2018.
Nik DeCosta Klipa, "Bobby Kennedy's son thinks he was killed by a second shooter. Is there anything to it?," Boston Globe, May 31, 2018.
Dante Chinni, "The One Thing All Americans Agree On: JFK Conspiracy," NBC, October 29, 2017.
"Memphis Conspiracy Trial of Martin Luther King Jr.," The Martin Luther King Jr. Center for Nonviolent Social Change.
Stephanie Haney, "New Probes Demanded into Murders of JFK, RFK, and Malcolm X: Celebs and Relatives of Martin Luther King Jr. Call for New Probe into his Death Ahead of his Public Holiday as they claim his Assassination and JFK, RFK and Malcolm X's killing were Conspiracies Covered up by the Government," Daily Mail, UK, January 20, 2019.
"Summer Fun '71 Survey," August 13, 1971.
For more song reviews visit the Countdown.