#654: Yellow Balloon by The Yellow Balloon
Peak Month: May 1967
8 weeks on CKLG's Vancouver Charts
Peak Position ~ #3
Peak Position on Billboard Hot 100 ~ #25
YouTube.com: "Yellow Balloon"
Lyrics: "Yellow Balloon"
Don Louis Agrati was born in 1944 in San Diego. His dad, Lou Anthony Agrati, was a sausage maker. His mother was talent agent. By the age of three Don was playing drums. Young Don became a child actor by the age of ten and took the show name Don Grady. When he was 13 Grady became one of the Mouseketeers on the Mickey Mouse Club in 1957. He got the role on the TV show due to being able to play the accordion, clarinet, drums, saxophone, trumpet, guitar and piano. In addition, he was able to sing and dance. For his audition he played five instruments while singing "Cry," a hit for Johnnie Ray in 1951. In December 1957 Grady appeared in an episode of The Restless Gun. In 1958 and 1959 Don Grady appeared in selected episodes of the first two seasons of The Rifleman. In 1958, Don Grady also appeared in the western TV series Buckskin. He also appeared on several occasions in both Have Gun – Will Travel and Wagon Train. In 1960 Don appeared in three films: Cash McCall, Ma Barker's Killer Brood and The Crowded Sky. Grady became an actor in the TV series My Three Sons. The TV series ran from 1960 to 1971 and Grady played the part of Robbie Douglas for all twelve years.
In 1963, Don Grady recorded on the Checker label with a song he wrote titled "Oh Oh." He wrote "A Broken Heart Knows Better" and the song was released on Capitol Records. He appeared on American Bandstand on May 30, 1964, to perform the song and be interviewed by Dick Clark. The single made the Top 40 on KIMN in Denver in July of that year. Grady wrote "One Good Turn Deserves Another" in the fall of 1964. The single was given a slick production with Los Angeles' Wrecking Crew.
In 1965, Don Grady formed a group called The Palace Guard. Grady played keyboard and drums as well as being the lead vocalist. The Palace Guard released the double-sided single "Little People" and "Summertime Games." Both songs were written by Don Grady. He appeared on Hollywood A-Go-Go, but The Palace Guard was not present, even though there were clearly backup vocals in the recording.
In 1966 Don Grady released a song he wrote on the Canterbury label titled "The Children Of St. Monica." The recording act on the single release was Don Grady and the Windupwatchband. One of the members of the Windupwatchband was Daryl Dragon who later became the Captain in the successful 70's duo The Captain & Tennille. The song climbed to #3 in Seattle and Louisville and #5 in Tucson. Grady had the song in the Top Ten in various radio markets in the winter of 1966-67. He had a psychedelic rock tune titled "Impressions Of Syvonne" that was a commercial failure in early 1967.
In the fall of 1966, Dean Torrence was searching for some new songs to record for an album. He approached local Los Angeles singer/songwriter, Gary Zekley, for help. Zekley gave several songs to Torrence. One was called "Yellow Balloon". Torrence recorded it, but Zekley was underwhelmed by the effort. Consequently, Gary Zekley approached several record labels to pitch the single. At Canterbury Records, Ken Handler was enthusiastic about the song and arranged for the song to be recorded at once. Zekley did the vocals. Mike Post played 12-string, Mike Rubini played the harpsichord and Tim Gordon played drums. Mike Post has recorded a demo in September 1963 titled "Popsicles And Icicles." The trio of young women singing on the demo soon were given the name The Mermaids. The song, written by David Gates, became a #3 hit on the Billboard Hot 100 in January 1964.
Zekey's recording of "Yellow Balloon" was credited to a group named The Yellow Balloon. Dean Torrence's version of "Yellow Balloon" was credited to Jan And Dean even though Jan Berry was in hospital recovering from a near fatal car accident. That version appeared on the pop charts in mid-February. It managed to climb into the Top Ten in Kansas City, Worcester and Springfield (MA) and Cincinnati. But Jan & Dean's "Yellow Balloon" got next to no airplay in 34 states and it failed to crack the Billboard Hot 100. Meanwhile, "Yellow Balloon" by The Yellow Balloon climbed to #25 on the Billboard Hot 100. On the strength of the single's modest success, Canterbury Records decided to record a debut album for the group. And there were requests for The Yellow Balloon to appear in concert and on TV variety shows. However, The Yellow Balloon existed in name only. So Ken Handler invited Don Grady, whose "The Children Of St. Monica" had recently been released on Canterbury, to help form a band called The Yellow Balloon.
Don Grady was a celebrity in his seventh season with My Three Sons, when he helped form The Yellow Balloon after the songs release in February 1967. He contacted some musicians he knew. The other Yellow Balloon band members, for TV show and live performances, were lead singer Alex Valdez, keyboard player Frosty Green, bass guitarist Don Braucht and lead guitarist Paul Canella. Don Grady chose to appear in a disguise whenever they performed in concert. As the groups' drummer, Don Grady wore a big yellow hat and sunglasses. The disguise worked for awhile, but after three months word got out that the drummer in Yellow Balloon was none other than Robbie Douglas on My Three Sons (a.k.a. Don Grady).
On the Yellow Balloon's debut album, Don Grady was billed as Luke R. Yoo, adding to his intention to remain incognito. Gary Zekley, for contractual reasons, didn't want his name to appear on the album. So he was given the persona Yodar Critch, taken from a statue in the TV show Our Miss Brooks.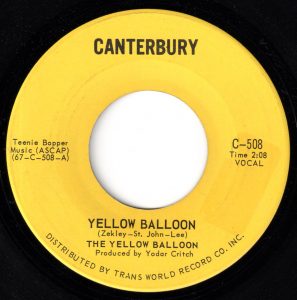 "Yellow Balloon" is a song about a guy who never liked the rain. But now that he's fallen in love he enjoys walking in the rain with his sweetheart. Everything feels brighter walking in the rain. He knows the sun will shine. Being in love makes him see the bright side of life. The feelings he is having are, as the song's lyrics reveal "hard to explain."
In a 2017 article in the Independent, Kristin Salaky wrote about some of the signs that confirm if you are in love. One of these is feeling like your perpetually on a natural high. She writes, "It's completely normal to feel out of your mind when falling for someone. A study from the Kinsey Institute found that the brain of a person falling in love looks the same as the brain of a person who has taken cocaine. You can thank dopamine, which is released in both instances, for that feeling. This is a good explanation for why people in new relationships can act absolutely nonsensically." Chances are that the narrator in the song, "Yellow Balloon", is feeling that familiar rush.
As early as the 14th century there were illustrations of balloons made from inflated pig bladder. Galileo chose and inflated pig's bladder in an experiment where he attempted to measure the weight of air. It was in 1824 when the first rubber balloon was invented by Michael Faraday. The first latex balloon was invented by J. G. Ingram in 1847. However, it was not until the 1930's that balloons were widely distributed and available in stores.
"Yellow Balloon" by The Yellow Balloon climbed to #2 in Los Angeles, Redding (CA) and Flint (MI), to #3 in Vancouver (BC), Minneapolis/St. Paul, Des Moines (IA), Madison (WI) and Denver, #4 in Sarasota (FL) and Honolulu, #5 in San Diego, Kitchener (ON) and Grand Rapids (MI), #6 in Salinas and Kelowna (BC) and #7 in Miami and Provo (UT).
The Yellow Balloon went on to release two more singles in 1967, "Good Feeling Time" and "Stained Glass Window." The first of these made it into the Top 40 on CFUN in July '67 and to #3 in Vancouver, Washington. However, the band ran out of inspiration and split up.
Mike Post, who played 12-string guitar on the studio version of "Yellow Balloon" before The Yellow Balloon became a band, earned his first Grammy Award in 1968 for arranging an instrumental for Mason Williams titled "Classical Gas." Post won his Grammy for Best Instrumental Arrangement. In 1975 the theme song he wrote for The Rockford Files became a Top Ten hit. And in 1980, Mike Post produced "9 To 5" for Dolly Parton.
Mike Rubini, who played harpsichord on the studio recording of "Yellow Balloon" for The Yellow Balloon, was a session musician in Los Angeles. He played on studio recordings for The Righteous Brothers, Sonny & Cher and Loggins & Messina. Rubini also played the grand piano on the recording of "Strangers In The Night" for Frank Sinatra, and the organ on "That's Life" for Frank Sinatra. He toured as part of backing bands for Ray Charles, Barbra Streisand, Sonny & Cher and Frank Zappa. Rubini went on to score music for a number of TV shows and films.
In the early 70's, Don Grady studied orchestra and began to score music. In the 1990's he wrote the theme song for The Phil Donahue Show.
Don Grady went on to perform in a national tour of the U.S.A. of the 1972 Broadway stage production of Pippin. He also was on tour with Godspell in the early 70's, and a national tour of the 1955 musical Damn Yankees. Grady told Olivia Wilder in an interview in 2011 that it wasn't until he turned 40, in 1984, that he was making a living from scoring music. In 1991, Grady composed some music, along with Henry Mancini, for the Blake Edwards body-swapping film Switch. In his mid-60's Don Grady wrote and produced Boomer, a series of CD's exploring the music of the 1960's. The recording was released in 2008.
December 27, 2018
Ray McGinnis
References:
Robert J. Lopez, Don Grady dies at 68; Mouseketeer, 'My Three Sons' Star, Los Angeles Times, June 28, 2012.
Paul Vitello, Don Grady, Who Played Robbie on 'My Three Sons', Dies at 68, New York Times, June 28, 2012.
Gordon Skene, Nights At The Roundtable – The Yellow Balloon – 1967 (RIP: Don Grady), Past Daily.com, June 29, 2012.
My Three Sons Episode excerpt, ABC TV, 1960.
Don Grady, Phil Donahue Show Theme, 1970's.
Olivia Wilder, Don Grady Interview, Blog Talk Radio.com, Brooklyn, NY, May 11, 2011.
Don Grady Interview and song: "A Broken Heart Knows Better," American Bandstand, May 30, 1964.
Don Grady and The Palace Guard, "Little People" and "Summertime Games," Hollywood A-Go-Go.
MeTV staff, The Musical Career of My Three Sons Star Don Grady took him from Mouseketeer to Psychedelic Rock, June 6, 2018.
Gary Zekley Interview – The Yellow Balloon, Bandcamp.com, March 29, 2018.
The Palace Guard, "Falling Sugar," Where The Action Is, ABC, 1966.
David Bash, Gary Zekley at Spectropop, Spectropop.com.
Mike Rubini bio, Wikipedia.org.
Mike Post bio, Hollywood Elite Composers.com, 2015.
Kristin Salaky, "11 Signs That You're Falling in Love, According to Science," Independent, UK, September 13, 2017.
"History of Toy Balloon – Who Invented the Rubber Balloon?," History of Balloons.com.
"Boss 30," CKLG 730 AM, Vancouver BC, April 29, 1967.
For more song reviews visit the Countdown.