#203: You Showed Me by Salt-N-Pepa
Peak Month: April 1992
13 weeks on Vancouver's CKLG chart
Peak Position ~ #2
Peak Position on Billboard Hot 100 ~ #47
YouTube: "You Showed Me"
Lyrics: "You Showed Me"
Cheryl Renee James was born in 1966 in Brooklyn, New York. She later went by the stage name Salt. Sandra Jacqueline Denton was born in 1964 in Kingston, Jamaica. She moved to join her family in Queens, New York, in 1970, at the age of six. While she was a child she was sexually molested. Both James and Denton attended nursing school at Queensborough Community College in Queens. In 1985, James and Denton were working as customer service representatives at Sears. The duo recorded their first single "The Show Stoppa", which was a minor R&B hit in '85. The duos' original name was Super Nature. However, they changed their name because in "The Show Stoppa" they rap the lines "Right now I'm gonna show you how it's supposed to be 'Cause we, the Salt and Pepa MCs". This resulted in radio stations getting phone calls requesting "The Show Stoppa" by Salt & Pepper.
In 1986 James (known as Salt) and Denton (known on stage as Pepa), met Deidra Muriel Roper (aka DJ Spinderella). Roper was born in 1970 or 1971 in New York City. in 1986, Roper was introduced to Salt-N-Pepa producer Hurby Azor, prior to the Salt-N-Pepa was scheduled to perform at the Westchester Music Festival. The third member of Salt-N-Pepa, Latoya Hanson, was a 'no show' at numbers of rehearsals. Salt and Pepa wanted a reliable third member of the emerging trio. Roper, known by her stage name Spinderella, became the third member of the female trio. Since she was 16 at the time of joining, Ropers' parents had to give permission for her to travel around the country. In late 1986, Salt-N-Pepa released their first album, Hot, Cool, & Vicious. A single titled "Tramp" climbed to #21 on the Billboard Hot R&B/Hip-Hop Singles chart.
The B-side to the single, "Tramp", was a track titled "Push It". As the B-side got airplay and spins in the dance clubs, it was released as a single. "Push It" rose to #2 in Vancouver in May 1988, and #19 on the Billboard Hot 100. Internationally, "Push It" rose to #1 in Belgium and the Netherlands, #2 in Sweden and the UK, #3 in Australia, #4 in New Zealand and Norway, #6 in Ireland, Spain and Switzerland, #7 in Canada and Iceland, and #9 in Austria and West Germany.
In 1988, the female hip-hop trio released their second album, A Salt with a Deadly Pepa. It reached the Top Ten on Billboard Magazine's Top R&B/Hip-Hop Albums chart. The lead single, "Shake Your Thang", made it to #9 in the Netherlands. And in 1989, a subsequent track, a cover of the Isley Brothers' "Twist And Shout", climbed to #4 in the UK and #5 in the Netherlands. In 1989 the trio was nominated for a Grammy Award in the Best Rap Performance category for the single "Push It".
In 1990, Salt-N-Pepa had a #1 hit on the Billboard Hot Rap Songs chart with "Expression". The single was the debut hit from the Salt-N-Pepa album Black's Magic. A followup single, "Do You Want Me" climbed to #5 in the UK in 1991. But, it was their next single release, "Let's Talk About Sex", that gave Salt-N-Pepa their biggest hit single. "Let's Talk About Sex" peaked at #1 in Vancouver. Internationally, the single climbed to #1 in Australia, Austria, Belgium, the Netherlands, Portugal, Switzerland, West Germany and Zimbabwe. It was a #2 hit in Sweden and the UK, #3 in New Zealand and Norway, #4 in Ireland, #5 in Denmark, #8 in Finland, #11 in France and #13 on the Billboard Hot 100 in the USA.
In 1992 Salt-N-Pepa was nominated for another Grammy Award in the Best Rap Performance for a Duo or Group category, for "Let's Talk About Sex".
A final track released as a single from Black's Magic was a Salt-N-Pepa cover of a 1964 song by the Byrds, titled "You Showed Me".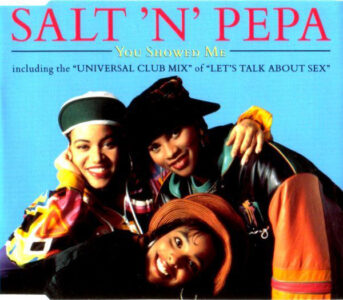 "You Showed Me" was cowritten by Gene Clark and Roger McGuinn before they were part of the Byrds. When David Crosby joined Clark and McGuinn, and they became the Byrds, the folk-rock band performed the song at the Troubadour. Clark has stated that the song recounts the tale of a lover who is being tutored in the ways of love by a more experienced partner.
Roger McGuinn was born in Chicago in 1942. When he was 13 years old he heard Elvis Presley sing "Heartbreak Hotel". Upon hearing the song he asked his parents to buy him a guitar. When he was 14 years old, he took a five-string banjo course from the Old Town School of Folk Music in Chicago. Soon after he began to play at coffee houses and got noticed by others in the folk scene. In 1958, McGuinn was hired to tour as a temporary member of the backing band for the Limeliters, the Chad Mitchell Trio and Judy Collins, which continued until 1962. He also provided backing vocals on a number of singles released by Bobby Darin from the late 50's until early 1963. Bobby Darin got ill and quit performing for a few years and founded TM Music out of the Brill Building in Manhattan. Darin hired McGuinn to write songs for $35/week. McGuinn also was a studio musician for both Judy Collins and Simon & Garfunkel.
Gene Clark was born in a small town of about 1,200 people called Tipton, Missouri, in 1944. He was the third of thirteen children and from his childhood began to play harmonica and guitar, after being taught to play by his dad. He started to compose songs by age eleven and at age 15 he was in a band called Joe Meyers and the Sharks. Clark was strongly influenced by The Kingston Trio and later founded a folk group in 1962 called the Rum Runners. Later that year, while playing with the folk group, the Surf Riders, in Kansas City, Gene Clark was discovered by the New Christy Minstrels. He got a place in their folk group in time to add his vocals to "Green Green", a Top 20 hit for the group in the summer of 1963. After he left the New Christy Mintrels and moved to Los Angeles, Gene Clark met Roger McGuinn at the Troubador Club.
Gene Clark wrote a number of singles the band released in 1965-66 which went on to become Top Ten hits in Vancouver. One of these was "Set You Free This Time". Clark co-wrote "Eight Miles High" with McGuinn and Crosby. McGuinn wrote "Mr. Spaceman" and "So You Want To Be A Rock 'N Roll Star". He also wrote and "I'll Feel A Whole Lot Better". In the midst of this string of releases after "Turn Turn Turn" came the release of two tracks from the album Turn, Turn Turn: "It Won't Be Wrong/Set You Free This Time". In 1966, the Byrds experienced controversy upon the release of "Eight Miles High", a song about flying into London, England, while on tour. In the midst of the controversy Gene Clark decided to quit the band.
An unhurried, sensual, cover of "You Showed Me" by the Turtles in 1968, climbed to #6 on the Hot 100.
Salt-N-Pepa's cover of "You Showed Me" climbed to #2 in Vancouver, #5 in Los Angeles, and #13 in Sacramento (CA). Internationally, "You Showed Me" peaked at #5 in the Netherlands, #7 in Belgium and Ireland, #8 in Finland, #12 in New Zealand, #13 in Austria and Germany, #15 in France and the UK, and #17 in France. Though Salt-N-Pepa was an American trio, "You Showed Me" stalled at #47 on the Billboard Hot 100.
In 1995 Salt-N-Pepa won a Grammy Award in the Best Rap Performance for a Duo or Group category, for the single "None Of Your Business". That year they were nominated for a second Grammy Award in the Best R&B Performance by a Duo or Group for the single "Whatta Man". And in 1997 Salt-N-Pepa were nominated again for a Grammy Award in the Best R&B Performance by a Duo or Group for the single "Champagne".
In the fall of 1997, Salt-N-Pepa released their final studio album Brand New. The album was on the Red Ant label, and in the midst of the rollout of Brand New Red Ant went bankrupt. Two years later they released a compilation 'Best Of' hits album. Pepa got married in the summer of 1999 and entered a tumultuous relationship that came undone in 2001. Salt left the trio, and Salt-N-Pepa officially split up in 2002. Spinderella became a radio personality on KKBT 100.3-FM in Los Angeles. Salt revealed to a reporter that she suffered from bulimia.
In 2007 Salt-N-Pepa reunited and that fall starred in The Salt-N-Pepa Show. This was a reality show documenting the events from the life of Salt-N-Pepa in the years since their breakup at the start of the decade. In 2010, Sandy "Pepa" Denton published her memoir Let's Talk About Pep.
In 2017–2018, the group toured as part of the I Love the 90's tour, performing in various locations, including in the UK Wembley Arena, Glasgow SSE, Liverpool Echo Arena and Birmingham. A film about Salt-N-Pepa was aired on the Lifetime channel in the USA in January 2021.
February 7, 2022
Ray McGinnis
References:
John Einarson, Mr. Tambourine Man: The Life and Legacy of the Byrds' Gene Clark, (Backbeat Books, San Francisco, 2005).
Christopher Hjort, So You Want To Be A Rock 'n' Roll Star: The Byrds Day-By-Day (1965-1973), (Jawbone Press, London, UK, 2008).
Colin Larkin, The Byrds Biography, (Encyclopedia of Popular Music. Omnibus Press, London, 2007).
Kevin Polowy, "Salt-N-Pepa Explain How Their '90s Jam 'Shoop' Became Deadpool's Anthem," Yahoo.com, April 13, 2016.
"DJ Spinderella Announces 'Termination' From Salt-N-Pepa," Ebony, May 3, 2019.
Gino Sorcinelli, "Salt-N-Pepa Outsold Wu-Tang, So Why Don't We Talk About Them More?," Medium.com, January 20, 2017.
Bruce R. Miller, "New Lifetime movie gets to the heart of hip-hop group Salt-N-Pepa," Sioux City Journal, Sioux City, IA, January 22, 2021.
Sandy Denton, Let's Talk About Pep, (MTV Books, 2010).
"Vancouver's Official Top 40," CKLG 730 AM, Vancouver, BC, April 20, 1992.
For more song reviews visit the Countdown.