#78: You Spin Me Round by Dead Or Alive
Peak Month: August 1985
11 weeks on Vancouver's CKLG Chart
Peak Position #1
Peak Position on Billboard Hot 100 ~ #11
YouTube.com: "You Spin Me Round"
Lyrics: "You Spin Me Round"
Born in 1959 in Merseyside, UK, Peter Jozzeppi Burns dropped out of school when he was 14-years-old. He was raped by a man who took him for a drive, who he was acquainted with. Burns later recalled that he was not upset by the experience, although he knew that people would expect him to be. Burns got a job at Probe Record store in Liverpool. In 1977, he joined the Mystery Girls. In 1979 he formed Nightmares in Wax. But a change in musical direction, and lineup led to naming the band Dead or Alive in 1980.
Other members of the band were Mike Percy on bass guitar, Tim Lever on keyboards, Steve Coy on drums (born 1962), and Wayne Hussey on guitar. After the first album, Hussey left the band to join Sisters of Mercy, and subsequently The Mission.
The band released four singles between 1980 and 1982, with no commercial success. In 1983 their single "Misty Circles" cracked the Top 100 in the UK. It also became a #4 dance hit in the USA when it became a B-side to "You Spin Me Round (Like A Record)". "Misty Circles" was the first of four single releases from the album Sophisticated Boom Boom. In 1984 the band recorded a cover of the number-one KC and the Sunshine Band hit from 1975 titled "That's The Way I Like It". Dead Or Alive's cover was a Top 30 hit in Ireland and the UK.
Next, the band released "You Spin Me Round (Like A Record)".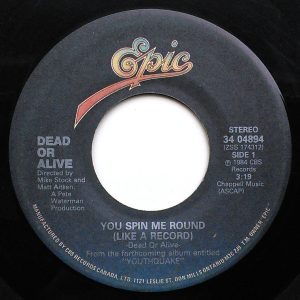 "You Spin Me Round (Like A Record)" was co-written by all the Dead Or Alive bandmates. Pete Burns, the principal writer of the song recalls "How did I write "Spin Me"? I listened to Luther Vandross's 'I Wanted Your Love'. It's not the same chord structure, but then that's the way I make music – I hear something and I sing another tune over it. I didn't sit and study the Luther Vandross album – I heard the song and it locked. […] I'm trying to structure the music and I know what I want. […] It's like do this, do this, do this – and suddenly it hits. I don't want to do Luther Vandross's song, but I can still sing the same pattern over it. And there was another record, by Little Nell, called "See You 'Round Like a Record". […] So I had those two, Van Dross [sic] and Little Nell and – bingo! – done deal."
According to Burns, the record company was unenthusiastic about "You Spin Me Round" to such an extent that Burns had to take out a £2,500 loan to record it. After it was recorded, he recalled, "the record company said it was awful" and the band had to fund production of the song's video themselves.
"You Spin Me Round" is a song about seeing a stranger and being sexually attracted at first sight. The singer wonders what they can do to get the private number of the sexy person in their sights. "All I know is that to me, you look like you're lots of fun. Open up your lovin' arms, I want some, want some." The singer declares the effect of seeing this stranger is like a record going around on a turntable, spinning.
"You Spin Me Round (Like A Record)" peaked at #1 in Vancouver (BC), Calgary (AB), San Diego, Houston, Hamilton (ON), Los Angeles, Toronto, #2 in Ottawa, Montreal, Regina (SK), Saskatoon (SK), Medicine Hat (AB), London (ON), San Francisco, and Miami, #3 in Mesa (AZ), Buffalo, and Winnipeg (MB), #4 in Seattle, Sacramento (CA), Dallas, and Fort Lauderdale, #6 in Detroit, New Orleans, Philadelphia, Leavenworth, (KS), and Fresno (CA), #7 in Phoenix, Milwaukee (WI), Atlanta, and Pittsburgh, #8 in Boston, and Columbus (OH), #9 in Akron (OH), and #10 in San Jose (CA) and New York City.
Internationally, "You Spin Me Round (Like A Record)" peaked at #1 in Canada, Ireland, Switzerland and the UK, #2 in Italy and West Germany, #3 in Australia and Belgium, #4 in the Netherlands, #6 in New Zealand, Norway and Poland, #9 in Finland, #10 in Austria and #11 on the Billboard Hot 100.
The next single the band released was "Lover Come Back To Me". It climbed to #3 in South Africa, #5 in Switzerland, #6 in Ireland, #9 in Japan, #11 in the UK and #13 in Australia. A third single from Youthquake titled "In Too Deep" was a Top 20 hit in Ireland and the UK. A fourth single from the album, "My Heart Goes Bang (Get Me To The Doctor)" climbed to #12 in Japan and made the Top 30 in Ireland and the UK.
From the album Mad, Bad and Dangerous to Know came "Brand New Lover". In the winter of 1986-87, the single climbed to #2 in Japan, #6 in Finland, and #15 in New Zealand and the Billboard Hot 100. It also topped the Billboard Hot Dance Club Play chart. The next release, "Something in My House" was a #8 hit in Ireland in 1987 and peaked at #12 in the UK.
Dead 0r Alive only performed once in Canada at a venue in Montreal in 2002. They got as close as the Oz Nightclub in Seattle in November 1987, but never performed in Vancouver, BC.
Between 1988 and 2021, Dead or Alive released five more albums. The last, Fan the Flame (Part 2): The Resurrection, was a release of material the band recorded back in 1992 that was never released.
After leaving Dead or Alive, Mike Percy carried on together with Tim Lever first being active in the acid-jazz, UK soul scene of the first half of the 1990s under the guise of One World Productions and then writing and producing material for acts such as S Club 7 under the name of Steelworks. In addition to his collaborations with Mike Percy, Tim Lever wrote songs recorded by Kylie Minogue, Kim Wilde, the British boy band 911 – including producing their Top 5 hit "Party People…Friday Night".
Pete Burns died from a cardiac arrest in 2016 at the age of 57. Dead or Alive drummer Steve Coy died in 2018 at the age of 56.
December 26, 2022
Ray McGinnis
References:
"Pete Burns: Dead or Alive Singer Dies at Age 57," BBC, October 24, 2016.
"Steve Coy," Find a Grave.com, May 10, 2018.
For more song reviews visit the Countdown.