#938: You Don't Know What Love Is by Susan Jacks
Peak Month: March 1973
7 weeks on Vancouver's CKLG chart
Peak Position #8
Peak Position on Billboard Hot 100 ~ #116
YouTube..com: "You Don't Know What Love Is"
Lyrics: "You Don't Know What Love Is"
Susan Pesklevits was born in 1948 in Saskatoon, Saskatchewan. When she was seven years old she was a featured singer on a local radio station. At the age of eight her family moved to the Fraser Valley town of Haney, British Columbia. When she was 13 years old she had her own radio show. In a December 1966 issue of the Caribou newspaper, the Quesnel Observer noted that Susan Pesklevits had auditioned for Music Hop in the summer of 1963 when she was only 15 years old. She had her first public performance at the Fall Fair in Haney when she was just 14 years old. It was noted she liked to ride horseback, ride motorcycles and attend the dramatic shows. Asked about what she could tell the folks in Quesnel about trends in Vancouver, Pesklevits had this to report, "the latest things in Vancouver are the hipster mini-skirts, bright colored suit slacks, and the tailored look. The newest sound is the "Acid Sound," derived from L.S.D…. it is "pshodelic" which means it has a lot of fuzz tones and feed back. As an example, she gave "Frustration" recorded by the Painted Ship" a local band from Vancouver. Pesklevits added that on the West Coast "the latest dance is the Philly Dog. It mainly consists of two rows, one of girls and one of boys. The idea is to take steps, move in unison, while doing jerking motions and using a lot of hand movement." In the summer of 1966 Pesklevits formed a trio with Tom Northcott and Howie Vickers called The Eternal Triangle who released one single titled "It's True." Vickers went on to form The Collectors which later morphed into Chilliwack.
Terrence Ross Jacks was born in Winnipeg, Manitoba, in 1944. March 29, 1944, Winnipeg, Manitoba. During his career as a recording artist he became a household name and recognized as a singer, songwriter, record producer and environmentalist. His family moved to Vancouver in 1961 and he formed a band named The Chessmen along with local guitarist, Guy Sobell. The Chessmen had four singles that made the Top 20 in Vancouver, two which were double-sided hits. These included "Love Didn't Die", "The Way You Fell" and "What's Causing This Sensation", and Top Ten hits. Jacks met Susan Pesklevits who had him recommended to her by a friend who knew she was looking for a rhythm guitarist. Pesklevits needed a rhythm guitarist to help with her upcoming gig at the Elks Club in Hope, British Columbia, in early September 1966. They were married in 1967 and she became Susan Jacks. In 1967, along with Craig McCaw who had been a member of the Kelowna band The Shadracks, they formed a trio called Powerline. They changed their name to The Poppy Family and Craig subsequently sought out a young tabla player in Vancouver named Sawant Singh. Terry and Susan Jacks agreed to have Singh join The Poppy Family.
By 1968 The Poppy Family had a regional #2 hit in Vancouver with "Beyond The Clouds". Their follow up in 1969 was a gentle anti-racist, pro-environmental, pro-marijuana legalization tune titled "What Can The Matter Be". Their next single, "Which Way Is Going Billy?" became an international hit. Terry Jacks won a Juno Award for this recording. The Poppy Family racked up numbers of Top 30 singles in Vancouver through to 1973 including local #1 hits "I Was Wondering" and "That's Where I Went Wrong". Concurrently, Terry Jacks released several solo records. The first was "I'm Gonna Capture You" followed in 1972 with the pro-environtalmentalist tune "Concrete Sea". While her husband was making solo records Susan Jacks made her first solo single, "You Don't Know What Love Is". The song was co-written by Terry Jacks and Bob Nelson.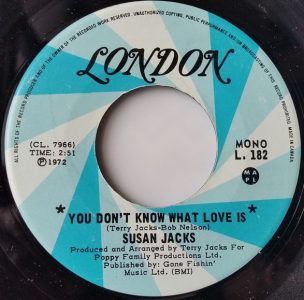 "You Don't Know What Love Is" concerns a failing relationship where one partner recognizes that there's no shared understanding of what it means to love each other. One person gives love while the other person doesn't give or express love. This is hardly a sustainable recipe for a relationship. In addition, for the one who gives their love they are told by their partner it isn't sufficient, enough. The release of "You Don't Know What Love Is" mirrored Susan Jacks' own falling out of love as she and Terry Jacks ended their marriage in 1973. The song was recorded in French by Anne Renee.
Susan Jacks went on to record over a dozen singles that charted on either the Canadian pop charts, the country or the Adult Contemporary charts in the nation. In the midst of her string of hit singles she had a son and took a few years out of the music scene as a young mother. She married Canadian Football player Ted Dushinski in 1980. She won a Juno nomination for her single, "All The Tea in China", in 1982, which charted best in Ottawa.
In 1983 Jacks moved with her family to Nashville, Tennessee, and had a award winning country hit titled "Another Woman's Man" in 1984. She became a staff songwriter in Nashville. After her husband died in 2004 after a cancer diagnosis, Jacks moved back to Canada only to suffer kidney failure. Some years later her brother, Billy, donated a kidney for a successful transplant operation.
December 6, 2017
Ray McGinnis
References:
Professional Talent Highlights Knot Hole, Quesnel Observer, December 1966
Susan Jacks bio, susanjacks.com
John Mackie, "Poppy Family Blooms Again as 'Experience'," Vancouver Sun, July 9, 2014.
"CKLG 'Thirty'," CKLG 730 AM, Vancouver, BC, March 30, 1973.
For more song reviews visit the Countdown.