#597: Young Blood by Bad Company
Peak Month: May 1976
7 weeks on CKLG's Vancouver Chart
Peak Position ~ #2
Peak Position on Billboard Hot 100 ~ #20
YouTube.com: "Young Blood"
Lyrics: "Young Blood"
Bad Company was a band from London, UK, who formed in 1973. Two band members, Paul Rodgers and Simon Kirke, were formerly with Free who had a Top Ten hit in 1970 titled "All Right Now". Rodgers was the lead singer for Free, and carried on as lead singer for Bad Company. Kirke continued as a drummer. Rounding out the band was former Mott the Hoople guitarist, Mick Ralphs, and bass player Bob Burzell who left King Crimson to join Bad Company. Paul Rodgers recalls the idea came from a book of Victorian morals that showed a picture of an innocent kid looking up at an unsavoury character leaning against a lamp post. The caption read "beware of bad company"
Paul Bernard Rodgers was born in 1949. In his teens he was part of a number of bands and joined Free in 1968. In 1970-71, Free was the most successful band in the UK, after Led Zeppelin. After Jim Morrison died, Paul Rodgers was invited to become the lead singer for The Doors, but declined the offer. In 1973 when Ian Gillen left Deep Purple, Rodgers was offered to be lead vocalist for the makers of "Smoke On The Water" and "Hush". However, Rodgers declined this offer too, and formed Bad Company the next year. Rodgers is credited with being a significant influence on John Mellencamp and Freddie Mercury, the lead singer for Queen.
Simon Kirke was born in 1949 and grew up in Wales. Michael Geoffrey Ralphs was born in 1944 Herefordshire. While he was in his teens he was in a blues-rock band. He was with Mott the Hoople from 1969 to 1973. Raymond Burrell was born in the UK in 1946 and involved in pop/R&B/jazz groups from the late '50's.
In 1974 Bad Company scored a Top 5 single in the USA and Canada titled "Can't Get Enough". They followed up with another Top Ten hit in 1975 from their second album, Straight Shooter, titled "Feel Like Makin' Love".
The Coasters are rhythm and blues group that had six Top Ten hits on the Billboard pop charts in the late 1950's. Their most memorable songs were written by the songwriting and producing team of Leiber and Stoller. In 1957, their third single, "Young Blood"/"Searchin"" was released. Both sides of the single raced up the R&B and pop charts. "Young Blood" peaked at #1 on June 3, 1957, on the Billboard R&B chart. It was replaced by "Searchin'", which hung onto the number one spot for 12 consecutive weeks. Both songs were covered by numerous recording artists. While "Searchin'" peaked at #3 on the Billboard pop chart in 1957, "Young Blood" peaked at #8.
In 1962 The Beatles recorded "Young Blood" in a rare session that didn't result in a disc. In 1971, at the Concert for Bangla Desh, Leon Russell sang "Young Blood", accompanied by George Harrison, Ringo Staff and Eric Clapton. In 1976, "Young Blood" was covered by Bad Company and included on their third album, Run with the Pack.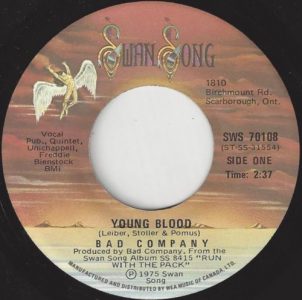 "Young Blood" was composed by Jerry Lieber, Mike Stoller and Doc Pomus.
Jerome Solon Felder was born in Brooklyn in 1925. He contracted polio and walked with crutches in his youth. He eventually spent much of his adult life in a wheelchair. Felder wanted to become a blues singer and billed himself as Doc Pomus because he liked it better than Jerome Felder. He wrote magazine articles for R&B recording stars. He began songwriting and wrote "Lonely Avenue" for Ray Charles in 1956. Pomus had a big break when he co-wrote "Young Blood" for the Coasters, together with Jerry Leiber and Mike Stoller. The single climbed to #8 on the Billboard pop chart in 1957. In addition to the songs mentioned above that Doc Pomus co-wrote with Mort Shuman, he also wrote "She's Not You" for Elvis Presley and "Don't Try To Change Me" for the Crickets.
With lag irons and a wheelchair, Doc Pomus gained a lot of weight. But he was the life of the party. He spent a quarter of a million dollars in earnings by 1963 and his wife left him for a career on the stage. In a review of Alex Halberstadt's Lonely Avenue: the Unlikely Life and Times of Doc Pomus, Christopher Hawtree writes that after his wife left, "Another young woman, Shirlee, came along, stayed – and shied as much from a gun-waving Phil Spector (who gave the grateful Pomus a blank cheque) as she did from the homespun gamblers with whom Pomus augmented funds. Such sessions ended when the Mob moved in, one participant ending up in the East River. Another friend's death inspired Looking for Mr Goodbar." Doc Pomus died of lung cancer at the age of 65 in 1991.
Jerry Leiber and Michael Stoller were both born on Atlantic coast to Jewish families in 1933, the year Adolph Hitler came to power in Germany. Leiber left Baltimore and Stoller left Long Island. They met in Los Angeles in 1950 when they were each seventeen years old. The duo wrote over 70 songs that made the pop charts across three decades. Their first song was in 1952, "Hard Times," Charles Brown's final Top Ten R&B hit. Lieber and Stoller's last hit record was "I Keep Forgettin'" recorded by Michael McDonald in 1982. In between they collaborated with Barry Mann and Cynthia Weil to compose "On Broadway" for The Drifters. They also co-wrote "There Goes My Baby" for The Drifters with Ben. E. King. When Ben E. King went solo, Lieber and Stoller co-wrote "Stand By Me". Leiber and Stoller had one of their best successes with The Coasters who recorded the duo's "Searchin'" "Yakety-Yak," "Charlie Brown", "Love Potion No. 9" and "Poison Ivy" among others.
But Leiber and Stoller struck gold writing songs that are now part of Elvis Presley's most memorable tunes. These include "Hound Dog," "Jailhouse Rock," "Don't," "King Creole", "You're So Square (Baby I Don't Care)" and "She's Not You." They also wrote "Trouble" for Elvis from the 1958 film King Creole. Other notable hits they wrote include "Kansas City", a hit for Wilbert Harrison in 1959; "Black Denim Trousers And Motor Cycle Boots" for The Cheers in 1955; And "The Rev. Mr. Black" for The Kingston Trio in 1963. In addition to being a successful songwriting team, Leiber and Stoller founded Red Bird Records in 1963. The label released "The Leader Of The Pack" and "Remember Walking In The Sand" for The Shangri-Las, "Chapel Of Love" for The Dixie Cups and "I Wanna Love Him So Bad" by The Jelly Beans.
"Young Blood" describes a powerful physical reaction to seeing someone for the first time. In this case it is a guy who sees a gal standing on the corner with a yellow ribbon in her hair. The visual impact is profound: "I took one look and I was fractured. I tried to walk but I was lame…." He calls out to ask what her name is and then follows her home. But her dad is there when she gets home, and spying the obsessed suitor, says to the boy, "you better leave my daughter alone." The final verse finds the lovestruck guy in bed mumbling to himself "she's the one, she's the one, she's the one, she's the one."
"Young Blood" climbed to #2 in Vancouver (BC), #3 in Springfield (MO), #5 in Columbus (OH) and #8 in Akron (OH). "Young Blood" was covered later by the Beach Boys in the '80's and by Jerry Lee Lewis in the mid-90's.
After "Young Blood", Bad Company managed one more Top 20 hit in North America, "Rock 'n' Roll Fantasy", in 1979. In the 1990's Bad Company managed to chart two singles to #1 on the Billboard Mainstream Rock chart, "Holy Water" and "How About That". But neither song made the Top 30 on the all-important Billboard Hot 100.
Paul Rodgers left Bad Company in 1982 and joined supergroup, The Firm, along with Led Zeppelin's Jimmy Page and Manfred Mann's Earth Band drummer, Chris Slade, in 1984. In 1991 Rodgers formed a band called The Law. In 1993 Rodgers was nominated for a Grammy Award for his album Muddy Waters Blues: A Tribute To Muddy Waters. In 1994 he appeared at the Woodstock '94. In 1995 Rodgers formed the Paul Rodgers Band, touring extensively and releasing three albums. Rodgers toured solo in 2003 and in 2005, 2006 and Rodgers toured with Queen billed as Queen and Paul Rodgers. He was featured with Queen, but was not replacing Freddie Mercury. He has toured more recently with Bad Company in 2014 and with Jeff Beck in 2018. In 2011 Paul Rodgers became a Canadian citizen and established residence in Surrey, British Columbia.
After Bad Company split in 1982, Simon Kirke toured on three occasions with Ringo Starr and His All-Starr Band. Kirke has been in several iterations of Bad Company and featured on 17 of their albums. Mick Ralphs collaborated with Pink Floyd's David Gilmour on tour in 1984, after Bad Company split. Subsequently, when Bad Company reformed in 1986, Ralphs was involved in tours over the following 13 years. He has been part of reunion tours in 2008, 2012, 2013, 2014 and 2016. Over the years Ralphs also had released three solo albums. Boz Burrell released several solo albums with his band, The Shortlist, in the early '80's. Later, he collaborated with UK blues legend, Alvin Lee on his Best of British Blues tour in 1996. Burrell died of a heart attack at age 60 in 2006.
June 7, 2019
Ray McGinnis
References:
Christopher Hawtree, "The Last Dance of Doc Pomus," Telegraph, UK, August 16, 2007.
William Grimes, "Jerry Leiber, Rock 'n' Roll Lyricist, Dies at 78," New York Times, August 22, 2011.
David Fricke,"Leiber and Stoller: Rolling Stone's 1990 Interview With the Songwriting Legends," Rolling Stone, August 22, 2011.
Leiber and Stoller – About, Leiber Stoller.com.
Pat Pemberton, "Paul Rodgers Says John Bonham's Death Influenced Decision to Quit Bad Company," Spinner.com, August 27, 2010.
"Vancouver's Official Music Survey," CKLG 730 AM, Vancouver, BC, May 25, 1976.
For more song reviews visit the Countdown.