#693: Young And Restless by Prism
Peak Month: July 1980
10 weeks on CFUN's Vancouver Charts
Peak Position ~ #9
Peak Position on Billboard Hot 100 ~ did not chart
YouTube.com: "Young And Restless"
Lyrics: "Young And Restless"
In 1967 a new rock group appeared on the Vancouver scene called the Seeds of Time. They had several local hits including "My Home Town" and "Crying The Blues". There were a number of lineup changes, but the bands personnel included drummer Rocket Norton, guitarist Lindsay Mitchell, and bassist Al Harlow. These three reunited after the Seeds of Time disbanded in 1974. After a brief stint as an R&B band called Sunshyne, they became Prism under Lindsay Mitchell's initiative. In the band were new singer Ron Tabak, bassist Tom Lavin, keyboard player John Hall and drummer Rodney Higgs. Higgs was actually a pseudonym for Jim Vallance, the future songwriting partner of Bryan Adams. The band released a self-titled album in 1977 that included two local singles "Take Me To The Kaptin" and "It's Over". Anther single, "Spaceship Superstar", made the Top Ten in Ottawa, Hamilton and London (ON) in the winter of 1977-78.
As their line-up changed, their second studio album included ex-Seeds of Time drummer Rocket Norton, bassist Al Harlow and guitarist Lindsay Mitchell. "Take Me Away" was the first of two singles released on the band's second studio album, See Forever Eyes. The second single, "Flyin'", was the more commercially successful release peaking at #53 on the Billboard Hot 100. The album was produced by Vancouverite Bruce Fairburn who went on to produce successful albums by Loverboy, Strange Advance, Bon Jovi, Aerosmith, Poison, AC/DC, Chicago, Van Halen, Yes, KISS and other recording artists. Fairburn would produce Prism's first four studio albums.
On Prism's next album, Armageddon, had the title track climb to #7 in Vancouver. Local singer-songwriter, Bryan Adams, wrote (or co-wrote) three tracks on the album: "Jealousy", "You Walked Away Again" and "Take It Or Leave It". Another hit off the Armageddon album was a song titled "Night To Remember". In 1980, Prism had another Top Ten hit in Vancouver with "Young And Restless", which peaked at #9 on CFUN in July of the year.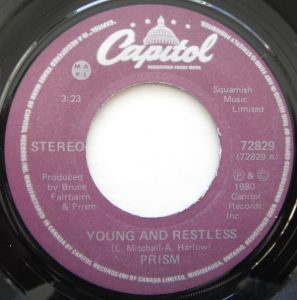 "Young And Restless" is a song that addresses the experience of a young adolescent male still in school. He's waiting for the bell to ring so he can get out of school. He's "out of control" and waiting for an adrenaline rush to kick in so he can do "something drastic." If he gets caught, he can say "I didn't know what I was doing." In addition, the young man is "headin' for an overload." The burdens of life, school, the "crap" he's been through, and the "pain" he's been suffering are just too much. The lyrics describe someone with "a vision so lost" and someone who is isolated.
On the website Mumsnet.com, a topic was posted by a mother describing her 15 year old son's change in behavior. She writes: "In the past 2 months alone he has stolen from me, my partner and two of our younger children (their birthday money). He has stolen 2 boxes of firework,…alcohol…cigarettes. He has punched holes in our walls, broken a window, a door, and our car windowscreen as well as shooting my computer monitor with a toy gun… He has not been attending school as much as he aught, and when he does he is asked to leave almost every class he is in due to disruptive behavior. He has been suspended multiple times. He has abused old ladies. He has threatened young boys…. He has scared motorists to the point where they have to pull over." According to the lyrics in "Young And Restless," the youth is doing what he does to try to get "attention." He may not be like the teenage son described in this paragraph, but when anyone feels like they are out of control and overloaded, they need help and support to get their life together.
In almost all circumstances, the person who is young and restless lives in a home with others, often parents and siblings. When someone is returning from school feeling out of control and overloaded, this can be a ticking time bomb. A website in Australia offered this free advice:
Everyone has the right to feel safe, including parents. Sometimes violence by young people can be a crime.
It's important to take action to ensure your safety and that of other family members.
Younger children are very affected by violence in the home. They need you to protect them and make them feel safe.
Loving your teenager doesn't mean you have to put up with unacceptable behaviour.
When things are calm work together to build the relationship.
Decide on your bottom line, be clear about consequences, mean what you say and follow through with action.
It might seem tough to call the police if you need to, but you are doing the best thing for everyone.
Deal with this problem – it won't go away.
Speak to someone who can help.
After "Young And Restless", Bryan Adams cowrote two songs for Prism's fifth studio album, Small Change. The album featured their hit singles "Don't Let Him Know" and "Turn On Your Radar". The former song climbed to #39 on the Billboard Hot 100, their best chart run south of the border to date. "Turn On Your Radar" climbed to #64 on the Hot 100. The song didn't chart well across Canada and missed cracking the Canadian RPM Top 100 singles chart. But in Vancouver the song climbed to #11.
Ron Tabak, Prism's lead vocalist died in December 1984, after a cycling accident on Kingsway when he was hit by a motor vehicle. He had been cycling on his way to dinner Christmas Eve at bandmate Al Harlow's home in Kitsilano, on Vancouver's west side.
The band had a reunion concert in 1987 and included local musician, Paul Janz, offering back-up vocals. In 1993 the band released their first album in ten years, Jericho, that included vocals from Paul Janz and Bryan Adams. A number of studio and compilation albums have been released as well as numerous changes in the band's lineup.
In 2010 Al Harlow had an interview with musiclegends.ca to discuss Prism being on tour with Doug and the Slugs in Nova Scotia. Harlow reported that Prism had more recently been playing about 50 concerts a year.
On May 22, 2015 a "Local Legends of Rock" concert featuring Ab Bryant, John Hall, Al Harlow, and Rocket Norton, was held in Lynn Valley, North Vancouver. It was billed as a "Prism / Jet / Seeds of Time Reunion Concert." At the concert Al Harlow said, "Here's a disclaimer; this isn't the reunion of any one band, but it might be the reunion of 3 or 4 bands." Sunshyne would have been the fourth band implicit in the reunion given Prism's roots.
As of mid-June 2018, Prism has seven concert dates listed on their website between July and September, 2018, across British Columbia, Alberta, Saskatchewan and Ontario.
October 26, 2018
Ray McGinnis
References:
Xavier Diaz, Al Harlow and Lindsay Mitchell, Prism, Canadian Bands.com
Prism – bios, Prism.ca.
My Teenage Son is Out Of Control, Mums net.com, London, UK, January 7, 2012
Teenage Aggression and Arguments, Health Direct.gov.au.
"Tragic Story of Ron Tabak," Tofinophotography.com.
Jason Saulnier, "Prism Interview – Guitarist Al Harlow talks Touring with the Band," musiclegends.ca, August 6, 2010.
"C-FUN Top 30," CFUN 1410 AM, Vancouver, BC, July 12, 1980.
For more song reviews visit the Countdown.