#474: You're My World by Cilla Black
Peak Month: July 1964
9 weeks on Vancouver's CFUN chart
Peak Position #2
Peak Position on Billboard Hot 100 ~ #26
YouTube.com: "You're My World"
Lyrics: "You're My World"
Pricilla Maria Veronica White was born in 1943 in Liverpool. Once out of high school she got work as a cloakroom attendant at the Cavern Club, a jazz club where The Beatles also performed. As a staff member of the club, she ended up doing some spontaneous performances on stage. The Beatles heard her perform and were dazzled by her voice. Soon she was booked under the billing, "Swinging Cilla," at the Casanova Club. She guest starred with several local bands including Merseybeat Rory Storm and the Hurricanes. An article in the local music paper, Mersey Beat, featured Cilla. Written by the paper's publisher, Bill Harry, he identified her in the article mistakenly as Cilla Black, not by her actual surname Cilla White. But the word-on-the-street from the article had people talking about this new local Merseybeat performer, Cilla Black. So Cilla White decided to take on Cilla Black as her stage name.
Cilla Black was encouraged by John Lennon to audition for Brian Epstein, The Beatles manager. In her autobiography, What's It All About?, she recalled the disaster that her audition turned out to be: "I'd chosen to do "Summertime," but at the very last moment I wished I hadn't. I adored this song, and had sung it when I came to Birkenhead…, but I hadn't rehearsed it with the Beatles and it had just occurred to me that they would play it in the wrong key. It was too late for second thoughts, though. With one last wicked wink at me, John set the group off playing. I'd been right to worry. The music was not in my key and any adjustments that the boys were now trying to make were too late to save me. My voice sounded awful. Destroyed—and wanting to die—I struggled on to the end."
It was only after Epstein was encouraged to go and hear Black perform at the Blue Angel jazz club in Liverpool that he concurred with The Beatles that Black was a find. He shortly afterward got her a contract with Parlophone Records. They got her on to appear on the British variety show, Thank Your Lucky Stars, where she sang her debut Top 40 single.
In 1962 Paul McCartney and John Lennon wrote a song called "Love Of The Loved". The song became the debut single for Cilla Black in 1963 reaching the UK Top 40 in the fall of that year. Cilla Black recorded a Burt Bacharach-Hal David song, "Anyone Who Had A Heart", as her follow up single. It reached #1 in the UK for three weeks in February 1964. Her third single release was an English translation of the Umberto Bindi tune, "Il Mio Mondo". Black's English language cover was called "You're My World".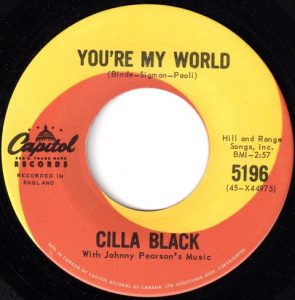 "You're My World" was composed by Umberto Bindi, Gino Paoli and Carl Sigman. In the original Italian lyrics the singer sings "My day started from you… You smile and I smile too. I get my energy, thanks to you. My world started from you. My world will end with you. And if you leave me, I will die in a moment." In the English translation a simile is featured: "as the trees reach for the sun, so my arms reach out for you…"
Umberto Bindi was born in the Province of Genoa, Italy, in 1932. He was classically trained. In 1950, wrote his first song, "T'ho perduto". He made his professional debut in Italian popular music in 1959 with his composition, "Arrivederci". The song was recorded by Don Marino Barreto Jr., and became the best-selling single in Italy in 1959. The song was covered by Chet Baker in 1960 for the Italian film, Urlatori alla sbarra. In 1960 he wrote "Il Nostro Concerto", which became the second best-selling single in Italy that year. He released twenty singles between 1959 and 1964. However, in the mid-60s his career stalled when it was discovered he was homosexual. Nonetheless, Bindi continued to perform until the age of 70 when he died in 2002.
Gino Paoli was born in 1934. In 1960 he wrote "Il cielo in una stanza". It became the number one song of the year, topping the charts for a total of 14 weeks in a version sung by the Italian singer Mina. Another song he wrote in 1963, "Sapore di sale", also topped the Italian pop chart. That year Paoli attempted suicide, and the bullet remains in his chest to this day. Over the years he has recorded over thirty studio albums and forty singles. From 1987 to 1992 he sat in the Italian Parliament as a member of the Italian Communist Party.
Carl Sigman was born in 1909 in Brooklyn. In the 1940s he co-wrote "Pennsylvania 6-5000" for Glenn Miller, and "Crazy He Calls Me" for Billie Holiday in 1949. The song was covered by Dinah Washington, Anita O'Day and many others. In 1957 he wrote the English lyrics for "Till", derived from the French song "Prière Sans Espoir". That year he also translated the French pop song, "Le jour où la pluie viendra" which became "The Day That The Rains Came" for Jane Morgan. And in 1961 Sigman wrote the English translation for "Et maintenant", which was rendered "What Now My Love?" Sigman wrote many songs. Some of his best remembered are the Christmas tune "A Marshmallow World"; Vaughan Monroe's number one hit in 1947, "Ballerina"; a number one hit in 1949 for Mel Tormé titled "Careless Hands"; "Civilization" by the Andrews Sisters and Danny Kaye; "Ebb Tide" for Vic Damone; "It's All In The Game" for Tommy Edwards in 1958; "Shangri-La" for the Four Coins and "(Where Do I Begin?) Love Story" for Andy Williams in 1970.
Cilla Black's fans took "You're My World" to #1 in the UK for four weeks starting in late May 1964. In 1964 Cilla Black was the "it-girl" of pop music in the UK. The only other female recording acts to have any number one record in the UK in 1964 were Sandie Shaw and The Supremes. Cilla Black was part of a wave of British female singers who, except for Petula Clark, didn't write their own songs. Along with Dusty Springfield, Helen Shapiro, Shirley Bassey, Sandie Shaw, Marianne Faithfull, Jackie Trent, Mary Hopkins and Lulu, Cilla Black interpreted other songwriters compositions.
"You're My World" testifies to a powerful physical attraction: "with your hand resting in mine, I feel a power so divine." The singer tells us that this other person is every breath they take, and every move they make, every night and every day, and every prayer they pray. But does the other person feel the same? It seems the singer is concerned that the love won't last, as they sing "if our love ceases to be, than it's the end of my world for me." In an article in Psychology Today titled "Longing for a Person That Can't Love You Back," Suzanne Lachmann writes that longing for someone who doesn't love you never is good enough. We all deserve to be loved by someone who loves us in return. She concludes "You only have one life. You cannot rely on the person who is inadvertently contributing to eroding your self-esteem to build it up for you." Before building up the importance of your romantic partner, it is important to check if they feel the same. If they feel the same, there is no need to worry that the end of your world is near.
"You're My World" peaked at #2 in Vancouver (BC), #3 in San Bernardino (CA), #4 in Winnipeg (MB), #5 in Louisville (KY), #6 in Seattle, #8 in Boston, Akron and Cincinnati (OH), and #9 in Fort Worth (TX), Des Moines (IA) and Sault Ste. Marie (ON).
Her fourth single release in the UK, and her second single on the pop charts in Vancouver, was "It's for You". The song was composed by John Lennon and Paul McCartney. On June 3, 1964, Paul McCartney made a demo of the song and gave it to Cilla Black. She recorded it a month later at Abbey Road Studios with George Martin. In her autobiography she said of the recording: "That was some session…John and Paul joined me and George Martin. We made one track and then everyone had a go at suggesting how they thought it should be recorded. George said it should be one way, John and Paul another and I just added my suggestions while they were thinking of what else they could do with the composition."
Capitol Records in North America hoped that Cilla Black recording a Lennon–McCartney tune would result in a best selling single. Although the song "It's for You" came on the heels of two number one hits in the UK, the song peaked on the British charts at #7, the same position as in Vancouver in early October. In the USA it stalled on the Billboard Hot 100 at #79. But in Australia it climbed into that nations Top 20 peaking at #17.
Black continued to have more hit singles in the UK, including Paul McCartney's "Step Inside Love" in 1968 (#8 UK), "Surround Yourself With Sorrow" in 1969 (#3 UK) and in 1971 "Something Tells Me (Something's Gonna Happen Tonight)" (#3 UK). In 1968 she starred in her own variety show with the BBC called Cilla, which ran for eight years. She also won awards for her role as a comedian on TV in Cilla Comedy Six.From the early 80s to the early 2000s Cilla Black was host to two long-running shows on London Weekend Television: Surprise Surprise (1984-2001) and Blind Date (1985-2003). She had a shorter run with the game show The Moment of Truth (1998-2001).
Between 1964 and 1971 Cilla Black charted eleven songs into the Top Ten in the UK. In 2014, Black was the subject of a three-part television drama series, Cilla, focusing especially on her rise to fame in 1960s Liverpool and her relationship with her manager and eventual husband, Bobby Willis. Cilla Black died in 2015.
March 9, 2020
Ray McGinnis
References:
Cilla Black Biography, Cilla Black.com
Black, Cilla. What's It All About? Random House, New York, 2003, p. 65.
Dave Laing, "Cilla Black Obituary: One of the Leading Pop Singers of the 1960s Who Went on to Have a Successful Television Career with Blind Date and Surprise, Surprise," Guardian, August 2, 2015
Emma Brockes, "'I Was Dead Chuffed'," Guardian, June 14, 2004
Umberto Bindi, "Il Mio Mondo,"1964.
Bobby Willis, Wikipedia.org
Douglas Martin, "Carl Sigman, 91, Songsmith Who Made Generations Hum," New York Times, September 30, 2000.
"Umberto Bindi," Wikipedia.org.
"Gino Paoli," Wikipedia.org.
Suzanne Lachmann, Psy. D, "Longing For A Person Who Can't Love You Back," Psychology Today, October 18, 2014.
"C-FUNTASTIC FIFTY," CFUN 1410 AM, Vancouver, BC, July 4, 1964.
For more song reviews visit the Countdown.