#715: You're Not The Same Girl by Blue Northern
Peak Month: August 1981
7 weeks on Vancouver's CKLG's chart
Peak Position #8
Peak Position on Billboard Hot 100 ~ did not chart
YouTube.com link: "You're Not The Same Girl"
Blue Northern was a Vancouver band that got their start in 1977. The founding members were Garry Comeau on guitar and fiddle, Lee Roy Stephens on bass, steel and rhythm guitar player Jimmy Wilson and Brady Gustafson on drums. As they developed their sound the band wanted to broaden their audience appeal. It happened that one of the audience members who enjoyed Blue Northern in concert was Billy Cowsill.
William "Bill" Joseph Cowsill, Jr., was born in the USA in 1948 and had moved to Vancouver in 1977. He had been the lead singer of The Cowsills, a family pop singing group from Newport, Rhode Island. The Cowsills had several hits between 1967 and 1969, including "The Rain, The Park & Other Things" and "Hair." The Cowsills appeared on The Ed Sullivan Show, The Dick Cavett Show and The Tonight Show with Johnny Carson. They also were the spokespersons for the American Dairy Association. Billy Cowsill got used to appearing in two hundred concerts a year for several years. His addition to Blue Northern gave them a talking point for MCs who introduced them when performing in the late 70s and early 80s. Cowsill also brought his considerable experience in the music industry.
In addition to Billy Cowsill joining Blue Northern, the band recruited Ray O'Toole, a former member of the Vancouver band the Northwest Company. The band released a four-track EP in 1980 titled Blue. The vinyl EP was also blue in color. Two of these tracks were released as singles. "Can't Make No Sense" was a Top Ten hit in Vancouver in the fall of 1980. The followup single, "Too Late To Turn Back", was released in the winter of 1980. Ray O'Toole wrote both songs. "Too Late To Turn Back", made it into the Top 20 in Regina.
In 1981 Blue Northern released a self-titled album. It includes their previous two single releases, as well as third single titled "You're Not The Same Girl".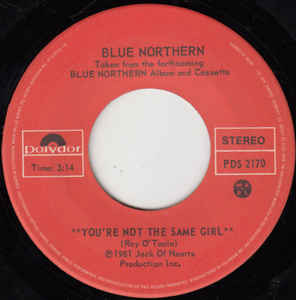 "You're Not The Same Girl" was another song written by band member Ray O'Toole. The lyrics let us know it rained last night, but now it is really coming down hard this morning. The weather is a metaphor for a change in a relationship. The woman "girl" who the guy has been in relationship with used to look away from him out of shyness. Now she's no longer tame and wants to go and "have her fun." The guy is sad about the changing circumstances and he is the one who has to avert his eyes when he sees her. The song climbed to #8 in Vancouver on CKLG. However, it failed to catch on elsewhere.
In 1981, Blue Northern also toured as an opening act for American country singer Tanya Tucker. However, the band experienced friction between members and by 1982 they disbanded. Comeau became a hot session player given his expert fiddle playing. Jimmy Wilson headed to America to play with Queen Ida and the Bon Temps Zydeco Band in Louisiana. Wilson also worked with Robbie Robertson on the 1994 album, Music For The Native Americans, which won a Grammy Award. Wilson co-wrote a track on the album called "Coyote Dance".
Billy Cowsill went on to form two other bands. He fronted country pop band Blue Shadows in the mid- 90s. But Cowsills' substance abuse and unpredictable stage antics, like gratuitously smashing guitars, were catalysts for the bands demise by 1996. Cowsill moved to Calgary and formed the Co-Dependents in 1998. They were a band that played country, bluegrass, blues, rock, and rockabilly. Billy Cowsill died in 2006 in Calgary at the age of 58. He had suffered from emphysema, Cushing's syndrome and osteoporosis.
April 8. 2019
Ray McGinnis
References:
Daniel J. Wakin, "William Cowsill, 58, Leader of Family Pop-Rock Band, Dies," New York Times, February 21, 2006.
Jeannie O'Toole, "Blue Northern bio," Canadian Bands.com
"Blue Northern," PNWBands.com
Paul Cantin, Jeffrey Hatcher, Paul Rock, "Blue Shadows bio," Canadian Bands.com
The Co-Dependents bio, Canadian Bands.com.
"CKLG Top 20," CKLG 730 AM, Vancouver, BC, August 19, 1981.
For more song reviews visit the Countdown.