#193: You're The Voice by John Farnham
Peak Month: August 1987
12 weeks on Vancouver's CKLG chart
1 week Playlist
Peak Position #5
Peak Position on Billboard Hot 100 ~ #82 (in 1990)
YouTube: "You're The Voice"
Lyrics: "You're The Voice"
John Peter Farnham was born in 1949 in Essex, England. He moved with his family to Australia in 1959. While in Grade Ten, in 1964 he began performing as Johnny Farnham a local Melbourne band called the Mavericks on weekends. In late 1965, he became the lead singer for Strings Unlimited. In 1967, Farnham was signed to the EMI label and recorded a novelty song titled "Sadie (The Cleaning Lady)". It became a number-one single in Australia for five weeks in early 1968. He followed up with two more Top Ten hits on the Australian pop charts, including a cover of the 1930s pop standard "Underneath The Arches". In 1969, Johnny Farnham's cover of the Three Dog Night song, "One", peaked at #4 in Australia. He returned to the top of the Australian pop charts later that year with a cover of "Raindrops Keep Falling On My Head". He had three more Top Ten hits in Australia in the 1970s, and a Top Ten cover of the Beatles "Help" in 1980.
In February 1982, John Farnham became the lead singer of the Australian pop-rock group Little River Band. That year the Top 20 single, "The Other Guy", was the first to feature Farnham on lead vocals. However, as the Little River Band turned to a harder rock sound into the mid-80s, they slid in popularity. Though Farnham continued as lead vocalist into early 1987, his departure was foreshadowed with the October 1986 release of his solo album Whispering Jack. The album featured the debut single "You're The Voice".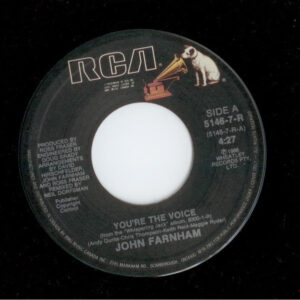 "You're The Voice" was cowritten by Andy Quinta, Anderson Quinta was born in Warrington, England, in 1951. He moved to Australia in 1982 and joined the band Icehouse. Quinta is featured on Icehouse's 1982 Top Ten Australian hit singles "Great Southern Land", "Hey Little Girl", and 1987 Top Ten hits "Crazy" and "Electric Blue". He left Icehouse and moved to Los Angeles in the early 90s.
Another writer of "You're The Voice" is Keith Reid. Born in 1946 in Hertfordshire, north of London, he was the son of a Holocaust survivor. In 1967 he joined the band Procul Harum, a band named after a Burmese cat. Reid cowrote the iconic Procul Harum hit single "A Whiter Shade Of Pale". Reid remained with Procul Harum until 1977.
A third cowriter of "You're The Voice" is backing singer Maggie Ryder. Also from England, she has been in the studio to record "This Is The House", Love Is A Stranger", "Sweet Dreams", "Here Comes The Rain Again", "Who's That Girl", and "Regrets" for the Eurythmics; "Sowing The Seeds Of Love" and "Woman In Chains" for Tears for Fears.
The fourth and final writer of "You're The Voice", Chris Thompson, was born in Kent, England in 1948. He is featured on a dozen albums by Manfred Mann's Earth Band. Thompson is the lead vocalist on the 1977 number-one hit single "Blinded By the Light".
"You're The Voice" is a song calling for collective empowerment in a time of coercion by those in power. The lyrics begin with a call to "turn the pages over." Whatever is happening to others, "we're all someone's daughter, we're all someone's son." The song asks us to find a way to relate to one another at a basic level. In the face of perpetual conflicts, Farnham asks "How long can we look at each other down the barrel of a gun?" In an age of permanent war, the question stares us in the face. And the "barrel of a gun," 35 years since Farnham sang "You're The Voice", is now on steroids. In a climate of fear and silencing of voices, the singer proclaims to isolated individuals that together they have "the power to be powerful." But, in order to be powerful enough to be catalysts for making a better world, we need to understand one another. How can we move out of fear and how can we beat the silencing odds that keep us from building community?
In the music video for "You're The Voice" there are images of bombs being dropped from planes, and soldiers on the march. As well, mother and father argue while a daughter endures the emotional fallout as she sits at the dinner table and her mother throws a plate against the wall. In the face of household and international conflicts, Farnham hopefully sings "We have the chance to turn the pages over. We can write what we want to write."
In fearful times, in times of isolation, it may feel more challenging to imagine, to aspire, to dream. But, John Farnham is inviting us to reconnect to the best within us, to imagine the capacity of our own voice to make a difference, at least to make a start in a new direction.
"You're The Voice" peaked at #2 in Calgary (AB), #4 in Lethbridge (AB), #5 in Vancouver (BC), and #9 in Hamilton (ON). Internationally, the song peaked at #1 in Australia for seven weeks, #1 in Sweden for eight weeks, and #1 in West Germany for two weeks, #3 in Ireland and Switzerland, #6 in Austria and the UK, #9 in Denmark, #13 in Belgium and New Zealand, and #15 in the Netherlands.
A second track from Whispering Jack, "Pressure Down", also climbed into the Top Ten in both Australia and New Zealand.
In 1988, the singer released his 13th studio album, Age of Reason. The title track climbed to number-one on the Australian pop chart, and #4 in New Zealand. A second album track, "Two Strong Hearts", climbed to #5 in Australia.
In 1990, John Farnham released his 14th studio album, Chain Reaction. The title track, "That's Freedom" and "Burn For You", each peaked in the Top Ten of the Australian pop chart.
In 1991, Farnham sang a duet with Jimmy Barnes with a cover of the Issac Hayes classic "When Something Is Wrong with My Baby", originally recorded by Sam & Dave in 1967. The cover climbed to #2 on the Australian pop chart. In 1992-93, Farnham appeared in a production of Jesus Christ Superstar as Jesus. His recording with "Everything's Fine", with Kate Ceberano and Jon Stevens, climbed to #6 in the Australian singles chart in 1992.
In 1996 John Farnham released his 16th studio album Romeo's Heart. It featured the single "Have A Little Faith", which climbed to #3 in Australia. Farnham's last Top Ten hit in Australia was in 1997 with "Everytime You Cry", which peaked at #3.
In 1987 John Farnham was bestowed the honor of Australian of the Year. In 1997 he was made an Officer of the Order of Australia. Across his career Farnham was won twenty Australian Recording Industry Association awards, and been nominated for 39 more. He has also been inducted into the Australian music Hall of Fame.
Over the years, Farnham has toured with other recording artists, including Coldplay, Stevie Nicks, Tom Jones, Olivia Newton-John, The Seekers, Queen and others.
March 4, 2022
Ray McGinnis
References:
"7 Days: Interview with Johnny Farnham On Tour," National Film and Archive Sound of Australia, 1968.
Alan Morrison, "50 Years on from Sadie, the Cleaning Lady who Helped Launch John Farnham's Career," Sydney Morning Herald, November 27, 2017.
"John Farnham is the Voice again," Sydney Morning Herald, May 27, 2009.
"Make a Noise and Make It Clear: Three Decades of 'You're The Voice', National Film and Archive Sound of Australia.
"CKLG Top Thirty," CKLG 730 AM, Vancouver, BC, August 18, 1987.
For more song reviews visit the "Countdown."