#661: You've Gotta Love Someone by Elton John
Peak Month: March 1991
12 weeks on CKLG's Vancouver Charts
Peak Position ~ #8
Peak Position on Billboard Hot 100 ~ #43
YouTube.com: "You've Gotta Love Someone"
Lyrics: "You've Gotta Love Someone"
Reginald Kenneth Dwight was born in 1947. When he was three years old he astounded his family when he was able to play The Skater's Waltz by Émile Waldteufel by ear at the piano. When he was eleven years old he won a scholarship as a Junior Exhibitor at the Royal Academy of Music. Between the ages of 11 and 15 he attended the Academy on Saturday mornings. In 1962, by the age of 15, he was performing with his group, The Corvettes, at the Northwood Hills Hotel (now the Northwood Hills Public House) in a northern borough of London. While he was playing with a band called Bluesology in the mid-60s he adopted the stage name Elton John. His stage name, which became his legal name in 1967, was taken from Bluesology saxophonist Elton Dean, and their lead singer, Long John Baldry.
In 1967 John met Bernie Taupin, a songwriter. Since they teamed up they've worked together on 32 studio albums between 1969 and 2016. In the same five-decade span Elton John has released 128 singles. Of these 42 reached the Top Ten in Canada on the RPM singles chart, 29 made Top Ten on the UK charts and 26 singles made Top Ten on the Billboard Hot 100. Elton John holds the distinction of having the most successful single release in the rock 'n roll era ~ 1955 to the present ~ with his 1997 version of "Candle in the Wind" which has sold over 33 million copies. The biggest selling single remains "White Christmas" by Bing Crosby which has sold 50 million copies.
In 1969, Elton John released his debut album, Empty Sky. He received critical acclaim for his musicianship and heralded as a great new singer-songwriter. John didn't disappoint his critics, as his next album, the self-titled, Elton John, included "Your Song" and "Border Song," two of his most enduring contributions to pop music. "Your Song" climbed to #1 on CKVN in Vancouver and peaked at #8 on the Billboard Hot 100, failing to make the Year-End Top 100 singles of the year in America. His third album was Tumbleweed Connection, released in the fall of 1970. The album peaked in the Top 5 of the Billboard 200 Album chart. One of the tracks from the album is "Love Song." The tune did not appear on the Billboard Hot 100 in the USA. However, in 1976, Vancouver record buyers liked the song and took it to #10 on CKLG five years after its release on Tumbleweed Connection.
On April 23, 1971, Elton John made his first concert appearance in Vancouver (BC), performing at the Agrodome.
Though Elton John is from the UK, his first #1 single was "Crocodile Rock", a song that went to #1 in America, Switzerland, New Zealand and Canada in early 1973. It stalled at #5 on the UK singles chart. Later in 1973, "Goodbye Yellow Brick Road" topped the charts in New Zealand and Canada. 1974 was one of the singers best years with "Bennie And The Jets" topping the charts on the Billboard Hot 100 and "The Bitch Is Back" climbing to #1 in Vancouver. In 1975, John had #1 hits in the USA with "Lucy In The Sky With Diamonds", "Philadelphia Freedom" and "Island Girl". In Vancouver, "Pinball Wizard" also climbed to the top spot. In 1976, Elton John finally had a #1 hit in the UK in a duet with Kiki Dee titled "Don't Go Breaking My Heart". The single also made it to #1 on the Billboard Hot 100 in the USA, CKLG in Vancouver (and many other radio markets in Canada), Ireland, Australia and New Zealand.
Reflecting on his outlandish stage presence, Elton John told W magazine "I wasn't a sex symbol like Bowie, Marc Bolan or Freddie Mercury, so I dressed more on the humorous side, because if I was going to be stuck at the piano for two hours, I was going to make people look at me." Between the Top Ten entry of "Your Song" on CKVN in Vancouver during January 1971, and the chart run of "Sorry Seems To Be The Hardest Word" in November 1976, Elton John charted 23 songs onto the Top Ten of Vancouver radio stations, including seven #1 hits here on the West Coast. Only "Tiny dancer" which stalled at #11 prevented him from having 24 consecutive Top Ten hits in a row in Vancouver in the 1970's. While in the USA on the Billboard Hot 100, Elton John managed to chart fifteen songs into the Top Ten in the same time frame.
But after 1976 the hits came infrequently. Between 1977 and 1991 Elton John released 57 singles. Of these only "Mama Can't Buy You Love", "Little Jeannie" "I Guess That's Why They Call It The Blues", "Sad Songs (Say So Much)", "Nikita", "Candle In The Wind" from 1987 and "I Don't Want To Go On With You Like That" made the Top Ten on the Billboard Hot 100. And only a couple more made the Top 40. The singer had a #1 hit in 1985, a duet with Dionne Warwick titled "That's What Friends Are For".
In August 1990 Elton John released a single called "You Gotta Love Someone".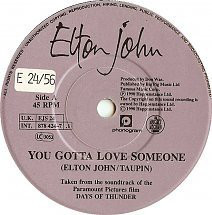 "You Gotta Love Someone" made its way up the CKLG chart in Vancouver, peaking at #8 in March 1991. It peaked at #13 in Hamilton (ON) and #5 in Spartanburg, South Carolina.
"You've Gotta Love Someone" is a song that places the power of love and its value above all else. You can achieve astonishing feats, break rules, win a race against time, defeat opponents and even cheat the devil. However, all these efforts mean little if you are left on your own with no one to witness your triumphs and empathize with your struggles and be there for you. The song was featured in the film Days Of Thunder. The film starred Tom Cruise, Randy Quaid, Robert Duvall and Nicole Kidman. In the film the goal of the automobile racers is to enter and win the Indianapolis 500. The song by Elton John underscores a sub-theme in the film that there is more to life than winning races.
Chelsea Leigh Prescott writes in her article, When A Man Chooses Ambition Instead of Love With You, "Selfishness is often disguised as ambition. He can't focus on you any longer, he'll say, because at this time in his life he must be focusing on himself. On his projects. His "deals." His work. On becoming significant and credible. Distinguished and ultimately, in some distant future, the reaper of accolades perched up on a platform high enough where he can be indefinitely charitable." While there are automobile racers who fend off romantic partners while aiming for the podium at the Indianapolis 500, there are many racers who are able to handle a relationship and apply themselves to winning on the track. It all depends on your attitude and philosophy of life.
For many years Elton John was an addict to alcohol and drugs. His frequent use of cocaine is said to have been a catalyst for debilitating epileptic seizures. Facing up the the grim state of his health, Elton John went into rehab in 1990. He emerged with a focus on helping others and founded the Elton John AIDS Foundation in 1992. The foundation has raised has brought in more than $225 million to support HIV/AIDS programs around the world.
Elton John also experienced a resurgence in his chart-topping ways that resembled the 1973-76 period. He had a #1 duet of "Don't Let The Sun Go Down On Me" with George Michael in 1992. "The One", "Can You Feel The Love Tonight", "Believe" and "Something About The Way You Look Tonight/Candle In The Wind" all climbed to #1 in Canada on the RPM singles chart. "Blessed", "Simplest Life" and "Circle Of Life" all charted into the Top 5 positions.
In 1994 Elton John was inducted into the Rock and Roll Hall of Fame. In 1998 he became Sir Elton John when he was knighted by Queen Elizabeth II in recognition of his "services to music and charitable services." Among the many performances he has given include the funeral for Princess Diana at Westminster Abbey in 1997, and Queen Elizabeth II's Diamond Jubilee Concert outside Buckingham Palace in 2012.
On September 8, 2018, Elton John began his Farewell Yellow Brick Road tour. An ambitious tour, it includes over 300 concert performances across North America, Europe, the Middle East, Asia, South America and Australasia. The final concerts on the tour are in 2022. Elton John appeared in Vancouver at BC Place Stadium on October 21st and 22nd, 2022.
December 21, 2018
Ray McGinnis
References:
Elton John bio, Rolling Stone, New York.
Elton John bio, Elton John.com.
Tumbleweed Connection, Rolling Stone, New York.
Elton John AIDS Foundation – About, EJAF.org
Days Of Thunder (soundtrack), Wikipedia.org.
Chelsea Leigh Prescott, When A Man Chooses His Ambition Instead Of Love With You, Thought Catalogue.com, April 26, 2016.
"Elton John Concerts – Canada," setlist.fm.
"CKLG Top 40," CKLG 730 AM, Vancouver, BC, March 11, 1991.
For more song reviews visit the Countdown.