#476: You've Lost That Lovin' Feelin' by Long John Baldry featuring Kathi McDonald
Peak Month: June 1979
8 weeks on CFUN's Vancouver Chart
Peak Position ~ #4
Peak Position on Billboard Hot 100 ~ #89
YouTube: "You've Lost That Lovin' Feelin'"
Lyrics: "You've Lost That Lovin' Feelin'"
Long John Baldry was a famous figure in the early British blues scene. He was born in East London in 1941. In addition to being a performer, Baldry was one of the music world's great eccentrics. Long John had a knack for discovering talent. Ginger Baker, Jeff Beck and Brian Jones all worked with him early on. Elton John played piano in one of his bands, other Rolling Stones too – Charlie, Ron Wood, and Keith. In 1962, when The Rolling Stones were just getting started, they opened for him in London. Eric Clapton has said many times that John was one of the musicians that inspired him to play the Blues. And for their internationally televised special in 1964, The Beatles invited John to perform his version of 'I Got My Mojo Working'. Rod Stewart, referring to Baldry in his book, The Making of a Legend said "in those days the only music we fell in love with was the Blues, and John was the first white guy singing it, in his wonderful voice. It was the true Blues and everyone looked up to him."
In the late 1950s Baldry was one of the first British singers to perform folk and blues music, and in the early '60s he was the vocalist in two seminal blues bands, Alexis Korner's Blues Incorporated and the Cyril Davies R&B All Stars. The latter became Long John Baldry and the Hoochie Coochie Men. He later formed the groups Steampacket and Bluesology. The latter included an unknown young keyboard player who took the stage name Elton John in Baldry's honour. Although Baldry recorded more than 40 albums, he found little commercial success. His best-known songs were in 1968: "Let the Heartaches Begin" and "Mexico", both big hits in the UK and in South Africa. The former peaked at #20 in Vancouver.
In 1971 Baldry had a minor regional hit in Seattle, Spokane (WA) and Omaha (NE) titled "Don't Try To Lay No Boogie-Woogie On The King Of Rock And Roll".
In 1979 Long John Baldry recorded a duet with Kathi McDonald in Seattle, covering the Righteous Brothers hit, "You've Lost That Lovin' Feeling".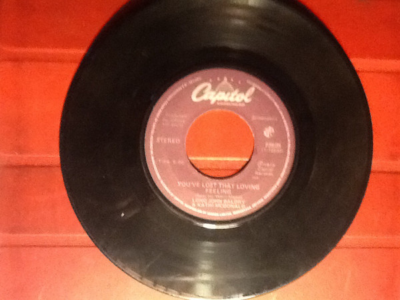 "You've Lost That Lovin' Feelin'" was cowritten by Barry Mann, Cynthia Weil and Phil Spector. The song became a number-one hit for the Righteous Brothers in 1965. According to BMI, it is the most played single on AM Top 40 radio in the 20th Century, by 2011 having received over fifteen million spins on AM Top 40 radio stations. The song has been recorded by Cilla Black, who had a #2 hit with the song in the UK in 1965. In 1969 Dionne Warwick's cover made the Top 20 in both the USA and Canada. In 1980 Hall & Oates had a Top 20 hit with the song. Other charting versions of "You've Lost That Lovin' Feelin'" have been recorded by Roberta Flack & Donny Hathaway, and by Long John Baldry. Barbara Fairchild did a country version of the song in 1971 and Elvis Presley recorded the song on his 1970 album That's The Way It Is. Covers by Joan Baez, Nancy Sinatra and the Human League are among the other notable recordings.
Cynthia Weil was born in 1940 in Manhattan and raised in a conservative Jewish family. In her teens she studied acting and dance but went on to develop her skills as a songwriter. Early in 1960 she landed a position with the Frank Music Company headed by Frank Loesser, writer of "Baby, It's Cold Outside" and the musicals Guys And Dolls, Hans Christian Andersen and How To Succeed in Business Without Really Trying. Weil moved on to Aldon Music in the Brill Building late in 1960. One of the other songwriters she met was Barry Mann.
Barry Imberman was born in Manhattan in 1939. Raised in a Jewish family, he began his professional career as a songwriter in 1958 at Aldon Music in the Brill Building. His first songs, all credited to Barry Mann, included recordings by Sal Mineo, the Kalin Twins, the Pony-Tails, "Don't Destroy Me" by Crash Craddock, and "She Say (Oom Dooby Doom)" by the Diamonds – a Top 20 hit on the Billboard Hot 100 in 1959. That year Mann also wrote the B-side to the Top 20 hit "Here Comes Summer" by Jerry Keller, and "Footsteps" and "Come Back Silly Girl" for Steve Lawrence. In 1961, Barry Mann also recorded a Top Ten hit he wrote in 1961 titled "Who Put The Bomp (In the Bomp, Bomp, Bomp)".
Mann and Weil were teamed up in the Brill Building in Manhattan. Their professional relationship became personal and they married. Mann and Weil cowrote many songs including "Don't Know Much" for Aaron Neville and Linda Ronstadt, "Somewhere Out There" for Linda Ronstadt and James Ingram, "(You're My) Soul And Inspiration" and "You've Lost That Lovin' Feeling" for the Righteous Brothers, "On Broadway" for The Drifters, "Walking In The Rain" for the Ronettes and Jay and The Americans, "I'm Gonna Be Strong" for Gene Pitney, "Blame It On The Bossa Nova" for Eydie Gorme, "Here You Come Again" for Dolly Parton, "Make Your Own Kinds Of Music" and "It's Getting Better" for Mama Cass, "Kicks" and "Hungry" for Paul Revere And The Raiders, and "Rock 'N Roll Lullaby" for B.J. Thomas.
In addition, Barry Mann wrote (or co-wrote) "I Love How You Love Me" for the Paris Sisters, "Patches" for Dickey Lee, "How Much Love" with Leo Sayer and "Sometimes When We Touch" with Dan Hill. And Cynthia Weil also wrote (or co-wrote) "Running With The Night" and "Love Will Conquer All" for Lionel Ritchie, "He's So Shy" for the Pointer Sisters, and "If You're Ever In My Arms Again" for Peabo Bryson.
Phillip Harvey Spector was born in 1939 in the Bronx, into a first generation immigrant Jewish family, who changed their surname Spekter to Spector after they got permanent residency. Phil Spector's father died by suicide in 1953 and on his gravestone was the phrase "to know him is to love him." Phil wrote a song in 1958 titled "To Know Him Is To Love Him", as a tribute to his dad. The song became a number one hit for the Teddy Bears, which included young Phil. While the Teddy Bears split up in '59 after failing to have any followup hit, Phil Spector went on to co-write "Spanish Harlem" with Jerry Lieber, a hit for Ben E. King. And he played guitar on the Drifter's "On Broadway". But it was as a record producer that Phil Spector became most successful.
In 1960 he produced "Corrina, Corrina" for Ray Peterson, "Pretty Little Angel Eyes" for Curtis Lee and "I Love How You Love Me" for the Paris Sisters. Spector went on to produce many hit records in the 1960s and 1970s. These include "Da Doo Ron Ron", "Then He Kissed Me" and "He's A Rebel" for the Crystals; "Be My Baby", Baby I Love You", "(The Best Part Of) Breakin' Up" and "Walking In The Rain" for the Ronettes; "You've Lost That Lovin' Feeling", "Ebb Tide" and "Unchained Melody" for the Righteous Brothers; ""Black Pearl" for Sonny Charles; "River Deep – Mountain High" for Ike and Tina Turner; "Instant Karma", "Power To The People" and "Imagine" for John Lennon; "My Sweet Lord", "Bangla-Desh" and "What Is Life" for George Harrison; and several minor hits for the punk band the Ramones.
In 2003 actress Lana Clarkson was found dead from a gunshot wound to her mouth in Spector's home in Los Angeles County. At a second trial in 2009, Phil Spector was found guilty of second degree murder. He is serving his sentence in a California jail and will be eligible for parole in 2025.
"You've Lost That Lovin' Feelin'" is a song about non-verbal cues that the spark that once was present between a romantic couple has gone. The one person in the couple never closes their eyes when they kiss. Holding hands lacks a tenderness that was once tangible. Replacing what was once a welcome look when the one partner reached out to touch them, is now an aversion to embrace. Verbally, the room is filled with bickering and fault-finding criticism. The partner who is on the receiving end of this fading affection begs "bring back that lovin' feeling'."
Long John Baldry's "You've Lost That Lovin' Feelin'" peaked at #4 in Vancouver (BC), #10 in Kingston (ON) and #18 in Toronto. Internationally, in 1980 Baldry's version peaked at number-one in Sydney, Melbourne and Brisbane, Australia. The cover made the lower reaches of the US Billboard charts.
In "You've Lost That Lovin' Feelin'" Long John Baldry does a duet with Kathi McDonald. Bill Medley of the Righteous Brothers told Long John Baldry that the duet with Kathi McDonald was his favorite version, preferring it to his duet with Bobby Hatfield.
Born in Anacortes, Washington, in 1948, Kathryn Marie "Kathi" McDonald, her parents recalled that she learned to sing all five verses for "Goodnight Irene" at the age of two. became part of his touring group for two decades. She began singing in her teens in the Seattle area as a vocalist for a number of bands. These included the Bellingham Accents (1963-1965), the Oak Harbor sock-hop band the Checkers (1964-65), the Unusuals (1965-67) and Fat Jack (1966-68). She was a featured vocalist with the Unusuals answer song "Babe, It's Me" to Sonny and Cher's "I Got You Babe". The Unusuals answer song climbed to number-one in Bellingham (WA) in 1966. McDonalds' vocals on "I Could Go On" by the Unusuals in 1966 showcased her ability to belt out a song in league with the best female belters of the mid-60s. Once Kathi McDonald joined Fat Jack, they opened for Jefferson Airplane at a concert in Bellingham on May 27, 1967. McDonald went on to become one of the Ikettes when she was discovered by Ike Turner. She sang backing vocals on Ike And Tina Turner's 1970 Come Together album.
Overlapping her work as an Ikette, McDonald became a member of Big Brother and the Holding Company after Janis Joplin went solo. McDonald is featured on Big Brother's 1970 album Be A Brother, and their fourth studio album How Hard It Is in 1971. In addition, McDonald was in the recording studio with Leon Russell from late August 1970 to December 1970 for his album Leon Russell and the Shelter People. She toured with him on his Leon Russell and the Shelter People tour in late 1971 into 1972. In 1972 she was a backing vocalist on four tracks for the Rolling Stones Exile On Main Street, including their hit single "Tumbling Dice". She provided backing vocals for other recording artists at the time including Rita Coolidge (Rita Coolidge – 1971 – uncredited), Freddie King, Joe Cocker (Mad Dogs & Englishmen – 1970 – uncredited), Delaney & Bonnie (To Bonnie from Delaney -1971 – uncredited) and Quicksilver Messenger Service. In 1983 she contributed backing vocals to the Canadian female rock band Toronto's album Girls Night Out.
Kathi McDonald met Long John Baldry in 1976. Later in 1979, Baldry and McDonald had another duet covering the early seventies Redbone song "Come And Get Your Love" which climbed onto the pop chart on CHUM-AM in Toronto.
In his adopted city of Vancouver, Baldry had a Top 20 hit in 1982 called "Too Late For Crying". In 1987 Baldry had a Top 20 hit in Regina of a cover of the Walker Brothers "The Sun Ain't Gonna Shine Anymore". His album, Right To Sing The Blues, won a Juno Award in the Blues Album of the Year category in the Juno Awards of 1997. Baldry's final UK Tour as 'The Long John Baldry Trio' concluded with a performance on Saturday, November 13, 2004 at The King's Lynn Arts Centre, King's Lynn, Norfolk, England.
Among his friends and industry peers, Baldry was openly gay from the early 60s. However, he didn't "come out" in public until the 1978 after becoming a Canadian citizen. A wise move, as Britain criminalized male homosexuality until 1967. Up until then a conviction in the UK could lead to forced medication and jail time. Baldry died in Vancouver in July, 2005.
Kathi McDonald and Long John Baldry continued to have a professional relationship and she contributed vocals on six more of his albums between 1987 and 2009. Kathi McDonald struggled with both alcohol and drug addiction. She could perform on stage with perhaps one of the best renditions of "I'd Rather Go Blind" at a concert in Germany in 1993. But, addiction took its toll and she died at age 64 in 2012.
February 21, 2017
Ray McGinnis
References:
Dave Laing, "Long John Baldry: Guitarist and Singer Who was a Key Figure in the British Rhythm and Blues Movement," Guardian, July 23, 2005
Rod Stewart, The Making of a Legend, Long John Baldry.com (from Readers Digest, December 2004)
Mark Kowalk, Resurrecting Long John Baldry: Gay Man Paved the Way for the British Blues Explosion of the 1960s, Extra, December 20, 2007
Paul Myers, It Ain't Easy: Long John Baldry and the Birth of the British Blues, (Greystone, 2007).
Peter Feniak, "He Had a Right to Sing the Blues," Globe and Mail, Toronto, Ontario, October 20, 2007
Steve Newton, "30 Years Ago Today: Long John Baldry Tells me that he's not The King of Rock and Roll," Georgia Straight, Vancouver, BC, September 8, 2015.
"Cynthia Weil bio," mann-weil.com.
"Barry Mann bio," mann-weil.com.
Mick Brown, Tearing Down the Wall of Sound: The Rise and Fall of Phil Spector, (Vintage, 2008).
"Phil Spector Convicted of Murder," BBC, April 14, 2009.
"BMI Announces Top 100 Songs of the Century: 'You've Lost That Lovin' Feelin" is Number One," BMI.com, December 13, 1999.
Jim Doidge with Pat Jerns, "The Unusuals (1965-1967)" pnwbands.com, June 2003.
Bruce Kirkman, "Fat Jack," pnwbands, April 2003.
The Unusuals featuring Kathi McDonald, "Babe, It's Me", Panorama Records, 1965.
The Unusuals featuring Kathi McDonald, "I Could Go On", Mainstream Records, 1966.
Paul Cashmere, "Kathi McDonald Dead At 64," Noise11.com, Melbourne, Australia, October 5, 2012.
"Kathi McDonald, "I'd Rather Go Blind," Ohne Filter-Musik Pur, SWR-TV, Germany, 1993.
"CKLG Top 20," CKLG 730 AM, Vancouver, BC, June 6, 1979.
For more song reviews on this website visit the Countdown.