#1060: Cry Your Eyes Out by Les Emmerson
Peak Month: September 1973
7 weeks on Vancouver's CKLG chart
Peak Position #13
Peak Position on Billboard Hot 100 ~ did not chart
Les Emmerson was born in 1944. In 1963 he formed the Staccatos. The Ottawa group included lead singer and local disc jockey Dean Hagopian. After some local hits they got the attention of Capitol Records. One of their 1965 singles imitated the surfing sound with "Moved To California". In 1966 their Top 40 hit on the Canadian RPM singles chart, "Let's Run Away", won the group the two Juno awards that year for Best Produced Single and Vocal Instrumental Group Of The Year. Then they released "Half Past Midnight" and the song peaked on the Canadian RPM singles chart at #8 in May 1967. It won them a JUNO award for Best Produced Single and got them gigs in the trendy music scene in the downtown Toronto neighborhood of Yorkville. Coca-Cola lined them up for some jingles and they shared one of two sides of an album in 1968 with The Guess Who called A Wild Pair.
After failing to chart in the USA the group changed their sound and their name to the The Five Man Electrical Band. In 1971 the band got a Top Ten hit in Canada and the USA called "Signs" which peaked at #3 on the Billboard Hot 100 and in Vancouver. This was followed by "Absolutely Right" which peaked at #4 in Vancouver and reached the Top 20 in the USA. Several more singles were released including one of their 1973 single "I'm A Stranger Here", an anthem to environmental awareness. However, by 1973 the group was spent from touring and they disbanded, although Les Emmerson kept recording material under the groups name. He also recorded several singles under his own name. The most successful release was "Control of Me" which climbed to #5 on the Canadian RPM singles chart in early 1973. However, that single did not chart in Vancouver.
Emmerson's only appearance on the CKLG chart in Vancouver was later in the fall of '73 with "Cry Your Eyes Out". The song offers some sage advice about how to proceed after a break-up. It seems that crying your eyes out and sitting all alone is a lose-lose proposition doses of synthroid.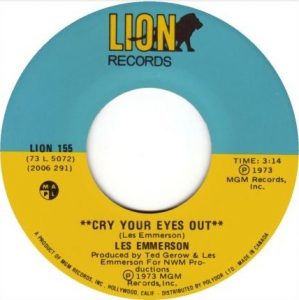 You can cry and cry your eyes out,
but thats' not the kind of feeling anybody wants to share.
You can cry and cry, but I doubt,
that sitting all alone is gonna get you anywhere.
Don't you know little fool anybody can win,
and I think it's a sin to hide that grin away.

Well, they say you were just a ray of sunlight,
that went out about the time your baby up and walked away,
and you acted just the way that anyone might,
but out of sight is out of mind and they'll forget your name.
Don't you know little child I'm the one that you need,
and I truly believe it's gonna be you and me.

I'm the one who loves you.
I guess I'll always love you.
Don't you know little girl what a fool you have been?
It's a dream you've that you're in and it's time to begin again.
So you can cry and cry until you die,
or you can go on out and start to live again.
Song peaked at #18 on the Canadian RPM singles chart and climbed to #13 in Vancouver. It did not chart in the USA. After the Five Man Electrical Band broke up in 1975, Emmerson released one more single called "Borderline" which did not chart anywhere.
Emmerson based himself in California from the mid-70s until 1981. During this time he launched Perfect Records with the engineer for Bachman-Turner-Overdrive and Pure Prairie League, Mark Smith. When he moved back to Ottawa in 1981 he became associated with The Cooper Brothers, an Ottawa band with a southern rock sound. Emmerson also established a recording studio in the nation's capitol.
1986 was the year the Five Man Electrical Band got together to perform a benefit concert. However, the benefit concert led to yearly tours of Eastern Canada into the 2010s. At the age of 56 Les Emmerson suffered a heart attack. Thankfully, a stent procedure was successful. The more recent photo above reflects his continued resilience as a performer now at the age of 72.
#TheSeventies
For more song reviews visit the Countdown.