#892: Dear Ivan by Jimmy Dean
Peak Month: December 1961
5 weeks on Vancouver's CKWX chart
Peak Position #2
Peak Position on Billboard Hot 100 ~ #24
Hot Prospects ~ CKWX ~ December 16, 1961
In 1928 Jimmy Ray Dean was born in Plainview, Texas. His mother taught him to play piano. He dropped out of high school to work to help his mother. Next he joined the U.S. Air Force. He later and a professional entertainer around the time Dean married his first wife Mary Sue (Sue) in 1950. He had his first Top Ten hit on the Billboard Country charts in 1952 called "Bumming Around." In 1954, Jimmy Dean became the host of radio program Town and Country Time on WARL in Washington D.C. Dean and his Texas Wildcats grew in popularity across the Mid-Atlantic region. Among the singers who got their start on the show were Patsy Cline, Roy Clark and Billy Grammar. He gained more fame with several more radio shows in Maryland and Virgina. In 1958-59 he was host of the Jimmy Dean Show on CBS. That show included a debut of a young puppeteer named Jim Henson who later created the Muppets.

In September, 1961, Dean released a song about a brave miner called "Big Bad John." The tune climbed to #1 on both the country and pop charts on Billboard, and here in Vancouver. The 1962 Grammy Award for Best Country & Western Recording went to "Big Bad John."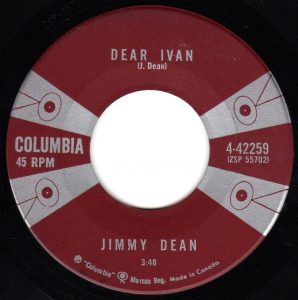 (His Truth is marching on)
(Spoken)
To Ivan Kovanovich, USSR
Dear Ivan,
You don't know me
and I don't know you.
But I sure would
like to meet ya.
Ya, I'd like to walk up to you
and shake your hand and
look you straight in the eye
and tell you that I haven't got
a thing in this world against you.
Now, I know that the
heads of our government
seem to have problems gettin'
getting things together.
But, I got a feeling
if I could just sit down and talk to you.
and we could talk together,
not as representatives of
anybody's government but just
two plain ordinary human beings
I feel like, that we might have
a great deal in common.
I'm king of in the entertainment business now, Ivan,
But I used to be a farmer just like you
I got a wife and three kids
I don't know, this may sound a
little unpatriotic, but to me
they're more important than
the heads of anybody's government
A few years back
you and I both left the farm
and we both put on a uniform
and then we were on the same side
of the fence, you and me, Ivan.
And you know, I can't help
but believe that we might still be
on the same side of the fence
that we'd both like to see
this old world unified in peace.
I'll tell you something, Ivan
I love my land very much.
Oh, we got some of the
prettiest mountains and trees
and rivers and valleys
that you've ever laid your eyes on.
And I'm sure that you feel the
same way about your country
And I know that neither one of us
would want to see the faces of
our countries blackened with
by the hot breath of anybody's bomb.
Ivan, they tell me that over there,
that you don't believe in a God.
But though I've never met cha,
I cannot help but believe that
a man who's stood on a
crisp fall morning and watched
the sun rise over the farmland,
and who planted a small grain of corn
and he's seen it grow out of the fertile soil
Or better than that, Ivan,
held his own baby in his arms
I know that you know that there's
a God up there watching over
each and every one of us.
So Ivan, when I put my
babies to bed tonight
I'm gonna say a prayer
for you and yours.
And if you, in your own way,
will say a prayer for me and mine,
and maybe we can talk our
neighbors into doing the same thing.
That would be more powerful
than any conference held over
any conference table anywhere
in the whole wide world
And then maybe we can
live as God intended
peacefully, together.
Sincerely,
Jimmy Dean, USA
(His Truth is marching on)
As the Berlin Wall went up in 1961 and the Cold War between the Soviet Union and America got colder, Jimmy Dean recorded another spoken word hit attempting to convey a viewpoint and feeling between an ordinary American (Jimmy) and an ordinary Soviet citizen (Ivan). The Cold War was in the news each day. The threat of nuclear war was constantly in the news. School children were taught to have "duck and cover drills" to protect themselves from a nuclear war by sheltering themselves under their school desks. In the spoken word recording by Jimmy Dean, Jimmy let's Ivan know that he understands the political leaders have a lot more difficulty making peace with each other than he thinks he and Ivan can do. In the early 1930's two-time Medal of Honor recipient American General Smedley Butler, gave a speech titled War Is A Racket on a tour across the nation. As the speech was so popular it was published as a book in 1935.
On September 19, 2017, American President Donald Trump gave a speech to the United Nations. Addressing the problem of North Korea, Trump warned "The US has great strength and patience. If it is forced to defend ourselves or our allies, we will have no choice but to totally destroy North Korea." Might today there be a recording artist who wants to release a song with an ordinary American addressing an ordinary North Korean? It seems there are serious obstacles to President Trump and North Korean President Kim Jong-un being able to sort things out diplomatically. Or as Jimmy Dean said it: Now, I know that the heads of our government seem to have problems getting this together.
In "Dear Ivan" Jimmy Dean appeals to the humanity of Ivan and his own humanity. He speaks about the two of them as an entertainer and a farmer, and as fathers of young children. Dean also reminds Ivan that America and the Soviet Union had as recently as 16 years earlier been allies in winning the war against Germany and Italy in the European campaign in World War II. And Jimmy believes that he and Ivan share a vision of a world united in peace. Next, he appeals to the beauty of nature, its' scenery and vastness and is certain neither want the beauty of the earth to be destroyed by fallings bombs. Dean hopes that a peaceful sleep in the family home, and a prayer to one individual in another country will help shift the conversation. He hopes that instead of making enemies of each other they can find a way to live once again in peace.
"Dear Ivan" peaked at #24 in the USA, but it really caught on in Vancouver. Was it our proximity to the USSR and the Bearing Straits that propelled it to #2? The song also did well in Springfield, Massachusetts (#2), Toledo, Ohio (#8), Cleveland, Ohio (#9), Phoenix (#5), Calgary (#2) Lincoln, Nebraska (#5) and Lakeland, Florida (#1). "Dear Ivan" spawned "Dear Jimmie," an answer song credited to Ivan Kavanovich, but written and recited by Len Johnson, an American. The answer song was not a hit.
In 1962 Jimmy Dean had another Top Ten hit across North America called "P.T. 109" about the heroism of John F. Kennedy during World War II. He also had a double-sided Top Ten hit at the start of the year "To A Sleeping Beauty"/"The Cajun Queen" in Vancouver which made the Top 30 in America.
In the early sixties Jimmy Dean was occasionally the guest host of The Tonight Show. He also appeared on other programs including The Ed Sullivan Show and The Pat Boone Chevy Showroom. From 1963-1966 he hosted The Jimmy Dean Show on ABC. He also was an actor in 14 episodes of Daniel Boone, and in the James Bond movie, Diamonds Are Forever. Meanwhile, though his career on the pop charts slumped, he had a second #1 hit on the country charts in 1965 titled "The First Thing Every Morning (And The Last Thing Every Night)."
Outside of the entertainment business, in 1969, Dean and his brother Don Dean founded the Jimmy Dean Sausage Company. Dean's funny commercials helped launch the business. Fifteen years later the company was acquired by Consolidated Foods, which was later renamed the Sara Lee Corporation. In 2004 he published his autobiography, 30 Years of Sausage, 50 Years of Ham. He died at the age of 81 in 2010.
October 10, 2017
Ray McGinnis
References:
Dean, Jimmy and Dean, Donna Meade. Thirty Years of Sausage, Fifty Years of Ham. The Berkley Publishing Group, New York, NY, 2004.
Diamonds Are Forever, United Artists, 1971.
Julian Borger, Donald Trump Threatens to 'Totally Destroy' North Korea in UN Speech, The Guardian, London, UK, September 19, 2017.
Duck and Cover Drills Bring Cold War Home, Living History Farm.org.
Butler, Major General Smedley. War Is A Racket. 1935. Round Table Press, Mundelein, Illinois, 1935.
Berlin Wall, History.com.
Cold War, History.com.
Civil War Music: The Battle Hymn of the Republic, Civil War.org.
For more song reviews visit the Countdown.