#1097: I Am What I Am by Lois Fletcher
Peak Month: April 1974
7 weeks on Vancouver's CKLG chart
Peak Position #14
Peak Position on Billboard Hot 100 ~ did not chart
YouTube.com: "I Am What I Am"
"I Am What I Am" lyrics
In the early sixties Lois Fletcher appeared on a Canadian variety show. This led to some performances at coffee houses in Greenwich Village in New York City. After Randy Sparks of the New Christy Minstrels saw her, she was invited to join his other folk troupe, The Back Porch Majority. Sparks had co-written "Green Green" for the New Christy Minstrels with Barry McGuire. The Back Porch Majority were meant to be a kind of junior league folk group whose stars might get the nod to join the New Christy Minstrels. But the Back Porch Majority outdid themselves releasing six albums and seven singles between 1964 and 1966. Among their very minor hits was "Honey And Wine" written by Carole King and Gerry Goffin, and "That's The Way It's Gonna Be." The latter tune made it to #104, bubbling under the Billboard Hot 100. They performed at the White House for President Lyndon Johnson and First Lady, Ladybird Johnson. Among their troupe were Mike Settle and Kin Varsey who joined with Kenny Rogers to form the First Edition of "Ruby, Don't Take Your Love To Town" fame. Lois Fletcher was another member of the Back Porch Majority who later released several singles. However, her only hit was a 1974 tune called "I Am What I Am."

On July 25, 1964, Billboard Magazine had an article titled Large Folk Groups Make Bids on Coast. It contrasted the New Christy Minstrels with the Back Porch Majority and a 13 member male vocal group called The Men. The Back Porch Majority, the article read, included Lois Fletcher. The BPM had just formed in June 1964, signed with the Epic record label and were just starting to receive bookings. These included Disneyland and a two week stint upcoming at Harvey's in Lake Tahoe, Nevada, in August. In concert, the Back Porch Majority blended folk music with comedy, the latter handled mostly by Mike Clough and Mike Crowley.
On November 13, 1965, Billboard Magazine reported in its Music Capitols of the World section, that Lois Fletcher was from Hamilton, Ontario. Capitol Records had just signed with her in Los Angeles as part of a trio named The Young Canadians. The other members of the trio were Dan Dalton from Windsor, Ontario, and Dan Moore from Winnipeg. The Young Canadians had just released the singles "Joker" and "Get Together". Dan Dalton was also a member of the Back Porch Majority.
Aside from three music industry articles in Billboard in 1964 and 1965, nothing comes up in a Google search for Lois Fletcher in the music industry. Fast forward to 1972. That year, "I Am What I Am" was a hit in England by a reggae group called Greyhound. It was their third Top 20 hit in the UK after their debut Top Ten hit "Black And White" the former song was covered a year later by Three Dog Night whose version went to #1 in the USA in 1972.
The composers of the song were Richard Kerr and Scott English. Kerr was from England and English was from America. Kerr wrote a number of songs for Barry Manilow including one he penned with Scott English originally called "Brandy." It was later retitled "Mandy" for Barry Manilow and became a #1 hit. Kerr also co-wrote other hits for Manilow, "Looks Like We Made It" and "Somewhere In the Night". Kerr also wrote "I Know I'll Never Love This Way Again" for Dionne Warwick. Scott English had a regional doo-wop hit in Los Angeles, Ohio and New England in 1963 called "High On A Hill." In 1968, he co-wrote the Top Ten hit for the American Breed called "Bend Me Shape Me." He also co-wrote "Help Me Girl" for the Animals in 1966. English also wrote a number of songs for the rock band Thin Lizzy in the seventies. Lois Fletcher heard Greyhound's "I Am What I Am" and decided to record it in 1974.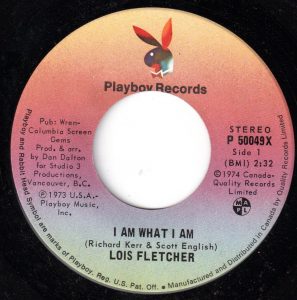 Once Lois Fletcher heard "I Am What I Am" by Greyhound she was interested in cutting a recording of it for release in her native Canada.
Fletcher's treatment of the song is less reggae and more zydeco influenced with harmonica, juice harp, washboard, piano and guitar. Her song peaked at #14 in Chicago and Vancouver. It made the Top 20 in Houma, Louisiana. However, it didn't crack the Billboard Hot 100. She had a follow up single that was a cover of the calypso tune by Harry Belafonte from the late 50's called "Man Smart, Woman Smarter." However, it failed to chart. If anyone knows anything more about Lois Fletcher, drop me a line. There is very little information about her, including where in Canada she grew up or any publicity photos as a solo recording artist.
January 10, 2017
Ray McGinnis
References:
Artist: Lois Fletcher, Album: K-tel Canadian Mint 22 Original Artists, Song: I Am What I Am, Raised On Canadian Radio.blogspot.com, May 16, 2012
Greyhound, "I Am What I Am," 1971
Paul Payton, Back Porch Majority, Pop Bop Rock Til U Drop.com, August 8, 2017
From Randy Sparks: The Year was 1955, New Christy Minstrels.com
Back Porch Majority bio, Wikipedia.org
Bruce Eder, Lois Fletcher bio, All Music.com
Kit Morgan, Music Capitols of the World, Billboard, November 13, 1965
Large Folk Groups Make Bids on Coast, Billboard, July 25, 1964
Epic Bolster's Artists' Roster, June 27, 1964
For more song reviews visit the Countdown.