#1070: If Only by Jack Scott
Peak Month: November 1962
9 weeks on Vancouver's CFUN chart
Peak Position #14
Peak Position on Billboard Hot 100 ~ did not chart
Giovanni Dominico Scafone Jr. was born in 1936 in Windsor, Ontario, and spent some of his years growing up in the Detroit suburb of Hazel Park, Michigan. In 1954 he formed a band called the Southern Drifters. In 1957 he got a record deal with ABC-Paramount. He scored four Top Ten hits on the Billboard Hot 100 and two more in the Top 30 in the USA. In Vancouver Jack Scott was a teen idol with his good looks and classic rock 'n roll. He enjoyed eight Top Ten hits on the Vancouver charts including "What In the World's Come Over You" and his most successful hit in town, "Goodbye Baby" that peaked at #2 and spent 17 weeks on the CKWX charts in 1958. At the time, Scott had more US singles in the Billboard Hot 100 (19), in a shorter period of time (41 months), than any other recording artist – with the exception of The Beatles, Elvis Presley, Fats Domino and Connie Francis. Scott charted twenty songs on the local record surveys in Vancouver between July 1958 and November 1962.
Jack Scott wrote all but one of his hits, that being "Burning Bridges". One song would be a ballad, the next a rockabilly hit, a third a doo-wop tune, and then he'd release a pop-country song. Scott was versatile and his deep bass voice was always on the airwaves in that four year period along with Elvis Presley, Ricky Nelson and Roy Orbison who were also putting out a lot of singles at the time. His final hit after his very successful run on the pop charts was a song called "If Only".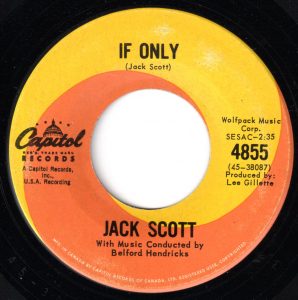 If only I could lie like you
Smile and be so sly like you
If only I could say I care
Knowing I'm not being fair
If only, if only, if only I didn't care
For you the way that I do.
If only I could kiss your lips
And dream about someone else's lips
If only I could hold you tight
And dream about the girl tomorrow night
If only, if only, if only
I could be like you.
I love you much, much too much
To ever let you go
And your dreamy eyes keep me alert
I keep a-hopin' I won't get hurt
If only he would let you know
How very, very much I love you so
Let you see how we could be
Happy, just you and me
If only, if only, if only
Oh, what's the use, if only
If only, if only, if only…
"In Only" is an honest song about someone who recognizes they're romantically involved with someone who lies to them, is sly and makes unfair inferences. Nonetheless, the song is sung from the perspective of someone who is smitten even though they realize that the woman they are dating is going out with someone else. The singer is ready to make a commitment to go steady and be happy "just you and me." But the drama of the other boyfriend of the girl of his dreams keeps the singer hoping they won't get hurt. Anyone who has been in that kind of dicey situation, where one partner is dating other people while the other person has their focus solely on their one and only, knows it can spell trouble and a lot of cause to say to oneself, "if only."
Jack Scott has been inducted into the Rockabilly Hall of Fame and the Canadian Music Hall of Fame. He continues to tour into his 81st year and lives in suburban Detroit.
For more song reviews visit the Countdown.