#1106: Just Don't by Tom Northcott Trio
Peak Month: January 1966
7 weeks on Vancouver's CKLG chart
Peak Position #15
Peak Position on Billboard Hot 100 ~ did not chart
Tom Northcott was born in Vancouver in 1943. Still in his teens, Tom Northcott was gaining a reputation while making his rounds through the Vancouver coffeehouse circuit in the early '60s. In particular, he frequented the Kitsilano area, the focal point of the hippie counterculture north of San Francisco. "Just Don't" was his first local hit record.
In 1965, Northcott took over from Ronnie Jordan as the frontman for the Vancouver Playboys, already an established BC band that wore identical suits. They were considered one of BC's top emerging bands, mixing a Beatles look with music stylings of The Ventures. Northcott established one of Vancouver's first labels, Syndrome Records, which LA execs at Warner were impressed enough with to offer him distribution. While the Playboys toured the country that summer and fall, the label released several singles, "Cry Tomorrow" being the first.
By the end of the 1965 Northcott left the Vancouver Playboys and, on 12-string guitar, he formed The Tom Northcott Trio with drummer Chris Dixon and Rick Enns on bass. They were soon regulars on CBC TV's Let's Go program for the next couple of years. Meanwhile they were selling out the top clubs in the area, such as The Afterthought in Kitsilano. They headed to California and played throughout San Fransisco and Los Angeles. This exposure got them further gigs and they opened for The Who, The Doors and Jefferson Airplane. In December 1965 they released "Just Don't" to overall good reviews and it charted on both CKLG and CFUN. Their next single, "Goin' Down", followed in the summer of 1966.
"Just Don't" was an anthem against an older generation of people (parents, teachers, authorities), telling them to mind their own business and let the new generation alone to live their own lives.
I don't tell you what you should do
I don't tell you what you should say
I don't tell you who you should know
I don't tell you where you should go
I don't tell you what you should wear
I don't criticize the length of your hair…
…I don't think that anybody…
should every try to tell anybody
else what to do
So just don't tell me anything.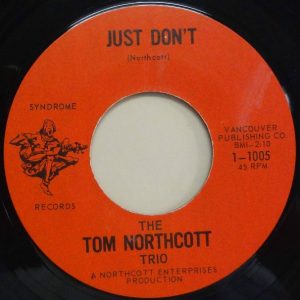 On the same weekly surveys in January and February of 1966, the English band, The Who, had their own anthem targeted to those under thirty, titled "My Generation", which peaked in Vancouver at #18.
People try to put us d-down (Talkin' 'bout my generation)
Just because we get around (Talkin' 'bout my generation)
Things they do look awful c-c-cold (Talkin' 'bout my generation)
I hope I die before I get old (Talkin' 'bout my generation)

This is my generation, this is my generation, baby.

Why don't you all f-fade away (Talkin' 'bout my generation)
And don't try to dig what we all s-s-say (Talkin' 'bout my generation)
I'm not trying to cause a big s-s-sensation (Talkin' 'bout my generation)
I'm just talkin' 'bout my g-g-g-generation (Talkin' 'bout my generation)
Tom Northcott went on to record less rebellious songs in the following years. His next song was the sunny psychedelic tune, "Sunny Goodge Street". Other signature hits were "1941" about family patterns passed on from a father to a son, and "Girl From The North Country" about someone who asks a friend to check up on a long lost love who lives far away.
Northcott was nominated as Best Male Vocalist for a Juno Award in 1971. Later he co-founded Mushroom Studios on 6th Avenue in Vancouver and produced records for groups like Heart and their debut album, Dreamboat Annie. Northcott gave up his performing and singing career in the early 1970s and became a commercial fisherman in British Columbia. He later entered law school and practiced maritime and admiralty law in British Columbia.
For more song reviews visit the Countdown.