#355: The Rainmaker by Tom Northcott
Peak Month: November 1969
8 weeks on Vancouver's CKLG Chart
1 week Hit Bound
Peak Position ~ #2
Peak Position on Billboard Hot 100 ~ did not chart
YouTube: "The Rainmaker"
Lyrics: "The Rainmaker"
Tom Northcott is a Vancouver folk-rock singer with hits on the local pop charts from the mid-60s into the early 70s. He became known to a Canadian audience by his regular appearances on CBC Television's Let's Go music program in 1964-68. He was nominated as best male vocalist for a Juno Award in 1971. Later he co-founded Mushroom Studios in Vancouver and produced records. His hits are played regularly on Canadian oldies music stations.
Born in Vancouver in 1943, when he was in his teens Tom Northcott was gaining a reputation performing on the Vancouver coffeehouse circuit in the early '60s. In particular, he was a regular in the Kitsilano neighborhood, the nexus of the hippie scene north of San Francisco. Northcott performed at the Jewish Community Centre on both October 26th and November 2, 1963. In 1965, Northcott took over from Ronnie Jordan as the lead singer for the Vancouver Playboys, a group that wore identical suits. The Vancouver Playboys were an exciting new band that fused the Beatles look with music resembling of The Ventures (of "Walk Don't Run" fame). Northcott performed with his band at the Bunkhouse Coffeehouse in Vancouver on November 17, 1965. Northcott founded one of Vancouver's first labels, Syndrome Records. Warner Record executives in Los Angeles were amazed at Northcott's savvy and offered him distribution. While the Playboys toured the country that summer and fall, the label served home to their first single, "Cry Tomorrow". It was the first of eleven Top 30 hits on local AM radio stations in Vancouver.
But by the end of the year Northcott left the band. With a 12-string guitar, Northcott formed The Tom Northcott Trio with drummer Chris Dixon and Rick Enns on bass. In December 1965 they released "Just Don't" to overall good reviews. It charted on both CKLG and CFUN peaking in January 1966. Northcott's trio performed at the Kitsilano Theatre on January 14th, 15th and 16th, 1966. This was followed by a concert at St. John's Church Hall at 27th & Granville on January 20th. Then the trio appeared at The Afterthought (St. John's coffeehouse) Vancouver on January 28th.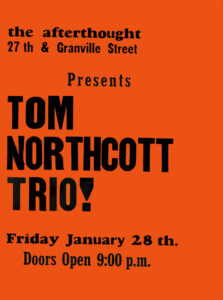 They were soon regulars on CBC TV's Let's Go program. Meanwhile they were selling out the top clubs in the area like the Pender Auditorium on April 7, 1966, and again on June 30, 1966.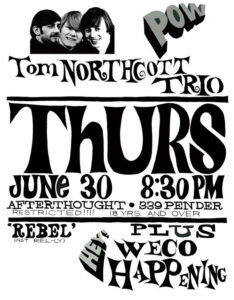 The Tom Northcott Trio traveled to California and played gigs in San Fransisco and Los Angeles. This exposure got them further performances as and they opened for The Who, The Doors and Jefferson Airplane. His next song, "Goin' Down", with the Tom Northcott Trio, has been reviewed at position #1138 on this Countdown.
His biggest hit song was the sunshine pop psychedelic tune, "Sunny Goodge Street" from 1967. The song, written by Donovan and first recorded on his album, Fairytale, became Tom Northcott's signature tune. (Donovan's signature tune, according to Wikipedia, is "Mellow Yellow" not "Sunshine Superman".)
For a follow up to his local success Northcott drew from American folk-singer, Harry Nilsson, and his song "1941", from his December 1967 album Pandemonium Shadow Show. Northcott quickly made his own recording. "1941" first appeared on the CKLG Boss 30 in Vancouver on January 13, 1968. On February 4, 1968, Tom Northcott performed in concert at the Village Bistro in Vancouver, and on March 1, 1968, at the PNE Agrodome as an opening act for The Who. On July 13, 1968, Tom Northcott was an opening act for The Doors at the Pacific Coliseum in Vancouver. And later that week, on July 18th, he gave a concert at Simon Fraser University in the Vancouver suburb of Burnaby. This was followed by concert dates at the Retinal Circus in Vancouver on August 13th with Mother Tucker's Yellow Duck; And again on August 18th – which was billed as a Teeny Bopper Concert in the afternoon.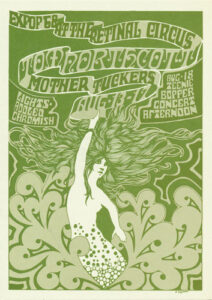 Tom Northcott's subsequent hit single in Vancouver was "Girl From The North Country", written by Bob Dylan. He had another chart success in Vancouver in 1969 with "The Rainmaker".
"The Rainmaker" was cowritten by Harry Nilsson and Bill Martin, the latter a friend of Monkees bandmate Michael Nesmith. Originally titled as "Rainmaker", the song first appeared on Nilsson's 1969 album Harry.
In indigenous traditions in North America rain dances have been performed for centuries. In the 1920s America the Bureau of Indian Affairs "placed restrictions on Native American religious dances in an effort to control life on reservations and to keep the tribespeople in line. The rain dance, along with other ceremonial dances like the sun dance and the ghost dance, were outlawed." Ironically, while indigenous rain dancers were prohibited from their ancient practices, there were self-promoters from the dominant culture advertising themselves as rainmakers.
The subject of "The Rainmaker" has to do with the traveling showmen who roamed across the Western United States through farming communities – from the late 1800s into the mid-20th Century – telling farmers and other townsfolk they could make rain fall on dry crops and fields. A man named Charles Hatfield began looking into the act of artificially inducing rain, early in the 20th century. His experiments allegedly resulted in about 500 successes in making rain. An article out of Los Angeles reports that "his biggest success, and failure, occurred when he was hired by the city of San Diego. Though it's unproven if it was Hatfield's doing, it rained for days on end, resulting in damage and flooding. There were many deaths and infrastructure in the city was destroyed."
In the song the rainmaker comes to a Kansas town in late August, after three months without rain. The rainmaker asks the townsfolk what are they prepared to pay him if he can make it rain? They don't answer. However, the rainmaker utters some mystical names to call down lightning. Suddenly, it starts to rain. So the rainmaker passes his hat to the people, but they turn away and his hat is left empty of any coins or bills. He rides out of town laughing, 'cause the rain is going to stay.
In the song, perhaps the rainmaker is lucky. Maybe he's seen clouds forming in the distance. Maybe he's betting that it has to rain sometime soon after three months without a drop. Playing the percentages, he'd get a rainfall sooner or later. Can the rainmaker actually make it rain?
In an article titled "Can We Control the Weather?," William Harris writes that "itinerant salesmen used a combination of pseudo-science and grand showmanship to convince communities that their technique, often a device or structure used to deliver chemicals or gases into the air, would bring rain in short order. Even the U.S. government got in on the act. In 1891, Congress appropriated $19,000 to conduct rainmaking tests in Texas under the guidance of Robert Dryenforth. Dryenforth's results were inconclusive, and as the century turned, politicians and citizens began to regard rainmakers with increasing skepticism."
Cowriter of "The Rainmaker", Bill Martin, was among the voice cast in the animated 1971 film The Point! From that film came Nilsson's minor hit "Me And My Arrow". In 1981 Martin appeared with Michael Nesmith in the film Elephant Parts, comprised of parody commercials and comedy sketches. In 1987 Martin was a screenwriter for the comedy film Harry and the Hendersons. On television, Bill Martin has provided voices for characters on dozens of episodes, including for TV series The Transformers, The Centurions, The Real Ghostbusters and Teenage Mutant Ninja Turtles. He has also provided voices in over a dozen video games, including for seven Star Wars series videos.
Harry Edward Nilsson III was born in the Bedford-Stuyvesant neighborhood of Brooklyn, New York, in 1941. His dad, Harry Edward Nilsson Jr. was raised by parents who were performers in the Swedish circus who did aerial ballet. When he was three years old, his dad deserted the family. Nilsson referred to this in his song, "1941," years later: Well, in 1941, the happy father had a son/And in 1944, the father walked right out the door…. Nilsson's song would be covered in 1968 by Vancouver singer-songwriter, Tom Northcott. Being raised by a single mother, along with his half-brother, Nilsson began work as a child to help pay the rent. His mom moved the family to southern California, and Nilsson got work at the Paramount Theatre in LA. After that he worked in banks on computer systems while pursuing a singing career during off-hours.
Nilsson started to get attention in the music industry for his songwriting, including high praise from Little Richard. In 1964, Nilsson co-wrote three songs with Phil Spector. In 1966 Nilsson released a debut album. His reputation as a songwriter spread and his songs were recorded by Glen Campbell, Fred Astaire, The Shangri-Las, The Yardbirds and The Monkees. Later that year, Nilsson signed with RCA Records and in 1967 released an album the following year, Pandemonium Shadow Show.
In 1968 his album, Aerial Ballet, had a track of Nilsson's cover of a Fred Neil song called "Everybody's Talking". Nilsson's version became a Top Ten hit in 1969 when it was included in the soundtrack for the movie Midnight Cowboy. Nilsson's recording later won him his first Grammy Award in the category of Best Contemporary Vocal Performance.
In 1972 Nilsson released his album Nilsson Schmilsson. On the album was Nilsson's rendition of a Badfinger song, "Without You." It became a huge international #1 hit single. The second single from the album was "Coconut". Then Nilsson went off the radar. In December 1980 when John Lennon was murdered, Nilsson was deeply affected. In 1990, Nilsson discovered he was almost penniless after he found out his financial adviser, Cindy Sims, had embezzled all the funds he'd earned over his recording career.
On September 1, 1992, Nilsson made his final concert appearance at Caesar's Palace in Las Vegas, when he joined Ringo Starr & His All-Starr Band on stage to sing "Without You". Todd Rundgren was also on stage and sang the high notes in the song. In February 1993, Nilsson had a massive heart attack. He died a year later of heart failure at the age of 52.
"The Rainmaker" peaked at #2 in Vancouver (BC), #6 in Victoria (BC), and #10 in Calgary (AB) and Regina (SK).
In 1970, Tom Northcott had another Top Ten hit in Vancouver titled "Crazy Jane", followed by "I Think It's Going To Rain Today".
In 1971 Tom Northcott had his final Top 30 hit in Vancouver, "Spaceship Races", which missed the Top Ten peaking at #15. The song was written by the songwriting team of Gerry Goffin and Carole King. The week "Spaceship Races" peaked on the CKLG and CKVN charts, Carole King's double-sided single "It's Too Late/"I Feel the Earth Move Under My Feet", and her album, Tapestry, were number one single and album on those local charts.
Northcott changed careers in the early 1970s and got a license to become a commercial fisherman in British Columbia. At the end of the decade Northcott ran for public office under the banner of the Social Credit Party of British Columbia in the New Democratic Party stronghold of East Vancouver. He lost the campaign. Once again he switched careers and, after studying law at university, he specialized in maritime and admiralty law. Northcott is now retired and living in Kamloops, British Columbia.
January 27, 2021
Ray McGinnis
References:
Mark Allan, Ron Grahame, Susan Jacks, Dennis McFadden, Fred Robinson, "Tom Northcott," Canadianbands.com
Dennis MacFadden, Vancouver Playboys ~ Pacific Northwest Bands, October 2008.
Chris Salewicz, "Obituary: Harry Nilsson," The Independent, January 17, 1994.
Neil McCormick, "Harry Nilsson: 'Everything was sweeter with Harry'," The Telegraph, July 24, 2013.
The Point, Wikipedia.org.
Ivy Roberts, "Native American Rain Dance: History & Ceremony," Study.com.
"Charles Hatfield and the Lost Art of Rainmaking," 911restorationlosangeles.com, February 28, 2014.
William Harris, "Can We Control the Weather?," Science.howstuffworks.com, 2009.
"Tom Northcott Concert Setlists & Tour Dates," Setlist.fm.
The Doors on the Road, "Pacific Coliseum – 07/13/1968, Vancouver, B.C. Canada," mild equator.com.
"Boss 30," CKLG 730 AM, Vancouver, BC, November 21, 1969.
For more songs reviews visit the Countdown.