#1109: Lend Me Your Comb by Carol Hughes
Peak Month: January 1958
3 weeks on Teen Canteen chart
Peak Position #6
Peak Position on Billboard Hot 100 ~ did not chart
In 1942 Carol Hughes was born, likely somewhere in New Jersey. A local paper in West Orange, New Jersey wrote in the winter of 1956 that "…a 14 years old, sophomore at West Orange High School (NJ) (has been) singing since the age of 2. She's had TV experience appearing on the Arthur Murray Dance Party and the Dean Martin Show…." Carol Hughes' first single was "Fancy Dance" recorded in October 1956 while she was only 14 years old. She was one of a number of female rockers following in the tradition of Brenda Lee, of which there were very few. In October 1956 male soloists and vocal groups dominated the record charts. At the time Carol Hughes released her first single there were 39 songs in the Top 50 in the USA that were sung by male soloists or male vocal groups. Making up the the difference were three tunes by male/female duos like Bing Crosby and Grace Kelly and eight charted songs by female recording acts. All were traditional pop singers like Patti Page ("Allegheny Moon"), Doris Day ("Whatever Will Be Will Be") and The Chordettes ("Lay Down Your Arms").
Carol Hughes second single was "Lover Boy." In 1957 Hughes switched from Mercury Records to Roulette and released her third single called "Pick Another Baby." The songs lyrics advised the boyfriend to get lost and find someone else. "Lend Me Your Comb" was her second single release with Roulette and her fourth single in sixteen months.
The song had originally been recorded at Sun Studios in Memphis, Tennessee, in December 1957 by Carl Perkins. He was the rockabilly star who had a #2 hit in 1956 called "Blue Suede Shoes." On Perkins recording session, in addition to providing lead vocals and lead guitar, he was joined by his brothers Jay (backing vocals, rhythm guitar) and Clayton (upright bass) as well as W.S. "Fluke" Holland on drums. Carl Perkins version of "Lend Me Your Comb" was the B-side of his US release (the A-side was "Glad All Over"), while the song was the A-side to Perkins release in the UK in April 1958. Perkins recording of "Lend Me Your Comb" did manage to get some chart action in the USA that was enough to chart at #60 on the Cash Box Magazine Best Selling Singles chart the week of January 25, 1958.
"Lend Me Your Comb" was co-written by Kathleen "Kay" Twomey, Fred Wise and Ben Weisman. Twomey had previous successes, most notably with her song, "Serenade of the Bells," which climbed to the #3 spot on the US pop charts in 1947 when it was recorded by the Sammy Kaye Orchestra. She would later compose "Wooden Heart," a #1 hit for Joe Dowell in 1961. Over her career her songs were recored by many pop acts including Jo Stafford, Doris Day, Don Cornell, Eddy Arnold, Eartha Kitt, Guy Mitchell, Johnnie Ray, Brian Hyland, Perry Como, Hayley Mills, Earl Grant, The Sandpipers, Frank Sinatra, The Statler Brothers, Leroy Van Dyke, Lucille Starr, The Beatles, Barbara Lynn and the Nat King Cole Trio. Co-writer of "Lend Me Your Comb," Fred Wise, also co-wrote "Wooden Heart" as well as penning the Perry Como hit from 1949, "A You're Adorable." The third co-writer of "Lend Me Your Comb," was Ben Weisman. He collaborated with Elvis Presley on musical compositions from 1956 to 1971. Some of the tunes Weisman wrote for Presley include "Rock-A-Hula Baby," "Got A Lot 'o Livin' To Do," "Follow That Dream" and "Fame And Fortune."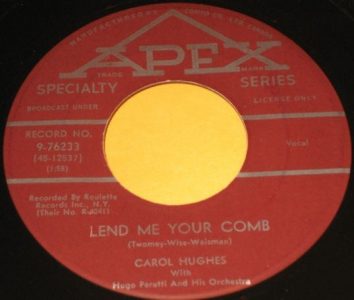 Lend me your comb,
it's time to go home.
I got to confess,
my hair is a mess.
My mama will scold,
my daddy will shout,
unless we come in,
the way we went out.
Kissing you was fun, honey,
but thanks for the date.
Time has come to run, honey,
but you it's getting late.
Just wait 'til I
straighten your tie,
then lend me your comb,
we gotta go home.
Kissing you was fun honey,
but thanks for the date.
Time has come to run, honey,
but it's getting late.
Just wait till I
straighten your tie,
then lend me your comb,
we gotta go home,
we gotta go home,
we gotta go home,
we gotta go home.
"Lend Me Your Comb" is a song likely inspired by the success of the Everly Brothers "Wake Up Little Susie," the #19th biggest hit of the year on the Billboard Magazine year-end chart. If Don and Phil Everly could strike gold, maybe "Lend Me Your Comb" could be a hit record for Carol Hughes. The song concerns a couple who need to appear just like they did at the end of the date as they did when the date began. Unfortunately, the girl's "hair is a mess," and the guy's tie needs straightening. From the song's lyrics, it seems the couple was simply necking as they had an extended time of kissing. As they kept on kissing each other time slipped away on them and they now find their late in getting her back to her parents home. (Of course, it is possible they way they came in and went out was on the sly ~ perhaps through bedroom window, and her parents don't know she's gone). But presuming the way they went out was the front door, all the more important to be presentable when her mama and daddy come to the door to welcome her home from her date. Back in the 50's being back too late from a date could result in being given a curfew or even grounded.
By moving from Mercury Records to Roulette Records in 1957, Carol Hughes was fortunate to have "Lend Me Your Comb" produced by 41 year-old Hugo Peretti. Just prior to his association with Hughes, Peretti had produced several songs for Jimmie Rodgers that went on to become major hits in 1957-58. These included "Honeycomb," "Kisses Sweeter Than Wine," "Oh-Oh I'm Falling In Love Again" and "Secretly." Possibly just having her song produced by Hugo Peretti got some deejays in the USA interested in giving the record a spin. Peretti would later write the English lyrics to a South African song that became a #1 hit for The Tokens in 1961 called "The Lion Sleeps Tonight." Peretti also co-wrote a song for Elvis Presley titles "Can't Help Falling In Love With You."
Carol Hughes version of "Lend Me Your Comb" made the Top 40 in Phoenix, Toronto and Albany (NY). It climbed into the Top 50 in Buffalo and made the play list in Los Angeles. However, it was in Vancouver where the song managed its best performance peaking at #6.
There were numbers of other recordings of "Lend Me Your Comb" in 1958. These included Vince Eager in the UK and Bernie Nee, whose version made it to #8 in Toronto the first week of January, 1958. The Beatles played "Lend Me Your Comb" on stage from 1957 to 1962 and recorded it in December 1962 in Hamburg and in July 1963 for BBC Radio show "Pop Go The Beatles." In 1971 John Lennon recorded his own version for unreleased film soundtrack "Clock." And in 1987 Paul McCartney recorded it along the "Choba B CCCP" sessions which were never released.
Carol Hughes third release was on RCA and a cover of the 1949 hit by Dennis Day and the Rhythmaires "I Must Have Done Something Wonderful."Her next release was a cover of Joan Webber's 1954 #1 hit "Let Me Go Lover." In November 1958 Hughes released a song in tribute to bass vocalists on pop records simply titled "The Bass." Her previous connections at Roulette Records continued to open doors. Her fellow Roulette recording star, Jimmie Rodgers, gave her a phone call. Soon Carol Hughes, then 17 years old, appeared on The Jimmie Rodgers Show on August 11, 1959, along with Rodgers other guests The Brothers Four and Tony Bennett. Carol Hughes released several tunes with a religious-inspired theme. One of these was "Creation" in 1960, detailing the Biblical account of the creation of the cosmos in seven days by God, also showing off her big voice.
Carol Hughes final single release was "Hello Heartbreak" in 1961 on the Carleton Label. It was her twelfth single in just over five years. In that time she had grown from being a 14-year-old to a 19-year-old. She'd gotten a first-hand look at the recording industry, having been on contract in this short period of time with Mercury, Roulette, Dot, RCA-Victor and finally Carleton Records. It seems her most productive contract was with RCA where she released five singles in the span of ten months.
Carol Hughes had at least two namesakes. One was the actress Carol Hughes who played in the Flash Gordon movies in the 1940's. The other was an obscure R&B singer who released a couple of singles in the mid to late 60's. Someone may know what happened to Carol Hughes after she gave up her recording career at the age of 19 in 1961. But any searches online in 2017 yielded no trace, as presumably she got married and in the decades since goes by a different surname.
For more song reviews visit the Countdown.