#1058: Love is Just a Four Letter Word by Joan Baez
Peak Month: April 1969
6 weeks on Vancouver's CKLG chart
Peak Position #9
Peak Position on Billboard Hot 100 #86
Joan Baez was born on Staten Island, New York, in 1941. Her mother was from Edinburgh, Scotland, and her father from Puebla, Mexico. Joan remembers racial slurs thrown at her due to her Mexican heritage. Her younger sister, Mimi Farina, was also became a folk singer and recording artist. Love is Just a Four-Letter Word is a song written by Bob Dylan, and long associated with Baez, who recorded it numerous times. Baez performed it throughout her career. Written by Dylan in the mid-60s, Baez immediately took to the song, and began performing it, even before it was finished. In the film Don't Look Back, a documentary of Dylan's 1965 tour of the UK, Baez is shown in one scene singing a fragment of what was then an incomplete song in a hotel room late into the evening. Baez tells Dylan, "If you finish it, I'll sing it on a record." She first included the song on Any Day Now, her 1968 album of covers of songs by Bob Dylan. Since then she has recorded it on three additional occasions.

Her 1968 recording was also released as a single that appeared on the pop charts in 1969. Dylan himself never recorded the song. Listeners to Vancouver radio station CKLG liked the song and it peaked at #9. In the 'States, the song got little attention and peaked on the Billboard Hot 100 at #86. The song concerns circumstances of people for whom love has become more of a trap then a form of freedom. Romantic notions of everlasting love "blow up in smoke" and individuals discover they have been setting traps for themselves when pursuing love, romance and marriage. Perhaps for listeners of Vancouver radio the glow of love had also begun to fade and the four letters in the word love much less potent then once imagined. In slang, a four-letter word is also a term for any swear-word. Bob Dylan communicates the insight that there is a thin line between love and hate. Once lovers are bound in the bonds of love, besides the words "I love you," may come a blue streak as well.
Joan Baez was 17 years old in 1958 when she began her studies at the Boston University School of Drama. She was part of a group of peers who had a passion for both folk music and human rights. She began to perfect her adaptations of traditional folk songs showcasing the challenges of the human condition. These include lyrics concerning underdogs in a struggle, race relations, poverty, war and its folly, romantic betrayal, unrequited love and spiritual breakthroughs. She appeared on the folk music scene in 1959 at Club 47 in Cambridge, Massachusetts. That same year she performed at the first Newport Folk Festival in Newport, Rhode Island.
Baez's treatment of these traditional American folk tunes influenced pop and rock artists who would later make their stamp on songs Baez first introduced to a new generation. These included "House of the Rising Sun," a song that was recorded by The Animals and number one hit for them in 1964; "Babe I'm Gonna Leave You", a track on the debut album, Led Zeppelin, by Led Zepplin; and "What Have They Done to the Rain", which was recorded by The Searchers and became a hit single for them in '64.
In 1962 Joan Baez was feautured on the cover of TIME magazine as the ambassador of the new Folk music scene in America. The following year Baez introduced a new singer named Bob Dylan to the audience at the Newport Folk Festival. She also popularized songs by newer folk singers that led to their growing popularity. These included Leonard Cohen, Paul Simon, Tim Hardin and Phil Ochs. Throughout the Sixties Joan Baez was in the forefront of the Civil Rights movement. She performed on stage in Washington D.C. at the Lincoln Memorial on August 27, 1963, prior to Dr. Martin Luther King Jr. giving his "I Have a Dream" speech.
The following year she withheld 60% of her taxes from the Internal Revenue Service in protest of U.S. military spending. In 1965 she took part in the Selma to Montgomery voting rights marches that were a catalyst for the passage of the Voting Rights Act securing voting rights for racial minorities. In 1967 she was arrested on two occasions for blocking the entrance to the Armed Forces Induction Center in Oakland, California, in support of young men who were protesting the draft.
The same year she released the single, "Love is Just a Four Letter Word", Joan Baez performed at the Woodstock Festival on a dairy farm in the town of Bethel, New York, in the Catskill Mountains. Billed as "An Aquarian Exposition: 3 Days of Peace & Music," Baez was six months pregnant after her marriage to David Harris the previous year. She performed a 65-minute set after midnight as the headliner for the first night of the festival.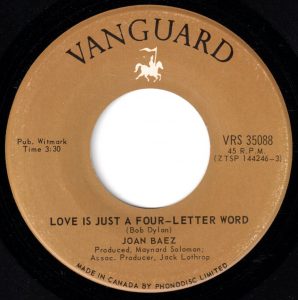 Seems like only yesterday
I left my mind behind
Down in the gypsy cafe
With a friend of a friend of mine
who sat with a baby heavy on her knee
Yet spoke of life most free from slavery
With eyes that showed no trace of misery
A phrase in connection first with she occurred
That love is just a four letter word

Outside a rambling store-front window
Cats meowed to the break of day
Me, I kept my mouth shut
To you I had no words to say
My experience was limited and underfed
You were talking while I hid
To the one who was the father of your kid
You probably didn't think I did, but I heard you say
That love is just a four letter word

I said goodbye unnoticed
Pushed forth into my own games
Drifting in and out of lifetimes
Unmentionable by name
Searching for my double, looking for
Complete evaporation to the core
Though I tried and failed at finding any door
I must have thought that there was nothing more absurd than
That love is just a four letter word

Though I never knew just what you meant
When you were speaking to your man
I can only think in terms of me
And now I understand
After waking enough times to think I see
The holy kiss that's supposed to last eternity
Blow up in smoke, its destiny,
falls on strangers, travels free
Yes, I know now, traps are only set by me
And I do not really need to be assured
That love is just a four letter word

Strange it is to be beside you
Many years and tables turned
You'd probably not believe me
If I told you all I've learned
And it is very, very weird indeed
to hear words like forever plead
Those ships run through my mind, I cannot cheat
It's like looking in the teacher's face complete
I can say nothing to you but repeat what I heard
That love is just a four letter word
In a "gypsy cafe" a friend of a friend has a baby on her knee and is talking to the infants' father. She says to him that "love is just a four-letter word," possibly in reply to something he said about love. The person overhearing the conversation is a novice in the matters of love as their "experience is limited and underfed." While they search for their "double," or soulmate, they think the idea that love is just a four-letter word is ridiculous. With hindsight, the one overhearing the conversation at the gypsy cafe sees the woman with the baby on her knee as a teacher. This is because love has been elusive. Words like "forever" and "eternity" have not become part of her own narrative. And so she concludes, after many years and setting traps for herself, the phrase "love is just a four-letter word" is instructive.
In the years that followed Joan Baez has given musical expression to a series of social justice issues. On her 1977 album, Blowin' Away, she recorded "Altar Boy and the Thief", a rare example in the 1970's of a song positively addressing gay subject matter. On November 11, 2011, Baez took part in a concert for protesters at the Occupy Wall Street site of Zuccotti Park. Over the course of her career Joan Baez had released over thirty albums. Her biggest success with single releases was with "The Night They Drove Old Dixie Down", in 1971. It became a Top Ten hit in both the USA and the UK.
#JoanBaez
#TheSixties
For more song reviews visit the Countdown.