#1056: Mod Socks by The Grasshoppers
Peak Month: April 1965
8 weeks on Vancouver's CFUN chart
Peak Position #11
Peak Position on Billboard Hot 100 ~ did not chart
According to AllMusic.com music critic, Jason Ankeny, The Grasshoppers were a rock 'n roll band from Cleveland who formed in 1962. There were several lineup changes and Benjamin Orzechowski joined the band in 1964 and became the lead singer. Ben Orr, who was born in 1947, went on to be a lead singer in the New Wave band, The Cars. Jeff Niesel, of Rolling Stone Magazine writes that members of the Grasshoppers Fan Club included Diane Akins, the president of the club. She remembers meeting Ben Orr when the Grasshoppers were an opening act when the Beach Boys performed in Cleveland in November, 1964.

According to Adam Sweeting of The Guardian, Ben Orr "fronted the house band of the TV rock show Upbeat, and was leader of a local group, The Grasshoppers." Upbeat was an American Bandstand style show in the Cleveland region. In 1965 the Grasshoppers recorded "Mod Socks." In Vancouver the tune peaked at #11, while in Cleveland it peaked at #14 on WHK-AM, according to the ARSA website.
Well who wears mod socks?
Girls wear mod socks.
My sister wears mod socks.
My mother wears mod socks.
My aunt wears mod socks.
My fans wears mod socks.
Girls wear mod socks.
Fans wear mod socks.
My mother wears mod socks.
My aunt wears mod socks.
My brother wears mod socks.
My fans wear mod socks, let's go now….
One of the writers that penned "Mod Socks" was Carl Maduri. He was the owner of Sweet City Records in Beachwood, Ohio, a suburb of Cleveland.
Mod was a subculture that began in the United Kingdom in the 1960s and spread, in varying degrees, to other countries. It continues today on a smaller scale. Focused on music and fashion, the subculture has its roots in a small group of London-based stylish young men in the late 1950s who were termed modernists because they listened to modern jazz, although the subculture expanded to include women. Life Magazine did a eight-page article on mod fashions in their issue published on May 13, 1966. Life staff writer sub-headlines included "Carnabying' And A Stroll in Chelsea Show the Latest in Nattiness," "It All Started in London and it's Making a Smash Here" and "Revolt in Men's Wear – Gawdy and Very Gear: The Guys Go All Out to get Gawked At."
Significant elements of the mod subculture included fashion (often tailor-made suits); music (including soul, ska, and R&B); and motor scooters (usually Lambretta or Vespa). The original mod scene was associated with amphetamine-fuelled all-night dancing at clubs. The Kinks song "Dedicated Follower of Fashion" from 1966 commented on the mod subculture. It was referred to as a "cult" in the British press and represented a rebuke of the prejudices of traditional British society. By drawing on fashion styles from Italy, Jamaica, Scotland, America and elsewhere, mods sought to free themselves from the rigors of the British class-based society, as they wore more casual styles of clothing with an International flair.
In England during the early to mid 1960s, mods often engaged in brawls with rockers, which led to many news articles in the UK describing the "moral panic" over mod and rocker riots. In the mid-to-late 1960s, the conflicts between mods and rockers subsided, as several rock bands, including The Who and the Small Faces adopted a mod style.London became synonymous with fashion, music, and pop culture in these years, a period often referred to as "Swinging London." The Grasshoppers from Cleveland were attuned to pop-rock fads and culture across the Atlantic and its' spread to North America. And so their song, "Mod Socks" aspired to benefit from the fad. It would seem that in the spring of 1965 listeners to CFUN wanted to know who wore mod socks.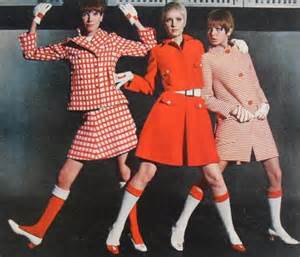 According to the Grasshoppers lyrics even their brother wears "mod socks." In that case they would likely have been paisley.
The Grasshoppers had one other minor hit in the spring of 1965 called "Pink Champagne (And Red Roses)," which peaked at #20 in Cleveland on KYW-AM, according to the Airheads Radio Survey Archive website.
Ben Orr met Ric Ocasek in Cleveland when Orr was with the Grasshoppers. They played in a number of bands and formed The Cars in the late 70's. On the strength of The Cars hit, "Drive," Orr appeared on the U.S.A. for Africa ensemble contributing vocals for Africa benefit song "We Are The World." Orr died in 2000 at the age of 53 of pancreatic cancer.
March 27, 2018
Ray McGinnis
References:
Jeff Niesel, Friends and Bandmates Pay Tribute to Ben Orr, Rolling Stone, New York, NY, November 13, 2000.
Jane, Scott, The Cars Take off Fast in Record Derby, The Plain Dealer June 9, 1978.
The Airheads Radio Survey Archive, las-solanas.com/arsa/charts
Adam Sweeting, Benjamin Orr: Rock Musician Who Found Fame with The Cars, The Guardian, London, UK, October 10, 2002
Benjamin Orr, Wikipedia.com.
Carl Maduri discography, Discogs.com
Jason Ankeny, The Grasshoppers bio, Allmusic.com
Revolution In Men's Clothes: Mod Fashions Britain Are Making a Smash in the U.S., Life Magazine, May 13, 1966.
Richard Weight, How Mod Became Mainstream, The Telegraph, London, UK, March 26, 2013.
C-FUNTASTIC FIFTY – April 17, 1965, CFUN 1410 AM, Vancouver, BC, vancouvertop40radio.com.
For more song reviews visit the Countdown.