#730: Rockin' Band by Del Erickson
Peak Month: August 1961
10 weeks on Vancouver's CKWX chart
Peak Position #4
WX DISC-overy of the Week August 5, 1961
Peak Position on Billboard Hot 100 ~ did not chart
Buddy Clyde was host of the Dance Party show on CKWX. He wrote these liner notes for the album, Presenting Del Erickson on Thunderbird Records TBLP – 1001.
 Buddy Clyde stated, "I've been asked to write a few glowing words about the young gentleman you're about to meet. When I'm sold on something I have a tendency to get a bit carried away. (Just ask any of my listeners). And Del Erickson is an artist that isn't very hard to get sold on. 
Starting out as an actor in motion pictures, Del has appeared in "Blackboard Jungle," "Diary OF Anne Frank," "Hot Rod Girl" and "Blue Angel" just to name a few. Also ninety major T.V. productions. From motion pictures to recording Del has succeeded in having two "single" hits. Now he enjoys his new found career as a disc jockey in Vancouver, B.C., of course singing is still a major part of Del's active life.
 This album has established a new plateau in his varied and exciting career. Right now I'm going to ask you to open a bottle of your favourite refreshment, relax and enjoy Del Erickson in person…"
In Hot Rod Girl, Del Erickson played a rebellious teenager who gets himself killed in a drag race. Del starred in 1956 in a film with Deborah Kerr and Leif Erickson (no relation) called Tea And Sympathy. The film included the iconic line of dialogue after a woman tries to console her male friend and their encounter ends with an awkward kiss. Laura (Deborah Kerr) says to Tom (John Kerr) "Years from now, when you talk about this, and you will, be kind." Del Erickson also starred in the movie Take a Giant Step in 1959. This was a movie billed with the following text from the movie poster: "Here is the real rage behind the tormented 'blue jeans' generation… Here's what makes them tick… what makes them tough… what makes them tremble… what makes them take a giant step." In 1960, Del Erickson appeared on the first episode of the CBC TV series, Cariboo Country. Del Erickson was a DJ on CKWX from Monday to Friday from 10:30 p.m. to 2:30 a.m. and on Sundays from 12:30 a.m. to 7:30 a.m. While spinning discs, Erickson recorded several singles. The first was "Two," which climbed to #1 on the station in March, 1961. It bumped off "Surrender" by Elvis Presley from the top spot. His second Top Ten hit on WX was "Rockin' Band."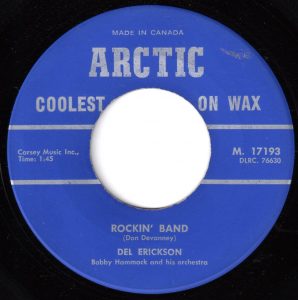 Hear the beat of the rockin' band, working up a storm,
Hear the beat of the rockin' band, listen to it roar.
Gone, gone, gone, yeah, it's gone.
If you ever get that beat, man, it drives you mad,
My rockin' friends won't lose that beat, yeah, they got it bad.
Gone, gone, gone, yeah, it's gone.
Hear the beat of the rockin' band,
hear the beat of that sound.
Hear the beat of the rockin' band,
well, it's gone, gone, gone.
Take a load off that troubled mind, let the world go by.
Listen to the musical beat, come on and give it a try.
Come on and hear that band, man, it's gone.
"Rockin' Band" was only a hit on CKWX and didn't chart anywhere else. In the 1950's a lot of slang words and phrases came into the mainstream of teen jive talk from the jazz culture. If you were "in the can," you were in jail. "Dig" meant to understand completely what someone was saying. A "lid" was a hat. To "send" someone was to move or inspire them. If you were part of a live band and you were "wailing," you were playing your instrument very competently and in a spectacular fashion. There was a phase people used to assure them they were telling the truth, by adding "word from the bird." To let someone know you thought their sense of fashion and style were superb, you could tell them "baby, you're the ginchiest." And annoying people who were out of line were "cruisin' for a bruisin'."
Another word that caught on from the jazz scene was "gone." There were two ways in which the word could be used. If you were head over heals about someone your friends could say you were "real gone." "Gone" was also used to refer to a stellar musical performance. It wasn't just great, it was "gone," or beyond great. In "Rockin' Band," Del Erickson tries to impress his listeners with how super the band is by describing it as "gone."
In 1964-65, Del Erickson starred in a TV show, The Baileys of Balboa, about a beachcombing family. Erickson also had a role as an office boy in The Cara Williams Show, a TV series also in 1964-65. The plot featured office associates, Frank and Cara. Both are divorced, but fall in love with each other. They secretly get married. This is because the company they both work for forbids inter-office dating. The plot involved close calls of being found out as being married and living at the same address.
Speaking of "gone," there is virtually nothing on the Internet about whatever happened to Del Erickson after the mid-60's. If anyone knows, drop me a line.
June 11, 2018
Ray McGinnis
References:
50's Slang, infoworld.com
Rob Larkin, 20 Slang Terms From the 1950s No One Uses Anymore, Best Life Online.com, New York, December 8, 2017.
Cariboo Country, Full Cast and Crew, IMBd.com.
Del Erickson, RadioWest.ca, December 8, 2006.
Where Are They Now?, My Page.Direct.ca
For more song reviews visit the Countdown.