#1166: School Bus by Kris Jensen
Peak Month: October 1960
9 weeks on Vancouver's CFUN chart
Peak Position #16
Peak Position on Billboard Hot 100 ~ did not chart
Kris was born Peter Jensen on April 4, 1942, in New Haven. As a little shaver, Pete was wild about the singing cowboys, Gene Autry and Roy Rogers. At age 16, he met Denise Norwood, a songwriter who had made good a couple of years earlier with Joe Valino's rendition of her tune, "The Garden Of Eden." For three years, they worked together, with Jensen recording Norwood's compositions in her home studio. Colpix Records released his "Bonnie Baby" in 1959. Jensen variously recorded for Leader, Kapp, Hickory and finally White Whale. Jensen could not only sing, but also play the guitar and bass guitar. Though he would record over thirty singles between 1959 and 1966, he is remembered in America as a one-hit wonder. But not in Vancouver where he charted three songs on the local pop charts.
Diadorius Boudleaux Bryant was one half of the country and pop music writing team, along with his spouse Felice Bryant were an American husband and wife country music and pop songwriting team. Boudleaux Bryant was born in Shellman, Georgia in 1920 and attended local schools as a child. He trained as a classical violinist. Although he performed with the Atlanta Philharmonic Orchestra during its 1937-38 season, he had more interest in country "fiddling." He joined Hank Penny and his Radio Cowboys, an Atlanta-based western music band.
They wrote a succession of hits for the Everly Brothers including "Bye Bye Love," "Want Up Little Susie," "Bird Dog," "Devoted To You" and "All I Have To Do Is Dream." They wrote "She Wears My Ring", a hit for Jimmy Bell in Vancouver in 1961. Other songs they penned included "Raining In My Heart" for Buddy Holly, "Love Hurts" for Roy Orbison (and later Nazareth) and the lyrics for "Last Date," by Skeeter Davis, which Floyd Cramer later recorded as a #1 instrumental hit. "School Bus" was one of the songs Boudleaux Bryant wrote independent of his concurrent successes as a songwriting duo. "School Bus" was offered to Kris Jensen who recorded it as his second single, after switching from Colpix Records to the Leader label in 1960. The song climbed to #16 in Vancouver making it a hit almost entirely unique across North America. The exception was on WIBG in the City of Brotherly Love, where Philadelphia's answer to Vancouver's Red Robinson was Joe Niagra. Between 1947 and 1957 Niagara had the highest ratings of any DJ in Philly. His motto in introducing new discs was "if you're ready this rocking bird will fly." He gave "School Bus" a spin on his radio show and it made it onto the WIBG Top 99.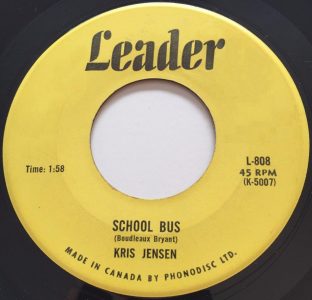 (School bus, school bus)
I met my first love on a school bus,
I thought that she was cute as she could be.
I wooed her and I won her on the school bus,
and that's when Frankie stole her from me.
(Frankie stole her from me, Frankie stole her)
I met a new love on the school bus,
and this time I was sure her love was true.
But a new guy started riding on the school bus,
and soon I lost my little baby too.
So I saved up for an old jalopy of my very own,
and you should have seen the chicks come after me.
Now I have my own private school bus,
and my own private new love number three.
And when school days out you still can see my baby,
riding in my school bus with me.
Kris Jensen's tale of finally getting a girl to go steady with him after getting his own jalopy, an unpretentious automobile, sent Vancouver radio listener's to Kelly's Record Store to get a copy of "School Bus."
From there Jensen switched labels again to Kapp Records. He released a song dedicated to the the hairstyle of the current First Lady of the White House, "The Jackie Look". It made it into the Top 20 in Tampa, Florida, in June '61. Concurrently, Jensen released a summer-themed tune, "3 Vanilla, 2 Chocolate, 1 Pistachio Ics." It became a Top 20 hit in Ohio, Pennsylvania and upstate New York in July '61. Jensen was having a string of singles that were making it onto the pop charts, but only on a few local radio markets here or there.
When Nashville music publisher Wesley Rose heard a demo album that Norwood was shopping around to various labels, he hooked Kris up with Hickory Records. Kris' first release on Hickory, "Torture," was a smash. The hypnotic tune had a slow, humping rhythm and a pleading Presleyesque vocal. "Torture" was Jensen's biggest hit, peaking at #3 in Vancouver in 1962, and #20 in the USA.
His follow-up release hoped to build on his name recognition from "Torture." But though "Don't Take Her From Me" was a Top 50 hit on CFUN in January 1963, it failed to chart elsewhere. The song is mostly of interest as it was written by Bob Montgomery who latter penned "Misty Blue" for Dorothy Moore in 1976. He also wrote "Back In Baby's Arms" for Patsy Cline, and "Heartbeat" for Buddy Holly.
According to Wayne Jancik in his book, One Hit Wonders, on November 22, 1963, Kris Jensen was on route to appear on the Buddy Dean TV Show in Baltimore. Jensen sensed he had "the hottest record of his career in his hands, "Big As I Can Dream." The song was also penned by Bob Montgomery, who had written Jensen's follow up release after "Torture." Montgomery was also one-time singing and recording partner of Buddy Holly prior to Holly joining The Cricketts in 1957. "En route to the TV studio, we heard a bulletin on the radio that President Kennedy was shot in Dallas," Jenson recalls. "By the time we got to the station, the Buddy Dean show was cancelled for the day in order to cover the assassination. That was the last anyone heard of the record.""Big As I Can Dream" climbed to #8 in Manchester, New Hampshire, but that was all. Jensen had a regional hit in the Peace River Country in northern Alberta in January '64 where "Donna Donna" went to #12 at CFGP in Grande Prairie.
His final appearance on the pop charts was a regional Top 20 hit in Washington D.C. in the fall of 1966 called "Who Likes Good Pop Music". He covered Kris Kristofferson's "Me and Bobby McGee" in 1969, before Janis Joplin or Gordon Lightfoot. The single release followed the same pattern of most of his recordings, it failed to get much attention. It would be Jensen's last recording. Kris Jensen, at least online, has become a true disappearing act. Since he faded from the recording industry in the late 1960s, he has seemingly left no trace for nearly fifty years.