#1078: Wash Your Face in My Sink by Dream Warriors
Peak Month: November 1990
9 weeks on Vancouver's CKLG chart
Peak Position #16
Peak Position on Billboard Hot 100 ~ did not chart
The Dream Warriors were a duo who joined together in 1988. The duo were Louie Robinson and Frank Allert who lived in the Jane and Finch and Willowdale neighborhoods in Greater Toronto. Louie Robinson had recorded a single that year when he was featured on Michie Mee and L.A. Luv's single "Victory Is Calling". The dancehall reggae tune with Jamaican funk, rap and hip-hop got the attention of others in the Toronto recording scene. By 1991 their debut album had received critical acclaim across Europe and Canada winning awards and music magazine rankings among the top albums of the year. Robinson went by the moniker of King Lou and Frank Allert was known as Capital Q. By late 1990 they had a studio album ready for release, And Now the Legacy Begins. The album went on to sell over 800,000 copies. It was listed in the Top 25 albums of the year by industry music magazines in the UK, Germany, Canada and Spain. The monthly Spanish music magazine rockdelux ranked And Now the Legacy Begins as the number 3 album of 1991. Though the album and several singles from the album sold well in Canada and in Europe, the Dream Warriors were mostly given a pass by American record buyers. The album received a Juno Award in Canada for the Rap Record of the Year in 1992.
The debut single from the the album was "Wash Your Face in My Sink" which entered the UK singles chart in July 1990 and climbed to #16, a position it also peaked at in Vancouver on CKLG.
You wash your face in my sink
In my sink
You wash your face in my sink
In my sink (sink)
You wash your face in my sink
In my sink (sink)
You wash your face in my sink
Simplicity with synchronicity make a mind meld
Revealed if possible like a walk in a mine field
Sadly you get up to bat and take a swing thing
Should I
Shouldn't I try?
Too late
You sunk into the sink that I wash my face
You wash your face in my sink
In my sink
Tougher
That's what I'm getting
I'm getting rougher
And you beat me?
Suffer
The attempt of an attempt well tried
Well your side tried
But my side will never be denied
Cause I'm swinging it stinging neglection
With an injection of truth
I've come to untwist the twisted youth
How does it feel now that I've got you all to think?
Yeah, and wash your face in my sink
You wash your face in my sink
Here I go I here I go I here I go again
I have a little place to send a little false friend
Who tried to mess me up with little negative thoughts
A little negative taught
Me to never ever leave my fame into the hands of incompetence
That makes sense
So now I change the tune for the tune allows changes
For you to take a breath while your brain rearranges
What I just spoke into a language called speech
You try to catch it but you just can't reach
For you leave a ring around the basin
When you wash your face in
In my sink
You wash your face in my sink
Now the basin is clean to the gleam of the eye
You constantly lie "when dove's cry"
Out that you are not about what you say
The image of the field you reveal and portray
For never ever will I fall fall to the effects of bandwagonism
So please listen
Up not down
For down is the devil
So roll like a boulder and not like a pebble
You roll like a rock, you roll like a rebel
For this is pure pain
Pick ax and a shovel
Hear no command
Hear just warning
If you wake up in the morning
And wash your face in my sink
You wash your face in my sink
Swing on the grounds of the play ground
The wire to the amp to improve the sound
I mean give me an M-I-C that is clean
And witness the warriors of the dream
For the bigger the orange
Is the bigger the peel
Thieves who steal
Get a wheel for real
A spin to infin or until I give a pardon
Me, I never promised you a rose garden
Or nourishment just punishment for a fink
Who thinks he can wash his face in our sink
You wash your face in my sink
Open up the door
Step across the wet floor
You can make it
You can tape it
This rhyme forevermore
Peer into the drain as the water goes down
Why do you frown is the end of the sound
But bring back the rhyme
For the rhyme is evaporated
And all of the sucker mcs
To the Jones is saying
They would
They could
They think
But never ever never dare try
To wash their face in my sink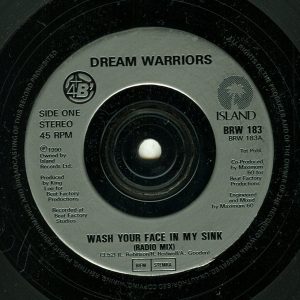 The Dream Warriors have just spoken into a language called speech. With hip-hop and Old School rhyme, they make it clear that people who dare try to wash their face in their sink ~ and leave a ring around the basin ~ should never ever dare try to repeat that offense. Period! The song is a specific example of setting boundaries with others regarding what they can and cannot do with someone else's stuff. The person who is telling the fink not to wash their face in my sink will not be a pushover. They have standards for how they keep their bathroom, and specifically their sink, clean. Those who can't live up to that standard of cleanliness have no business washing their face in the sink in question.
How many people have lived with roommates, housemates, spouses and other members of their household who have a different standard for keeping a place clean and tidy? Most of us are not fortunate enough to live with people who are in exactly the same zone of tidiness and cleanliness. Consequently, we have to have to sit down and have a conversation. Expressing our expectations for ourselves and others in our household about how to keep things clean, and who is responsible for what chores, helps get everyone on the same page. But too often people just make assumptions. Too often we don't notice how others around us are keeping house. Someone crosses a line and they get some feedback about what they've done. As the Dream Warriors ask: "How does it feel now that I've got you all to think?" As a result someone may lay down the law and keep some things in the home out of bounds for others, even a sink in a certain bathroom.
In the song the person who has a higher standard has to get tougher, and rougher, with their "little false friend" who "constantly lies" and tries to mess them up "with little negative thoughts." A scenario emerges that the person who washed their face in the wrong sink may have denied that they did this. But the ring around the basin was the telltale sign. That ring around the basin was not left by the person whose sink this is, and whose habits of sink sanitation are spotless. The "injection of truth" is the conclusion that "you washed your face in my sink."
The Juno Award in March 1992 for the 1992 Rap Recording of the Year went to "My Definition of a Boombastic Jazz Style" which was the second single release from And Now the Legacy Begins.
For more song reviews visit the Countdown.