#885: 1432 Franklin Pike Circle Hero by Bobby Russell
Peak Month: November 1968
6 weeks on Vancouver's CKLG chart
Peak Position #6
Peak Position on Billboard Hot 100 ~ #36
1 week Hitbound on CKLG
YouTube.com: "1432 Franklin Pike Circle Hero"
Lyrics: "1432 Franklin Pike Circle Hero"
Robert L. Russell was born in Nashville, Tennessee, in 1941. As he grew up Nashville was becoming a city known for country and pop music. In 1958, when he was 17-years-old, Bobby Russell recorded "The Raven", backed with "She's Gonna Be Sorry". It was a rockabilly number backed with his group, The Impollos. It was not a hit. But his second release, "Dum Diddle", another rockabilly number, made the Top 30 in Des Moines, Iowa, in the spring of 1959. He kept on releasing solo records and in 1966 his single, "Friends And Mirrors", got airplay in several states across the USA and Australia. It also made the Top 40 in Edmonton (AB) and Montreal.
By the age of 18 Bobby Russell was writing songs that were being recorded in studios by teen singers hopeful of having a hit record. Over the following decade the recording artists who recorded Russell's material include Kathy Young and The Innocents, Jan and Dean, Vic Dana, The Isley Brothers, Tom Jones, Freddy Cannon, Billy Swan, Cilla Black, Bobby Vee, Johnny Mathis and others. Russell penned Bryan Hyland's "The Joker Went Wild" and Gary Lewis And The Playboys "Sure Gonna Miss Her". In 1966 Russell co-founded Elf Records. That year he wrote "The Joker Went Wild" for Brian Hyland.
By 1968 Bobby Russell was 28 years old and having huge success with "Honey", a number one hit for Bobby Goldsboro in the spring of the year. Over the year another song Russell wrote called "Little Green Apples" was recored by Roger Miller, Patti Page and O.C. Smith. The latter version climbed to #2 on the Billboard Hot 100, #2 in Windsor and in Fredericton, New Brunswick, #4 in Toronto and in Pointe Claire, Quebec, #5 in Lethbridge, Alberta and #9 in Winnipeg. But the song didn't make the playlist on CKLG in Vancouver. "Little Green Apples" won two Grammy Awards in early 1969.
While "Little Green Apples" was making it's way up the charts on most playlists across North America, Bobby Russell released another single. This one was titled "1432 Franklin Pike Circle Hero".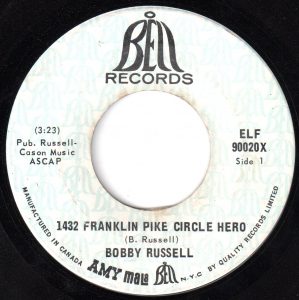 "1432 Franklin Pike Circle Hero" is a song about the challenges of being a young father. He lives at 1432 Franklin Pike Circle. He has a regular job and is tired from the stress and back aching work his job demands. Once he gets home he only wants to sit in his easy chair. He has no interest in seeing Academy Award winning movies like Doctor Zhivago, or even take the family dog out for a walk. Doctor Zhivago was a 1965 film about a doctor in pre-World War I Russia and the Russian Civil War. Bobby Russell chose to include in the song lyrics Doctor Zhivago on purpose. We learn that the 1432 Franklin Pike Circle Hero isn't high brow or interested in history. Perhaps, he would have rather seen the superhero-action-comedy Batman, or the 1966 comedy, The Russians Are Coming, The Russians Are Coming, about a Russian submarine crew whose submarine runs aground in New England.
"1432 Franklin Pike Circle Hero" portrays the weariness of working and living in the suburbs and raising a family. In 1960, eight years before this song was released, only 22 percent of women worked in the workforce in America. But by 1970, 43% of women in America were in the workforce. Chances are that while the 1432 Franklin Pike Circle Hero was driving his kids around to get snow cones or play ballgames, there was a mother who was holding down (likely) a part time job. Though she isn't mentioned in the song, there is a sense that the toll of this lifestyle is unsustainable. Our hero is only going to get progressively worn out by the demands of life, even though his kids love their dad.
In the following years Bobby Russell had other songs he wrote covered by Ray Stevens, Elvis Presley and Nancy Sinatra. His biggest commercial success as a songwriter after "Honey" and "Little Green Apples", was "The Night The Lights Went Out In Georgia". The song went #1 in 1973 for his wife at the time, Vicki Lawrence. Initially, the song was pitched to Cher. But her husband, Sonny Bono, vetoed the offer as he surmised its lyrics would be off-putting to her southeastern US fan base.
As a solo artists, Bobby Russell had one other Top 40 hit in America called "Saturday Morning Confusion." That single also charted into the Top Ten in Vancouver. In 1973 Bobby Russell gave up his ambitions as a solo recording artist. A year later he and Vicki Lawrence separated after two years of marriage. Some time afterward he remarried. He died in 1992 of coronary artery disease. There is little else about what Bobby Russell did between 1973 and 1992. Royalty cheques for "Honey", "Little Green Apples" and "The Night The Lights Went Out In Georgia" certainly would have helped keep the wolf from the door.
February 19, 2018
Ray McGinnis
References:
Inductees – Bobby Russell, Nashville Songwriters Foundation.com
"Bobby Russell, Writer Of Pop Hits, Dies at 52," New York Times, November 22, 1992.
Theresa Riley, "How America's Workforce Has Changed Since 1960," Bill Moyers.com, New York, NY, June 18, 2012.
"Boss 30," CKLG 730 AM, Vancouver, BC, November 29, 1968.
For more song reviews visit the Countdown.