#588: The Joker Went Wild by Brian Hyland
Peak Month: August 1966
8 weeks on CKLG's Vancouver Chart
Peak Position ~ #2
Peak Position on Billboard Hot 100 ~ #20
YouTube.com: "The Joker Went Wild"
Lyrics: "The Joker Went Wild"
Brian Hyland was born in 1943 in Queens, New York. In his childhood Hyland learned to play the guitar and the clarinet. In 1958, while he was still 14 years-old, he formed a group named the Delfis. Though they tried to get a record contract they were never signed. In 1959 Brian Hyland got a record deal with Kapp and released "Rosemary". The single had limited success, though it spent six weeks on the pop chart in Vancouver reaching #14 in May 1960. Hyland released his next single at the age of sixteen. His debut release became a #1 hit in 1960 titled "Itsy Bitsy Teenie Weenie Yellow Polka Dot Bikini". "Itsy Bitsy Teenie Weenie Yellow Polka Dot Bikini" had backing vocals by Peggy Powers who did a duet with Andy Williams in 1957 titled "I Like Your Kind Of Love". And Trudy Packer provided the the spoken lyrics (i.e. "two, three, four, tell the people what she wore.")
It was co-written by Paul Vance (born Joseph Paul Florio) and Lee Pockriss. Together they wrote a number of hit songs including "Catch A Falling Star" (Perry Como – 1957), "Little Miss Stuck-Up" and "Wait For Me" (Playmates, 1961 and 1960), "Tracy" (the Cuff Links – 1969) and "Playground in My Mind" (Clint Holmes – 1972). Pockriss also wrote "Johnny Angel", a hit for Shelley Fabares in 1962. "Itsy Bitsy Teenie Weekie Yellow Polka Dot Bikini" was actually inspired by Paul Vance's shy 9-year old daughter, Paula, and an actual incident at a beach locker. The duo also wrote a song titled "3 Vanilla, 2 Chocolate, 1 Pistachio Ice" for Kris Jensen. Lee Pockriss went on to write the theme songs for the 1961 film One, Two, Three, the 1964 film The Subject Was Roses, and the 1966 film, Stagecoach. In later years Pockriss wrote a number of compositions for the TV series, Sesame Street. Vance and Pockriss also wrote a parody of the Shangri-Las' 1964 #1 hit, "Leader Of The Pack". Their Top 30 rejoinder was titled "Leader Of The Laundromat", recorded by The Detergents.
Vance and Pockriss wrote Brian Hyland's follow-up novelty song, "Four Heels (The Clickety Clack Song)". Though it made the Top 30 nationally in Australia and the UK, it stalled at #73 on the Billboard Hot 1oo. He had another novelty song in 1960 titled "Lop-Sided, Over-Loaded (And It Wiggled When We Rode It)". After his #1 hit in 1960, Brian Hyland released seven singles in a row with only two making the Top 30 and three missing the Hot 100. But in the summer of 1962 he returned to the Top Ten with "Sealed With A Kiss". The song was a cover of the 1960 summer song by The Four Voices which met with limited regional success peaking in the Top 30 in Rochester (NY) and Louisville (KY).
Hyland appeared numbers of times on American Bandstand, and toured with Dick Clark's Caravan of Stars. He also appeared on the Jackie Gleason Show. It would take another eight attempts before he cracked the Top 20 on the Billboard Hot 100 with "The Joker Went Wild" in 1966.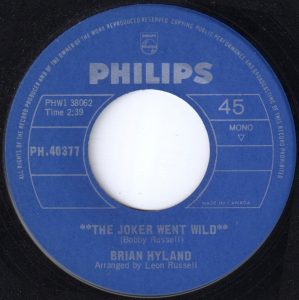 "The Joker Went Wild" was written by Bobby Russell. It didn't hurt that 'The Joker' was one of the arch-enemies of Batman, played by Ceasar Romero. Batman was the #5 top rated TV show in the USA in the 1965-66 season. In the case of "The Joker Went Wild", the song is about a guy who doesn't treat his gal nice. In fact, he confides "I treated her mean." Not surprisingly she leaves him and his "kingdom" falls apart. The 'joker' in the song discovers that capturing someone's heart isn't just a game. He can't take for granted what he has or he'll destroy everything.
In an article titled "20 Ways to Make Her Leave You," Victoria Coren offers some advice in GQ for guys who want their 'kingdom' to fall apart quickly. None of these behaviors are recommended if you want to 'keep her.' 1) Be disgusting – fart, burp, blow your nose without a tissue. You get the drift. 2) Verbal tics are always useful. Victoria Coren writes, "Ask her casually, 'Do I use the word 'cool' too often?' Then use it all the time. In every sentence. Dozens of times a day. Soon enough, she won't be able to bear another minute in your company." 3) Crowd her out. "Talk over her, boss her around and refuse to be flexible. Be macho, demanding and difficult." 4) Among her other sure-fire ways to turn off the woman you are dating, Victoria Coren writes, "When dining with her parents, wait until she's talking, then catch her mother's gaze and roll your eyes."
Fortunately, there are enough grown up men out there who find ways to be engagingly sociable, polite, thoughtful, caring, kind, generous, humble, civilized and affirming that they end up going steady and getting married. I know this firsthand from observing how my dad treated with mom with love, care and respect.
Robert L. Russell was born in Nashville, Tennessee, in 1941. As he grew up Nashville was becoming a city known for country and pop music. In 1958, when he was 17-years-old, Bobby Russell recorded "The Raven," backed with "She's Gonna Be Sorry." It was a rockabilly number backed with his group, The Impollos. It was not a hit. But his second release, "Dum Diddle", another rockabilly number, made the Top 30 in Des Moines, Iowa, in the spring of 1959. He kept on releasing solo records and in 1966 his single, "Friends And Mirrors," got airplay in several states across the USA, Canada and Australia. By the age of 18 Bobby Russell was writing songs that were being recorded in studios by teen singers hopeful of having a hit record. Over the following decade the recording artists who recorded Russell's material include Kathy Young and The Innocents, Jan and Dean, Vic Dana, The Isley Brothers, Tom Jones, Freddy Cannon, Billy Swan, Cilla Black, Bobby Vee, Johnny Mathis and others. Russell penned Gary Lewis And The Playboys "Sure Gonna Miss Her". In 1966 Russell co-founded Elf Records. After his success in co-writing "The Joker Went Wild" for Brian Hyland, Bobby Russell went on to pen "Honey", a number one hit for Bobby Goldsboro in the spring of the 1968, and "Little Green Apples" was a hit for O.C. Smith. Bobby Russell later wrote the hit, "The Night The Lights Went Out In Georgia", for his wife at the time, Vicki Lawrence. The song went #1 in 1973.
"The Joker Went Wild" climbed to #1 in Grand Rapids (MI); #2 in Vancouver and Kelowna, British Columbia, Erie (PA) and Buffalo (NY); #3 in Dayton (OH); #4 in Worcester (MA), Louisville (KY), Flint and Lansing (MI); #5 in Troy/Albany (NY), Toronto (ON), Medicine Hat (AB) and Orlando (FL); #6 in St. John's (NFLD), Omaha (NE), Chicago (IL) and Madison (WI); #7 in Milwaukee (WI), Kansas City (MO), Phoenix (AZ), Allentown (PA), New Haven (CT), Minneapolis/St. Paul (MN), Atlanta (GA) and Gary (IN); #8 in Houston (TX), Montreal (PQ) and Tuscaloosa (AL); and #9 in Seattle and Miami.
"The Joker Went Wild" remained a very popular song in Vancouver a year after it charted here. Based on listener requests on Flashback Weekends on CFUN, the song was listed at #2 on the CFUN Final Top 40 Soundathon for March 1960 to April 1967. The entire event ran from Monday, July 15, to early Monday, July 24, 1967. The countdown was repeated several times over the week. "The Joker Went Wild" also ranked at #2 on the Final FUN FORTY published by CFUN on September 16, 1967.
After "The Joker Went Wild", Brian Hyland again had a drought between 1966 and 1970. He released eight more singles, and only one of these cracked the Top 40. Of these, several were covers of earlier hits from the early rock 'n roll era: Thomas Wayne's 1959 hit "Tragedy", Jimmy Charles 1960 hit "A Million To One" and Johnny Tillotson's "Dreamy Eyes" from 1958. Finally, in 1970, Brian Hyland returned to the Top Ten with a remake of the Impressions' 1961 hit "Gypsy Woman".
Between 1960 and 1977 Brian Hyland released eleven studio albums. At this time of writing, Brian Hyland has an upcoming concert date in Jericho, Long Island, New York, in December 2019.
June 28, 2019
References:
Michael Jack Kirby, "Brian Hyland", Waybackattack.com.
"Bobby Russell, Writer Of Pop Hits, Dies at 52," New York Times, November 22, 1992.
Victoria Coren, "20 Ways to Make Her Leave You," GQ, October 6, 2015.
"Batman TV (Series)," Wikipedia.org.
"Silver Dollar Survey," CKLG 730 AM, Vancouver, BC, August 20, 1966.
"C-FUN SOUNDATHON #14," CFUN 1410 AM, Vancouver, BC, July 1967.
"FINAL FUN FORTY," CFUN 1410 AM, Vancouver, BC, September 16, 1967.
For more song reviews visit the Countdown.