#1188: A Kookie Little Paradise by Jo Ann Campbell
Peak Month: September 1960
7 weeks on Vancouver's CKWX chart
Peak Position ~ #12
Peak Position on Billboard Hot 100 ~ #61
YouTube.com: "A Kookie Little Paradise"
Lyrics: "A Kookie Little Paradise"
In 1938 Jo Ann Campbell was born in Jacksonville, Florida. When she was just four years old she was enrolled in music school. She also had a flare for choreography winning successive honors at her high school as a drum majorette. She flew to Europe in 1954 as part of a dance troupe. Afterward, she based herself in Manhattan having a successful audition with the Johnny Conrad Dancers. In that capacity she appeared on The Milton Berle Show and The Colgate Comedy Hour. She was encouraged to give attention to her vocal talents and in 1956 she recorded her debut release with RKO-Point Records in New York called "Where Ever You Go" with the Johnny Conrad Dancers. It was unsuccessful. In search of a hit she moved on to sign with Eldorado Records after her performance at the Apollo Theater in Harlem got favorable reviews. Again there were no hits resulting from several single releases. Next she signed with Gone Records and in December 1957 her single, "Wait A Minute," spent six weeks on the CHUM chart in Toronto. Campbell also appeared at the Brooklyn Paramount Theater and on American Bandstand.

Three more singles with Gone Records followed in 1958-59. "I'm Nobody's Baby Now" seemed to interest nobody except the DJ's of her hometown, Jacksonville, Florida. After Connie Francis' parents forbid her to keep dating Bobby Darin, Jo Ann Campbell and Darin were an item for some time. Then, the demands of their respective careers got in the way of pursuing a romance. Jo Ann Campbell once more switched record labels, This time to ABC-Paramout. It was her fourth record label in four years.
In 1960 Campbell recorded "A Kookie Little Paradise". It was a song about a fantasy tropical island paradise where the people on the island teach about making love and eat "pizza pie." It was a minor hit in the USA and was covered in England by Frankie Vaughan who took the tune to #31. A novelty song complete with Tarzan calls, "A Kookie Little Paradise" stayed on the Vancouver charts for nine weeks, four in the top twenty, peaking at #12. Americans found the song a bit too novel and it only reached #61 on the Billboard Hot 100. "A Kookie Little Paradise" cracked the Top Ten in Baltimore (MD) and Youngstown (OH), both at #7.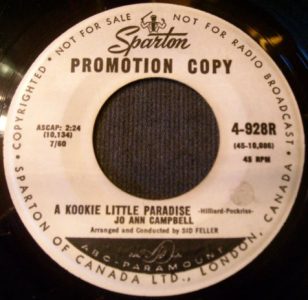 "A Kookie Little Paradise" was tailor made for the expanding tourist markets during the post World War II boom. The economy in both America and Canada was growing. The Caribbean was newly on the radar for many Americans and Canadians whose standard of living afforded the opportunity of a vacation to more exotic places. Now it was not just the very wealthy who were traveling to the Caribbean. In the Bahamas, in 1949, there were only 32,000 tourists that year. But in the 1950's the island built up its tourist industry by building hotels along the beaches. By 1954 there were 142,689 tourists who visited the Bahamas.In the 1950's pre-revolutionary Cuba and the island of Haiti were the most popular tourist destinations. Through the 1960s, tourism to the Caribbean grew slowly as major airlines such as Pan Am, Eastern, BWIA, Air Canada, Air Jamaica, Trans Caribbean, LIAT and Prinair added numbers of the island nations to their destinations.
In "A Kookie Little Paradise" there are no speed limits on the beach when driving sports cars, jukeboxes playing in the jungle, pizza and banana splits. The song was a vacation fantasy where, when it came to the local islanders: "making love it what they teach."
Campbell appeared in two rock n' roll movies: Go, Johnny Go in 1959, and Hey, Let's Twist in 1962. During this time she continued to release records. There were three more singles with ABC-Paramount and then she moved to her fifth record label, Cameo. With the label she had her biggest hit in August 1962, a country tune called "I'm The Girl From Wolverton Mountain". This was an answer record to Claude King's "Wolverton Mountain". The song reached #38 on the Billboard Hot 100. In March 1963, she followed up with "Mother, Please! (I'd Rather Do It Myself)". It was a take-off on an Anacin TV commercial of the day, Campbell's song only peaked at #88. After three single releases with Cameo Records Campbell moved on to sign a deal with Atlantic Records. While there she got engaged and was married Atlantic Record producer Troy Seals. As a duet they recorded one single called "I Found A Love, Oh What A Love". A regional hit, it peaked at #3 in Baltimore and Atlanta, and #4 in Arveda, Colorado.
February 8, 2017
Ray McGinnis
References:
Big Bopper Bill, Jo Ann Campbell: The Blonde Bombshell, Rockabilly.nl, 1983
Paul Landres and Piero Vivarelli ~ directors, Go, Johnny, Go, Valliant Films, 1959
Hey, Let's Twist, 1962
Anacin television commercial, 1962
Jo Ann Campbell, "Mother, Please! (I'd Rather Do It Myself),"1963
The Bahamas, Tourism Today.com
Prospery Raymond, Tourism Can Help Haiti Return to its Halcyon Days, Guardian, July 26, 2013
Richard S. Kahn and Johnson JohnRose, The Year Was 1951: The CTO Story, One Caribbean.org, February 2013
Bobby Darin and Jo Ann Campbell, Bobby Darin.net.
"Sensational Sixty," CKWX 1130 AM, Vancouver, BC, September 19, 1960.
For more song reviews visit the Countdown.