#1353: A Sunday Kind of Love by Jan and Dean
Peak Month December 1961
6 weeks on Vancouver's CKWX chart
Peak Position #11
Peak Position on Billboard Hot 100 ~ #95
Youtube.com: "A Sunday Kind Of Love"
Lyrics: "A Sunday Kind Of Love"
Jan and Dean were a pop duo who formed in 1958. They met in 1957 while they were students at Emerson Junior High School in Los Angeles. A year later they were on the football team of University High School. They had adjoining lockers and began singing and harmonizing in the showers with a number of other football players. Dean Torrence was drafted into the US Army Reserve in 1958. Jan Berry went on to record his first single with Arnold P. "Arnie" Ginsburg under the name Jan & Arnie. (Ginsburg happened to have a namesake, Arnie "woo woo" Ginsburg, who was a career DJ in Boston including on WMEX). The hit, "Jennie Lee", was penned by Ginsburg and inspired by a poster of a local Hollywood burlesque performer. Jan and Arnie performed on American Bandstand in May and the tune went to #8 on the Billboard charts. When Dean Torrence returned Jan & Dean recorded their first Top Ten hit, "Baby Talk", peaking at #10 in 1959 (#20 on CKWX in Vancouver).
Jan & Dean cut a striking figure on television. Tall, blonde, and physically handsome, the duo typically sported loafers, casual slacks, and ultra-hip matching sweaters or jackets. By all accounts, the finger-snapping, shuffle-stepping Jan & Dean stood out in sharp contrast compared to the dark-haired, suit-and-tie crooners who were cranking out hits on the East Coast. In Jan & Dean, Lou Adler had found a definite "West Coast" marketability — and the ride was just beginning.
His growing musical talents had taken Jan beyond the realm of Jan & Dean. In May 1961, with a deal secured by manager and producer Lou Adler, Liberty Records released a single by The Gents called "Jump in the Line". The song was written primarily by Tony Minichiello and Manuel Sanchez — both of whom, like Berry, were alumni of University High School. It was produced by Jan Berry, with assistance from Don Altfeld — and both tunes were quite a departure from the established Jan & Dean sound. "Jump In The Line" was a Chubby Checker-like rocker (with perhaps a hint of Harry Belafonte) with tight, three-part backing harmonies. Lou Adler was given official credit for producing The Gents' single. While it didn't burn up the charts, it showcased Jan's burgeoning talents in the studio. He was twenty years old.
After their hit single "Baby Talk," Jan and Dean recorded a number of songs that mostly met with limited or modest success. These included a recording of the folk standard "Clementine," a cover of the 1953 R&B classic by The Crows called "Gee." They had their first Top Ten hit in Vancouver with "Heart and Soul", a pop standard from 1938 with music by Hoagy Carmichael and lyrics by Frank Loesser. The song did less well in the USA peaking on the Billboard Hot 100 at #25 on July 29, 1961. Earlier that summer the doo-wop group, The Cleftones, took "Heart And Soul" to #18 on June 24, 1961 on the Billboard Hot 100, though their version didn't chart in Vancouver. Their next single, "Julie", was a cover of a #5 hit by the Crescendos in 1958.
Coming off their eighth charting song on the local pop charts in Vancouver, the ninth song to appear on the Vancouver pop charts by Jan and Dean was "A Sunday Kind Of Love". This was their fifth single release in a 22-month period, beginning in January 1960, where they recorded a cover version of an earlier hit tune.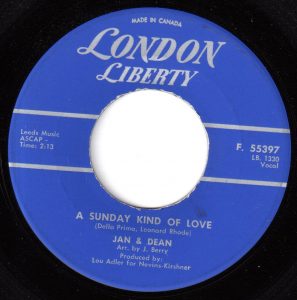 "A Sunday Kind Of Love" was a popular song composed by Barbara Belle, Anita Leonard, Stan Rhodes, and Louis Prima published in 1946. That year Fran Warren had a minor hit with the song backed by Claude Thornhill and his Orchestra. Ella Fitzgerald chose to record it in 1947.
In 1953, Harlem doo-wop group, The Harptones, gave an inspiring cover of the song now considered an R&B classic. However, distribution problems prevented it from becoming a national hit in the USA. The Harptones were inducted into the Vocal Group Hall of Fame in 2002. They performed as a group between 1951 and 2014 with a rotating line-up anchored over six decades by Willie Winfield, William Dempsey and Raoul Cita.
Dinah Washington recorded the song for her 1959 album, What a Difference a Day Makes. On her 1960 album, At Last, Etta James also gave the song a fine performance. The Marcels featured the tune on their Blue Moon album released with their smash #1 hit single in March '61 called "Blue Moon". Though over twenty recording artists had made a record of the song, no one had much of a hit beyond regional success. Jan and Dean hoped their version could be a hit for them, appealing to listeners hopeful of going steady and not being frustrated with dates that went nowhere.
Of the four songwriters of "A Sunday Kind Of Love, Louis Prima was the one who wrote numerous compositions, while the other three had hardly any further output. Prima wrote songs recorded by Glenn Miller, Lawrence Welk, The Andrews Sisters, Vaughan Monroe, Kay Starr, Jimmy Dorsey, Mr. Acker Bilk and others. In the song the singer wants "a love that's on the square." The term, on the square, comes from Freemasonry. The square reprents fairness, balance, and firmness which is reflected in phrases such as "on the square" and "squared away." Something that is squared is something that is stable, a foundation for building upon. And the singer of the song wants someone who is solid enough to build a life with, not just someone to have a one-night stand with and fool around on a Saturday night.
Instead of the usual slow ballad, Jan and Dean chose to make "A Sunday Kind Of Love" an uptempo doo-wop tune. It caught on in Vancouver peaking at #11 and became their fifth Top 20 hit in the city. But in the USA the song didn't catch on, peaking at #95 on the Billboard Hot 100. That it even made the Hot 100 was owed to its chart performance in Cleveland (#17) and Boston (#18).
Jan and Dean weren't finished covering oldies with "A Sunday Kind of Love". Just before they turned to the surfing sound with their summer #1 hit in 1963 called "Surf City", the duo dusted off an oldie from the late 40s called "Linda." Buddy Clark recorded the original hit which was the #4 song for the year in 1947. Jan and Dean's "Linda" peaked at #21 on CFUN and #28 on the Billboard Hot 100. As for "Surf City," it was the first surfing' song to reach #1 prior to the Beach Boys topping the charts.
Jan and Dean would go on to have a series of hits identifying them with the Surfing Sound. Of their Top 30 hits, they had three prior to "Surf City" in the USA. But in Vancouver they had nine Top 30 singles. Prior to their surfing craze, Jan and Dean already were a hit in Vancouver. From "Surf City" onward they charted ten singles into the Top 30 on the Billboard Hot 100 and twelve singles into the Top 30 in Vancouver. These included "Little Old Lady From Pasadena" and "Dead Man's Curve".
In April 1966 Jan Barry had a near-fatal auto accident. This left Dean Torrence to record on his own. However, Screen Gems blocked his recording anything until Jan recovered. Though Dean Torrence co-wrote the song, "Yellow Balloon" and released a single under the billing, Jan and Dean, the song was dead in the water once Screen Gems warned Columbia Records not to promote the single. Consequently, one of the other co-writers, Gary Zekey, assembled a group named Yellow Balloon to make a recording of the single. It went on to be a Top 30 hit in the USA and a Top Ten hit in Vancouver.
Jan and Dean eventually reunited in the 1970's. In 1978, Deadman's Curve, a film biography shown on TV helped generate interest in the duo and they ended up touring again through the 80's, 90's and up until 2004. In March 2004 Jan Barry died of a seizure due to complications from his car accident in 1966. Since 2004 Dean Torrence has played with the Surf City All-Stars, a band dedicated to keeping the music of Jan and Dean and the Beach Boys alive. With this group he has ten upcoming concert dates, including one week-long cruise along the Mexican coast in March 2018. Torrence serves as a spokesman for the City of Huntington Beach, California, which is nationally recognized as Surf City USA due to Dean's efforts.
February 11, 2017
Ray McGinnis
References:
Mark A. Moore, The Jan & Dean Record: A Chronology of Studio Sessions, Live Performances and Chart Positions, (McFarland & Company, 2016).
Dave Laing, "Jan Berry: Teen Dream and Surf Pop Star," Guardian, April 2, 2004.
Tour Dates, Surf City All Stars.com
"Deadman's Curve: The Jan And Dean Story," CBS, February 3, 1978.
"The Yellow Balloon Story," The Yellow Balloon Tripod.com
The Harptones, "A Sunday Kind Of Love," 1953.
"Fabulous Forty," CKWX 1130 AM, Vancouver, BC, December 16, 1961.
For more song reviews visit the Countdown.