#253: After The Hurricane by Paul Evans
Peak Month: April 1961
9 weeks on Vancouver's CFUN chart
Peak Position #2
Peak Position on Billboard Hot 100 ~ did not chart
YouTube: "After The Hurricane"
Lyrics: "After The Hurricane"
Paul Evans was born in Queens, New York, in 1938. Although he got some fame with his modest success as a teen idol, Evans is more well known for his songwriting for other performing artists. He recorded his first single in 1957 titled "What Do You Know?", backed with "Dorothy". His first hit song was written in 1958 titled "When". It became a Top 20 hit for the Kalin Twins. Evans told staff with the Songfacts website about the backstory. Evans said " I was young… 19 or 20. I would write with two or three writers a day. It was our job to write songs… just sitting around, fooling around playing songs. We wrote a song for the Everly Brothers, but they were almost impossible to get. So we brought the song up to Decca Records. The demo was just my guitar, me singing, and my co-writer singing a harmony line. We got the Kalin Twins to do it because when [Decca] heard a duet on a demo, they thought of a duet, that's just the way it was in the business at the time. We did not write it as a personal experience. We tried. We wrote it because we wanted to write a song that we could get a record recorded on."
The list of artists in the music industry who've recorded a song by Paul Evans include LaVern Baker, Tab Hunter, Cliff Richard, Sammy Turner, Elvis Presley ("I Gotta Know") Pat Boone ("Johnny Will"), Siw Malmkvist, Bobby Vinton ("Roses Are Red"), The Platters, Mario Lanza ("Lady Of Spain"), Hank Locklin, Johnny Tillotson, Bobby Sherman, Chad & Jeremy, Lulu, Ray Coniff, Paul Anka, Fabian, The Coasters, Frankie Lymon, the Mello Kings and the Shocking Blue. However, unlike in his native country of America where his chart success was uneven, Evans charted seven songs into the Top 20 in Vancouver. So, in the period between 1959 and 1962, Paul Evans was better known in Vancouver as a teen idol than for his compositions for other recording artists.
Paul Evans grew up in a family where his mom played an taught piano lessons, and his dad played a number of musical instruments. Paul's father sold his flute to buy his son a guitar. His oldest sister, Estelle, showed Paul how to play the guitar. At high school, Paul produced and performed in a number of shows. While pursuing an engineering degree at Columbia University, Evans had his own radio show with a focus on folk music. He decided to switch his efforts to the record industry and began to sing at clubs and initially was the the ship's singer on the US Navy ship the SS France.
In 1959 Paul Evans had a Top Ten hit across North America called "Seven Little Girls Sitting In The Backseat". In early 1960 he was back on the charts in Vancouver with "Midnight Special" peaking at #13. Evans had a Top Ten hit across North America in the spring of 1960 called "Happy Go-Lucky Me", which climbed to #3 in Vancouver. Evans remembers at the time "They would send me out on the road, and I would do record hops. I would lip-synch in front of these crowds of kids, who would then be dancing to the records. I did the Dick Clark Show by lip-synching. Anything that was spent by the record company came out of our royalties. And I made very little money at the time. I was exhausted after three weeks. They were all one-nighters and they were bus tours and stuff like that. And I wasn't being paid, and I didn't think this was cool, I'd rather have been home writing with my co-writers."
He followed up next with "The Brigade Of Broken Hearts" in the summer of 1960. It was a Top 30 hit in Vancouver, but did little elsewhere charting in only nine states in the USA. Evans next release was "Hushaby Little Guitar", which climbed to #4 in Vancouver, though it failed to crack the Billboard Hot 100. Evans had a few minor releases that charted in Vancouver.
But his next big hit in Vancouver was "After The Hurricane".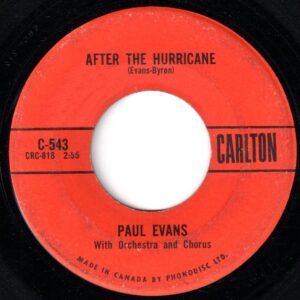 "After The Hurricane" is a song about a love that "was wilder than the wind, and twice as hard to tame." In the aftermath of the romance, like the impact of a hurricane when it touches down, the narrators "dreams are torn and tattered." As well, his "heart is shattered like a broken window pane." It seems the chemistry was just too much: "Your lips were thunderbolts. And every time you kissed me, I felt twenty thousand volts." For the female 'hurricane' "boys are just toys that you play with and bust." The extent of the unequal dynamics are reflected in within a subsequent verse: "Well, each time i think about you I tremble and I shake. You used me, you abused me. Then you left in your wake. To you it never mattered, but i'll never be the same. Well, after the hurricane."
Two years later Vince Everett had a Top Ten hit in Vancouver in October 1963 titled "Livin' High". The Elvis Presley-soundalike sang about how he wanted "to move right in like a hurricane" when he is on the make and in search of a woman to make love to. So Paul Evans was not alone in using hurricane as a metaphor for someone's impact in a dating situation.
"After The Hurricane" peaked at #2 in Vancouver (BC), #5 in Farmington (NM), and #8 in Port Arthur (TX). Later in 1961 Evans cowrote "Summer Souvenirs" for Karl Hammel Jr., which peaked at #13 in Vancouver.
Between September 1959 and April 1961 Paul Evans was on the pop charts in Vancouver for 55 weeks. But he had a long drought before charting on the C-FUNTASTIC FIFTY in mid-October 1962 with "D-Darling", which peaked at #11. "D-Darling" was one of six singles Evans released on Kapp Records in 1962-63, but the only one that was a hit in Vancouver. Right after "D-Darling", in December '62 Paul Evans had a Christmas themed song titled "The Bell That Couldn't Jingle" which climbed to #14 on CFUN. But after that he was swept away by the Girl Group sound, Surf music, the Bossa Nova, Motown and the British Invasion.
Yet, Evans biggest song in the fall of '62 was for another recording artist, Bobby Vinton, who had a number-one hit with "Roses Are Red". This kept the royalty cheques flowing for Paul Evans.
Paul Evans was used to doing things a bit by the seat of his pants. He didn't prepare what he would sing when he went onstage. He just did things spontaneously. In 1963, he told an interviewer with Folk Music Worldwide, he was on a trip to Fredericton, New Brunswick in the winter. When he showed up, he (or his manager) had forgotten to book a hotel room.
In 1963 Paul Evans wrote "Live Young" for the movie, Palm Springs Weekend, sung by Troy Donohue. Evans has soloed on many commercial jingles and appeared on the David Letterman Show, As the World Turns, Guiding Lightand All My Children. Evans voice can be heard in the mid-90s Woody Allen films, Mighty Aphrodite and Everyone Says I Love You (but not on any of the tracks in the Soundtracks from these films).
In 1979 Paul Evans had an unusually morbid country hit on the UK pop charts called "Hello, This Is Joannie" that peaked at #6, and also went Top Ten in Australia. In the song, Joannie leaves the boyfriend's house very angry and ends up in a fatal car crash on the way back to her home. The song was the first to chart nationally after over 20 single releases that failed to chart on the Billboard Hot 100.
In 1993 Evans released a country Christmas novelty tune called "Santa's Stuck Up In the Chimney". It gets air play on many North American country and western music stations each December. In 2019 Paul Evans enjoys his family life in New York City.
September 29, 2021
Ray McGinnis
References:
Paul Evans bio, Paul Evans.com
Interview with Paul Evans, Folk Music Worldwide, June 8 & 11, 1963.
"Live Young," Palm Springs Weekend, 1963.
Dan McIntosh, "Songwriter Interviews: Paul Evans," Songfacts.com.
"C-FUN-Tastic 50," CFUN 1410 AM, Vancouver, BC, April 15, 1961.
For more song reviews visit the Countdown.