#1005: Livin' High by Vince Everett
Peak Month: October 1963
8 weeks on Vancouver's CFUN chart
Peak Position #8
Peak Position on Billboard Hot 100 ~ did not chart
YouTube.com: "Livin' High"
Of all the Elvis Presley soundalikes, two stand head and shoulders above the rest: Ral Donner and Vince Everett. Ral Donner, with songs like "You Don't Know What You've Got Until You Lose It," often sounded like a tamed down Elvis after Presley finished his service in the U.S. Army. In contrast, Vince Everett contained the dynamic, raucous energy on Elvis' earlier recordings. Vince Everett was the name of the character Elvis Presley played in the 1957 movie, Jailhouse Rock. In that movie Elvis' Vince Everett is sent to jail for manslaughter. Vince Everett has a cellmate, Hunk Houghton, who was a country and western singer. In Jailhouse Rock, Vince Everett forms a bond with his cellmate. After serving his sentence he and Hunk Houghton are part of the same band and find fortune and fame.
The singer, Vince Everett, was born Marvin Eugene Benefield in 1941. He was raised in suburban Atlanta. At the age of 14, young Marvin Benefield got hooked on the rock 'n roll he was hearing on a local radio station. He dreamed he might have the right stuff to be a rock 'n roll singer too. In 1959 he won a regional talent contest at the Georgia Jubilee in East Point, just west of Atlanta. For his First Prize, Marvin Benefield was able to make a recording at Bill Lowery's NRC studio in Atlanta. Benefield recorded an uptempo tune called, "Love Me", which is not the identically titled Elvis Presley tune from 1956. "Love Me" was produced by Ray Stevens (later of "Everything Is Beautiful" fame). "Love Me" was released in 1960 and credited the recording artist as Marvin Fields. Though the record sold well in Atlanta, Marvin kept his fulltime job at the Square D Company working with electrical switchgear.
Another person Marvin Benefield was introduced to at the Georgia Jubilee Marvin was Felton Jarvis. Jarvis was a singer, a guitarist and a producer who worked for Lowery Music. Felton Jarvis asked Marvin Benefield early in 1962 if he was interested in making a record for ABC-Paramount. Benefield was thrilled with the idea and with that confirmation, Felton Jarvis gave him the new recording name, Vince Everett. The first ABC session took place on February 21, 1962 in Nashville. It was a split session with Tommy Roe (who during the session recorded his soon-to-be number one hit, "Sheila"). Everett chose to record the Clyde McPhatter and The Drifters' 1953 R&B hit, "Such A Night". It copied the 1960 Elvis Presley arrangement note for note. Vince Everett also was fortunate to have the a number of the same session musicians on Elvis' version available for his 1962 recording: Boots Randolph, Floyd Cramer and the Jordanaires.
Though "Such A Night" only made the Top 20 in Chicago and got some chart action in San Bernardino, Atlanta and Tupelo, Mississippi, sales were encouraging enough to invite Vince Everett for a second session on August 13, 1962, back in Nashville. Selected as the A-side of the second ABC single was "I Ain't Gonna Be Your Low Down Dog No More", performed in a 1950 by Big Joe Turner in rock 'n roll/R&B style that had become very rare by 1962. Consequently, the song wasn't picked up by deejays and was a flop commercially.
On May 29, 1963, ABC had Vince Everett come to Sun studios in Nashville to record "Baby Let's Play House"/"Livin' High". Everett's cover of "Baby Let's Play House" was true to the original Presley version of 1955, with Scotty Moore recreating his original guitar licks while Bill Black slapped an acoustic bass. The A-side got some initial interest in a few radio markets in the USA, but then got dropped from their playlists. The B-side, "Livin' High" was a pretty good recording for 1963, but completely out of sync with musical fads. For example, on the CFUN charts in Vancouver in October 1963 there were eight songs in the Top 20 that were part of the "girl group" sound by female groups and solo artists. There were also numbers of dance hits like "Mickey's Monkey" by The Miracles. Even Elvis was showing off a newer style with "Bossa Nova Baby" that fall. "Livin' High" failed to dent the Billboard charts or local charts anywhere in America. But record buyers in Vancouver took "Livin' High" to #8, the only radio market where the song made the Top 40 in North America.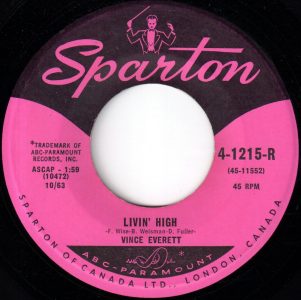 I got a happy feeling down deep inside,
a happy feeling and I believe it's good,
I'm gonna knock on wood.
I got lots of lovin' to do
and when I do it with you, I'm livin' high.
I gotta move right in like a hurricane,
and I'm feeling no pain, I feel so great.
don't make me wait.
Don't need to swing on a star,
'cause as long as I'm where you are, I'm livin' high.
Well, well now, I like lovin' more than living and breathing,
every day: a lucky day for me.
Feel so good when you hold me tight,
that's what tells me it's right,
I found someone who won't kiss and run.
I got lots of lovin' to do
and when I do it with you, I'm livin' high.
I like lovin' more than living and breathing,
every day: a lucky day for me.
Feel so good when you hold me tight,
that's what tells me it's right,
I found someone who won't kiss and run.
I got lots of lovin' to do
and when I do it with you, I'm livin' high…
When I do it with you, I'm livin' high.
"Livin' High" is a straight forward celebration of finding someone you're physically and sexually attracted to and in head over heals in love with. The singer sings "I like lovin' more than living and breathing." The connection he feels for his love interest makes him feel happy inside. Every day is a lucky day.
However, then song lyrics offer what may be a most unfortunate simile" "I'm gonna move right in like a hurricane." Coming from the Deep South Vince Everett might have seen a red flag with that comparison of a prospective boyfriend to the way he was going to romance someone. After all, a hurricane often leaves a path of destruction, havoc and devastation in its wake, leaving those in its aftermath taking years to rebuild.
In 1960, on September 9th, Hurricane Donna landed in the Florida Keys with sustained winds of 138 mph, and at times increased to sustained winds of 160 mph. Hurricane Donna caused a storm surge of up to 13 feet in the Florida Keys, 11 feet along the SW coast of Florida, up to 8 feet in North Carolina, and a 10 foot surge along the New England coast. Florida also received up to 12 inches of heavy rainfall (and as much as 8 inches elsewhere). The storm surges and hurricane force winds led to $7.5 billion (2017 USD) of overall damage. Due to these devastating impacts, "Donna" was retired from the list used by the National Hurricane Center to name storms, replaced by "Dora" in 1964.
On September 11, 1961, Hurricane Carla made landfall in Texas with sustained winds of 175 mph. At the time, Hurricane Carla was the largest hurricane ever recorded in the Atlantic basin. To put this into perspective, consider the wind field at landfall. Sustained hurricane force winds were experienced between Galveston and Corpus Christi – roughly 250 miles apart. The entire Texas coastline endured hurricane force gusts during the hurricane's landfall. The death toll from the hurricane was 46 persons. This is quite low considering the size and power of the hurricane and the low elevation land on which it came ashore. The low numbers were attributed to the successful evacuation of between a quarter and a half million people from the Texas coastline. At the time, this was the largest evacuation in U.S. history.
On September 26, 1963, Hurricane Flora formed in the Atlantic Ocean. It had sustained winds of 145 mph and made landfall in Tobago, Trinidad, Haiti, Cuba and The Bahamas. It killed around 5,000 (est.) people in Haiti, 1,750 in Cuba and 8,000 in total across the Caribbean.
Two hurricanes from the past three hurricane seasons had done significant damage. And Hurricane Flora's 17-day path of destruction overlapped Vince Everett's attempt to get "Livin' High" up the charts. One can imagine why DJ's gave the song a pass. As a simile, hurricanes didn't evoke romantic excitement.
Though "Livin' High" was a commercial disappointment for ABC-Paramount, the company gave Vince Everett another chance and he made another studio recording in the winter of 1964-65. It was produced by Joe South with a more contemporary sound, with the songs "Big Brother" and "To Have, To Hold And Let Go". These were commercial failures, as was another song recorded with South, "I'm Snowed" That song was first recorded by Joe South in 1958 and credited to Marvin Benefield. The song got no traction as radio listeners were snapping up singles by Simon & Garfunkel, Paul Revere & The Raiders, The Mamas & The Papas, The Beatles, ? & The Mysterians, The Monkees, Petula Clark, The Association and others.
Marvin Benefield served in the U.S. Army from 1966-69 and rose to First Lieutenant. There was a long gap before his final release, "Glitter And Gleam" in 1977, written and produced by Tommy Roe and credited as by Marvin Bennefield, adding a second "n" to his surname.
There happened to be British Presley imitator who called himself Vince Everett in the 1970s, trying to make UK listeners believe he was the American Vince Everett from the early 60's. This led to much confusion. Meanwhile the American Vince Everett (aka Marvin Benefield) continued to work at the Square D Company with electrical switchgear, in Atlanta, until 1992.
The real Vince Everett made his European debut at the Rockabilly Rock & Roll Meeting in Munich, Germany, on July 17, 1999. In fact, if you visit Wikipedia and search for Vince Everett, the only write-up you'll find is written in German.
Vince Everett failed to make a hit record in the USA. His energetic rock 'n roll sound evoked a late 50's rawness that had been toned down since Elvis joined the U.S. Army and Jerry Lee Lewis was banned from radio stations for his marriage to a teenage cousin. That raucous late-50's sound was out of synch with a radio audience drawn now to various dance crazes, Motown, the Surfing sound and the girl group sound, before things got wilder with the British Invasion. Everett gave little energy to promoting his records by performing on tour. Instead he kept his primary focus on his position as an electrical products assembler and receiving a weekly paycheck made out to Marvin Benefield.
September 15, 2017
Ray McGinnis
References:
Vince Everett-bio, Rockabilly.nl.
Jailhouse Rock, Metro-Goldwyn-Mayer, 1957.
Hurricane Donna, Wikipedia.org.
Hurricane Carla, Wikipedia.org.
Hurricane Flora, Wikipedia.org.
"C-FUNTASTIC FIFTY," CFUN 1410 AM, Vancouver, BC, October 19, 1963.
For more song reviews visit the Countdown