#308: And The Heavens Cried by Ronnie Savoy
Peak Month: November 1960
10 weeks on Vancouver's CFUN chart
Peak Position #2
Peak Position on Billboard Hot 100 ~ #84
YouTube: "And The Heavens Cried"
Lyrics: "And The Heavens Cried"
Ronnie Savoy was born in Detroit in 1941 (or 1939), and his birth name was Eugene Ronald Hamilton. Savoy told website Soul Source in 2016: "Our parents came to Detroit in the 1920s to get away from the South. My mother came from quite a comfortable background but my father had it more difficult – he had hustled on the streets since an early age, after his mother died, when he was only thirteen. He played guitar and wrote songs – his dream was to make it as a songwriter and a singer. He would play his guitar to us coming up, usually the blues. My older brother Bobby started to pick up on the blues chords, 'cause, being the eldest, he was the first to get a guitar, but we found that music too miserable and sad.' Although the seed was sown, no pressure was applied. 'My parents didn't push us into music, even though we all began to show promise at quite an early age. My father worked at Ford and advised us not to work in a factory. It was a very happy home environment. There were nine of us all together – three boys and six girls. Bobby was the spearhead. He encouraged and led us. He was the first to start writing his own songs and singing them and that inspired Kent and me. I guess the turning point for us was when we heard Billy Ward and the Dominoes. They were our greatest inspiration. Seeing them in concert in Detroit made me want to become an entertainer. I spoke to Marv Johnson years later about this and he confirmed that he'd had the same experience!"
Eugene Hamilton and his brothers got motivated to form a R&B group. He remembers, "In 1953, when Bobby was 16, I was 12 and Kent was only 10. I had a high voice and could sing like Clyde McPhatter. We called ourselves The Comets." Clyde McPhatter's first hit single with the Drifters, released in September 1953, was titled "Money Honey".
In 1956 Eugene Hamilton and his brother Bobby became part of a doo-wop group called the Nitecaps. At the time Eugene Hamilton's sister was dating the brother of singer Jackie Wilson. And so they got to know Wilson's manager – a gangster named Al Green (no relation to the singer). What happened next? ' "Man, we were pumped up and really gave it our best. They released four singles on us but none of them hit big. We got to sing with Cab Calloway, we sang background for Frankie Lyman and the Teenagers, sang on local TV in New York. Al Green got us gigs around New York and we worked in Montreal and Toledo, all over the north eastern States. We were one of the first groups to sing at the Fox Theatre too. Then there was a plan to go to Paris, France to perform but I'd decided to go back to New York and start my own career. That's when I became 'Ronnie Savoy'. My middle name is Ronald, so that was easy and I just thought 'Savoy', after the hotel, sounded classy."
In 1958 Ronnie Savoy had his first single release on the small independent label Candelo Records. The single was titled "Once And Only Once". The single had a nice saxophone accompaniment. Savoy was the labels third and final single release. And it's likely they just didn't have the promotional capabilities to market the song. Savoy years later in a 2016 interview with reporter Rob Moss, "I only did one record for them 'Once and only once' but they had no money so I quit." After stints singing at record hops and in clubs, a new opportunity arose. Savoy recalls, "I signed with MGM around 1960 after a brief spell with Gone Records, and I recorded 12 songs for them." In the fall of 1959 Ronnie Savoy released his first single on the Gone label. titled "Love Me As I Love You". It charted into the Top 30 at WKLO in Louisville, Kentucky. Based on his modest success, Savoy was able to switch labels and get a contract with MGM Records.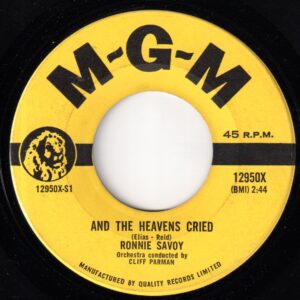 "And The Heavens Cried" had Ronnie Savoy backed by an orchestra conducted by Cliff Parman. While the B-side "The Big Chain" had an orchestra conducted by Stan Applebaum. Parman was a legendary arranger and conductor in the 50s and 60s. Other recording artists who he conducted orchestras for include Damita Jo, Connie Francis on "Too Many Rules", "Breaking In A Brand New Heart" and "Together", Chattanooga (TN) singer Tommy Charles 1955 regional hit "Our Love Affair", Boyd Bennett, Joe Henderson and Bonnie Guitar. Parman also arranged and wrote songs recorded for the Four Knights, Guy Lombardo, Eileen Barton, "Pretend" for Nat "King" Cole, Jim Reeves, Patti Page, Rusty Draper, Etta James, Conway Twitty, Roy Orbison, Bobby Helms, Gerry And the Pacemakers, Marvin Gaye, Brenda Lee, Bobby Curtola, Wink Martindale, Carl Mann, and others.
"And The Heavens Cried" was written by Al Elias (pseudonym for Gwenn Elias) and Irving Reid. Elias wrote songs recorded by the Silhouettes, Gerry Granahan, Sarah Vaughan, the Tokens, the Marcels and others. Irving Reid wrote songs recorded by Toni Arden, Ray Anthony, Perry Como, Les Paul and Mary Ford, Frankie Lymon and the Teenagers, Bobby Helms, the Playmates, Vaughan Monroe, Eddie Fisher, Julius LaRosa, Billy Eckstine, Red Foley, Shirley Bassey, Kathy Linden, Don Cherry, Little Willie John, Chuck Jackson, Solomon Burke, Joe Williams, June Valli, Nat "King" Cole and Della Reese.
"And The Heavens Cried" is a song about the aftermath of a relationship that ended. Savoy sings "She was mine only yesterday, both our heart beat as one. But then I felt her slip away, as a cloud stole the sun." From there the simile is ramped up to a fever pitch as Savoy heartbreakingly details the universal lament at the breakup. The heavens cry. The tears from heavens fill a stream. The stream fills a river, and a river fills the sea. Why? "All because she took her love away from me." As for the guy who has been rejected, he can't focus on moving forward. "Though each dawn brings the sun again, yesterday will remain." And on each and every day, his whole emotional focus goes back to the moment she left him and the clouds filled with rain.
Ronnie Savoy was among the most plaintive of singers. And he extended the sorrowfulness in the song by vocally enunciating "he-he-he-avens cri-i-i-i-ied. And the tears filled the stree-ee-ee-ee-eam….All because she took her love away from me-ee-ee-ee-ee."
Dr. Suzanne Degges-White writes in Psychology Today an article titled "5 Hard Truths About Breakups." She comments that 1) It is rarely easy to do, 2) It can hurt a lot, 3) Mutual friends may be lost, 4) You will be lonely, and 5) It will get easier. With "And The Heavens Cried", this advice from the psychologist is on target: "if the loneliness grows with time and impedes your normal functioning, you may want to speak with a counselor to help you work through this emotional response. Missing companionship is normal; obsessing or dwelling on your misery is not." The person in "And The Heavens Cried" is completely devastated by loss of a relationship. It seems the breakup is very recent, as the singer tells us "she was mine only yesterday."
In another article titled "How To Survive The First 7 Days Of A Breakup (Even Just Barely)," Kim Quindlen offers some advice. On Day One she suggests getting out of the house, crying as much (or as little) as you need to and getting whatever food (ice cream) or beverages (wine) you want. Spoil yourself. On Day Two she says "Accept the fact that you're going to feel very, very sad today and there's no way of getting around it." With the initial shock of the breakup receding, the sadness is likely to intensify. On Day Three Quindlen counsels this is the day that is not a nightmare. You don't feel like a zombie. You just feel really, really, really sad. On Day Four she suggests you may begin to be thinking about "living your life without that person." Of course, if you are the person in "And The Heavens Cried" you are nowhere near thinking about a life on your own. On Day Five she advises to be "kind to yourself." But avoid getting lazy or complacent. On Day Six she describes typical inner thoughts as: "You can never truly understand how something is going to work, how it will be possible to feel happy again, until you actually experience it." And on Day Seven she suggests "try doing something social."
"And The Heavens Cried" peaked at #2 in Vancouver (BC), #3 in Seattle, El Paso (TX) and Baltimore, #4 in York (PA), #5 in Phoenix and Allentown (PA), #9 in Tucson, #11 in Pittsburgh, #13 in Philadelphia, and #14 in Newport News (VA).
However, Savoy's single was passed over by most of the radio stations in almost 40 states across the USA. Consequently, it stalled at #84 on the Billboard Hot 100. "And The Heavens Cried" made a brief appearance for one week on the Cashbox Top 100 Singles chart on January 21, 1961, at #100.
Savoy recalls "'And the heavens cried' was a big hit. It allowed me to go on the Dick Clark Show, tour the country and even resulted in an extended stay in Guatemala until a revolution started down there so we came back to New York. [There were several military rebellions in Guatemala between 1961 and 1963]. I was with MGM for two years, then Philips in '62 and Epic in '63, then Mercury."
In the spring of 1961, Ronnie Savoy released his second single with MGM titled "It's Gotta Be Love". The single got little airplay outside of York, Pennsylvania. The flip side was "Bewitched" which was a minor Top 40 hit in Miami, with Savoy borrowing vocal techniques already popularized by Jackie Wilson. This was the song "Bewitched, Bothered And Bewildered," from the Rodgers and Hart 1940 musical Pal Joey. Savoy also released a cover of the Hank Williams country hit "Your Cheatin' Heart". New York-based conductor Sammy Lowe conducted the orchestra backing Savoy on the recording. A subsequent release on MGM was "Jungle Love Call (I Love You)". It was a novelty song in tune with some recent hits like "Kookie Little Paradise" by Jo-Ann Campbell and "Stranded In The Jungle" by the Cadets from 1956. The single was a musical frolic and a lot of fun with jungle calls.
When he switched to Philips, Savoy released a single titled "Big Hand, Little Hand". The song was cowritten by Hal David who would write many hits with Burt Bacharach. The song had a great arrangement, and Savoy gave it his best with evident Sam Cooke and Jackie Wilson influences. But Philips didn't push the record and it failed commercially. A second recording "21,000 Happiness Street" also generated little interest.
In 1964 Ronnie Savoy had a minor hit in Miami with "Sally Blue". That year Ronnie Savoy's brother Bob Hamilton, under the pseudonym Rob Recco produced the Top Ten pop hit "(Just Like) Romeo & Juliet" for the Reflections. Bob Hamilton shared songwriting credits as "B. Hamilton" with Freddie Gorman. (Gorman had written "Please Mr. Postman" for the Marvelettes. He went on to get work as a backing vocalist on some of Motown's hit records including "What Becomes Of The Broken Hearted" by Jimmy Ruffin, "For Once In My Life" and "Yester-Me, Yester-You, Yesterday" by Stevie Wonder, "War" and "Twenty-Five Miles" by Edwin Starr).
In 1965 Ronnie Savoy cowrote "Poor Man's Son", which was recorded by the British group the Rockin' Berries. They took the song to #5 on the UK singles chart.
Meanwhile, Savoy's brother Bob Hamilton was inspired to create a record label in Detroit that could rival Motown. Hamilton created Golden World Records and the label Wingate. In August 1965 Ronnie Savoy recorded a song he cowrote, with a lot of recognizable Motown influences titled "Memories Linger". The single was a local hit in Detroit. And in 1966 Savoy recorded "Pitfall" on the Tuff label. The song featured the updated musical arrangements of the time. Clearly, Ronnie Savoy was staying current with the shifting musical sound since he started out in the doo-wop era in the late 50s.
In 1966 Savoy's older brother, Bob Hamilton, was murdered during a dispute. Some websites mention a drive-by shooting. In the aftermath Ronnie Savoy's relationship with the owner at Golden World Records deteriorated. In 1966 Ronnie Savoy and his brother Albert, under the pseudonym Al Kent, wrote "The Whole World Is a Stage". The song became a Top Ten R&B hit for the Fantastic Four. Savoy also wrote a track for Bobby Taylor And The Vancouver's on their debut self-titled album released in 1968. Savoy also wrote songs that were recorded by the Drifters, the Persuasions, Millie Jackson and the Four Tops. As well, Ronnie Savoy produced a record for Dennis Edwards in 1966 before Edwards joined the Contours the following year.
Savoy headed to New York City and tried to make get steady gigs performing. He recalls "In 1968…set up our own label, Gold Dust Records but it didn't do too well. We had real trouble with distribution and promotion. We just weren't big enough I figured."
In 2002 Tuff Records released a CD titled The Soulful Side of Tuff Records. One of the 27 tracks on the CD was Ronnie Savoy's 1966 single "Pitfall". Tuff wrote on the CD liner notes "Due to the obscurity of these tracks this collection" contained recordings from vinyl and some tracks contained hissing sounds.
Writing for the UK website Soul Source in 2016, Rob Moss reported "By the end of the [1960s] decade Eugene Hamilton was back in Detroit and living in the same home he had grown up in. His brother was there too. They still live there today." On November 1, 2019, a post on The Vinyl World contained a photo of Ronnie Savoy performing at a recent event billed as Detroit A-Go-Go. The event was held at Leeds University, Linton Place, in Leeds, UK, from October 23-25, 2019. Ronnie Savoy was there along with Jr. Walkers All Star Band, Chris Clark and others.
May 26, 2021
Ray McGinnis
References:
Rob Moss, "The Al Kent and Ronnie Savoy Story," soulsource.co.uk, April 4, 2016.
Michael Jack Kirby, "The Reflections – (Just Like) Romeo and Juliet," waybackattack.com.
Ronnie Savoy, "Bewitched", MGM Records, 1961.
"Ronnie Savoy," Discogs.com.
"Detroit A Go Go Photos," thevinylworld.blogspot.com.
"Detroit A Go Go Poster," Detroitagogo.com, October 23-25, 2019.
Dr. Susanne Degges-White, Ph.D., "5 Hard Truths About Breakups," Psychology Today, October 28, 2014.
Kim Quindlen, "How To Survive The First 7 Days Of A Breakup (Even Just Barely)," thoughtcatalogue.com, September 23, 2015.
"C-FUN-Tastic 50," CFUN 1410 AM, Vancouver, BC, November 12, 1960.
For more song reviews visit the Countdown.