#812: Anyway You Want by Charity Brown
Peak Month: April 1976
9 weeks on Vancouver's CKLG chart
Peak Position #8
Peak Position on Billboard Hot 100 ~ did not chart
YouTube.com link: "Anyway You Want"
Lyrics: "Anyway You Want"
Phillis Boltz was born in Kitchener, Ontario. After she graduated from high school she started singing in a band called Landslide Mushroom. By the late 60s she was a lead vocalist in another Kitchener band called Rain, who she remained with into the early 70s. From the outset her stage name with Rain was Phyllis Brown. Among the singles they released was a "Out Of My Mind" in 1971. It became a Top 30 hit in a number of radio markets between the spring of 1971 and the winter of 1972.

In 1973 Brown left Rain. She was able to land a contract later that year with A&M Records. Though she still was called Phyllis Brown, she shortly changed her stage name again. Given her Motown-sound-alike vocals she bet that Charity Brown would be a name that was distinctive enough to help radio listeners remember her songs on the radio. Her debut single in 1974 was a cover version of the 1967 Martha & The Vandellas hit "Jimmy Mack". Building on her modest success she next released a cover of the 1962 hit for Mary Wells, "You Beat Me To The Punch". That year when Dionne Warwick first heard Charity Brown sing she said, "That lady has a big voice!"
In 1975 Charity Brown released her debut album, Rock Me. It included more soul and Motown covers. These included "Take Me In Your Arms (Rock Me A Little While)" a #4 R&B chart hit for Kim Weston in 1965 and a big pop hit for the Doobie Brothers in 1975. It was the Doobie Brothers coincidence of releasing that song as a single about the same time Charity Brown's single version was released that crowded her out of having the record really take off. She covered the 1964 Martha & The Vandellas hit, "Dancing In The Street", the 1962 hit for The Marvelettes, "Playboy", and the #1 Ruby & The Romantics hit "Our Day Will Come". Another one of the tracks on her debut album was "Saving All My Love".
In 1976 Charity Brown released the single "Anyway You Want".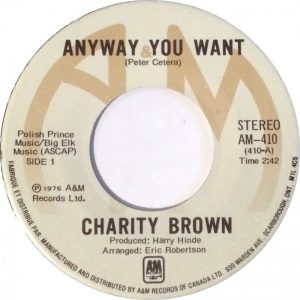 "Anything You Want" is a song written by Peter Cetera from the band Chicago. Cetera was born in Chicago and joined the Chicago Transit Authority in December 1967. They changed their name to Chicago in 1969. "Anything You Want" was recorded in 1975 on the Chicago VIII album. It was the first track on the album, but was not released as a single. The single Chicago released from Chicago VIII was "Harry Truman". The song was a Top 20 hit in numerous radio markets in Missouri, Illinois, Ohio, Pennsylvania, California, Connecticut, New York and Colorado (#5 in Denver). It got much less airplay in Canada. The second single from the album, "Old Days", was a Top Ten hit in Canada and the USA.
With Chicago enjoying a string of gold records, Charity Brown chose to record "Anyway You Want".
"Anyway You Want" is an uncomplicated song. The singer feels so good when they are with their lover. It's clear the other person knows they are loved and needed. In fact, no matter what the person who is the main squeeze does, they are accepted. The song is about someone who is completely satisfied to be with the person they love. Whatever the circumstances, they are fine to join in on the activity. Listeners who wanted to take from the song that this was about making love could make that inference. Other listeners could infer the person is just happy to be with their lover spending time doing whatever they want.
In 1975 Charity Brown was at that year's Juno Awards she was nominated for the Most Promising Female Vocalist. But she lost the nomination to Suzanne Stevens. In 1976, 1977 and 1978 Charity Brown was nominated for Female Vocalist of the Year. She lost to
Joni Mitchell
in 1976 and to Patsy Gallant in both 1977 and 1978.
Brown was a regular performer into 1980 going on tour to different clubs across Canada. She also appeared on a number of TV shows including Anne Murray's Ladies Night Show in 1978 and in 1979 on the Winnipeg based CBC show, Gerry and Ziz. A new album's worth of material was recorded but remained in the vaults (until 2007). She chose to retire in 1980, though she dabbled in animated features as a voice for different characters in two 1985 films: Rumpelstiltskin and The Velveteen Rabbit.
In 2007 Charity Brown appeared in concert at the Kitchener Blues Festival. She also released an album sampler for her forthcoming album, Wings of Time. The album was released some time later featuring her son, Michael Boltz, on drums.
May 11, 2018
Ray McGinnis
References:
Proudly Canadian: Charity Brown, Cashbox Magazine Canada, November 18, 2015.
Charity Brown, Canadian Bands.com.
"Vancouver's Official Music Survey" CKLG 730 AM, Vancouver, BC, April 6, 1976.
For more song reviews visit the Countdown.