#172: Are You Ready? by Pacific Gas & Electric
Peak Month: July 1970
10 weeks on Vancouver's CKVN chart
Peak Position #1
1 week Preview
Peak Position on Billboard Hot 100 ~ #14
YouTube: "Are You Ready?"
Lyrics: "Are You Ready?"
Charles E. Allen was born in 1942. He learned to play drums, but by the time he joined Pacific Gas & Electric, he became the lead vocalist. Glenn Schwartz, born in Cleveland, Ohio, in 1940, was the lead guitarist. Schwartz had previously been with the James Gang, and then when he was drafted into the United States Army, he went AWOL and moved to California. Tom Marshall was on rhythm guitar, and Brent Block on bass guitar. Frank Cook became the band's drummer. Born in Boyle Heights, Los Angeles, in 1942, Cook started drumming in his mid-teens. He was tutored by Murray Spivack, the sound designer for the 1933 film King Kong. Cook went on to play drums with jazz musicians: trumpeter Chet Baker, bassist Charlie Hayden and pianist Elmo Hope. Cook also collaborated with Shirley Ellis and Dodie Grey. He went on to become the first drummer for Canned Heat, and subsequently for Bluesberry Jam. Cook met Charlie Allen in Blueberry Jam. In 1967, Pacific Gas & Electric formed and in 1968 they released their debut album Get It On. The album included a recording of the African-American spiritual "Wade In The Water". The single made the Top Ten in Honolulu. Another track, "The Hunter", became a Top Ten hit in Melbourne, Australia, in 1969.
Pacific Gas & Electric appeared at the Miami Pop Festival, and the band subsequently was signed to Columbia Records. The band's second self-titled album, Pacific Gas & Electric, was released in 1969. It included these liner notes: "The desire to play music together has brought each member of our group as close as brothers. We think of the Pacific Gas and Electric not as just a music group, but a brotherhood we've found that if there is a bad karma going down between any members of the group, the music does not fall together. We have to live with one another to play music with one another. The PG&E is not a band, but an experiment in brotherhood. Out of musical necessity we had to learn tolerance and patience with one another off the stage, before we could boogie on stage. Five more different and divergent personalities could not be conceived of – a Jew, a Christian, a Black, a Greaser, and a WASP. What we have learned about one another in the year and a half we've been together as PG&E is: No matter how different we are in philosophies and life styles, the common denominator is the music."
Pacific Gas & Electric was one of the few pop-rock bands with both black and white members. Another was The Equals, who in 1968 recorded "Baby Come Back" with lead singer Eddy Grant. Others were Booker T. and the MGs, Sly & The Family Stone, Eric Burdon's backing band War (consisting of six black men and a Dannish harmonica player), Tower of Power, Rufus, Average White Band, KC and the Sunshine Band, Hot Chocolate, The Traamps, The third album released in 1970 was Are You Ready? The title track was released as a single.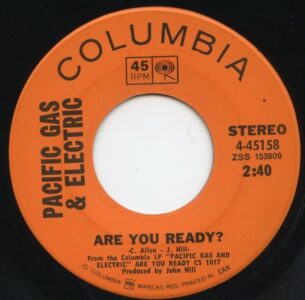 "Are You Ready?" included backing vocals by the Blackberries featuring Merry Clayton, who was a featured vocalist in the Rolling Stones' "Gimme Shelter". Charlie Allen wrote the song with the producer John Michael Hill. The song opens with a montage of news stories certain to send even the optimists running for cover: "There's rumors of war, men dying and women crying. If you breathe the air you'll die." However, a new day is dawning because Jesus Christ is going to sit on "His throne" and "carry you home." The song asks listeners in light of this prophesied coming "Are you ready?"
The singer of "Are You Ready?" notices there are a lot of "brothers and sisters…stumbling along to do their thing." But why stumble when you can let love be your song? Love is the best music ever and "it's easy to sing." The new day that's dawning is gonna bring "sunshine" and "flowers growing." In a nod to James Brown, the singer shouts "Say it loud one more time."
"Are You Ready?" peaked at #1 in Vancouver (BC), #2 in Sioux Falls (SD), #3 in Sarasota (FL), Tulsa (OK), Victoria (BC), #4 in Los Angeles, San Bernardino (CA), Portland (ME), Fresno (CA), Buffalo, #5 in New Haven (CT), Fort Lauderdale (FL), Akron (OH), Dayton (OH), Salt Lake City, and Minneapolis/St. Paul, #6 in Rochester (NY), Flint (MI), Philadelphia, St. Louis, Kansas City (MO), Des Moines (IA), and Council Bluffs (IA), #7 in Miami, Ann Arbor (MI), Bowling Green (KY), Washington D.C., #8 in Chicago, Wilkes-Barre (PA), Peace River (AB), Saint Charles (MO), Albuquerque (NM), and Newport News (VA), #9 in Hartford (CT), Phoenix, Syracuse (NY), Fort Worth (TX), and Eau Claire (WI), and #10 in San Jose (CA) and Nashville.
Coinciding with the peak of their popularity, Pacific Gas & Electric toured across America. One of their concerts was in San Francisco at Filmore West.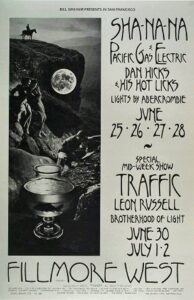 While the single made the Top Ten in numbers of radio markets, it got next to no airplay in over 15 states across the USA, causing it to stall at #14 on the Billboard Hot 100.
Pacific Gas & Electric put an advertisement in Rolling Stone, with an early attempt at shocking readers. Lead singer, Charlie Allen, depicted hanging on a cross, resembling the crucifixion of Jesus of Nazareth "the Christ."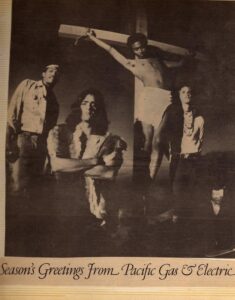 Still, Pacific Gas & Electric showed promise with a Top 20 hit single in the USA. Unfortunately, the band members soon left Charlie Allen on his own. Glenn Swartz left the band first, declaring he couldn't continue with the "sinful life of a rock musician." Tom Marshall had become egotistical and difficult to be around, so he was let go. Frank Cook was in a bad auto accident, hit by a drunk driver head-on while driving on Sunset Blvd. He lost about three-quarters of his right kneecap. Charlie Allen had to rebuild the band. Ron Woods replaced Frank Cook on drums. Kenny Utterback became lead guitarist. A followup track from the album, "Father Come Home" got little airplay. One of the new members was Stanley Abernathy, who went on to play with B.B. King.
Pacific Gas & Electric appeared in the 1972 film Tell Me That You Love Me, Junie Moon. Brent Block remembers, "We were in the background, playing on a marina in San Diego, while the main scene was actually in a resturaunt. We were then asked to contribute to the soundtrack album." Pacific Gas & Electric released a cover of the Martha & The Vandellas 1963 Top Ten hit "(Love Is Like A) Heat Wave". But, aside from being a regional hit in Colorado, it failed to earn the band a followup hit to "Are You Ready?"
In 1973 the band's last album, Pacific Gas & Electric starring Charlie Allen, was released on the Dunhill label. By this time Allen was the only original member, and the album was effectively Allen's debut solo album.
A reflection by the remaining Pacific Gas & Electric bandmates, after Brent Block left the band offers a picture of what was unfolding before the original group disbanded. "We all had been drinking Jack Daniels like water for some time and a couple of us were now seeing the downside. Charlie continued to have mini-psychotic episodes in reaction to his coke and drinking and scared us a number of times. Frankie (our bass player), who lived with him in North Hollywood for a time, reported that Charlie woke up one morning after a coke binge, grabbed his gun, paced around the house for a bit and then said to Frank, "Where's my coke?". Frank knew that they had snorted it all up the night before, but Charlie wasn't so clear on it. As the reality of having no coke sunk in, Charlie proceeded to go out on the balcony and take a few shots at Jinx Dawson, the singer from Coven. She was sunning herself on the roof of her house down the hill from Charlie's place. I don't know how we never got busted for some of the stuff we did."
Frank Cook had been a professional drummer, manager, and record producer until age 37, when he acquired the last few credits he needed to graduate Cum Laude in Philosophy at UCLA. He went on from there to obtain three Doctorates. An honored, loved and respected psychologist/psychoanalyst, he also taught at several institutions, including The New Center for Psychoanalysis. He sought out a Cuban dance teacher, and in time was married to her. Dr. Frank Lenord Clayman-Cook died in 2021
After converting to Christianity and spending some time with The All Saved Freak Band in the late 1970s, Schwartz spent much of his time playing at locations in the Flats. Fellow musicians including Walsh and Dan Auberbach of The Black Keys later celebrated Schwartz's 75th birthday at Coachella in 2016. Glenn Schwartz died in 2018 at the age of 78.
Brent Block wrote on the Pacific Gas & Electric Facebook page that as of 2006 "Tom Marshall is homeless, and has been for about twenty years. From the time of our first phone conversation, all involved were determined to get Tom some help. Through a very good friend of mine in Los Angeles, I learned there is a foundation that treats musicians with chemical dependency. We put Tom up in a hotel that night, not wanting to lose track of him again. I contacted the foundation to see if Tom would qualify for their rehabilitation program. On the one hand he did because he had been a working musician. On the other hand was doubt. The person at the foundation took time out of a busy schedule to council me in a straightforward and forthcoming manner. It seems Tom has just been on the street too long, and he's in such a state of mental degeneration that theres no way he's in a place to admit to his problem and commit to a program. I know because, using the counseling, I tried. At the end of our two day visit with Tom, Nick, Ryan, and I had to stand and watch as Tom walked away to the subway station. We had no choice but to allow him to return to his routine."
Brent Block has posted on the Pacific Gas & Electric Facebook page this about himself: "I went into teaching music and taking college courses. Some instructors I studied under started a publishing company called "Professional Music Products". I did about 7 books for them. I taught guitar at various places, including Valley Arts Guitars, which I had started at in 1975. It was THE place to be. I remember such stars as Howard Roberts doing workshops there. My studio was right below the room where Paul Rivera was testing his amps. I also taught some classes at the Dick Grove School of Music. I decided that if I was really going to be serious about teaching, I'd better get my degree, which I recieved in 1996, and I now teach at independent schools here in California."
Charlie Allen died days after his 48th birthday in 1990. On the Pacific Gas & Electric Facebook page it states that "his drinking caught up with him."
Pacific Gas & Electric Co. performed in Quebec City. Though setlist.fm and concertarchives.com doesn't list a concert appearance in Vancouver, readers of this post recall a concert with Pacific Gas & Electric Co. together with Janis Joplin and Redbone. I'd be happy to get information – concert poster, concert date – and update this write-up.
April 22, 2022
Ray McGinnis
References:
"Cleveland musician Glenn Schwartz dies at 78," WKYC, Cleveland, Ohio, November 3, 2018.
"Dr. Frank Lenord Clayman-Cook, Obituary," Los Angeles Times, September 9, 2021.
Pacific Gas & Electric/PG&E Band Facebook page.
John Ross, "When the Funk was Flamin' –Interracial Funk in the '60s and '70s," Medium.com, April 5, 2019.
"Your Average Rock & Roll Radio Survey," CKVN 1410 AM, Vancouver, BC, July 10, 1970.
For more song reviews visit the Countdown.