#274: Armageddon by Prism
Peak Month: September 1979
15 weeks on Vancouver's CFUN chart
Peak Position #7
Peak Position on Billboard Hot 100 ~ did not chart
YouTube: "Armageddon"
Lyrics: "Armageddon"
In 1967 a new rock group appeared on the Vancouver scene called the Seeds of Time. They had several local hits including "My Home Town" and "Crying The Blues". There were a number of lineup changes, but the bands personnel included drummer Rocket Norton, guitarist Lindsay Mitchell, and bassist Al Harlow. These three reunited after the Seeds of Time disbanded in 1974. After a brief stint as an R&B band called Sunshyne, they became Prism under Lindsay Mitchell's initiative. In the band were new singer Ron Tabak, bassist Tom Lavin, keyboard player John Hall and drummer Rodney Higgs. Higgs was actually a pseudonym for Jim Vallance, the future songwriting partner of Bryan Adams. The band released a self-titled album in 1977 that included two local singles "Take Me To The Kaptin" and "It's Over". Anther single, "Spaceship Superstar", made the Top Ten in Ottawa, Hamilton and London (ON) in the winter of 1977-78.
As their line-up changed, their second studio album included ex-Seeds of Time drummer Rocket Norton, bassist Al Harlow and guitarist Lindsay Mitchell. "Take Me Away" was the first of two singles released on the band's second studio album, See Forever Eyes. The second single, "Flyin'", was the more commercially successful release peaking at #53 on the Billboard Hot 100. The album was produced by Vancouverite Bruce Fairburn who went on to produce successful albums by Loverboy, Strange Advance, Bon Jovi, Aerosmith, Poison, AC/DC, Chicago, Van Halen, Yes, KISS and other recording artists. Fairburn would produce Prism's first four studio albums.
On Prism's next album, Armageddon, had the title track climb to #7 in Vancouver.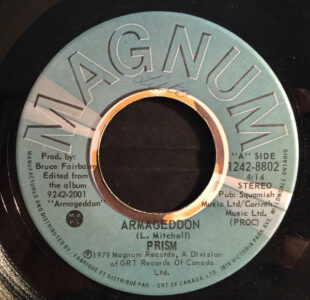 "Armageddon" is a song written by Lindsay Mitchell. The opening verse describes fans of Elvis Presley waiting outside Graceland, in Memphis. The National Guard is there, and many believe Elvis 'faked' his death in order to get out of the limelight. Fans who believe this expect Elvis to return, and wait for signs of him to reappear. Since Elvis Presley died at the age of 42 on August 16, 1977, there have been yearly reports in the news of fans who believe they've spotted Presley. As Prism's song is titled "Armageddon", the inference is that this hype and media frenzy about whether Elvis Presley is still alive – despite reports of his death and coverage of his funeral in 1977 – is a sign of the end times.
Jerry Brown met pop star Linda Ronstadt in 1971, when he was 33 and she was 25. She had recently received a Grammy Award in 1970 for her single "Long, Long Time". In 1974 Brown became Governor of California. Meanwhile, Ronstadt had chart-topping hits "You're No Good" and "When Will I Be Loved". They were receiving much attention from the media as reporters became aware of their romance. Writing in Pophistorydig.com, Jack Doyle reports that in Brown's 1976 Presidential bid for the White House:
"Brown had Ronstadt's help and that of others from the rock music business. Ronee Blakley, Helen Reddy, Jackson Browne, Joni Mitchell and Ronstadt all performed at various times for Brown at fund-raisers and rallies.
At one "Brown For President" benefit concert event held at the Capital Center in Maryland in mid-May 1976, Brown joined Ronstadt, The Eagles and other performers on stage briefly, waving to the audience. Although Jerry Brown's run for the presidential nomination ended, and he went back to being Governor of California, there would be more Jerry Brown presidential politics in the future."
Was a politician dating a pop star a sign of the end times? Perhaps Lindsay Mitchell is having fun with the hype around Armageddon. The term, Armageddon comes from the Bible found in Revelation 14. There are 144,000 who are the faithful believers. And there is prophesied gathering of armies for a battle during the end times, which is variously interpreted as either a literal or a symbolic location. A number of angels have sickles, and some preachers suggested that the sickle was a sign of war with the Soviet Union, whose flag included a sickle. The nickname for the Soviet Union flag was the 'Hammer and Sickle.'
In the lyrics of "Armageddon" there is reference to "red phones" that ring in a blackout. while the "president's sleeping in his shoes." In 1963 a hotline was established between Moscow and Washington, with links between the Pentagon and the Kremlin. After the Cuban Missile Crisis of October 1962, United States President John F. Kennedy and the Soviet Union leader Nikita Khrushchev signed the Hot Line Agreement in June 1963. This was the first time they formally took action to cut the risk of starting a nuclear war unintentionally. In popular culture, in the 1964 film Dr. Strangelove and in other films, the line between Moscow and Washington was represented as a Red Phone.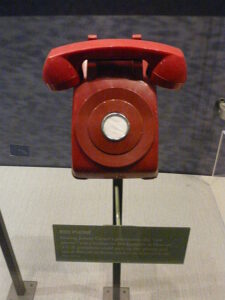 Above: a non-dial "Red Phone" which is on display in the Jimmy Carter Library and Museum. This telephone is actually a prop, erroneously representing the hotline between Washington and Moscow.
During the Cold War – from 1947 to 1991 – both the United States and the Soviet Union were in a state of readiness to deploy nuclear weapons, and conventional armaments against the other. The doctrine of Mutually Assured Destruction – MAD – reasoned that neither would actually fire nuclear weapons against the other. As both nations would be annihilated. The reference in "Armageddon" to "scrambling all the F-15s," is regarding the McDonnell Douglas fighter jet F-15. This was the tactical fighter jet that the United States Air Force selected in 1969 to achieve air superiority in the event of any battle to guard the nations' skies.
"Armageddon" peaked at #7 in Vancouver (BC), #10 in Toronto and #12 in Ottawa (ON).
Local singer-songwriter, Bryan Adams, wrote (or co-wrote) three tracks on the album: "Jealousy", "You Walked Away Again" and "Take It Or Leave It". Another hit off the Armageddon album was a song titled "Night To Remember". In 1980, Prism had another Top Ten hit in Vancouver with "Young And Restless", which peaked at #9 on CFUN in July of the year.
After "Young And Restless", Bryan Adams cowrote two songs for Prism's fifth studio album, Small Change. The album featured their hit singles "Don't Let Him Know" and "Turn On Your Radar". The former song climbed to #39 on the Billboard Hot 100, their best chart run south of the border to date. "Turn On Your Radar" climbed to #64 on the Hot 100. The song didn't chart well across Canada and missed cracking the Canadian RPM Top 100 singles chart. But in Vancouver the song climbed to #11.
Ron Tabak, Prism's lead vocalist would later die at the age of 31 in a cycling accident on Kingsway. He was hit by a motor vehicle on his way to bandmate Al Harlow's home for dinner in Kitsilano, on the west side of Vancouver, Christmas Eve, 1984.
The band had a reunion concert in 1987 and included local musician, Paul Janz, offering back-up vocals. In 1993 the band released their first album in ten years, Jericho, that included vocals from Paul Janz and Bryan Adams. A number of studio and compilation albums have been released as well as numerous changes in the band's lineup.
In 2010 Al Harlow had an interview with musiclegends.ca to discuss Prism being on tour with Doug and the Slugs in Nova Scotia. Harlow reported that Prism had more recently been playing about 50 concerts a year. At the time, Prism was continuing to tour promoting their 2008 album Big Black Sky.
On May 22, 2015 a "Local Legends of Rock" concert featuring Ab Bryant, John Hall, Al Harlow, and Rocket Norton, was held in Lynn Valley, North Vancouver. It was billed as a "Prism / Jet / Seeds of Time Reunion Concert." At the concert Al Harlow said, "Here's a disclaimer; this isn't the reunion of any one band, but it might be the reunion of 3 or 4 bands." Sunshyne would have been the fourth band implicit in the reunion given Prism's roots.
In mid-June 2018, Prism has seven concert dates listed on their website between July and September, 2018, across British Columbia, Alberta, Saskatchewan and Ontario.
August 4, 2021
Ray McGinnis
References:
Xavier Diaz, Al Harlow and Lindsay Mitchell, Prism, Canadian Bands.com
Prism – bios, Prism.ca.
"Tragic Story of Ron Tabak," Tofinophotography.com.
Jason Saulnier, "Prism Interview – Guitarist Al Harlow talks Touring with the Band," musiclegends.ca, August 6, 2010.
Callum Crumlish, "Elvis Presley 'alive': Photo shows King 'attending Michael Jackson's funeral in DISGUISE'," Express, London, UK, September 9, 2020.
Sam Gilette, "Looking Back at Rocker Linda Ronstadt's Decades-Long Bond with Former Gov. Jerry Brown," People, May 15, 2020.
Jack Dayne, "Linda & Jerry: 1971-1983," Pophistorydig.com, 2014.
"Moscow–Washington hotline," Wikipedia.org.
"Mutually Assured Destruction," Wikipedia.org.
"McDonnell-Douglas F-15 Eagle," Wikipedia.org.
"C-FUN Top Thirty," CFUN 1410 AM, Vancouver, BC, September 15, 1979.
For more song reviews visit the Countdown.