#427: Badge by Cream
Peak Month: May 1969
8 weeks on Vancouver's CKLG
1 week Hit Bound
Peak Position #2
Peak Position on Billboard Hot 100 ~ #60
YouTube: "Badge"
Lyrics: "Badge"
Peter Edward "Ginger" Baker was born in 1939 in South London. He excellent at British football in his teens. At age fifteen he began to play drums and took lessons from iconic British jazz drummer Phil Seaman. In 1962 Baker joined Blues Incorporated along with Jack Bruce and others who played at the London Blues and Barrelhouse Club. In 1963, Baker was one of the founding members of a jazz/rhythm & blues band, called The Graham Bond Organisation, spelled the British way. Jack Bruce also joined the band. The band appeared in the 1965 UK film Gonks Go Beat, which also featured Lulu and the Nashville Teens.
John Symon Asher Bruce was born in 1943 in Lanarkshire, the lowlands of Scotland. He learned to play the cello in high school and played in school jazz bands. After leaving school he toured Italy, playing double bass with the Murray Campbell Big Band. While they were in several bands together, Baker and Bruce didn't get along very well. And in 1965, Jack Bruce left The Graham Bond Organisation for John Mayall & the Bluesbreakers. It was with this band that Bruce met Eric Clapton.
Eric Patrick Clapton was born in 1945 in Ripley, Surrey, 25 miles southwest of London. He was given a guitar for his thirteenth birthday. By age sixteen he was busking with his guitar in the West End of London, and several suburbs. When he turned seventeen Clapton joined a band called the Roosters. An opportunity to join the Yardbirds came in October 1963, and Eric jumped at the invitation. Clapton stayed with the Yardbirds to record their first major hit "For Your Love", in early 1965. Due to a more pop-music oriented direction, Clapton left the Yardbirds to briefly join John Mayall & the Bluesbreakers. But Clapton was still not settled. In 1965, he collaborated with Jimmy Page and others billed as The Immediate All Stars. In 1966, he went on with Jack Bruce and Steve Winwood to form Eric Clapton and the Powerhouse. In July 1966, Eric Clapton was invited by Ginger Baker to join him with Jack Bruce to be part of their new band called Cream.
In their lineup, Jack Bruce provided lead and backing vocals, bass guitar, keyboards, piano, harmonica, cello and acoustic guitar. Eric Clapton provided lead and rhythm guitars, backing and lead vocals. And Ginger Baker anchored the band with drums, percussion, backing and lead vocals. In 1966 Cream performed 74 concerts. In the fall of 1966, Cream went to the recording studio and in December 1966 released their debut album, Fresh Cream. Though it was not included on the UK pressing, the first track on Side One of the North American album was a song titled "I Feel Free".
As "I Feel Free" was climbing the pop chart on CKLG in Vancouver, Cream went to the studio and recorded Disraeli Gears. The album became a huge breakthrough for the band across North America in the winter of 1967-68. Cream was also involved in a grueling schedule of 172 concert and TV appearances. in 1967. Disraeli Gears topped the album charts in Australia and Finland, and climbed to #4 in the USA. In 1999 Disraeli Gears was given a Grammy Hall of Fame award for Historical/Lasting Rock Album. The hit single from the album, "Sunshine Of Your Love" peaked at #5 on the Billboard Hot 100, #1 in Hamilton (ON), Toronto and Edmonton (AB), and #2 in Calgary (AB) and Windsor (ON). But in Vancouver the single didn't make the pop chart.
On June 2, 1968, Cream performed in concert at the Pacific Coliseum in Vancouver. In July Cream made an official announcement that the band would breakup after the current tour of North America was over. Between January and June 1968, Cream had given ninety performances. Then, in August 1968 Cream released a double album titled Wheels Of Fire. The album topped the US and Canadian album charts, and peaked at #2 in France and #3 in the UK. The album included two hit singles, "White Room" and "Crossroads." Both songs charted into the Top Ten in Vancouver, with "White Room" peaking at #4 and "Crossroads" climbing to #8. The band performed on nine more occasions on their final tour between October 4th and 19th.
Cream was persuaded to go back to the studio to make one more album. The outcome was the Goodbye album released in February 1969. It topped the UK album charts and climbed to #2 on the Billboard 200 album chart. The single release from the album was "Badge".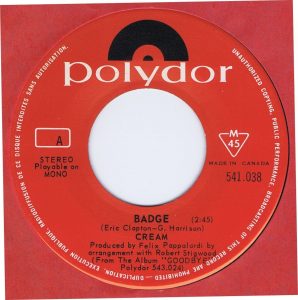 "Badge" was cowritten by Eric Clapton and the Beatles' George Harrison. Recalling the songwriting, Harrison said later "I helped Eric write "Badge" you know. Each of them had to come up with a song for that Goodbye Cream album and Eric didn't have his written. We were working across from each other and I was writing the lyrics down and we came to the middle part so I wrote 'Bridge.' Eric read it upside down and cracked up laughing – 'What's BADGE?' he said. After that, Ringo [Starr] walked in drunk and gave us that line about the swans living in the park."
So, "Badge" got its title from Eric Clapton misreading the word "bridge" which Harrison had written down for the part in the song where there is a bridge between other verses. The songs' lyrics recall a relationship that has ended. The singer is "thinking 'bout the love that you laid on my table." This seems to be very much in the past. He tells his former partner "'bout our kid, now he's married to Mabel." Here is a mother who seems to have lost contact with her own son, enough to warrant the father of the child informing her that her son is married to a woman named Mabel. Why has she not heard about her sons' marriage from him firsthand? Did she cut off her relationship with him? Did he cut off his relationship with his mother? Is this about a loss of memory? The song lyrics leave us with fragments of a picture and the listener is left to make meaning.
Elsewhere in "Badge", back in the day, he found it necessary to warn her not to "wander 'round in the dark." He also thinks, given the relationship dynamics, "that I might have drove you too far."
There is evidently some problem with the way she drives. He thinks back to the times when she drove in his car. She hasn't noticed that the wheel goes round, or that the lights go up and down. And so he makes an effort to help her notice these details. More concerning, he tells her "you'd better pick yourself up from the ground before they bring the curtain down." Has she been going through hard times? Is bringing down the curtain suggesting an end to her career? The description of this woman we glimpse through the lyrics suggest some lack of capacity or impairment.
"Badge" peaked at #2 in Vancouver (BC), #3 in Milwaukee (WI) and Kalamazoo (MI), #4 in Jacksonville and Fort Lauderdale (FL), #5 in Pointe Claire (PQ), #6 in Indio (CA), Rochester (NY) and Saint Charles (MO), #7 in Seattle and Wichita (KS) and #8 in Wilkes-Barre (PA). "Badge" stalled at #60 on the Billboard Hot 100 as it got little or no airplay in over thirty states. Internationally, the single made the Top 20 in Austria, Netherlands and the UK.
Cream split in early 1969, which happened to coincide with the breakup of Traffic. Clapton and Baker from Cream, joined Steve Winwood and Ric Grech from Traffic to form Blind Faith. Their self-titled debut album, Blind Faith, proved to be their only trip to the recording studio. The album was one of ten that topped the Billboard 200 album chart in 1969. It was also a huge international seller exceeding 8 million in sales. However, after touring in the summer of '69, Blind Faith split up that October.
When Blind Faith went on tour in 1969, Clapton invited Delaney & Bonnie to be the opening act. And he also performed with them. After Blind Faith split, Clapton continued to perform with them in Delaney, Bonnie & Friends. In December 1969 Clapton was in the recording studio with Delaney and Bonnie Bramlett, George Harrison, Rita Coolidge, Dave Mason and others. The outcome was an album titled On Tour with Eric Clapton, which included the hit single "Only You Know And I Know". Clapton also appeared on their sixth album released in 1972 titled D&B Together. Concurrently, in 1970 Eric Clapton formed Derek and the Dominos. They released "Layla" from their sole studio album in 1970. Initial sales were weak. However, the song became Top Ten hit in 1972, despite its length of seven minutes and eight seconds. "Layla" climbed into the Top Ten in Canada, Ireland, Japan, Netherlands, New Zealand, Poland, the UK and USA. It had its best chart run in Puerto Rico where it peaked at #1. The song won Eric Clapton a Grammy Hall of Fame award in 1998 for a Historical/Lasting Rock Single. The 1970 album Layla and Other Assorted Love Songs also won Eric Clapton a Grammy Hall of Fame Award in 2000 for Historical/LastingRock Album.
In addition, Eric Clapton pursued a solo career. In 1970 he released a self-titled debut album which included the single "After Midnight". But he struggled with heroin addiction and retreated from the spotlight for a few years. In 1974 he went back to the studio and released 461 Ocean Boulevard. The album gave him a number one hit single "I Shot The Sheriff", a cover of a 1973 record by Bob Marley. The single won Clapton a Grammy Hall of Fame Award in 2003 as a Historical/Lasting Rock Single. And in 1977, on his fifth studio album, he had success with "Lay Down Sally" and "Wonderful Tonight". Through the 80s, Eric Clapton was mostly successful on the Mainstream Rock charts. Still, he managed on Top Ten hit on the Billboard Hot 100 that decade with his 1981 release of "I Can't Stand It".
But it was the 1990s where Eric Clapton re-emerged to top the pop charts for the first time. In 1991 he penned "Tears In Heaven". The song was about the death of Clapton's four-year-old son, Conor. On March 20, 1991, Conor died after falling from the 53rd-floor window of a New York City apartment belonging to a friend of Conor's mother. The single won Clapton three Grammy Awards in 1993: Record of the Year, Song of the Year and Beset Male Pop Vocal Performance. He also won at the February 1993 Grammys Album of the Year for Unplugged, and Best Rock Song for his acoustic version of "Layla". At the 1997 Grammys, Clapton won both Record of the Year and Best Male Pop Vocal Performance for "Change The World". And in "My Father's Eyes" won him a Grammy Award for Best Male Pop Vocal Performance. Over the decades Eric Clapton has recorded 21 studio albums, released 26 singles and 14 live albums. Eric Clapton has been nominated/considered for 42 Grammy Awards since 1969, and has been awarded 22 Grammy Awards. Among his other awards, Clapton won in the Best Traditional Blues Album category for From The Cradle (1995) and Riding with the King (2001). He also won a Grammy Award for Best Contemporary Blues Album in 2008 for The Road to Escondido. Among his many nominations for a Grammy Award is one for Best Rock Performance by a Duo or Group with Vocal for his 1994 recording of "My Back Pages".
After Blind Faith split, Ginger Baker formed Ginger Baker's Air Force, with Steve Winwood, Ric Grech and others. The short-lived jazz-fusion band recorded two albums. Baker established a recording studio in Lagos, Nigeria in 1971 where Paul McCartney and Wings recorded Band On The Run. In 1974 Baker formed Baker Gurvitz Army, a Jazz-Afrobeat band. After one of the Nigerian musicians died in a plane crash in 1976, the band broke up. Through the 1980s, Ginger Baker lived on his olive farm in Tuscany and retreated from music. He also finally kicked a heroin habit he'd developed playing at jazz clubs in London in the mid-60s. In 1993 Baker formed a trio with Jack Bruce and Gary Moore called BBM, who released one album. He had problems with U.S. immigration due to his past drug history. After living in Colorado between 1993 an 1999 he returned to Europe.
Jack Bruce went on to record several solo albums. In 1972 he joined two ex-Mountain bandmates to form West, Bruce & Laing. He formed his own band in 1976 which went under several titles, but ran into financial and health problems due to his drug habit. His recording output was intermittent. Between 1981 and 200o he released just four albums. Although, he continued to record new material, including his 14th studio album in 2014.
At Clapton's request, Cream reunited for a series of four shows, on May 2nd, 3rd, 5th and 6th, 2005, at the Royal Albert Hall in London. This was the same venue where they performed their final concerts in October 1968. Cream subsequently performed three concerts at Madison Square Gardens in New York City, October 24-26, 2005. Eric Clapton has been given a Grammy Lifetime Achievement Award and made an Officer of the Order of the British Empire, and in 2004 promoted to Commander of the Order of the British Empire.
Ginger Baker released 18 solo albums, his final one being Why in 2014. He died at the age of 80 in 2019 after a series of heart-related illnesses. Jack Bruce died of liver disease in 2014 at the age of 71. On March 30, 2020, Clapton turned 75.
June 26, 2020
Ray McGinnis
References:
Bob Elliott, "Wheels of Fire to Burn Out: The Gig List 1968," net space, Australia.
"Cream bassist Jack Bruce dies, aged 71," BBC, October 25, 2014.
Mark Savage, "Ginger Baker: Legendary Cream drummer dies aged 80," BBC, October 6, 2019.
Elias Leight, "10 Things We Learned From 'Eric Clapton: Life in 12 Bars' Doc," Rolling Stone, February 9, 2018.
"List of Awards and Nominations Received by Eric Clapton," Wikipedia.org.
"Boss 30," CKLG 730 AM, Vancouver, BC, May 16, 1969.
For more song reviews visit the Countdown.