#1396: Ballad Of The One Eyed Jacks by Johnny Burnette
Peak Month: May 1961
6 weeks on Vancouver's CKWX chart
Peak Position #16
Peak Position on Billboard Hot 100 ~ did not chart
YouTube.com: "Ballad Of The One Eyed Jacks"
John Joseph "Johnny" Burnette was born in Memphis, Tennessee, in 1934. When he was four his dad bought him a Gene Autry guitar, along with one for his older brother, Dorsey. During his teens, Johnny was a member of the school baseball and football teams. Along with his older brother, Dorsey, Johnny began appearing on Memphis radio stations and playing gigs for beer money, kicks and girls. Johnny Burnette was only 17. From 1948 to 1954, the Burnette brothers lived in a housing project in the Lauderdale Courts area of Memphis. This was the same housing project where Elvis Presley and his parents lived. After leaving high school, Johnny Burnette tried to become a professional boxer, However, after one fight with a sixty-dollar purse and a broken nose, Johnny Burnette traded in his boxing gloves to work on the barges up and down the Mississippi River. In 1953, an amateur boxer named Paul Burlison, returned from the U.S. Army to Memphis. Dorsey had met Paul Burlison when he was boxing in the late '40's. Dorsey, Johnny and Paul formed a trio named the Rhythm Rangers. They later renamed themselves the Rock and toll Trio. They first performed "Rockabilly Boogie" in 1953. The songs' title was made up from the name of cousin a of the Burnette brothers named Rocky, together with the name Billy. From that songs first performance the term rockabilly was coined. Johnny Burnette is singing the lead on this with Dorsey Burnette on guitar.
The Rock 'n Roll Trio appeared on American Bandstand, the Steve Allen's Tonight Show and Perry Como's Kraft Music Hall. In the summer of 1956, The Rock 'n Roll Trio toured with Gene Vincent and Carl Perkins. They also appeared in Madison Square Garden on a live broadcast of the Original Amateur Hour on ABC. But the Rock 'n Roll Trio came to be billed as Johnny Burnette and the Rock 'n Roll Trio. Dorsey didn't like the way the groups agents marketing of the trio or his brother Johnny's leap into the limelight. In September 1956, Dorsey quit the trio just before their planned appearance in the film Rock Rock Rock featuring rock 'n roll DJ Alan Freed. Although Dorsey was replaced, the Rock 'n Roll Trio disbanded by the fall of '57. Before the Trio disbanded, Johnny Burnette had a regional Top Ten hit in Boston in the winter of 1956-67 titled "The Train Kept A-Rollin'". He made the Top 50 on CHUM in Toronto in the fall of 1957 with "Butterfingers".
Dorsey had moved to California where he was an electrician. Johnny hitchhiked out to Los Angeles. The brothers tried to follow their dream and audaciously stepped up the street where Ozzie and Harriet Nelson lived in Beverley Hills. They asked to speak to their son, teen idol Ricky Nelson. At that moment Ricky Nelson came up the driveway in his motorcycle. Nelson asked Dorsey and Johnny to perform in front of him on the spot. Of the ones Ricky Nelson recorded Johnny and Dorsey co-wrote "Waiting' In School" and "Believe What You Say". This songwriting success led to a record deal with ERA Records.
However, the Burnette Brothers failed to chart anything nationally in the USA. Johnny Burnette got a record deal with Freedom Records in 1958. He wrote a number of songs and released three singles which were each commercial failures. Freedom Records shut down in 1959 and Burnette moved to Liberty Records under the direction of Snuff Garrett. Johnny had a minor hit in January 1960 titled "Settin' The Woods On Fire", a Top 30 hit in Chicago. His next release was "Dreamin'", which climbed to #6 on C-FUN in July 1960 and #11 on the Billboard Hot 100. After the last week of August 1960 that "Dreamin'" was on the pop charts in Vancouver, the B-side, "Cincinnati Fireball" entered the C-FUN chart at #50 on September 3, 1960. "Cincinnati Fireball" eclipsed the chart run for "Dreamin'" in Vancouver, peaking for two weeks at #3. The only other radio market where the song made the Top 40 was Jacksonville, Florida, where the song peaked at #7.
Before "Cincinnati Fireball" fell off the charts in Vancouver, Johnny Burnette debuted "You're Sixteen". Consequently, Johnny Burnette had a song on the record charts continuously between June 20, 1960, with "Dreamin'" until January 14, 1961, when "You're Sixteen" had its final week on CKWX. The week of January 21, 1961, there was no single by Johnny Burnette on the Vancouver pop charts. However, on January 28, 1961, He had managed to chart for 36 of 37 weeks on the CFUN and CKWX charts in Vancouver. Burnette returned to the local charts with "Little Boy Sad" until March 4, 1961. In April, Johnny Burnette was again on the pop charts in Vancouver with "Big Big World" for six more weeks, making the pop charts for 42 of 52 weeks in twelve months. The B-side of "Big Big World" was "Ballad Of The One Eyed Jacks".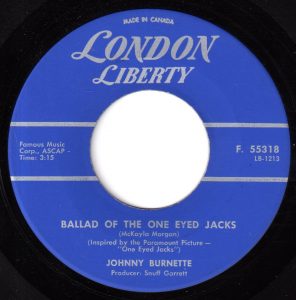 Johnny Burnette released a 1961 tie-in song The Ballad of the One-Eyed Jacks to help promote the Marlon Brando film One Eyed Jacks. The film was released by Paramount on March 31, 1961. The theme music didn't include the Johnny Burnette song. The plot in the film related to the lyrics.
The plot concerns Rio, his mentor Dad Longworth, and a third man called Doc. The trio rob a bank of two saddlebags of gold in Sonora, Mexico. Mexican rurales (mounted police) track them, catch them celebrating in a cantina, and kill Doc. Dad and Rio escape, but get trapped on a high ridge with only one horse between them. Rio figures the rurales will be "swarming all over us inside an hour." They decide one partner might succeed in riding to a nearby jacalito (small adobe house) and returning with fresh mounts. They gamble for it, with Rio fixing it so his pal, Dad, can be the one to go.
Dad gets to a corral and straps the saddlebags of gold onto a fresh pony, but he gets second thoughts. He leaves his friend to be taken by the rurales. Rio is arrested and transported to prison by way of the jacalito, where he learns firsthand of Dad Longworth's betrayal. Rio spends five hard years in a Sonora prison. He escapes and returning to Monterey, California, discovers Longworth has become the sheriff Monterey. Rio has feelings of revenge but falls in love with Longworth's stepdaughter Louisa. Dad Longworth accuses Rio of a murder he didn't commit and puts Rio in jail.
Louisa visits Rio in jail to tell him she is going to have his baby. Later, she attempts to smuggle a pistol to Rio. But she is discovered by the sheriff's deputy who mocks her and carries her out of the jail, leaving the gun on a table. While they are out, Rio is able to get hold of the pistol. However it is without ammunition. Pointing the unloaded gun at the deputy when he returns, Rio bluffs his way out of jail, takes the deputy's revolver, beats him unconscious, and locks him in a cell. As Rio makes his escape he is spotted by Sheriff Longworth, riding into town. Under fire, in the final showdown Rio shoots Longworth dead. Rio and Louisa ride out to the dunes and say a sentimental farewell. Rio will now be a hunted man and is already wanted in Mexico, so he tells Louisa that he is going to Oregon. He tells her to look for him in the spring, when he will return for her. One Eyed Jacks is a "psychological Western" that explores a Freudian relationship between Rio and Dad Longworth, as well as a complex father-daughter relationship fueled by Rio and Louisa's dangerous romance.
In the song "Ballad Of The One Eyed Jacks", there were two versions released by Johnny Burnette. In both cases the song starts where Rio and Sheriff Longworth meet again in Monterey. The final verse concerns Rio's escape from jail, aided by Louisa. In one version of the song the Sheriff fires his gun at Rio who is riding a horse with Louisa. The bullet strikes Louisa and she dies. Rio returns fires and kills Longworth. In the other version of the song Rio kills Longworth and Louisa is unharmed. "Ballad Of The One Eyed Jacks" climbed to #10 in Houston, #16 in Vancouver (BC) and #17 in Winnipeg.
In the summer of 1961, Burnette charted "Girls" for four weeks. In the fall of '61 he charted "God, Country And My Baby" for nine weeks. In early 1962, Johnny Burnette charted "Clown Shoes" for another six weeks and "The Poorest Boy In Town" for seven weeks. Johnny Burnette was a perennial favorite on Vancouver pop radio between June 1960 and June 1962, charting for sixty-eight of 102 weeks from the time "Dreamin'" appeared on the chart in June 1960 and "The Poorest Boy In Town" fell off the charts in early June '62.
Coinciding with the release of "Little Boy Sad" in March 1961, Johnny Burnette was hospitalized with a ruptured appendix. Several of his single releases in 1961 received little promotion, as Burnette wasn't touring. In the summer of 1961 he went on a tour of northeastern USA. Subsequently, he toured in Australia with Connie Francis. In 1962, he flew to the UK and toured with Gary U.S. Bonds and Gene McDaniels. But back in the USA Burnette's star began to fade. He switched labels twice and even though Capitol Records hooked him up with a new producer named David Gates (later of Bread), Burnette failed to make a dent in the pop charts in the face of the British Invasion. He decided to form his own record company which eventually was named Magic Lamp. Ironically, he was killed in a tragic accident that involved his unlit fishing boat being hit by a cabin cruiser on Clear Lake, California. The force of the crash threw Burnette into the lake where he drowned. He was 30 years old.
September 18, 2019
Ray McGinnis
References:
The Burnette Brothers, Rockabilly Legends.com
Rob Grayson, The Boxing Burnette Brothers Pack A Pop Punch, WKNO-FM, Cordova, TN, November 22, 2011.
Frank Hoffman, Dorsey Burnette, Survey of American Popular Music.
Johnny Burnette & The Rock 'n' Roll Trio, Playlist.net
Johnny Burnette Trio, Rockabilly Boogie, 1953.
"The Fabulous Forty," CKWX 1410 AM, Vancouver, BC, May 6, 1961.
Hank Zevallas, "Death Intervened: Singer Johnny Burnette Was on Way to Greatness," Memphis Sun, August 27, 1964.
Chuck Bowen, "Blu-ray Review: One-Eyed Jacks," Slant Magazine, November 24, 2016.
For more song reviews visit the Countdown.