#335: Barbara-Ann by the Regents
Peak Month: June 1961
8 weeks on CKWX's Vancouver Chart
Peak Position ~ #2
Peak Position on Billboard Hot 100 ~ #13
YouTube: "Barbara-Ann"
Lyrics: "Barbara-Ann"
In 1957 there was a doo-wop group formed in the Bronx called The Monterays. Group members included second tenor Ernie Maresca, second tenor Chuck Fassert, lead singer Guy Villari (born Gaetano Villari in 1942 in the Bronx), first tenor Sal Cuomo and bass singer Tony Gravagna. The group changed their name to the Desires. Ernie Maresca was born in the Bronx, New York, in 1939. He wrote a song the Desires recorded in 1958 titled "Story Of Love". It was not released by Seville Records until 1962. Then Ernie Maresca left the group and was replaced by Don Jacabucci. The group renamed themselves The Regents. This was because they had recorded a demo at Regent Sound studio and Guy Villari smoked Regents cigarettes. To this day, Villari has the empty pack that was in his pocket when the name was chosen. It was also helpful to change their name since an African-American doo-wop group called the Desires formed in 1958, after its members met at the 118th Street Youth Center in New York City. And a doo-wop group in Brooklyn named the Desires released "I Don't Know Why" in 1960.
In 1958 the group decided to do a song Villari had written called "A Teenagers Love". They booked an hour of studio time, for $15, at a small studio in Manhattan called "Associated". The group took 50 minutes to do the song. As the group was leaving the studio, one of the members noticed that they still had 10 minutes of studio time left. They decided to "throw in Barbara-Ann." The group did three takes and left. Shortly, thereafter, Tony Gravagna who came along just to play sax was taken into the group.
The Regents went to every record company they could find but they were not able to land a contract. They disbanded by early 1960. However, by accident, Don Jacobucci's younger brother Eddie revived the Regents. Eddie Jacobuci was in a group called the Consorts. They lacked enough original songs for an audition. So the Consorts they made a version of "Barbara-Ann" from an old demo Eddie found in the Jacobuci home. When the owner of Cousins Records, Lou Chichetti, heard "Barbara-Ann", Chichetti decided to release the record. However, he found the original by the Regents, and chose to release their version and not the cover by the Consorts.
Before releasing The Regents' demo, Cousins Records overdubbed some instrumental parts. The net result was highly professional for a doo-wop song. In some cases, doo-wop groups were taken directly from the streets into the studios, where their songs were taped. In some cases doo-wop groups never saw the inside of a studio before their songs were recorded. However, with Cousins Records efforts, the Regents managed to release a song with relatively high production values, without losing the "street-corner" character of a doo-wop group.
The Regents reunited, and Cousins Records released "Barbara-Ann" in March 1961.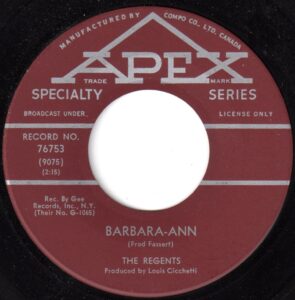 Fred Fassert was born in 1938 and wrote "Barbara-Ann" for his sister Barbara Ann Fassert. His brother, Charles Fassert, was the original 2nd tenor of the Regents. The lyrics reference several other females the singer tries dancing with. These include Peggy Sue and Betty Lou.
Bobby Freeman had a Top 40 hit in 1958 titled "Betty Lou Got A New Pair Of Shoes". While Buddy Holly had a hit with "Peggy Sue". Bobby Freeman had a Top Ten hit in 1958 titled "Do You Want To Dance". In "Betty Lou Got A New Pair Of Shoes" Betty Lou buys a new pair of shoes, talks to an undertaker and gets into a fight at a rock 'n roll party when someone steps on her shoes. While in "Peggy Sue", Buddy Holly sings about a love that is "rare and true", and how he feels "blue" when Peggy Sue is not around.
However, for the Regents, neither Betty Lou or Peggy Sue will do. They like Barbara-Ann best of all. This is because Barbara-Ann has the guy "rockin' and a rollin', rockin' and a reelin'." And that's why he wants Barbara-Ann to take his hand.
"Barbara-Ann" was featured on the Regents 1961 album Barbara-Ann. The liner notes state "Undoubtably, the years of 1960 and 1961 will be known as the "sound" years. Not the least of the popular sounds coming from a radio's speaker during 1961 was a deep resonant "Bah-Bah-Bah," to be followed by a group of five, THE REGENTS, to be followed by a falsetto offering a colorful touch to the year's biggest hit "Barbara Ann". The group members of the Regents were described as being "born, bred and buttered in the Bronx;" and were neighbors of "Dion, The Belmonts, Sal Mineo, and Jerry Vale…"
The liner notes continued "This is one time that hanging around a record shop paid offer potential record artists. It was while loitering in their favorite platter parlor, 'Cousins Record Shop' on Fordham Road in the Bronx, that their talents were discovered by the proprietor, Lou Cicchetti. Then wheels started turning and before long "Barbara Ann" started turning many juke boxes, radio turntables and plenty of cash registers."
The Regents were a "doo-wop" (sometimes spelled doowop) group. This was a genre of R&B music from the mid-50s into the early 60s. Lyrics in doo-wop songs were simple, usually about love, sung by a lead vocal over background vocals. Many doo-wop songs featured, in the bridge, a melodramatically heartfelt delivery addressed to the beloved. Harmonic singing of nonsense syllables (such as "doo-wop") is a common characteristic of these songs. Doo-wop also typically featured a wide range of vocal parts, usually from bass to falsetto. Bill Kenny, lead singer of the Ink Spots, is often credited with introducing the "top and bottom" vocal arrangement featuring a high tenor singing the intro and a bass spoken chorus.
Examples of nonsense doo-wop lyrics include:
The Chords "Sh-Boom" from 1954: "Day dong da ding-dong, a-lang-da-lang-da-lang. Ah, whoa, whoa, bip, Ah bi-ba-do-da-dip, whoa."
The Crows "Gee" from 1954: "Do do-do do, do-do do, do-do do-do-do. Do do-do do, do-do do, do-do do-do-do. Do do-do do, do-do do, do-do do-do-do do, love that girl."
The Cues "Why" from 1956: "Doot-dat, doot-dat-a-lat. Doot-dat, doot-dat-a-lat."
The Five Satins "In The Still Of The Nite" from 1956: "Sho-dot-in-sho-be-doe."
The Cadillacs "Speedo" from 1956: "Bom-bom-bom-bom, ba-ba-do-do-do…"
The Cleftones "Little Girl Of Mine" from 1956: "Dede liddle liddle liddle le…"
Frankie Lymon & The Teenagers "Why Do Fools Fall In Love" from 1956: "De-dom-ah-de-dom-ah-de-dom-ah-de-do-dah. Ooh-wah, ooh-wah, ooh-wah, ooh-wah, ooh-wah, ooh-wah, why do fools fall in love."
The Hollywood Flames "Buzz Buzz Buzz" from 1957: "Well, buzz, buzz, buzz goes the bumble bee,
Tweedle, deedle, dee goes the bird…"
The Del Vikings "Come Go With Me" from 1957: "Dom-dom-dom-dom-dom-de-doo-be. Dom-dom-dom- dom-dom-dom-de-doo-be. Dom-dom-dom-dom-dom-dom-be-doo-be. Dom Woa-woa-woa-woah."
Danny & The Juniors "At The Hop" from 1957-58: "Bah-bah-bah-bah, bah-bah-bah-bah
Bah-bah-bah-bah. bah-bah-bah-bah, at the hop!"
The Silhouettes "Get A Job" from 1958: "Sha na na na, Sha na na na na…"
The Elegants "Little Star" from 1958: "Whoah oh, oh, oh-uh-oh, ratta ta tata too-ooh-ooh. Whoah oh, oh, oh-uh-oh, ratta ta tata too-ooh-ooh."
The Flamingos "I Only Have Eyes For You" from 1959: "Sha bop sha bop."
Little Anthony & The Imperials "Shimmy Shimmy Ko-Ko-Bop" from 1959.
Dion & The Belmonts "A Teenager In Love" from 1959: "Ooh-wah-ooh, ooh-was-ooh."
The Capris "There's A Moon Out Tonight" from 1961: "whoa-oh-oh ooh…"
Barry Mann's "Who Put the Bomp (in the Bomp, Bomp, Bomp)" in 1961.
Dion's "Runaround Sue" from 1961: "Oh-oh-oh-whoa, oh-oh-whoa, oh-oh-whoa, luk-luk-luk-luk."
The Marcels "Blue Moon" from 1961: "Bomp baba bomp, ba bomp ba bomp bomp, baba bomp baba bomp, da dang da dang dang, da ding a dong ding."
The Chiffons "He's So Fine" from 1963: "Doo lang doo lang doo lang, Doo lang doo lang.." (A girl group, not a doo-wop group, but nonsense lyrics just the same).
"Barbara-Ann" peaked at #1 in New York City, #2 in Vancouver (BC), Wilkes-Barre (PA) and Troy (NY), #3 in Seattle (WA), Charleston (WV), Chicago, York (PA) and Allentown (PA), #4 in Toronto, Winnipeg (MB) and Grand Rapids (MI), #5 in La Cross (WI) and Flint (MI), #6 in Los Angeles, #7 in Syracuse (NY), Montreal, Boise (ID), New Haven (CT), Fargo (ND) and Buffalo (NY), #8 in Columbus (OH), Minneapolis/St. Paul and Denver, #9 in fort Dodge (IA) and Fort Wayne (IN), and #10 in Boston, Newport News (VA), Norfolk (VA) and Houston.
In the summer of 1961, The Regents had a Top 30 hit in Vancouver titled "Runaround" that climbed to #26. It climbed into the Top Ten in Denver, New Haven (CT), and Manchester (NH). It peaked at #28 nationally on the Billboard Hot 100. A third single release in 1961, "Liar" got some airplay in New York City and several radio markets in New England.
Meanwhile, ex-Desires (Regents) singer Ernie Maresca went on to write a number of hit singles for Dion. These included "Runaround Sue", "The Wanderer", "Lovers Who Wander" and "Donna The Prima Donna". In January 1962, Maresca had a #2 hit in Vancouver titled "Shout! Shout! (Knock Yourself Out)". Maresca went on to write "Party Girl", a minor hit for Bernadette Carroll who had been a member of the girl group The Angels of "My Boyfriend's Back". And in 1962 Jan And Dean recorded a version of "Barbara Ann" on their 1962 album Jan & Dean's Golden Hits. Unlike the Regents, Jan And Dean removed the hyphen from "Barbara Ann". As Jan And Dean often shared the live stage with the Beach Boys, they latter recording act often heard Jan And Dean perform "Barbara Ann" in concert.
In 1964 Villari and Fassert started a new group, named after their second record, "The Runarounds". They formed trio with singer Ron Lapinsky. The Runarounds did the night club circuit with some success. They recorded a single titled "Unbelievable", but by 1967 they disbanded.
Meanwhile, "Barbara Ann", without the hyphen between Barbara and Ann, was recorded in September 1965 by the Beach Boys for their album Beach Boys Party. In their version they added mention of another girl, "Mary Lou" (a hit in 1959 for Ronnie Hawkins), in addition to the Regents short list of Betty Lou and Peggy Sue. The Beach Boys also recorded covers on that album of The Olympics "Hully Gully", The Rivington's "Papa-Oom-Mow-Mow", the Hollywood Argyles "Ally Oop". Because "The Little Girl I Once Knew" didn't chart well in the USA for the Beach Boys, Capitol Records quickly released "Barbara Ann". In January 1966, the Beach Boys version quickly climbed to #1 on Cashbox Top 100 Singles chart, and #2 on the Billboard Hot 100 and in Vancouver (BC).
In November 1966, The Who released an EP titled Ready Steady Who. On the EP The Who did a cover of "Batman" and "Barbara Ann". They had been performing the song in concert for several years, including in over a dozen concerts in Paris, France, in 1965-66.
In 1973, director and writer George Lucas included The Regents' version of "Barbara Ann" in his movie American Graffiti. This was a coming-of-age film set in southern California in the late 50s. American Graffiti was one of the first movies that replaced a film score with a series of original rock and roll songs.
In the film the audio of The Regents singing "Barbara Ann" is interspersed with random clips from American Graffiti. You can see the great attention to detail in George Lucas' film. Those great hot rods from the 50s are featured performers in this film, that also highlights drive-in soda shops, high school dances, the legendary West Coast DJ Wolfman Jack, drag racing, and a little bit of sex.
Due in part to renewed interest in "Barbara Ann" from its exposure in American Graffiti, in 1973 The Regents were reformed with Guy Villari as the only remaining original member. He was joined by Ron Lapinsky and Bob Falcone. The Regents enjoyed success as a concert group and toured throughout the USA. They were also selected as one of three "oldies" groups to appear on the 1988 Grammy Awards Show, along with the Cadillacs and the Flamingos.
In 2012 The Regents performed live at the Beacon Theater on the Upper West Side in New York City.
On June 11, 2013 a the Bronxlittleitaly Facebook page reported that Sal Cuomo had died. While in September 2017, an obituary in the Times-Herald Record in Middletown, NY, announced that Guy Villari had died. The obituary stated that Villari's "high intensity performances lasted well into the 90′s. He (had) an online radio show, 'Good Times Rock and Roll'; had been a horse owner, driver, and trainer at several "trotter tracks"; and he was a very creative model train enthusiast and builder."
March 19, 2021
Ray McGinnis
References:
Jane Minogue, "Barbara Ann by The Regents," Daily Doo Wop, April 11, 2018.
Tim Londergan, "Barbara Ann: The Regents; The Who; The Beach Boys," Timscoverstory.wordpress.com, February 27, 2017.
The Desires, "Story Of Love", Seville Records, recorded in 1958/released in 1962.
"The Regents aka The Runarounds," Old Memories, June 28, 2018.
The Who, "Barbara Ann", live in concert, Paris, France, 1966.
The Regents "Barbara-Ann" at #2 on "Fabulous Forty," CKWX 1130 AM, Vancouver, BC, June 10, 1961.
The Beach Boys "Barbara Ann" at #2 on "Silver Dollar Survey," CKLG 730 AM, Vancouver, BC, January 29, 1966.
"41 Original Hits from the Soundtrack of American Graffiti," MCA Records, 1973.
"Obituary: Gaetano "Guy" Villari," Times-Herald Record, Middletown, NY, September 26, 2017.
The Regents, "Grammy Awards," March 2, 1988. (Starts at 205:10 of broadcast).
Ernie Maresca, "Shout, Shout, Knock Yourself Out" at #2 on "C-FUNTASTIC FIFTY," April 14, 1962.
For more song reviews visit the Countdown.