#974: Beatnik Sticks by Paul Revere And The Raiders
Peak Month: September 1960
9 weeks on Vancouver's CKWX chart
Peak Position #9
Peak Position on Billboard Hot 100 ~ did not chart
YouTube.com: "Beatnik Sticks"
A band called The Downbeats formed in Boise, Idaho, in 1958. Paul Revere Dick started the band originally as an instrumental group. They had their first chart single in Vancouver in 1960, an instrumental riff on the piano tune, Chopsticks, called "Beatnik Sticks." They changed their name to Paul Revere & The Raiders in 1960. Between 1960 and 1976 they released 41 singles. They charted five songs into the Top Ten on the Billboard Hot 100 in the USA beginning in 1966 with songs like "Kicks", and "Hungry" (1966), "Him Or Me – What's It Gonna Be?" (1967) and their cover of Don Fardon's 1968 single "Indian Reservation" which peaked at #1 for the band in 1971. They were even more popular in Vancouver where they charted over fifteen songs into the Top Ten on the local charts here on the West Coast.
Paul Revere Dick was born in 1938 in Harvard, Nebraska. In his early 20's, Revere owned several restaurants in Caldwell, Idaho. He and first met singer Mark Lindsay in 1958 while picking up hamburger buns from the bakery where Lindsay worked. Lindsay was born in Eugene, Oregon, in 1942. In the group's song "The Legend of Paul Revere", they sang about how they got started.
In a little town in Idaho way back in sixty one,
a man was frying burgers, gee – it seemed like lots of fun.
But to his friend the bun boy, he confessed it's misery,
I think I'd like to start a group, so come along with me.
The song was using poetic license as they group started in '58 not '61. But "fun" rhyming with "one" had more appeal then writing "way back in fifty-eight, a man was frying burgers, gee, it seemed to be real great."
"Beatnik Sticks" was their first single. Though it failed to chart nationally in the USA, the Boise, Idaho, band had a hit on their hands as it peaked at #9 in Vancouver. In fact, thirteen of their first fourteen single releases didn't make the Top Forty in the USA, and only two cracked the Billboard Hot 100.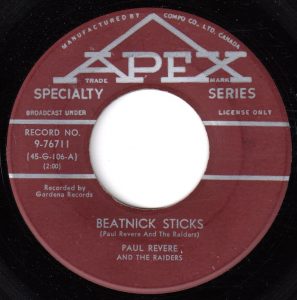 "Beatnick Sticks" was a jazzed up version of the basic piano piece called "Chopsticks". Originally named "The Celebrated Chop Waltz", "Chopsticks" is a simple, widely known waltz for the piano. It was written in 1877 by the British composer Euphemia Allen under the pseudonym Arthur de Lulli. She never published any other musical composition. Allen, whose brother was a music publisher, was just sixteen when she composed the piece, with arrangements for solo and duet. The title Chop Waltz comes from Allen's specification that the melody be played in two-part harmony with both hands held in a vertical orientation, little fingers down and palms facing each other, striking the keys with a chopping motion.
"Chopsticks" has been featured numbers of times in film over the past century. In the 1946 William Wyler film The Best Years of Our Lives, a story chronicling the difficulties facing returning servicemen from overseas, the famous song composer Hoagy Carmichael performs a duet of "Chopsticks" with Harold Russell. Russell plays a World War II Navy veteran who lost both of his hands in combat. He played the simple piece with Hoagy taking the lower part. Mr. Russell's hooks that served as hands don't deter him from delivering a rendering of the tune, complete with a final glissando up the keyboard.
In the 1952 Stanley Kramer film production The 5,000 Fingers of Dr. T, co-written by Dr. Seuss, the boys play Chopsticks toward the end of the dream sequence, after Dr. Terwilliker is dragged away and before the atomic "music fix" blows up. Liberace plays a virtuoso "Chopsticks" accompanied by full orchestra early in the 1955 film Sincerely Yours. In the 1988 film, Big, "Chopsticks" is the second song played (after "Heart and Soul") by Tom Hanks and Robert Loggia in the famous piano scene at the FAO Schwarz toy store on Fifth Avenue in New York City.
Just as they were starting to get a name Paul Revere Dick was drafted into the United States Army. He became a conscientious objector and worked as a cook in a facility for patients with mental health issues. While Revere was in the U.S. Army, Mark Lindsay toured with the Raiders in 1961, after they had a Top 40 hit instrumental in the USA called "Like Long Hair". That summer a piano player named Leon Russell filled in for Paul Revere. When Revere returned to civilian life in 1962 the band moved to Portland, Oregon. In April 1963 both Paul Revere & The Raiders and The Kingsmen recorded a tune called "Louie Louie". Both versions were spirited, but it was The Kingsmen's version that would go to #2 on the pop charts in the USA, while Paul Revere & The Raiders version missed the Billboard Hot 100.
By 1965 the band had released fourteen singles, but didn't have any sizable hit. Then they released "Just Like Me" and everything changed. The infectious pop rock tune climbed to #11 on the Billboard Hot 100 and #3 in Vancouver in January 1966. The pattern of the band typically outperforming on the charts in Vancouver would continue over seven years. In November, 1966, Paul Revere & The Raiders appeared on the Batman TV show, in an episode called "Hizzoner the Penguin." They were also regular guests on Dick Clark's Where The Action Is. Paul Revere and Mark Lindsay would co-host a show that ran after American Bandstand in 1968 called Happening '68. With the success of their singles and albums the band was Columbia Records top selling recording act in 1967, a year that five of their singles made the Top Ten in Vancouver, including "I Had A Dream".
In 1969 the band had their first gold record with "Let Me", a song that peaked at #20 on the Billboard Hot 100, but climbed to #2 in Vancouver.
After their #1 hit with "Indian Reservation" in 1971, the band would release a few more singles with mixed success. By 1973 they were passé as progressive rock groups like Yes, folk-rock singers like Jim Croce and James Taylor, and evolving soul sounds from Marvin Gaye, Eddie Kendricks, Stevie Wonder and Billy Paul pushed Paul Revere & The Raiders to the back of the pack on the pop charts. Shortly after Mark Lindsay, who had already recorded several solo hits, left the band. In 1976 Paul Revere called it quits. However, the band was back on tour in 1978 as 60s revival tours got them bookings well into the 2000s.
As of the spring of 2017 Paul Revere's Raiders, as they are now billed since Paul Revere died in 2014, have several upcoming concert dates in Connecticut and New Jersey in the fall of 2017.
October 23, 2017
Ray McGinnis
References:
Blecha, Peter. Music in Washington, Seattle and Beyond (Images of America) (1st ed.). Arcadia Publishing, Charleston, SC, 2007.
Daniel Kreps, "Raiders Leader Paul Revere Dead at 76," Rolling Stone, October 5, 2014.
Patrick Downing, The Origin of "Chopsticks," West Music.com, February 24, 2011.
Hizzoner the Penguin, Batman, ABC, 1966.
Sincerely Yours, (Warner Brothers, 1955), Wikipedia.org.
The 5000 Fingers of Dr. T, Columbia Pictures, 1953.
Big, 20th Century Fox, 1988.
The Best Years of Our Lives, RKO Radio Pictures, 1946.
"Sensational Sixty," CKWX 1130 AM, Vancouver, BC, September 12, 1960.
For more song reviews visit the Countdown.