#32: Beds Are Burning by Midnight Oil
Peak Month: May 1988
15 weeks on Vancouver's CKLG chart
Peak Position #1
Peak Position on Billboard Hot 100 ~ #17
YouTube.com: "Beds Are Burning"
Lyrics: "Beds Are Burning"
Peter Garrett was born in suburban Sydney, Australia, in 1953. He learned to play harmonica and sing. In 1972 Garrett met drummer Robert Hirst in Sydney. Hirst was also born in suburban Sydney in 1955. In the early 1970s, while still in school, Rob Hirst played in a Beatles cover band named Schwampy Moose. His bandmates were keyboard and guitar player Jim Moginie, and bass guitar player Andrew "Bear" James. Moginie was born in 1956 in Kalamuda, Western Australia.The band changed their name in 1972 to Farm. In 1976 they were joined by Peter Garrett and changed their name to Midnight Oil. The following year the added Sydney born Martin Rotsey on guitar.
In 1978, Midnight Oil released their debut self-titled album. Another album was released in 1979 and Andrew James left the band in 1980 due to ill health. James was replaced by Peter "Giffo" Gifford from 1980 until 1987 when Bones Hillman replaced Giffo Gifford in 1987. Born Wayne Stevens in New Zealand, in 1958, Bones Hillman was in the latter 1970s – a member of the punk band the Masochists, the Suburban Reptiles and the Rednecks. In 1979 he joined a rock band named the Swingers with ex-Split Enz musician Phil Judd. After the Swingers spit up in 1983, Hillman pursued other musical interests until he joined Midnight Oil in 1987.
On the Midnight Oil website, the band recalls "Before they took it global, Midnight Oil's early spiritual home was the Royal Antler Hotel, Narrabeen on Sydney's northern beaches. It was there that 'the Oils' fan base swelled from a handful to a thousand – in a space intended for half that number. Between 1976 and the very early 80's, these five young men played out this blistering ritual almost 1000 times."
In 1983, the band's single "Power And Passion", from their fourth album 10, 9, 8, 7, 6, 5, 4, 3, 2, 1, climbed to #5 on the Alternative Rock station CFMB in Montreal. The single climbed to #4 in New Zealand and #8 in Australia.
In 1984 Midnight Oil released their fifth studio album Red Sails in the Sunset. It included a track about the Domesday Clock titled "Minutes to Midnight". The Domesday Clock is a symbolic timepiece published by the Bulletin of the Atomic Scientists, which represents the proximity of nuclear war (or more generally "catastrophic destruction"), designated as "midnight". Nuclear confrontation was pertinent at the time of this song, the clock having regressed to a mere "three minutes to midnight" in 1984 from some 12 minutes in the preceding decade.
American President Ronald Reagan, while running for re-election, was preparing to make his weekly Saturday radio address on NPR. As a sound check prior to the address, Reagan made the following 'joke' to the radio technicians: "My fellow Americans, I'm pleased to tell you today that I've signed legislation that will outlaw Russia forever. We begin bombing in five minutes." Reagans' words were caught on the radio and a song titled "Five Minutes" by a band named Bonzo Goes to Washington sampled Reagans' gaffe. In 1985 Sting released a track titled "Russians", whose lyric was a critical commentary the then-dominant Cold War foreign strategy and doctrine of mutual assured destruction (MAD) by the United States and the Soviet Union.
In 1986, Midnight Oil released their sixth studio album titled Dust And Diesel. The debut single release was "The Dead Heart", which climbed in 1988 to #7 in Calgary, though it stalled at #35 in Vancouver and #53 on the Billboard Hot 100. But the second single from the album, "Beds Are Burning" became a number-one hit in 1988 in Vancouver,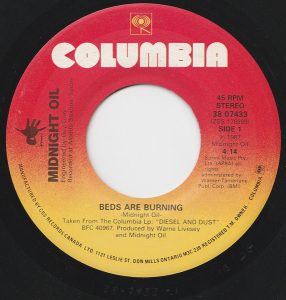 Garrett, Hirst and Moginie wrote "Beds Are Burning" to criticize how Australian aboriginal populations were often forcibly removed from their lands, highlighted by the pre-chorus lines "it belongs to them, let's give it back". Aboriginal reserves were used from the nineteenth century to keep Aboriginal people separate from the white Australian population, often ostensibly for their protection. The role of Protector of Aborigines was first established in South Australia in 1836. Matthew Moorhouse became the first non-interim Protector of Aborigines in South Australia in 1839. In 1841 he led volunteers who committed the Rufus River Massacre, which slaughtered 30 to 40 Aboriginal people. From the 1890s, the role often included social control up to the point of controlling whom individuals were able to marry and where they lived and managing their financial affairs
Kintore East to Yuendumu
Considering such a local affair inspired a worldwide hit, Garrett commented "Who would have thought an Aboriginal land rights song would travel that far?" There are specific references to certain Australian places and politics, such as Kintore Ranges and the town of Yuendumu, vehicles produced by the Holden company, the "It's Time" slogan and the notion of "fair go." Kintore is a remote settlement in the Northern Territory of Australia. The Pintupi people relocated to Kintore in 1979 from Papunya, the latter a settlement where they had been forced to move to in the early 1950s. Kintore is 160 miles west of Papunya. The Pintupi had been moved in the early 1950s in order for the Australian government and de Havilland to test and send its Blue Streak missiles into the Kintore region.
"Beds Are Burning" offers the strong suggestion to non-Indigenous Australians that the country is rightfully the that of the Australian Aboriginals: "It belongs to them. Let's give it back." Its evocation of the outback, while as sparse and dry as the land itself, is also deft, juxtaposing the Anglo name of Kintore East (named after Keith-Falconer, 9th Earl of Kintore, a British politician and colonial governor) with the Indigenous one of Yuendumu – and knowing that both will sound, to most of Midnight Oil's fellow coast-hugging Australians, at once cosily familiar and utterly alien.
The Liberal Menzies Australian government argued that the Pintupi were not ready to live in modern society and needed to be re-educated before assimilation into white society. In practice, this meant relocation from their traditional lands and suppression of their language, art and culture. Once relocated to Papunya, due to poor conditions, one-sixth of the Pintupi died of treatable diseases between 1962 and 1966 alone.
Yuendumu is a town in the Northern Territory of Australia populated by local Indigenous Australians. It is a mecca for Indigenous art and culture.
Holden wrecks…
In the song, "Holden wrecks and boiling diesels steam in forty-five degrees" Celsius. The Holden car manufacturer was a subsidiary of General Motors which made vehicles in Australia.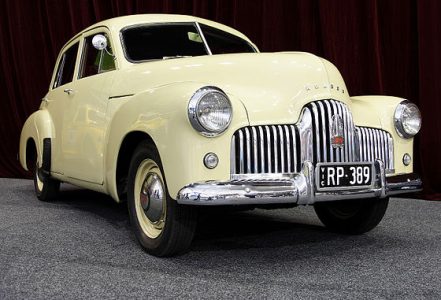 Holden 48-215 mid-size sedan (1948)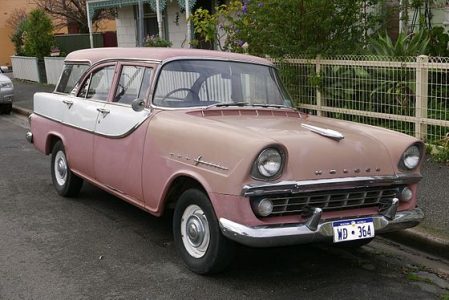 Holden FB Special Station Sedan (1961)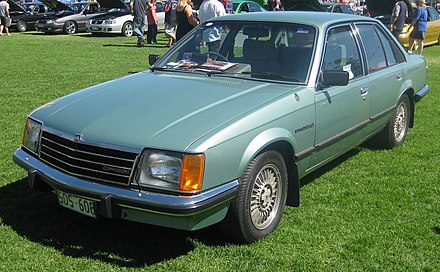 VB Commodore SL E (1978)
Fair Go
In Australian society there is a cultural interest in championing the underdog. Australians will show support for those who appear to be at a disadvantage even when the underdog is competing against fellow Australians, such as in sporting events. Related to the underdog is the belief in a "fair go", which is said to be a key part of Australian culture and Australian society. One accepted definition of a "fair go" in this Australian sense is "a chance, an adequate opportunity. Often used to describe a fair and reasonable course of action". The right to "a fair go" has been found to be the most highly rated value on a recent published survey of the opinion of Australian citizens. This belief sustains bipartisan political support for strong public health and education systems in Australia, as well as equal opportunity legislation to ensure people are not excluded from jobs or positions by their race, gender or sexual orientation.
It's Time
As well, Midnight Oil recalled the 1972 campaign "It's Time" to appeal to treating Aboriginal Australians properly and giving them what they deserve. It's Time was a successful political campaign run by the Australian Labor Party (ALP) under Gough Whitlam at the 1972 federal election in Australia. at the time, the campaign promised to get Australia out of the Vietnam War, end conscription, improving public education, reducing costs for housing, introducing a universal health care system, and an economic policy that reaps rewards across the citizenry. Midnight Oil asserted it was well past time to dramatically improve the living conditions and economy of native peoples.
In fact, the Aboriginal Land Rights Act 1976 established a procedure to transfer almost 50 per cent of land in the Northern Territory (around 600,000 kms) to collective Aboriginal ownership. The Liberal-Country Fraser government continued to implement many of the previous government's initiatives, under the description "self-management" rather than self-determination. But by the mid-80s, the progress on this front was a political hot potato.
"Beds Are Burning" peaked at #1 in Vancouver (BC), Calgary (AB), #2 in Hamilton (ON), #4 in Montreal, #6 in Minneapolis/St. Paul, and #7 in Ottawa (ON). Internationally, "Beds Are Burning" peaked at #1 in Canada, New Zealand, and South Africa, #2 in Belgium, #3 in the Netherlands, #5 in France, #6 in Australia and the UK, and #11 in Ireland.
On March 13, 1988, Midnight Oil gave their first concert in Vancouver. The following month, on April 22, 1988, Midnight Oil performed in concert at the Orpheum. For a third time that year, on October 29, 1988, Midnight Oil headlined a concert at the Pacific Coliseum in Vancouver,
In 1990 the band released Blue Sky Mining. The album was "more defiant and outspoken" than their previous work. The single "Blue Sky Mine" was released in February.
While "Blue Sky Mine" was charting in Vancouver, Midnight Oil gave a concert at the Thunderbird Stadium on June 26, 1990.
In 1993, Midnight Oil released their eighth studio album Earth and Sun and Moon. The lead single on the album was "Truganini".
Subsequent albums Breathe (1996), Redneck Wonderland (1998), and Capricornia (2002) were all Top Ten albums in Australia. However, they received little notice beyond New Zealand and Switzerland. On November 15th and 16th, 2001, Midnight Oil came to Vancouver to perform athlete Commodore Ballroom. On May 11 and 12, 2002, Midnight Oil gave two more concerts at the Commodore Ballroom in Vancouver.
That year Midnight Oil released their first studio album since 2002. Titled The Makarrata Project, the album shot to number-one on the Australian album chart. Late in 2020, Bones Hillman died at the age of 62 of cancer.
Midnight Oil has appeared in concert in Vancouver at Malkin Bowl on June 2, 2017, and returned to the venue most recently on June 1, 2022.
April 26, 2023
Ray McGinnis
References:
Jackson Barron, "Legendary Midnight Oil Bassist Bones Hillman dies aged 62 after Battle with Cancer as his Bandmates Lead a Heartbreaking Tribute to the Man with 'the Beautiful Voice'," Daily Mail Australia, November 7, 2020.
Paul Cashmere, "Midnight Oil Prove Why They Are The Greatest Live Band On Earth," Noise11.com, Melbourne, Australia, March 22, 2021.
Ally Foster, "Tourists flock to 'Australia's Chernobyl' despite health risks," news.com, Sydney, Australia, July 21, 2019.
"Midnight Oil – Concert Dates – Canada," setlist.fm.
Joshua Dowling, "Vale Holden: End of the road after 72 years," Car Advice, Sydney, AU, December 31, 2020.
Andrew Mueller, "Australian anthems: Midnight Oil – Beds are Burning," Guardian, March 11, 2014.
Deborah Gough, "Australians value a 'fair go' highest," The Age, Melbourne, AU, November 12, 2006.
"Gough Whitlam's life and legacy: experts respond," The Conversation, October 20, 2014.
"CKLG Top Thirty," CKLG 730 AM, Vancouver, BC, June 1, 1988.
For more song reviews visit the Countdown.