#295: Biology by Danny Valentino
Peak Month: June 1960
8 weeks on Vancouver's CFUN chart
Peak Position #1
Peak Position on Billboard Hot 100 ~ #95
YouTube: "Biology"
Lyrics: "Biology"
Vincent Pacimeo was born in 1941 in Flushing, New York. He was interviewed on the This Is My Story website by and Dik de Heer in 2016. Pacimeo first sang in public when he was five-years-old. Then his career as a musician was launched when he was nine-years-old and appeared "on the Ted Mack Original Amateur Hour television show playing the drums." His musical influences were Al Jolson and WWII big bands (like Glenn Miller, Artie Shaw, Benny Goodman etc.). As he got better at drumming, Vince was invited to "play with older and seasoned musicians. By that time he was tap dancing and singing Broadway and movie musical songs." Vince was inspired by the great singer and dancer, Gene Kelly. In the early 50s, singer and tap dancer Gene Kelly starred in numbers of musicals, including An American In Paris (1951), Singing In The Rain (1952), and Brigadoon (1954). Vince had a dream that he could be a great singer and dancer like Gene Kelly. In his mid-teens, Vince was captivated by jazz music. And he began to focus more on his vocal skills than his drumming.
In 1956, Elvis Presley shook up the popular music scene with his number-one hits "Heartbreak Hotel", "I Want You, I Need You, I Love You", Don't Be Cruel" and Hound Dog ". However, Elvis and the other rock stars weren't where Vince Pacimeo was focused. He recalls, "My harmonic knowledge went far beyond the four chord paradigm that was followed on almost every recording during those years."
Vince Pacimeo graduated from high school in 1958. His interest in being a singer was buoyed by the more recent music of Frank Sinatra in film and the pop charts. Enjoying a revival in his career since the mid-50s, Sinatra had appeared in the musicals Guys And Dolls (1955), High Society (1956) and Pal Joey (1957) – the latter which earned him a Golden Globe for Best Actor, Musical or Comedy. As well, Frank Sinatra had been enjoying a revival in his music career after he switched to Capitol Records in 1953. His Top Ten hits included "Young At Heart", "Three Coins In The Fountain" (number-one for the Four Aces in the USA, but number-one for Sinatra in the UK), "Learnin' The Blues", "Love And Marriage", "All The Way", "Witchcraft" and others.
In 1958 Vince Pacimeo got employed at the Sands Hotel in Las Vegas. He was hired as a drummer for singer and trombone player Lillian Briggs. She had a # 18 hit on the Billboard pop chart in 1955 with "I Want You To Be My Baby". One night, after he finished drumming for Lillian Briggs at the Sands Hotel, Vince Pacimeo returned to his home. It was then that he "got a call to play a six nights a week gig in a very popular night spot." He took the offer which involved playing and singing with a trio during the week, and with a big band on weekends.
As recounted in his interview with This Is My Story, "One of the trumpet players of the band had a connection with Connie Francis and he set up an audition for Vince with Connie's manager, George Scheck. 'I sang for him and before two weeks went by I was signed to a recording contract with MGM Records. Coincidently, I had met Connie ten years before when we both were involved in a TV show called Star Time Kids. Connie and I became good buddies in a short time.'"
Connie Francis was also the main architect of Vince's new professional name. Vince remembers, "She had invited me to one of her recording sessions. Between one of the takes she came into the booth, pointed at me and said Valentino. Connie said I reminded her of the silent screen star Rudolf Valentino. That's how Danny Valentino was born. I used that name only on MGM records."
On August 10, 1959, Vince Pacimeo arrived at the at Metropolitan Studios of MGM in New York City. He chose the songs for the first two MGM records, along with Connie. For the first single, Pacimeo remembers "Stampede" and "Music Man" impressed both Connie and myself. I thought "Music Man" was going to be the A-side. On a personal note I wanted to record these songs because they were written by two highly respected and prolific writers : Doc Pomus and Mort Shuman."
Vince Pacimeo felt fortunate to have Ray Ellis supervise the recording, as well as the roles of arranger, conductor and producer, for the two songs. Ellis had orchestrated numerous hits including "Moments To Remember", "No Not Much" and "Standing On The Corner" for the Four Lads, "Among My Souvenirs" for Connie Francis, "A Certain Smile" for Johnny Mathis, and "Broken-Hearted Melody" for Sarah Vaughan. Ray Ellis would later arrange "Love Me Warm And Tender" and "A Steel Guitar And A Glass Of Wine" for Paul Anka, "My Coloring Book" for Kitty Kallen, Barbra Streisand's 1964 album People, and many more.
The musicians on Danny Valentino's debut single included some of the best session musicians in the recording studios in Manhattan. Guitar player Everett Barksdale, had appeared on early recordings by Benny Carter, "My Sweet Hunk O' Trash" by Billie Holiday and Louis Armstrong (1949), "Them There Eyes" by Billie Holiday (1950), "Send For Me" by Nat "King" Cole (1957), and numerous recordings for Ella Fitzgerald – including her 1958 album The First Lady Of Song, King Curtis, and many more. Bass guitarist Bobby Cranshaw appeared on many recordings including for Joe Williams, McCoy Tyner, and Quincy Jones. Tenor saxophonist, Jerome Richardson, had been appearing on records for Cannonball Adderley, Lionel Hampton, Dinah Washington, Dizzy Gillespie, Betty Carter, Miles Davis, Big Joe Turner, Charles Mingus and many others. Pianist Hank Jones had played in the recording studio with Coleman Hawkins, Earl Bostic, Stan Getz, Ella Fitzgerald, Illinois Jacquet, Artie Shaw, Charlie Parker, Gene Krupa and many more. Session drummer Panama Francis had been in the recording studio with Lucky Millender, Little Willie John, Odetta, The Orioles, "What A Difference A Day Made" by Dinah Washington, James Brown, Big Maybelle, Nappy Brown and others.
MGM chose to put "Stampede" on the A-side. Nonetheless, it was "Music Man" that was reviewed as the main side by Billboard. The single had some brisk sales that warranted releasing it in the UK, the Netherlands and a few other European countries. However, the single didn't make the national charts in the USA. "(You Gotta Be A) Music Man" charted to #10 in London, Ontario, and also charted into the Top 20 in Cleveland, Ohio, and Allentown, Pennsylvania.
Valentino's next single release was "Biology".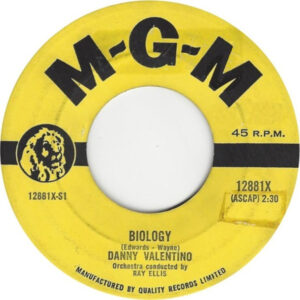 "Biology" was co-written by Sherman Edwards and Sid Wayne. Edwards was born in New York City in 1919 and after he graduated from school and was a teacher for awhile. Eventually, he ended up being a pianist with the backing bands for Louis Armstrong, Tommy Dorsey and Benny Goodman. He wrote hundreds of songs including the hits "Dungaree Doll" for Eddie Fisher in 1955, "Wonderful Wonderful" for Johnny Mathis in 1957, "Broken-Hearted Melody" for Sarah Vaughan in 1959, "Johnny Get Angry" for Joanie Sommers in 1962, and "See You In September" for the Happenings in 1966. In 1969 he won a Tony Award for Best Musical for writing the music and lyrics for the Broadway musical 1776. Edwards died in 1981 at the age of 61.
Sid Wayne was born in New York City in 1922. In 1957 Wayne co-wrote "Mangos" for Rosemary Clooney, and "I'm Gonna Knock On Your Door" for Eddie Hodges in 1961. Between 1960 and 1969 Sid Wayne wrote 27 songs variously for one of 17 films he worked on with Elvis Presley. The films include G.I. Blues, Flaming Star, Follow That Dream, It Happened At the World's Fair, Fun in Acapulco, Roustabout, Girl Happy, Spinout, Clambake, Speedway and others. In 1970 Wayne wrote English lyrics for the Spanish song "Somos Novios". Waynes adaptation was titled "It's Impossible" which became the last Top Ten hit for Perry Como.
In "Biology" written by Sherman Edwards and Sid Wayne, we learn: "A boy is a specimen of masculinity, that's biology. A Girl is a specimen of femininity, that's biology. A girl is a scientific joy to a boy. And you're a girl. (You're a girl). And I'm a boy. (I'm a boy). And baby, that's biology."
Due to the curiosity in each other's physical appearance, we learn in the second verse that this causes boys to drive their dates at nights to places where they can park in the dark. At first, the girl on the date has "a negative reaction that is strong, but not for very long."
The reason given in "Biology" for the girl on the date shifting from her negative reaction is that when the fingertips of the couple touch there is "electricity." And when their lips touch, it's, well: "biology." Given the setting to park and spark, the lyrics to "Biology" advise: "A boy really has to hold a girl in his arms, to study all her charms. A girl has an obligation never to resist. Not at a time like this."
In the rapture of teen dating, it was viewed in these lyrics – rather innocently – that any advance on the girl by the boy driving the car would be respectful and non-invasive. And perhaps 90% of teenage boys in 1960 in North America knew how to be perfect gentlemen when going on a date, having been raised properly by his parents. But, even if what we now call sexual harassment was unimaginable back then (and there are studies that might disagree), there would still be maybe 10% of the guys who had poor sexual boundary issues. And in those cases, the electricity of fingertips touching, quickly went from lips to hips and further down. In which case, a girl might have an obligation to resist doing what she didn't feel comfortable doing. But, taking the lyrics of "Biology" on their face, the only thing mentioned in the song that the boy in the song has in mind in kissing and hugging.
As well, "Biology" began with obligatory doo-wop nonsense lyrics, fashionable in the late 50s and early 60s. In this case: "da-doop-a-doop-a-doop-a-doop." And that's biology!
"Biology" peaked at #1 in Vancouver (BC), #7 in Lafayette (LA), #8 in Spokane (WA), #10 in Cleveland and Providence (RI), #12 in Grand Rapids (MI), and #13 in Chicago. "Biology" only got significant chart action in about ten states across the USA, and stalled at #95 on the Billboard Hot 100.
When it came to his followup recording for his third MGM single, Vince Pacimeo was not included in the decision-making. He recalls, "I didn't have the guts to decline what I was told to record. I knew I could handle the material and maybe put my career in gear." The A-side, "Pictures From the Past", was a Billboard 'Spotlight winner of the week' for October 17, 1960. The song was written by Neil Sedaka and Howard Greenfield. The song was originally the German song, "Nur Ein Bild Von Dir". Sedaka would record it in German in 1962 and in the mid-60s as an album track in English. In November 1960 Danny Valentino's recording of "Pictures From The Past" made the Top 40 in Norfolk, Virginia, but got little radio play elsewhere. The single was Danny Valentino's last involvement with MGM. In his 2016 interview with Dik de Heer at This Is My Story, Vince Pacimeo reflected, "There are many reasons why my contract with MGM ended abruptly, as a result of circumstances involving management, creative decisions and lack of guidance."
Though he found himself without a record contract, Vince Pacimeo was able to get lots of work singing on demos and drumming. He recalls, "As a drummer I played with many known jazz players : Candido, Dakota Staton, Dave Shilkraut, Bobby Porcelli, Steve Kuhn, etc. One time on the road with Dick Clark's 'Cavalcade of Stars', Santo and Johnny's drummer didn't show up. They were so upset that I decided to offer my services. At first they were unsure, but after they heard me play the drums I could ride with them in their brand new Studebaker Golden Hawk instead of on the tour bus."
Pacimeo made a number of other recordings for several record labels. But, there were no further releases. Undaunted, Vince Pacimeo made a living in show business. "I've never been a one trick pony. I've sung in many different styles, played jazz drums, acted (TV, film, Broadway, etc.), written and directed plays."
As an actor, Vince has appeared in the TV series Ryan's Hope in 1975, a made-for-TV movie with Sally Struthers and James Woods titled And Your Name Is Jonah" in 1979, and the film Wise Guys with Danny DeVito and Harvey Keitel in 1986. Pacimeo has appeared in eight episodes of the TV series Law and Order between 1994 and 2002. And there have been other opportunities over the decades.
More recently, in February, 2016, Vince Pacimeo told the folks at This Is My Story that he was "in the final stages of having his one man show, Tug of Hearts, produced in West Hollywood." In late June, 2017, Pacimeo's CD, Tug Of Hearts, was released. He says of the album, "Most of the music and the lyrics on my CD are derived from my personal experiences in trying to raise my consciousness. All my songs on the CD are a combination of jazz influenced backgrounds and effectively simple soul driven lyrics."
Vince Pacimeo lives in Riverdale, New York, with his wife Vicki.
June 16, 2021
Ray McGinnis
References:
Dik de Heer, "Danny Valentino," This Is My Story, February 2016.
"Vince Pacimeo," IMDb.com.
"Sherman Edwards," Wikipedia.org.
"Sid Wayne," Wikipedia.org.
Neil Sedaka, "Nur Ein Bild Von Dir" ["Pictures From The Past"]," RCA Victor, West Germany, 1962.
Gilbert Adair, "Obituary: Gene Kelly," Independent, February 5, 1996.
Richard Skanse, "Frank Sinatra Dead at 82," Rolling Stone, May 15, 1998.
"Hi-Fi Forty," CFUN 1410 AM, Vancouver, BC, June 18, 1960.
For more song reviews visit the Countdown.