#762: Black Day In July by Gordon Lightfoot
Peak Month: May 1968
7 weeks on Vancouver's CKLG chart
Peak Position #6
Peak Position on Billboard Hot 100 ~ did not chart
1 week Hit Bound
YouTube.com: "Black Day In July"
Lyrics: "Black Day In July"
Gordon Meridith Lightfoot Jr. was born in Orillia, Ontario, on November 17, 1938. His parents, Jessica and Gordon Lightfoot Sr., ran a dry cleaning business. His mother noticed young Gordon had some musical talent and the boy soprano first performed in grade four at his elementary school. He sang the Irish lullaby "Too Ra Loo Rah Loo Rah" at a parents' day. As a member of the St. Paul's United Church choir in Orillia, Lightfoot gained skill and needed confidence in his vocal abilities under the choir director, Ray Williams. Lightfoot went on to perform at Toronto's Massey Hall at the age of twelve when he won a competition for boys who were still boy sopranos. During his teen years Gordon Lightfoot learned to play piano, drums and guitar.
In the years that followed Lightfoot performed in coffee houses in Toronto. He got work as a performer on the CBC's Country Hoedown and went to England to host the BBC TV Country and Western Show in 1963-64. At that time, Lightfoot's songs were recorded by numerous recording acts. These included "Early Morning Rain" by both the Kingston Trio and Judy Collins, and "Ribbon of Darkness" by Marty Robbins. The attention Lightfoot got as a songwriter landed him a record contract with United Artists in 1965. In 1966 he was commissioned by the Canadian Broadcasting Corporation (CBC) to compose the "Canadian Railroad Trilogy" for a broadcast on New Year's Day in 1967, the nations centennial. In the spring of '67 Lightfoot had a Top 20 hit in Vancouver titled "Go Go Round".
In December 1967 Gordon Lightfoot recorded his album, Did She Mention My Name. It included the single "Black Day In July".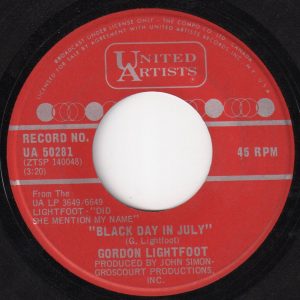 In 1967 there was a police raid on an after hours club in Detroit called the Blind Pig. It was an unlicensed weekend drinking club. The police anticipated finding only a few patrons at the club when the raid began at 3:45 a.m. on Sunday, July 23rd. However, they found 82 African-Americans celebrating the return of two soldiers from the Vietnam War. The police chose to arrest everyone. As they were putting people in paddy-wagons, a large crowd gathered and a riot began after someone threw a bottle at a police officer. The riot lasted five days leaving 43 people dead, 1,189 injured and 7,200 arrests. Over 2,000 buildings were destroyed and over 12,000 largely white National Guard and the US Army's 82nd Airborne Division (made up of both black and white soldiers) numbering between 10,000 and 20,000 were called in to quell the violence. Included in the 'Division's assignment to Detroit were three Infantry Battalions, four Companies, one cavalry, one Aviation Battalion and one Military Intelligence Detachment. After the riots were over the American Deputy Secretary of Defense, Cyrus Vance, criticized the National Guard in a report as they had shot and killed eleven people, including a 4 year old.
"Black Day In July" detailed the mayhem of the Detroit riots of July 1967 poignantly: "In the streets of motor city there's a deadly silent sound/And the body of a dead youth lies stretched upon the ground/Upon the filthy pavement no reason can be found."
For Lightfoot, living in Toronto, Detroit was an easy four-hour drive. On July 24, 1967, my brother, Mom, Dad and I, were returning home to Vancouver from a summer drive to visit the 1967 Montreal Expo in celebration of Canada's 100th centennial. I remember listening to the news in the car radio as we drove through Chatham, Ontario. Given the news reports of the riots, Dad chose to avoid Detroit and cross into Michigan from Sarnia.
"Black Day In July" peaked at #4 in New Glasgow, Nova Scotia, #6 in Vancouver, #8 in Pointe Claire (PQ), #9 in Toronto and Sault Ste. Marie and #10 in Hamilton.
"Black Day in July" was Gordon Lightfoot's first Top Ten hit on the pop charts in Vancouver. Six more would enter the Top Ten, including "Bitter Green" and his cover of the Kris Kristofferson song, "Me And Bobby McGee".
Lightfoot's breakthrough in the USA was with "If You Could Read My Mind". The song was inspired by his divorce. Another hit in Vancouver in the fall of 1971 was the anti-war song "Summer Side Of Life". He went on in the mid-70's to chart "Sundown" to #1 and "The Wreck Of The Edmund Fitzgerald" to #2 in the USA. (Both were #1 hits nationally in Canada). Between his initial breakthrough and later hits in the mid-70's, there were three songs that did well in Canada but less well in the USA. These were "Talking In Your Sleep", "Beautiful" and "You Are What I Am".
Gordon Lightfoot's last charting single in Vancouver was "Daylight Katy" in 1978. Between 1966 and 2004 Lightfoot released 19 studio albums and 46 singles. In 1997, Gordon Lightfoot received the Governor General's Performing Arts Award, the top honor a recording artist can receive in the performing arts in Canada. A tribute album to Gordon Lightfoot was recorded by many Canadian recording artists in a special release in 2003. In 2012 he performed the "Canadian Railroad Trilogy" at the 100th Grey Cup football championship between the Toronto Argonauts and the Calgary Stampeders. Among the admirers of "Canadian Railroad Trilogy" is Queen Elizabeth II. Lightfoot mentioned this in an interview with The Telegraph a few years ago.
In 2018, Gordon Lightfoot is in the midst of a 55 concert tour. Scheduled dates on his website are between February 13, 2018 and November 24, 2018, across 14 states in the USA and multiple dates in Ontario, Canada.
July 20, 2018
Ray McGinnis
References:
Gordon Lightfoot – The Man And His Music, Gordon Lightfoot.com.
Mike Sacks, "Gordon Lightfoot Talks Sadness, Regret, and Maritime Disasters: In a Rare Interview, the Legendary Singer-Songwriter Discusses His Life's Work, His Current Set List, and Why it No Longer Includes "For Lovin' Me."," Vanity Fair, September 27, 2016.
Karen Hiffman Milson, "Interview With Gordon Lightfoot," United Church Observer, Toronto, Ontario, June 2013
Martin Chilton, "Gordon Lightfoot: The Queen Likes My Canadian Railroad Trilogy Song," Telegraph, UK, May 18, 2016.
Joel Rubinoff, "Gordon Lightfoot's Harshest Critic Is Himself," Toronto Star, November 21, 2016.
Tabitha C. Wang, "Detroit Race Riot (1967)," Blackpast.org, Seattle, Washington.
"Boss 30," CKLG AM 730, Vancouver, BC, May 4, 1968.
For more song reviews visit the Countdown.