#1335: Summer Side of Life by Gordon Lightfoot
Peak Month October 1971
8 weeks on Vancouver's CKVN chart
Peak Position #19
Peak Position on Billboard Hot 100 ~ #98
YouTube.com: "Summer Side of Life"
Lyrics: "Summer Side of Life"
Gordon Lightfoot was born in Orillia, Ontario, on November 17, 1938. His parents, Jessica and Gordon Lightfoot Sr., ran a dry cleaning business. His mother noticed young Gordon had some musical talent and the boy soprano first performed in grade four at his elementary school. He sang the Irish lullaby "Too Ra Loo Rah Loo Rah" at a parents' day. As a member of the St. Paul's United Church choir in Orillia, Lightfoot gained skill and needed confidence in his vocal abilities under the choir director, Ray Williams. Lightfoot went on to perform at Toronto's Massey Hall at the age of twelve when he won a competition for boys who were still boy sopranos. During his teen years Gordon Lightfoot learned to play piano, drums and guitar.

In the years that followed Lightfoot performed in coffee houses in Toronto. He got work as a performer on the CBC's Country Hoedown and went to England to host the BBC TV Country and Western Show in 1963-64. At that time, Lightfoot's songs were recorded by numerous recording acts. These included "Early Morning Rain" by both the Kingston Trio and Judy Collins, and "Ribbon of Darkness" by Marty Robbins. The attention Lightfoot got as a songwriter landed him a record contract with United Artists in 1965. In 1966 he was commissioned by the Canadian Broadcasting Corporation (CBC) to compose the "Canadian Railroad Trilogy" for a broadcast on New Year's Day in 1967, the nations centennial.
In the late '60s Gordon Lightfoot charted "Go Go Round", "Black Day In July", "Bitter Green" and "Me And Bobby McGee".
"Summer Side of Life" was Lightfoot's ninth Top 30 hit on the Vancouver pop charts. In 1970 he achieved a breakthrough with his first single in the Billboard Hot 100. "If You Could Read My Mind" peaked in the 'States at #5 and #1 in Vancouver. Following this, he had three singles climb into the lower reaches of the Billboard Hot 100. "Summer Side of Life " spent two weeks on the Billboard chart peaking at #98. While in Vancouver the song spent eight weeks on the CKVN chart peaking at #19.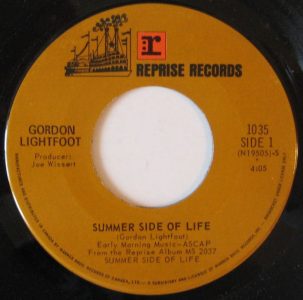 Lightfoot sings about men in their prime, ripe with love and sex appeal, attracting girls everywhere. There is tenderness, but no illusions. The men are going off to war the next day. The song contrasts a scene prior to reporting for duty. There are green fields, he is up talking all night with the young girls. He also prays all night. Lightfoot next shows us an image of a man altered by his experience of going to war: "and if you saw him now, you'd wonder why he would cry the whole day long." People listening to the song who had any family, friends or neighbors who had returned from a war knew the stories. Today there are news stories about people with post-traumatic stress disorder. A traumatic event is commonly relived by the individual through intrusive, recurrent recollections, flashbacks, and nightmares. In this case from events in a war zone.
Canadian listeners heard the song heard from the point of view of an observer of current wars between other nations. In 1971 Canada was not at war. Meanwhile American listeners would have heard Lightfoot's song through the lens of the Vietnam War, of soldiers returning injured or broken emotionally or psychologically from the experience. In the years that followed a number of films portrayed the impact of life on the battlefield in Vietnam. These included Coming Home, The Deer Hunter, Apocalypse Now and Good Morning Vietnam. "Summer Side of Life" invited listeners to ponder: what might have happened to these men if no war had been declared, and no one had to go off to fight?
"Summer Side Of Life" was the title track from Gordon Lightfoot's seventh studio album. The album also contained the single "Talking in Your Sleep" that was a minor hit in the 'States and #3 in Vancouver. It also featured "Cotton Jenny", a Top 20 single for Anne Murray in Vancouver that peaked at #71 for her on the Billboard charts.
In 1974 Gordon Lightfoot returned to the Top 40 in the USA and had a number one hit with "Sundown". In the mid-70s Lightfoot climbed to the Top Ten on the Billboard Hot 100 with "Carefree Highway" and to #2 with "The Wreck Of The Edmund Fitzgerald".
Among Gordon Lightfoot's other hit records are "Daylight Katy". In 1997, Gordon Lightfoot received the Governor General's Performing Arts Award, the top honor a recording artist can receive in the performing arts in Canada. From his website Gordon Lightfoot will be performing in 72 concert venues between March 3rd and November 24th.
January 21, 2017
Ray McGinnis
References:
Gordon Lightfoot, Canadian Bands.com
Gordon Lightfoot – The Man And His Music, Gordon Lightfoot.com.
"West Coast Music Survey," CKVN 1410 AM, Vancouver, BC, October 1, 1971.
For more song reviews visit the Countdown.