#345: Black Land Farmer by Wink Martindale
Peak Month: September 1961
11 weeks on Vancouver's CFUN
Peak Position #4 CFUN/ #2 CKWX
Peak Position on Billboard Hot 100 ~ #85
YouTube: "Black Land Farmer"
Lyrics: "Black Land Farmer"
Winston Conrad "Wink" Martindale was born in Jackson, Tennessee, in 1933. His first work for pay was as a paperboy for the Jackson Sun. Then he was a soda jerk at Baker's Drug Store. In 1951, Martindale began his career as a disc jockey while he was still just 17-years-old at WPLI in Jackson. His starting salary was $1.02 a week. He was quickly hired at WTJS, also in Jackson, and next at WDXI. In short order Martindale had doubled his salary. He would recall later ""I think that I was born with a desire to be a radio announcer. I always had that great desire to sit behind a microphone. My first 'mic' was two paper cups attached to a string. It wasn't long before I was sitting behind the real thing." Between 1953 and 1957 he was a DJ at WHBQ in Memphis. Meanwhile, he earned a Bachelors degree at Memphis State University majoring in Speech and English, with a minor in Journalism.
While Martindale was at WHBQ, Elvis Presley was interviewed by another DJ at the station on July 10, 1954. This was due to the reaction of radio listeners to Elvis' single "That's All Right", which the station began to play on July 6th. In 1955 Martindale hosted Wink Martindale of the Mars Patrol, a weekly children's science-fiction TV show on WHBQ. While he was a Deejay at WHBQ, Martindale became the host of the TV show Teenage Dance Party, where his friend Elvis Presley made an appearance on June 16, 1956.
In 1957 he was hosting Wink Martindale's Rock n' Roll Party on WHBQ in Memphis. In one episode Martindale lip-synched his debut release "Love's Got Me Thinking"/"Thought It Was Moonlove". The latter charted in both Memphis and Baltimore in October 1957.
In 1958 Wink Martindale appeared in a teen rock 'n roll flick titled Let's Rock. The cast included recording artists Danny and the Juniors, Paul Anka, Julius LaRosa, Roy Hamilton, Della Reese, and the Royal Teens.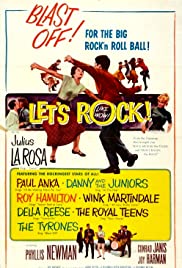 In 1959 Wink Martindale recorded a cover of the spoken word " Deck of Cards", originally at number-two hit on the Billboard Country singles chart for T. Texas Tyler in 1948. Tex Ritter had a subsequent Top Ten country hit with his version in 1949. The "Deck Of Cards" was a tale set during the World War II, where a group of U.S. Army soldiers, on a long hike during a campaign during The North African campaign, arrive and camp near the town of Cassino, Italy. While scripture is being read in church, one man who has only a deck of playing cards pulls them out and spreads them in front of him. He is immediately spotted by a sergeant, who believes the soldier is playing cards in church and orders him to put them away. The soldier is then arrested and taken before the provost marshal to be judged. The provost marshal demands an explanation and the soldier says that he had been on a long march, without a bible or a prayer book. He then explains the significance of each card, starting with the Ace – which reminds the soldier that there is only one God.
Wink Martindale performed "Deck Of Cards" on The Ed Sullivan Show on October 25, 1959. His recording shot to #7 on the Billboard Hot 100 on November 1, 1959, and climbed to #4 in CKWX in Vancouver. That year Martindale got a position at KHJ in Los Angeles. From there he was hired at KLRA and finally KFWB in 1962. In the midst of his ascent to the top of Top 40 radio in Los Angeles, Martindale released a number of singles. He hoped for a followup smash hit to "Deck Of Cards". However, in 1960-61 "Life Gets Tee-Jus, Don't It", "Blue Bobby Sox" and "Glory Of Love" were each commercial failures.
In addition to his secular single releases, Martindale released a spoken-word album in 1960 titled The Bible Story Volume 1. In the summer of 1961 Martindale released a cover of a country hit from 1959 titled "Black Land Farmer".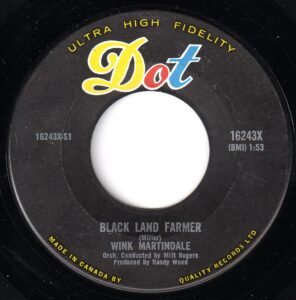 "Black Land Farmer" was written by country singer Frank Miller Jr. Born in 1931 in Victoria, Texas (about 85 miles northeast of Corpus Christi), Miller formed a band in his teens called the Drifting Texans. While doing some work at KLEE in Houston, he met country singer Hank Locklin. This led to a record contract in 1951 where he recorded five singles. However, he was drafted into the Korean War. When the war ended in July 1953, Miller subsequently got a contract in 1954 with Columbia Records. In 1959 Frankie Miller recorded "Black Land Farmer" which began to appear on the Country charts in April, climbing into the Top Ten on Billboard and Cashbox Country Singles. On those charts it was ranked #31 for the year 1959. Cash Box Magazine selected him as "Most Promising Country Artist" in 1960, and for a time he appeared as a regular on the Louisiana Hayride and guested on both the Grand Ole Opry and the Ozark Jubilee. At the height of his popularity in the late 50s and early 60s Frankie Miller variously toured with Johnny Cash, Ernest Tubb, Buck Owens, Lefty Frizzell and Willie Nelson.
"Black Land Farmer" is a song narrated by a black land farmer who refers to himself as "a simple man," in contrast to a "banker" or a "legal charmer." With rugged hands, a rough face and a warm heart, the farmer declares "I guess I'm the luckiest man ever born, 'Cause the lord gave me health and a black land farm." His tasks are straightforward: he rises early each morning. He plants cotton, hay and corn. The farmer is enlivened as he works on his fields, with the natural elements and scenery. The farmer sings "I feel like I'm getting close to you God, plowing in the ground and breaking up the sod." At the end of the song the farmer is grateful to God for making him a black land farmer, stating "I owe it all to you."
The famers' declaration of owning everything to God in "Black Land Farmer" is one of gratitude. The word is derived from the Latin word gratia, which means grace, graciousness, or gratefulness. Gratitude is a thankful appreciation for what an individual receives, whether tangible or intangible. With gratitude, people acknowledge the goodness in their lives. In the process, an individual usually recognize that the source of that goodness lies at least partially outside themselves. As a result, gratitude also helps the individual connect to something larger than themselves — whether to other people, nature, or a higher power/God.
"Black Land Farmer" was a track on Wink Martindale's studio album titled Big Bad John, and released in October 1961. The album also included Martindale's covers of "Peace In The Valley", Hank Snows' "I'm Movin' On" and the hymn "Just A Closer Walk With Thee" and "Steal Away".
In 1965 staff writer for Look magazine, Archie Lieberman, wrote an article titled "Growing Up on a Farm, the Vanishing Life." In it he interviewed Bill Hammer Sr. and his son Bill Jr., farmers in Scales Mound, Illinois, population 399 in 1965. "For Bill, [Jr.,] there is no better life than a farmer's life, but whether he can remain on the farm is problematical. Thirty years ago, there were about 7 million farms. Today fewer than 3.5 million farms feed 53 percent more people. By 1980, experts say, there may be only a million farms left." The concern was justified. Farming in the 1950s and 60s had serious challenges, and millions of farmers left for jobs in town or the city. Bill Jr., now farming with dairy cows in Wisconsin told Look "We're hanging on by our fingernails. (farming is) like an addiction. But everybody in the family liked it a lot."
It is a bit ironic that Wink Martindale was singing "Black Land Farmer". In 1934, his birthplace of Jackson, Tennessee, was a city of 23,000. It was home to two universities and one college. From 1851, Jackson had been a hub for rail transport, and during the 1930s through the 1960s, fifteen regularly scheduled passenger trains of the Gulf, Mobile and Ohio, Illinois Central and Nashville, Chattanooga & St. Louis served the two railroad depots in Jackson. It was also the county seat for Madison County in West Tennessee. Martindale would have been familiar with the farmers that came from the countryside to sell their produce at farmers' markets in downtown Jackson. But for someone who hosted radio and TV game shows out of Los Angeles, he was well removed from the life of a black land farmer.
"Black Land Farmer" peaked at #1 in Sioux City (IA) and Fargo (ND), #2 in Vancouver (BC), #4 in La Crosse (WI), #6 in Des Moines (IA), #10 in Minneapolis/St. Paul, and #13 in Los Angeles. The latter was at KLRA where Wink Martindale was a deejay. Across America, Wink Martindale's cover of "Black Land Farmer" only got chart action on Top 40 radio in about a dozen states. Consequently, it stalled at #85 on the Billboard Hot 100. Internationally, "Black Land Farmer" climbed into the Top 20 in Melbourne, Australia.
In 1964 Wink Martindale appeared in the teen film The Lively Set, alongside James Darren, Joanie Sommers, playing a nightclub emcee-singer. From 1964 into the spring of 1965 he hosted What's This Song? and was introduced as "Win" Martindale. That year Martindale recorded a duet with Robin Ward titled "Big Building". It was a Top Ten hit on KJR in Seattle in the spring of '64. However, it got little attention elsewhere. The single was a track from Martindale's 1964 studio album My True Love. Of the dozen tracks on the album, nine were duets with Robin Ward. She turned out to be a one-hit-wonder with "Wondeful Summer", her #14 hit single on the Billboard Hot 100 and #9 in Vancouver in December 1963, (Robin Ward went on to sing in over 800 commercials, notably in the mid-60s Rice-A-Roni "the San Francisco treat." She was also the vocal dub for the Academy Award nominated "Sweetheart Tree" lip-synched by Natalie Wood in the 1965 film The Great Race. And Robin Ward later sang backing vocals on Barbra Streisand's "Stoney End". As well she was a vocalist on TV theme songs for Flipper, Batman, Maude and The Partridge Family).
Meanwhile, Wink Martindale released eight more singles on Dot Records between 1961 and 1966 with little success. He released a folk and country album in 1966, Giddyup Go, whose tracks included "Trouble In The Amen Corner" and "The Working Man's Prayer". These choices kept him identified as a recording artist who fused secular recordings with religious sensibilities.
In 1967-68 Martindale hosted How's Your Mother-in-Law? He recalled decades later "It was a panel lineup where you would have mother-in-law (1), mother-in-law (2) and mother-in-law (3). Seated next to them would be a comedian. The mother-in-law would talk about her life and her family, and the comedian would get up and express why she was the best mother-in-law of the three. Then the other comedian would get up and knock the heck out of the first mother-in-law, saying why his was better. It lasted 13 weeks; it should have lasted 13 minutes."
In 1970-71 Wink Martindale hosted another song-themes game show titled Words and Music on NBC. In addition that year, he was hosting Can You Top This? also on NBC. Between 1972-76 and 1980-81, Wink Martindale hosted Gambit, based on the card game blackjack. And from 1978 to 1985 Martindale hosted Tic-Tac-Dough, based on the paper and pencil game tic-tac-toe. Other TV game shows that followed include Bumper Stumpers (1987-90), Trivial Pursuit (1993), High Rollers (1974-76, 1978-80 and 1987-88), The Last Word (taped in Vancouver and running from September 1989-January 1990) and Debt (1996-98). In 2010 Wink Martindale began hosting his twentieth TV game show In$tant Recall. And in 2016 Martindale appeared in the role of a minister in the daytime soap opera The Bold and the Beautiful.
In his personal life, Wink Martindale identifies as a born-again Christian, and has been a registered Republican. In 2006, Wink received his Star on the Hollywood Walk of Fame. In 2016 Martindale did some Tylenol commercials alongside Florence Henderson. He has also been an announcer for TV commercials advertising Nestea, KFC and many other products and services.
At age 87, Martindale's answer about retirement remains the same: "Why retire? I'm not tired!"
February 22, 2021
Ray McGinnis
References:
"Wink Martindale Bio," winkmartindale.org.
Wink Martindale, "Deck Of Cards," The Ed Sullivan Show, October 25, 1959.
Susan King, "Wink Martindale Gets Back in the Game with New Show," Los Angeles Times, March 24, 2010.
Win Martindale, What's This Song?, NBC, February 2, 1965.
Wink Martindale, How's Your Mother-in-Law, ABC, December 1967.
Mark J. Freeman, "Wink Martindale Interview," Daytime Emmy Awards, May 7, 2019.
"Frankie Miller The Blackland Farmer," frankiemiller.com.
Archie Lieberman, "Growing Up on a Farm, the Vanishing Life," Look, 1965.
Robin Ward vocals, "Rice-A-Roni Commercial," Golden Grain, 1970.
Robin Ward vocals, "Flipper Theme song," Flipper, NBC, 1964.
"Cashbox Country Top 50," Cashbox, June 6, 1959.
"Fabulous Forty," CKWX 1130 AM, Vancouver, BC, September 16, 1961.
For more song reviews visit the Countdown.