#113: Blow Away by George Harrison
Peak Month: June 1979
16 weeks on Vancouver's CFUN Chart
Peak Position #2
Peak Position on Billboard Hot 100 ~ #16
YouTube.com: "Blow Away"
Lyrics: "Blow Away"
George Harrison was born in Liverpool in 1943. Harrison remembers cycling past a home in his neighborhood that was playing "Heartbreak Hotel" by Elvis Presley. The encounter with the song got him hooked on rock 'n roll. He subsequently was influenced by Little Richard and Buddy Holly. Harrison's father bought him his first guitar in 1956 when Harrison was 13 years old. After Paul McCartney joined John Lennon's group, the Quarymen, McCartney suggested that his friend, George Harrison, join the group. Harrison became one of the Quarrymen in early 1958, though he was still only 14. They changed their name to the Silver Beatles and then the Beatles in the spring of 1960. They group headed to Hamburg, Germany, on August 17, 1960, for a three-and-a-half month stint. In early 1961 the Beatles returned for more engagements in Germany. On June 22, 1961, Bert Kaempfert produced "My Bonnie", "Ain't She Sweet" and eight other songs. Later in 1961, "My Bonnie" climbed to #4 on the Hamburg pop charts and #32 on the German pop charts.
The Beatles had their first number one hit in the UK with "From Me To You" on May 2, 1963. The song peaked at #14 on the C-FUN-TASTIC FIFTY in July '63. The Fab Four held down the number one spot on the UK Pop charts for 16 weeks in 1963. The Beatles topped the UK singles charts in the 1960's for 69 weeks. In the USA they held the number one spot for 59 weeks on the Billboard Hot 100. In Vancouver, between December 1963 and May 1970, the Beatles held the number one spot for a total of 87 weeks.
While the Beatles were known for their Lennon-McCartney songs, George Harrison began to have more of an influence when he began experimenting with the sitar. "Norwegian Wood (This Bird Has Flown)" is an example of Harrison's influence.
In March 1966, John Lennon had an an interview with Evening Standard reporter Maureen Cleave. Lennon commented, "Christianity will go. It will vanish and shrink … We're more popular than Jesus now—I don't know which will go first, rock and roll or Christianity. Jesus was all right but his disciples were thick and ordinary." The comment was yawned at in Britain, but it caused a furore when it was reported in Datebook's August edition in America. Suddenly there were protests that involved the burning of Beatles records. The Ku Klux Klan staged protests against the Beatles and nailed their albums to a wooden cross. There were also death threats against Lennon. This development was a catalyst for the band's decision to cease touring. On August 19th two concerts were scheduled in Memphis, Tennessee. Both were cancelled by the city council who wouldn't let municipal facilities be used by people who were trying to "ridicule anyone's religion."
The band would become the most influential rock 'n roll band of the 20th Century. They have sold over one billion records. They began recording upbeat love songs like "I Want To Hold Your Hand" and later composed more complex songs, including on their award-winning 1967 album, Sgt. Pepper's Lonely Hearts Club Band. George Harrison contributed "Within You Without Out" to the album. The Beatles were on the cusp of whatever was new and were often the trend-setting reason for the next new thing. In 1967 they got involved with Transcendental Meditation. When they released "Hey Jude," they had one of those rare singles that was longer than 7 minutes climb to the top of the charts. At the time, the standard formula for singles was around two to three minutes in length.
In 1968 George Harrison travelled to Rishikesh in northern India with the other Beatles where they studied meditation with Maharishi Mahesh Yogi. Harrison penned the sitar-infused "The Inner Light" which became the B-side to "Lady Madonna". That year Harrison released a solo album of his music from the film Wonderwall. All tracks were instrumental pieces. Late that year Harrison recorded Electronic Sound on Zapple Records, a subsidiary of Apple Records. It may have been the first album featuring the Moog synthesizer and was comprised of avant-garde rock. In late 1969 Harrison went on tour in Europe with Eric Clapton and Delaney, Bonnie and Friends. During the tour Delaney Bramlett introduced George Harrison to the slide guitar and Harrison subsequently learned the instrument which took his music in a new direction.
George Harrison's best loved songs written as a Beatle include "While My Guitar Gently Weeps", "Here Comes The Sun" and "Something". He also co-wrote "Badge" for Cream in 1969.
The Beatles split in 1970 after the release of the Let It Be album. Paul McCartney told Howard Stern in 2018 that John Lennon walked into a room one day in 1970 and announced that he was leaving the Beatles. All four enjoyed success as solo recording artists. Harrison provided backing vocals for John Lennon's Plastic Ono Band's "Instant Karma" in 1970.
George Harrison had a number one hit with "My Sweet Lord"in the winter of 1970-71. And his album, All Things Must Pass topped the album charts internationally. It was nominated for Album of the Year at the March 1972 Grammy Awards, but lost to Carole King's Tapestry. After "My Sweet Lord" appeared on the pop charts in 1970 Bright Tunes sued him for copyright infringement of the song "He's So Fine" by the Chiffons. Harrison told Rolling Stone in 1979 "The guy who actually wrote "He's So Fine" had died years before, Ronnie Mack. Bright Tunes Music, his publisher, was suing me. So we went through the court case, and in the end the judge said, yes, it is similar, but you're not guilty of stealing the tune. We do think there's been a copyright infringement, though, so get your lawyers together and work out some sort of compensation. But Bright Tunes wouldn't settle for that; they kept trying to bring the case back into court. They even tried to bring it back into court when I did "This Song." Harrison released "This Song" as a single describing his frustrations with the plagiarism lawsuit.
In 1971 Ravi Shankar asked Harrison if he could organize a charity event for refugees fleeing the Bangladesh Liberation War. What emerged was the Concert for Bangladesh. The concert was held in Madison Square Garden in New York City on August 1, 1971. The event drew over 40,000 people in total attendance for the afternoon and evening shows. The concert began with an introduction from George Harrison and Ravi Shankar. Harrison's contribution including performing "My Sweet Lord", "While My Guitar Gently Weeps", "Here Comes The Sun", "Something" and "Bangla Desh". Bob Dylan sang a number of songs in his set including "A Hard Rain's A-Gonna Fall", "Blowing In The Wind" and "Mr. Tambourine Man". Billy Preston sang "That's The Way God Planned It". Leon Russell did a medley of the Rolling Stone's "Jumping Jack Flash" and the Coasters "Young Blood". Ringo Starr sang "It Don't Come Easy". Eric Clapton was very ill, but still managed to play guitar.
Among the songs recorded at the concert was "Bangla Desh" by George Harrison. In December 1971, The Concert for Bangladesh triple album was released. A concert film was released in 1972. The album won the Grammy Award for Album of the Year at the March 1973 Grammy Awards. In 1973 the single, "Give Me Love", topped the pop charts.
Harrison released several more albums in the mid-70s: Extra Texture and Thirty Three & 1/3. But it was his self-titled album in 1979, George Harrison, which was the more successful of these three. In 1979, Harrison released a single titled "Blow Away".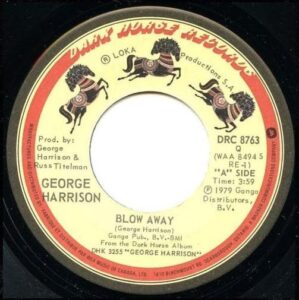 "Blow Away" was written by George Harrison. Harrison says that the song arose from feelings of frustration and inadequacy resulting from a leaking roof at his Friar Park home in Henley-on-Thames, England. "Cracks and leaks, floorboard caught rot." While viewing the downpour from an outbuilding on the property, he realized that the problem had become all-consuming, darkening his mood. With this realization, the episode served as a reminder that he, in fact, "loved everybody" and should seek to be more optimistic. Additionally, he notes that, while he initially felt self-conscious about the song, thinking it "so obvious", the track grew on him when he recorded it. We can hope, that in the midst of his big picture thinking, Harrison did get around to having the leak fixed.
"Blow Away" peaked at #1 in San Diego, Tempe (AZ), Billings (MT), and Fredericton (NB), #2 in Vancouver, and Denver, #3 in Toronto, Louisville (KY), and Tucson (AZ), #4 in St. Louis, Seattle, Cincinnati (OH), and Presque Isle (ME), #5 in Kansas City (MO), Dallas, and Bangor (ME), #6 in Hamilton (ON), Akron (OH), Phoenix, Milwaukee (WI), Atlanta, Harrisburg (PA), Fort Lauderdale, and Montreal, #7 in Los Angeles, Easton (PA), Houston, Pittsburgh, Saskatoon (SK), Minneapolis/St. Paul, and Boston, #8 in New Haven (CT), #9 in Hartford (CT), Buffalo, Cleveland, and Fresno (CA), and #10 in Eugene (OR).
In 1981, Harrison's tribute to John Lennon, "All Those Years Ago", climbed into the Top Ten in the USA, Canada, Australia, Ireland, Norway and Switzerland. He had his third and final number one hit in 1987 with "Got My Mind Set On You".
In 1979 Harrison helped finance with Monty Python film Life of Brian. Harrison backed 23 films and in 1987 comedic farce Withnail and I.
From 1988-1991 George Harrison teamed up with Roy Orbison, Tom Petty, Bob Dylan and Jeff Lynn to become the Traveling Wilbury's. The supergroup had a number of minor hits that included "Handle With Care" and "End Of The Line".
In 1994 Harrison worked with Paul McCartney, Ringo Starr and Jeff Lynne on the Beatles Anthology project. Out of that work emerged two new Beatles songs from demos John Lennon had made in 1977, "Free As A Bird" and "Real Love". The first song made the Top Ten in the UK and USA in January 1996 and the latter made it to #11 on the Billboard Hot 100 in March '96.
Harrison was diagnosed with throat cancer in 1997 and began treatment. On December 30, 1999, he and his wife were attacked by an intruder. George Harrison received 40 stab wounds and a punctured lung. After he was successfully treated in hospital the former Beatle released this statement to the press: ""He wasn't a burglar, and he certainly wasn't auditioning for the Traveling Wilburys. Adi Shankara, an Indian historical, spiritual and groovy-type person, once said, 'Life is fragile like a raindrop on a lotus leaf.' And you'd better believe it."
George Harrison, who had been a tobacco smoker for 33 years, died of lung cancer in November 2001. His remains were cremated and the ashes were scattered according to Hindu tradition in a private ceremony in the Ganges and Yamuna rivers in India.
September 21, 2022
Ray McGinnis
References:
"The Beatles," Rolling Stone.
Mick Brown, "A Conversation With George Harrison: The 'Fab Four' is Done For, and George Couldn't be Happier Doing his Own Thing," Rolling Stone, April 19, 1979.
Dave Laing and Penny Valentine, "George Harrison: The Most Handsome but Underrated Beatle, he Came into his Own as a Solo Artist and Film Producer," Guardian, December 1, 2001.
"C-FUN Top Thirty," CFUN 1410 AM, Vancouver, BC, June 2, 1979.
For more song reviews visit the Countdown.